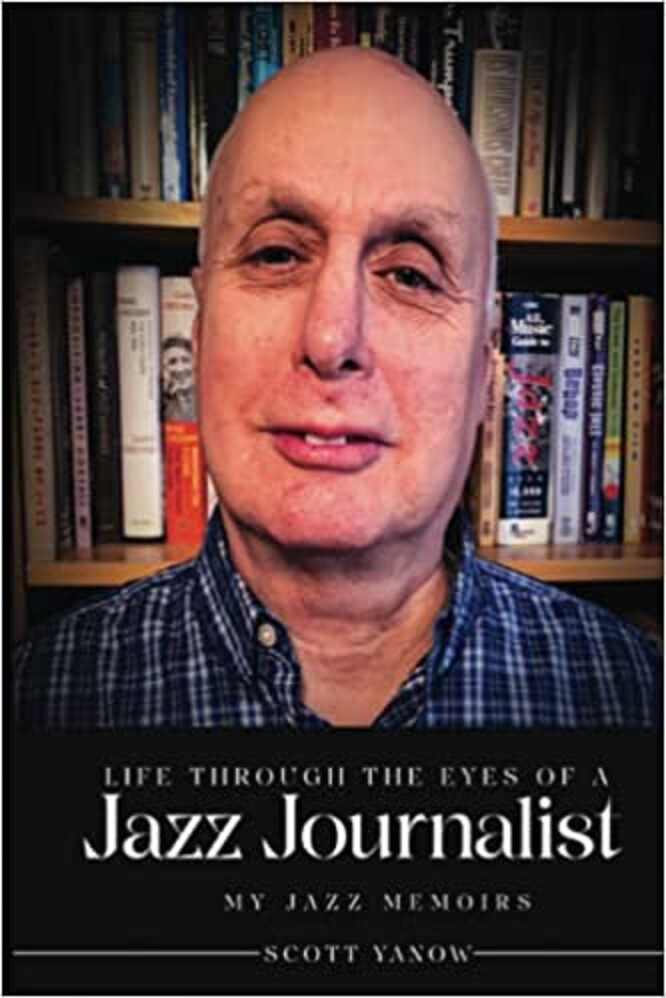 Scott Yanow is pleased that many people assume that he lives in New York despite being a lifelong resident of the West Coast. It means he hasn't been turning the focus to himself in his reviews, books, liner notes, profiles, or other writing. During the recent sabbatical from live events, but with his writing load as hefty as ever, he was convinced to turn the mic on himself, so to speak, and produce Life Through The Eyes Of A Jazz Journalist: My Jazz Memoirs—a short, enjoyable memoir of his 50 years as a jazz journalist.
Yanow is almost undoubtedly the most prolific reviewer in jazz history, and quite likely the most prolific jazz writer overall. He is one of the last professional freelancers with a sole focus on jazz. In a field where much of the writing is contributed gratis by people with other involvements, he has hacked out an irreplaceable niche for himself by delivering copy to publishers early and under word count month after month, year after year. Jazz writing has never paid well, and in an era where magazines and newspapers are shutting their doors and everyone has a free blog, no writing pays well. But Scott Yanow has managed to live a marvelous jazz life despite those odds.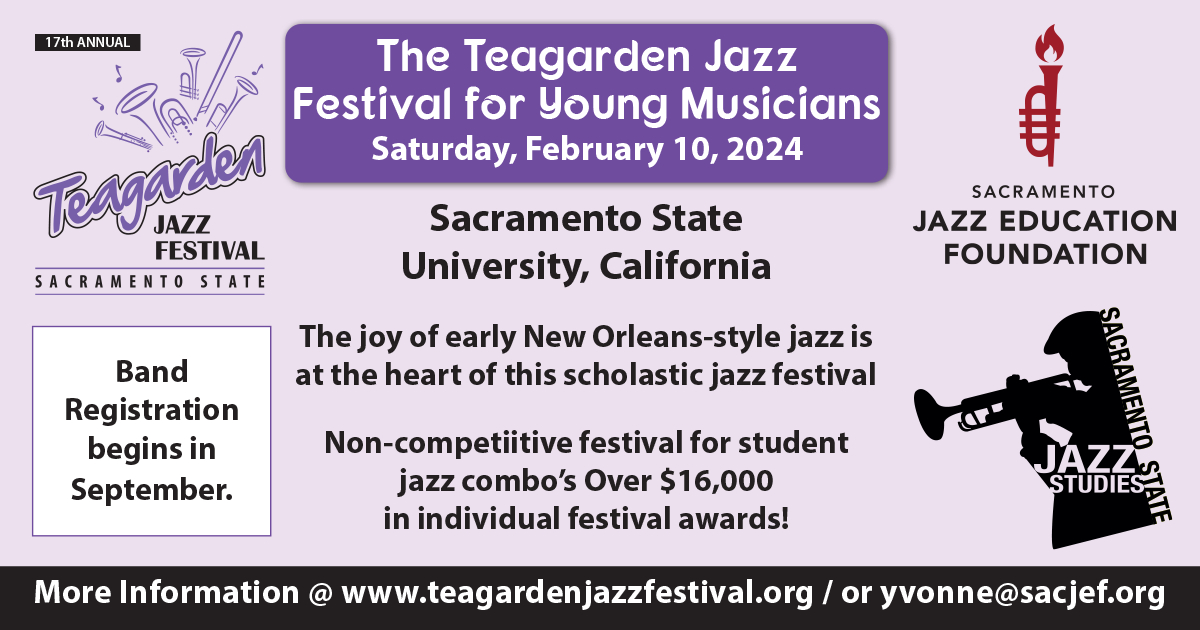 His jazz journey began when he was 15, in 1970. Having acquired a radio and tape recorder of his own, young Scott landed on the Strictly From Dixie radio program hosted by Benson Curtis. The show had a focus on the New Orleans revivalists, and it set him to exploring jazz with the same insatiable energy that he had until then devoted towards memorizing baseball statistics.
That will be a very familiar narrative to readers of The Syncopated Times, but unlike many of the other tellings of this story, young Scott did not stay strictly in Dixie. He methodically went back to the roots of jazz and, by way of other radio shows, books, and liner notes from records, gradually worked his way forward, following each path jazz had taken until he fully understood it. In the book he recounts listening to a Charlie Parker album repeatedly over the course of a week until "it suddenly made sense."
Opening his mind and heart to all of jazz is what ultimately allowed him to carve out his career as a writer, being able to trace everything forward as well as backward, and having listened to 60,000 jazz albums as they appeared over five decades makes him a truly unique figure in the landscape. All the while he says in the book "Listening to New Orleans and 1920s jazz is analogous to hearing a story being told for the first time. It remains my first love."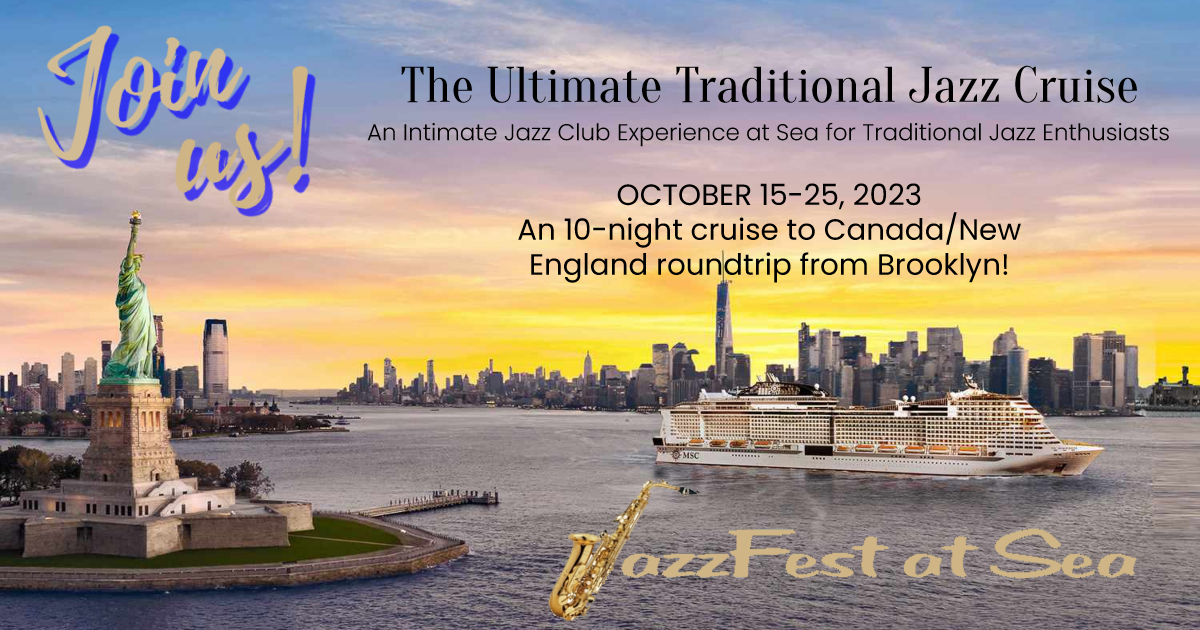 He entered college at 16, not because he had excellent grades, but because he had attended summer school voluntarily for three years to graduate early. He majored in accounting, and low stress jobs in this field would sporadically subsidize his primary focus on jazz. Fate found him in a dorm full of music majors who nicknamed him Steam Boat because of his Pete Fountain-heavy LP collection.
While in college he sometimes submitted book reports for books that didn't exist. One teacher called a review of a novel that existed only in his head "the best thing that you've ever written." Another anecdote he shares also hints at his unique gift for improv and may shed light on his rare ability to write on command. While working for the travel bureau in San Francisco (and living off Market St. for $70 a month!), he would show up at the office with a new joke every day. While delivering mail around to the other employees he would adapt the telling based on their reactions. What ambitious 15-year-old TikTokers would now know as A/B testing.
He wrote his first review only two years after discovering the music, and began writing professionally in 1974, submitting largely unpaid reviews to long forgotten magazines but taking note of the free LPs that began pouring in from promoters. His big break began with Record Review (1977-1984), a publication for which he held down the jazz editorship from beginning to end, in some months writing as many as 50 reviews in addition to profiles. From then on the volume of his published output never slowed down. He has been a frequent contributor to nearly every jazz magazine that has existed since the late '70s.
Scott Yanow's memoir includes, after telling his own story, topical chapters with titles like "41 Years at the Playboy Jazz Festival," and the catch all "Memories of other Performances." Much of the book, and many of his tales, focus on the live jazz he has witnessed. He has been as steady an attendee of jazz concerts and festivals as he has been a writer.
There are also chapters laying out his views on jazz writing, criticism, and what has changed in 50 years. The book includes several full interviews each running a few pages, including 1980s era sit downs with Freddie Hubbard, Chick Corea, and Maynard Ferguson. There are other writing samples scattered throughout, including contemporaneous reviews of the festivals and conventions he reminisces about. But they are not meant as a best of, and reprinted material is a tiny percentage of 298 pages.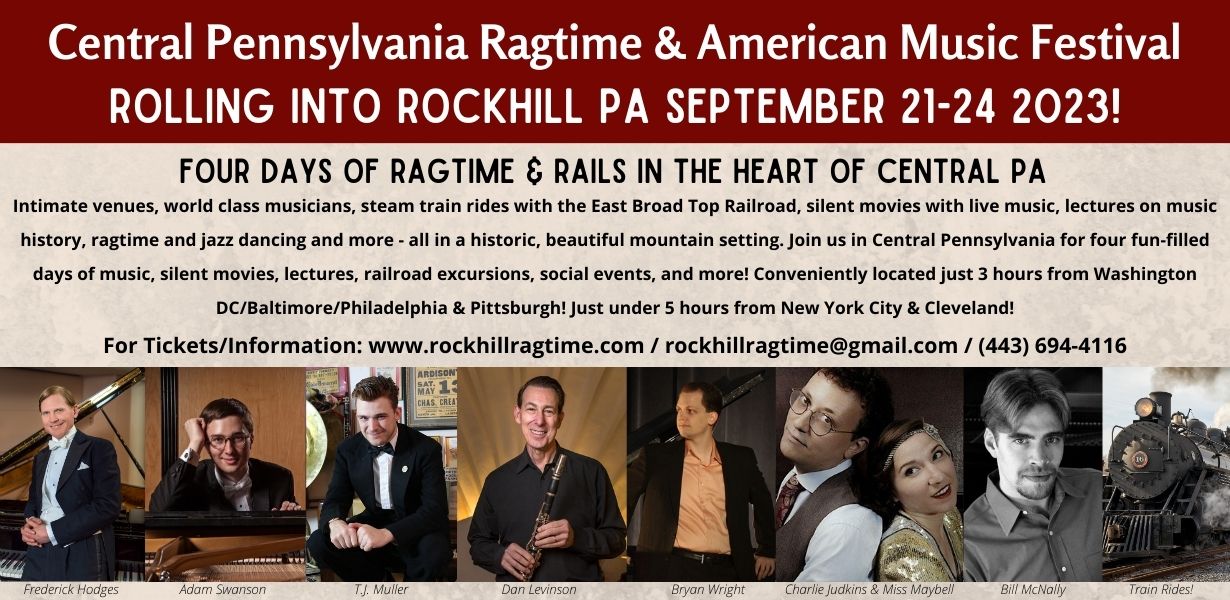 A chapter on his long running birthday party jams puts his own playing in the mix. He says that not every jazz reviewer is a frustrated musician, and neither is he, (instead he insists they all got into it for the free records). Yanow, who plays melodica, clarinet, and tenor sax, attended a weekly private jam session for many years with other nonprofessionals and occasionally noteworthy guests, appeared on a recording here and there and even briefly in a film, but there's no indication that he would have preferred a life on stage. That said, he very much enjoyed having a jazz radio show as eclectic as his own tastes and includes his farewell press bulletin from that venture, and thoughts on jazz radio DJing.
Our readers will enjoy his remembrances of the two competing festivals near LAX, the Sweet and Hot and LA Classic Jazz Festival, both playing on multiple stages on the same weekend for several years. His writings about various jazz conventions are interesting for his comparison of their host cities, New York and New Orleans to his own Los Angeles jazz scene, as well as for his commentary on the conventions themselves.
This is Yanow's 12th book. He briefly describes the others in one chapter, but the most interesting part of that section is that he was commissioned to write five books in two years, something many writers would find impossible. One of the books, with the caveat that it was heavily focused on photos, he wrote in a day and a half with one hand on a stack of reference books for fact checking purposes. He seems to have not had a day of writer's block in his life.
His immense contribution to the All Music Guide to Jazz will be an enduring part of his legacy. It is another story of him stepping up to meet a challenge that seemed larger than the capabilities of one man. During the period that the first three All Music Guide to Jazz editions were released, that is the 1990s and early 2000s, AllMusic.com was an unparalleled resource for casual music research of the sort that sets young minds on their life long musical path. Neither Wikipedia nor YouTube were around yet to satiate the curious.
His experience with such compendiums eased his transition to writing for the online environment where his name pops up everywhere from Wikipedia citations to the small but mighty Jazz on the Tube website and email list. Humorously, the reprinting of many of his reviews online has occasionally allowed for bitter feedback from artists 30 years after the fact!
After the main text there are five appendices; lists of books, films, artists of the past and present, and jazz DVDs that Yanow hopes will guide people to a fuller understanding of jazz.
Scott Yanow is not a verbose writer using flowery or technical language to sound smart and say little, he is a just-the-facts reporter who delivers clean prose from a mind that swam in baseball stats before it turned to jazz. This direct distribution of critical information a reader may wish to know before ordering an album, with just enough of the story of the album or artist to create a hook, makes him a very useful reviewer for the jazz album buyer, who will have favorite, musicians, titles, tempos, and micro styles they prefer.
I have heard artists and others close to an album complain that "he doesn't say anything," but they are not his audience. The audience is the reader who, removed from the creation of the album, needs those plain facts. The secondary constraint is the space allowed by a publication. Had he been asked to deliver 1500 words on the album, or in depth liner notes for it, rather than the 300 words allotted a typical review, he would have. Asked to deliver reviews of the same album to three different periodicals with their unique audiences and space constraints in mind he could do so easily and without plagiarizing himself. That is not easy! It is skilled craftsmanship bordering on art. Much like a musician who can deliver with professional enthusiasm at three different engagements in the same day.
In the early '90s, in what for him was a silent protest abut the low pay received by jazz journalists, he saw to it that he was published in eight magazines in the same month, including the big three, a head scratching achievement in the eyes of other writers. To this day he regularly contributes to seven publications as well as many websites, compendiums, liner notes, and wherever else he is called to do so. He is a fortunate man in that he identified his unique gift early and has been able to devote 50 years using it to further the music he loves. Did he have the most exciting jazz life? Far from it, but he has lived an influential and enjoyable one, and contributed immensely. Scott's is a story worth reading.
Life Through The Eyes of a Jazz Journalist: My Jazz Memoirs
by Scott Yanow
Amazon.com, $26.00, pp. 291
ISBN-13: ‎978-1958324028
© Scott Yanow 2022