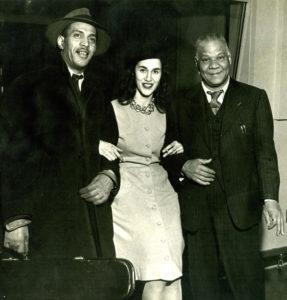 Lorraine Gordon, 95, June 9th, of complications from a stroke. She helped to make jazz happen for over 70 years. In the 40's she aided her first husband, Alfred Lion, in recording Jazz legends for Blue Note Records. Her work for the label became very hands on when soon after their marriage he was drafted into the war. She is credited with discovering Thelonious Monk and advocating for him to be recorded.
She went on to marry Max Gordon who owned the already legendary Village Vanguard. Under their stewardship the club became an iconic hub of jazz in New York City, made more famous by the many live albums recorded there. In 1989 she began to operate the Village Vanguard in the wake of her husbands death, closing for only one night.
She was known as a disciplined manager, involved with the daily rhythms of the club. It was in this role she became a fixture of the neighborhood and a quintessentially New York figure. She resisted many efforts to buy her out or even to franchise the club. She is thought to have made arrangements for her daughter Deborah to assume management responsibilities.
In 2006 she published the memoir Alive at the Village Vanguard: My Life In and Out of Jazz Time which garnered her awards and accolades. Her lifetime of commitment to jazz was recognized in 2013 with a National Endowment for the Arts Jazz Master Award.