The streets of the French Quarter will be quiet this year as all parade permits and celebrated balls have been cancelled and outside gatherings will be prohibited. Although the tradition of King Cakes being served between January 6th and Fat Tuesday (this year it is February 16th) is still being observed, the lackluster surroundings do not contribute much to the festive nature of this perfect sweet. More than 8 million pounds of Mardi Gras beads and trinkets—symbolic "throws"—are being held in storage for another day.
A new "krewe" has formed—The Krewe of House Floats—and it is encouraging willing participants to decorate their homes in the traditional styles of the many annual floats. They will be "purple-green-&-gold-ing" their front porches for a scheduled drive-by opportunity for all to enjoy in the distanced merriment of revelers in cars and trucks. So to break with tradition, the "floats" will be stationary and the audience will be the ones rolling by on multiple wheels! A map of the colorful decorated homes will be distributed for all to use in their quest to keep this Carnival season alive; contact: www.KreweOfHouseFloats.org.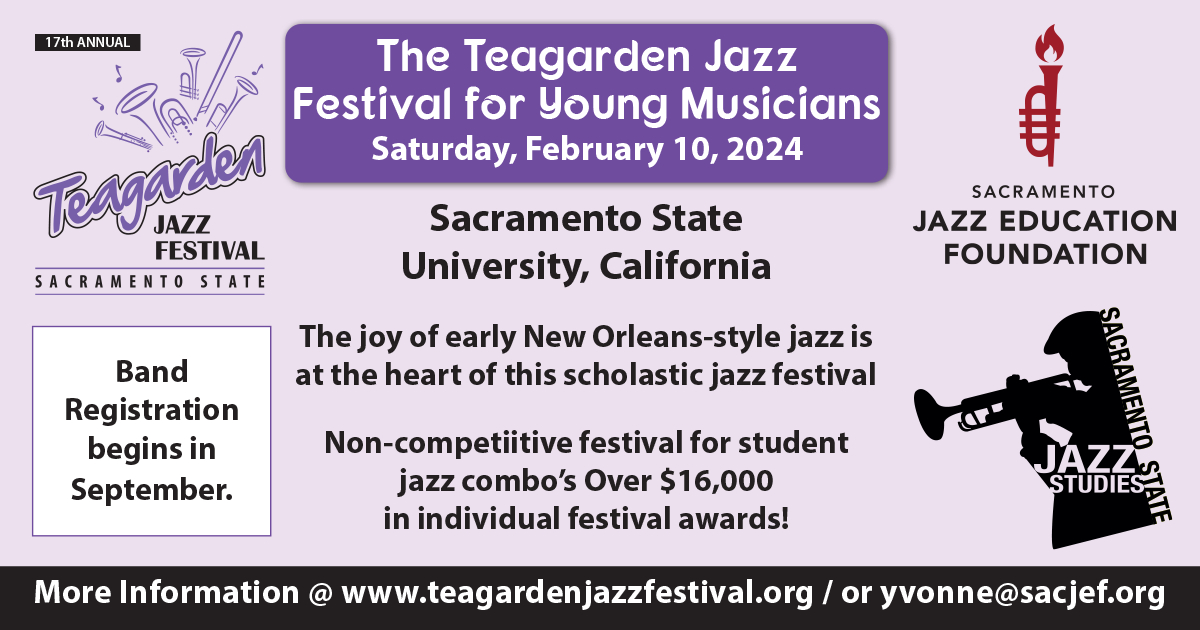 ♫ ♫ ♫ ♫
From news source WGNO: Since its earliest days nearly 150 years ago, Rex has issued royal messages declaring Carnival celebration and commanding his subjects to gather and join in the festivities.
When Rex, the King of Carnival and Monarch of Merriment, began his reign over Mardi Gras in 1872, New Orleans was struggling through the years of Reconstruction, and civic leaders wanted to attract more visitors to the city. Rex's royal messages were posted in newspapers and train depots around the country, and Mardi Gras in New Orleans became a major tourist destination.
On King's Day in years past, Rex has issued similar edicts inviting all to come to New Orleans to celebrate Carnival and, with the help of New Orleans tourism officials, those invitations have been circulated worldwide.
This year, in the midst of the COVID-19 pandemic, the King of Carnival greets his subjects with a different message, appropriate to the challenges of this Carnival season.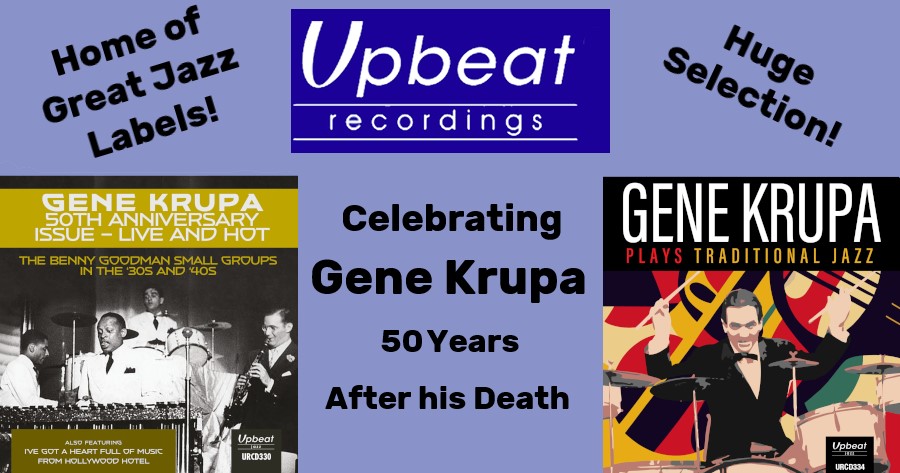 Rex's 2021 edict reads as follows:
Rex, the King of Carnival, sends Greetings, and Regrets that the Pandemic that has Afflicted His Beloved Capital City will not allow Him to make His Annual Visit to celebrate the Joyful Carnival Season with His Faithful Subjects.
We are Saddened, and send our Deepest Condolences to All who have suffered Loss, and encourage All to follow the Guidance of Those who seek to keep Our Subjects Safe, that We might Celebrate Again Together.
We look Forward with Great Anticipation to the Year of Our Lord 2022, when We Promise to Return and Renew our Carnival Traditions, and to celebrate the 150th Anniversary of Our Glorious Reign in Our Beloved Capital City of New Orleans.
We trust, in Our Absence, that Our Subjects will find ways to Safely Celebrate the Joys of this Carnival Season, Preserving our Traditions in Anticipation of Their Joyous Renewal in 2022.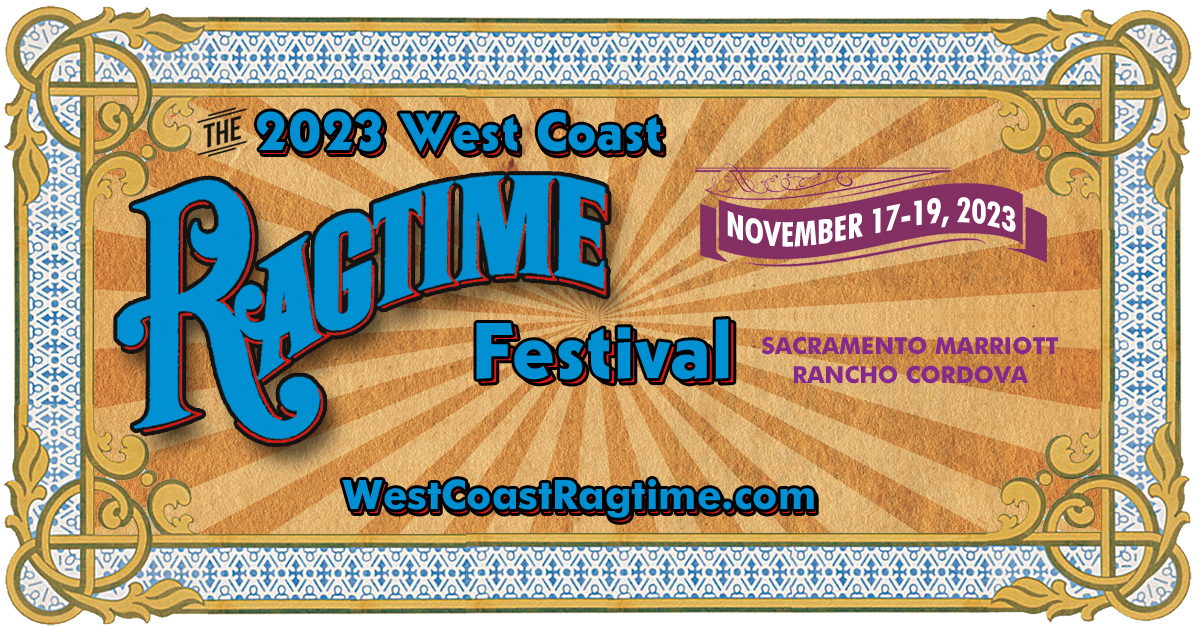 We Will Never, Ever Cease to Love.
By My Own Hand
Rex, King of Carnival
Attest: Bathurst
♫ ♫ ♫ ♫
Many authors have researched the significance and cultural aspects of the Carnival season and its krewes, music, beads, floats, costumes, and many other traditions that encompass this beloved time of the year. Following are some books that delve into these many aspects. They can be purchased through The Historic New Orleans Collection or The Friends of the Cabildo and are delightful accompaniments when exploring the significance of this festive period.
All on a Mardi Gras Day
Episodes in the History of New Orleans Carnival
by Reid Mitchell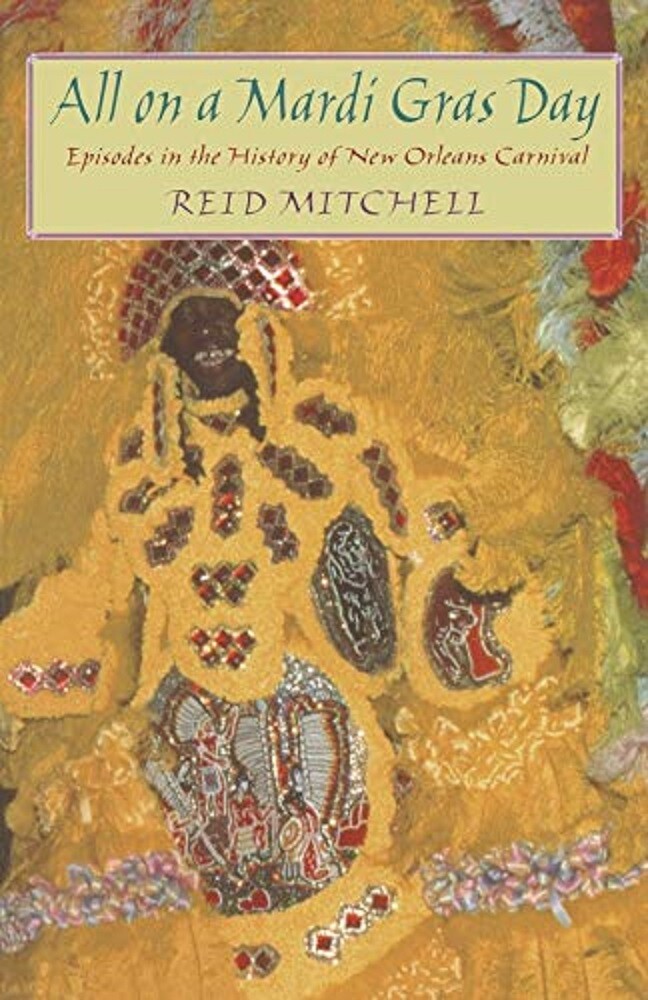 With this colorful study, Reid Mitchell takes us to Mardi Gras—to a yearly ritual that sweeps the richly multicultural city of New Orleans into a frenzy of parades, pageantry, dance, drunkenness, music, sexual display, and social and political bombast. In All on a Mardi Gras Day Mitchell tells us some of the most intriguing stories of Carnival since 1804. Woven into his narrative are observations of the meaning and messages of Mardi Gras—themes of unity, exclusion, and elitism course through these tales as they do through the Crescent City.
Moving through the decades, Mitchell describes the city's diverse cultures coming together to compete in Carnival performances. We observe powerful social clubs, or krewes, designing their elaborate parade displays and extravagant parties; Creoles and Americans in conflict over whose dances belong in the ballroom; enslaved Africans and African Americans preserving a sense of their heritage in processions and dances; white supremacists battling Reconstruction; working-class blacks creating the flamboyant Krewe of Zulu; the birth and reign of jazz; the gay community holding lavish balls; and of course tourists purchasing an authentic experience according to the dictates of our commercial culture. Interracial friction, nativism, Jim Crow separatism, the hippie movement—Mitchell illuminates the expression of these and other American themes in events ranging from the 1901 formation of the anti-prohibitionist Carrie Nation Club to the controversial 1991 ordinance desegregating Carnival parade krewes.
Through the conflicts, Mitchell asserts, "I see in Mardi Gras much what I hear in a really good jazz band: a model for the just society, the joyous community, the heavenly city… A model for community where individual expression is the basis for social harmony and where continuity is the basis for creativity." All on a Mardi Gras Day journeys into a world where hope persists for a rare balance between diversity and unity.
Mardi Gras in New Orleans
by Madison Webb
Illustrated by Mellissa Moore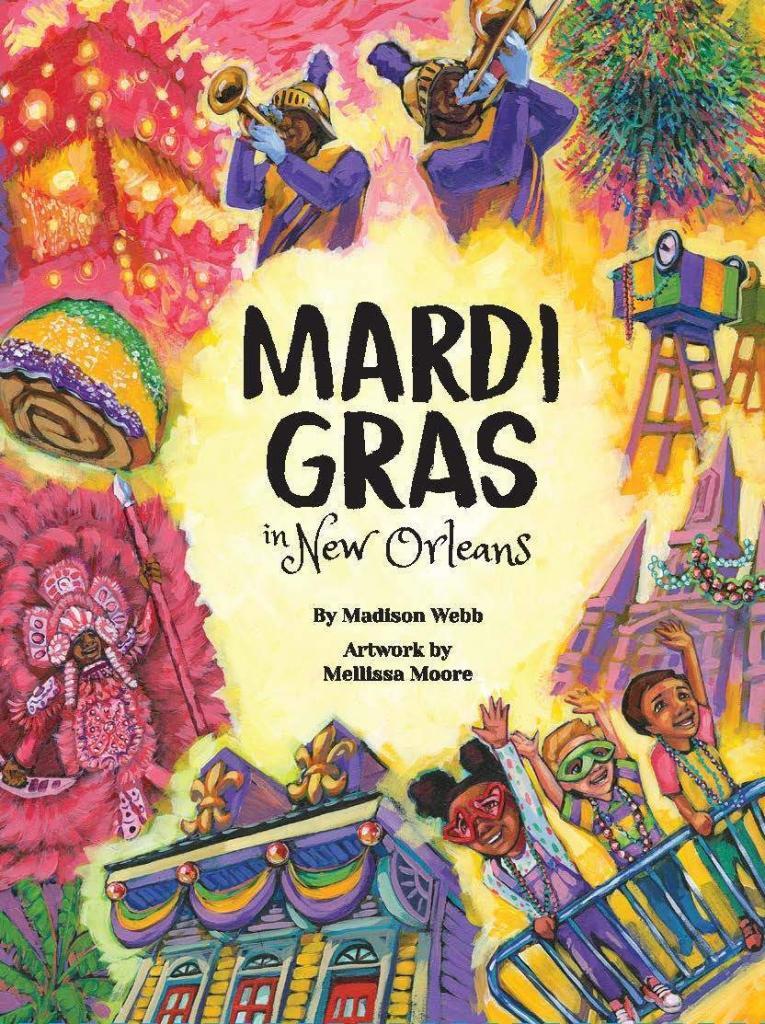 Mardi Gras in New Orleans is a children's picture book that sets young readers on a journey through the storied Carnival season in New Orleans through rich, vibrant imagery that excites, intrigues, and inspires. The story showcases all the fun aspects of Mardi Gras (beads, floats, marching bands), but ultimately leaves the reader feeling that Mardi Gras is something greater—it's about community and the spirit that binds us all together.
The gorgeous gallery-quality illustrations by Jackson Square artist Mellissa Moore bring the pages to life and transport the reader to the heart of the city's beloved celebrations with an incredible sense of detail, emotion, and local flavor
The Little Purple Mardi Gras Bead
by Julie Rowley
Illustrated by John Paquette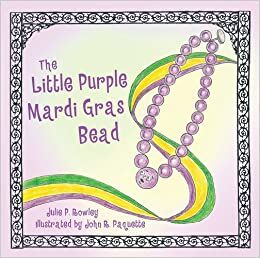 Throw me out there, mister!
When Carnival rolls around in New Orleans, everyone gets into the celebration including the beads! On Fat Tuesday, a plain string of little purple beads hangs from a hook on a parade float. His fervent wish is to be caught by someone special. The bigger and fancier beads tell him that no one will ever catch him. But a little hope and determination may go a long way in the magical season of Mardi Gras! When the bead spots a little princess in the crowd, he knows she is the person for him! Will she try to catch him?
The heartwarming tale offers opportunities for a discussion of bullying, self-worth, and inclusion with young readers. The delightful story and illustrations from this daughter/father team will charm the entire family and become a parade route favorite!
Mardi Gras in Kodachrome
by Charles Cassady Jr. and Mary Lynn Randall
America's greatest party and America's most colorful city, in all their shades, shimmer here in a never-before-published 1950-1960 collection of photographs taken at New Orleans's annual Mardi Gras. Photographer Ruth Ketcham chose the revolutionary Kodachrome slide film to capture Carnival, its walking and parading krewes, bystanders, and masquers. Kodachrome's fade-resistant images preserve a bygone 1950s era, not only of Mardi Gras but also of a bustling French Quarter, alive again with Regal Beer ("Red beans and rice / And Regal on ice"), Dixieland jazz clubs, the burlesque dancers and temptations of Bourbon Street, and the shopper's paradise that was Canal Street.
About the Author: Charles Cassady Jr., a writer-photographer and historian of offbeat Americana, and Mary Lynn Randall, Ruth Ketcham's granddaughter, have drawn from long-lost family archives to create this Mardi Gras album of the vibrant New Orleans that is both never-ending and "ain't dere no more."
I Wanna Do That!
The Magic of Mardi Gras Marching Krewes
by Echo Olander and Yoni Goldstein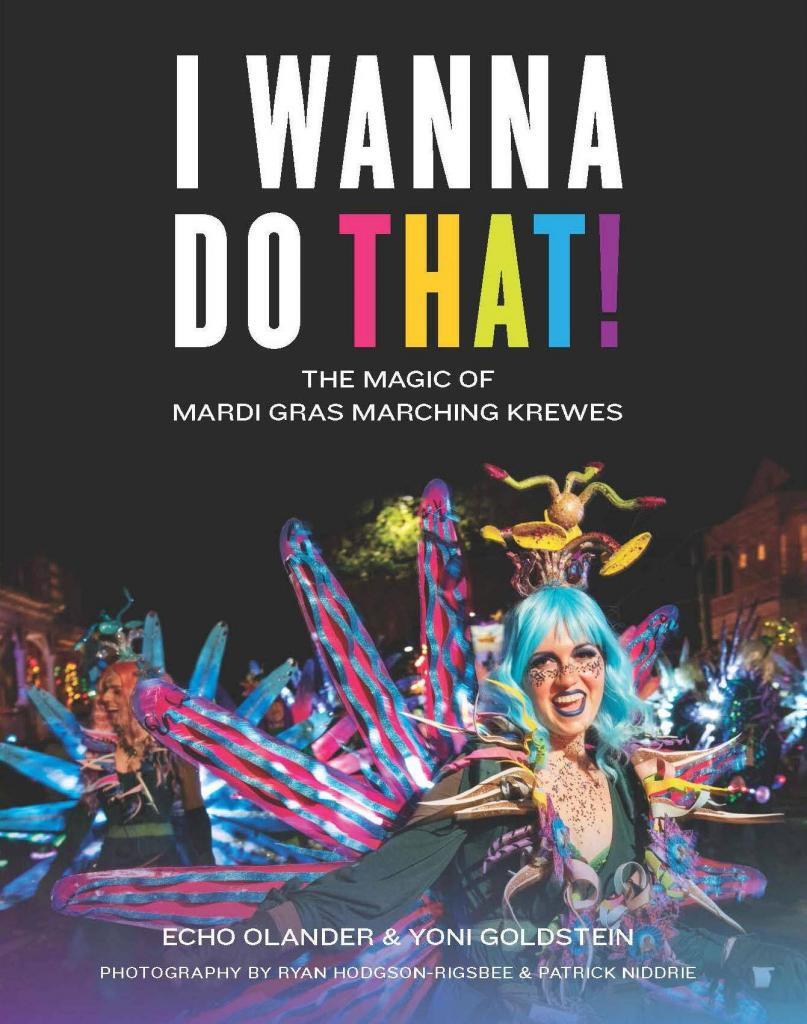 The move from spectator to participant is a quantum leap. Yet each Mardi Gras in New Orleans, thousands of people make that leap, abandoning inhibition and reveling in the ever-growing creative phenomenon of marching krewes.
To celebrate this untold story, I Wanna Do That! Celebrating the Magic of Mardi Gras Marching Krewes, bursts with over 200 full color photographs that document this important New Orleans-centered cultural movement. As local arts critic Doug McCash says, "At this juncture, marching krewes are one of the best art stories in the city."
Ok…so, what is a marching krewe?
Simply put, a marching krewe is a group of like-minded people who get together for the purpose of marching in parades that take place during the Carnival (Mardi Gras) season.
These krewes come in all shapes, sizes, and variations, yet they all share the attributes of creativity, artistry, quirkiness, humor, inclusiveness, and accessibility. Krewes are composed of people who practice dance moves, sew costumes, and create "throws" to hand out to a covetous public. People for whom participation is a badge of civic identity. People who at one point stood on the curb and said "I wanna do THAT!!"
Realizing that the marching krewe field has expanded exponentially, our team knew it was a story that must be told. Two incredibly talented local photographers worked tirelessly to document the creative energy of the 2020 Mardi Gras season for this book, to tell and share the unique story of the 300+ marching krewes in New Orleans. I Wanna Do That! is a perfect gift for anyone who loves New Orleans.
"I Wanna Do That!: The Magic of Mardi Gras Marching Krewes is a must-have book for Carnival aficionados. Leafing through the 272-page volume, illustrated with lusciously funky photos by Ryan Hodgson-Rigsbee and Patrick Niddrie, seems especially precious these days, since the coronavirus has put the kibosh on most upcoming Mardi Gras-season events." – Doug MacCash, Staff Writer, The New Orleans Advocate