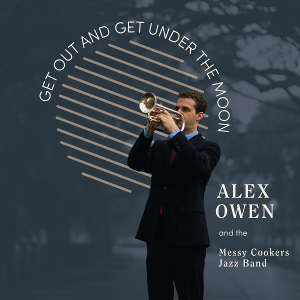 The Messy Cookers have been heating up the New Orleans night since 2012. Led by trumpet player Alex Owen and including on this album Crescent City stars Steve Pistorius, James Evans, Albanie Falletta, John Eubanks, Andy Reid, and Benny Amon they play traditional jazz that is as fresh as a spring breeze. The group just finished performing both French Quarter Fest and The New Orleans Jazz Fest.
Following a pattern he set on the second Messy Cookers album, Owen again recreates the subgroups that the band sends to different gigs. The mix created is not the normal slow number- fast number but instead, a contrast of spare and full that holds your attention over a generally laid back album. Recorded in different sessions the first group, a trio of Owen, Eubanks, and Reid (cornet, guitar, bass) are what they might send to jazz brunches, hotel gigs, and private events.
The trio goes after mellow fare including "Skylark" and "Moonlight on Vermont". The sound largely highlights Owen's own cornet and vocal but where Eubanks takes the lead his guitar work shines. "You're Driving Me Crazy" has the small group getting spicy and their driving rendition of "Sposin'" has the trio at their best.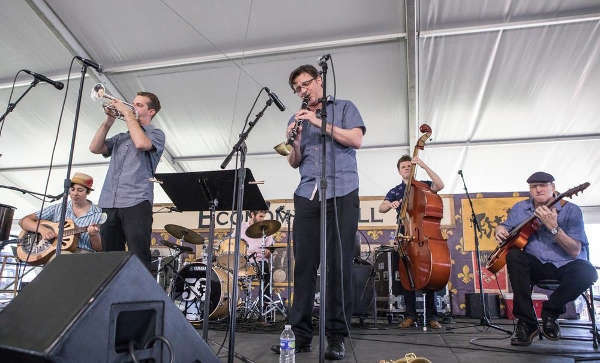 The second group includes trumpet, clarinet, piano, guitar, and drums (Owen, Evans, Pistorius, Falletta, and Amón). It has the fuller sound you'll hear at their club gigs, and as they travel out of town to various haunts along the Gulf Coast.
"Get Out and Get Under the Moon", the Helen Kane version, was one of my first 78s and is therefore etched deep in my psyche as a female lead, but Owen's cheerful period vocals do it justice, and Pistorius on the piano makes it impossible not to smile. They don't seem to emulate any particular version of this song, or the others, instead making them their own.
Albanie Felletta's vocals are an album highlight, particularly on "A Good Man is Hard To Find". She sings skillfully, manipulating the lyric in her own modern voice. Also an excellent guitarist and leader, she's well respected among New Orleans musicians and I don't think I have paid her enough attention.
Aside from "Louisianna", they refreshingly make no attempt to play the odes of their city. Tracks include "Up a Lazy River", "Manhattan", "Wolverine Blues", and "Because of You". The album opens with a hot "Dipper Mouth Blues", and several of 14 tracks are rollicking but it is the quiet numbers, particularly from the trio, that are the most interesting musically. Even with the five piece, the excellent use of space sets the mood.