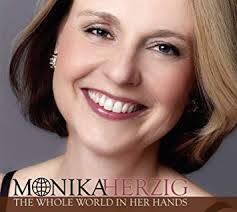 Monika Herzig is a performing pianist, educator and author. She has assembled a group of talented women musicians to perform on this recording. She brings guitarist Leni Stern (Germany/NYC), percussionist Mayra Casales (Cuba), Flutist/saxophonist Jane Bunnett (Canada), saxophonist Lakecia Benjamin (USA/NYC) and bassists Linda Oh (Malaysia/Australia) Anna Butterss(Australia) and cellist Jennifer Vincent(USA) and uses them in varying combinations. Ms. Herzig plays piano on all twelve tracks.
There's plenty of excellent piano on this recording but it's the ensemble which is featured.
One possible drawback for the average listener is that all twelve pieces are new except for a reworking of "The Whole World in Her Hands." (Get it?) It's challenging to the average jazz listener to listen to new compositions. Ms. Herzig plays on all numbers but she assembles groups in varying combinations. One of my favorite cuts is "Peaceful Piece" featuring piano, bass, flute, alto sax and trombone. There's much here to appreciate as Ms. Herzig has put the ensembles together with thoughtfulness. So, give this one a listen and stretch your "ears."
This was recorded at New York's Avatar Studio May and August 2014 and produced by Suzi Reynolds. Ms. Reynolds spent a few years in Pensacola before launching her successful career as producer in New York. I'm pleased to see and hear this latest triumph from a longtime friend.
More info at: MonikaHerzig.com and WhalingCitySound.com