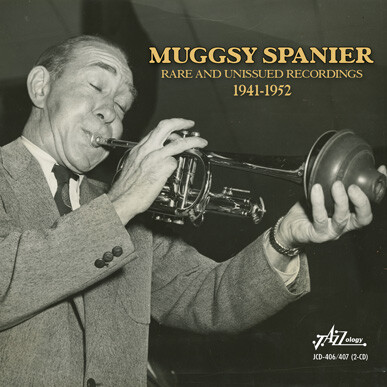 Francis Joseph Spanier was better known as "Muggsy,' a nickname he took for himself from John "Muggsy" McGraw, manager of the New York Giants baseball team. Spanier was a baseball fan for all of his life and at one time entertained thoughts of a professional baseball career.
However, the nickname was about the only thing he borrowed, establishing his own style that distinguished his playing from that of other cornet players. When he is leading a group, one can immediately recognize who is on the cornet.
There would not seem to be much one could add to what has already been said about Muggsy Spanier. The notes for this CD set, along with the book Muggsy Spanier: The Lonesome Road (1995) by Bert Whyatt, give a fairly detailed analysis of his style. Suffice to say here he is a hot player, punching out his notes in flurries and driving the band. His tone is fat and firm and with just a slight vibrato at the end of each phrase.
He is much given to use of the plunger mute, somewhat like King Oliver, who gave him one which he used all his playing life. Adding to the heat is the tempos at which he took so many tunes, and not just the usual up-tempo pieces like "Shine" (2-14) or "[It's a Long Way to] Tipperary" (2-9), which he takes here at breakneck speed, but also the blues, such as "Jazz Me Blues" (1-6) or "St. Louis Blues" (2-6) in this set. Playing fast or slow, any band led by Spanier never strays too far from the melody
On occasion, Spanier can lay back a little, as he does on "Sweet Lorraine" (1-12) or on "A Good Man Is Hard to Find" (2-13). On such slower-paced tunes he can indulge in rubato introductions, such as that in "Baby Won't You Please Come Home" (1-9)), or interesting cadenzas like that in all versions of "Relaxin' at the Touro" (1-15, 2-3 and 28). In many instances the listener's interest is piqued by such devices as unusual stop time—"Three-Two- One Blues" (1-7)—or a four-bar harmonic descending run intro. by the front line and a closing duet between cornet and tom-toms as in "I want a Big Butter and Egg Man" (2-34).
The majority of the selections on this two-disc set were previously unissued, and those that were had a limited exposure. The first half dozen, along with a few others, were included on the CD that accompanied the Muggsy Spanier: The Lonesome Road book. An additional number were issued on a Jazzology LP (J-115), leaving some thirty-two others unissued in any form. The transfers are all first class, as are the booklet notes.
Spanier fans will be delighted to have all of these recordings available in this two-disc set of over two hours playing time. The first disc contains selections that are all, other than the last two tracks, close to the "regular" three minute duration of the 78 rpm record. Short though the thirty-four tracks on disc two may be, they provide a cornucopia of hot music, leaving one to wonder how the musicians, especially Muggsy, managed to pack so many notes into such brief spaces. Muggsy Spanier being a herald of the coming traditional jazz revival of the forties, this CD set is a worthy addition to any traditional jazz collection.
---
Muggsy Spanier: Rare and Unissued Recordings 1941-1952, Jazzology JCD-406/407
Disc 1 Playing time: 62m. 27s.
Sunday Swing Concert
I've Found a New Baby; Swinging without Mezz; Exactly Like You; [I Wish I Could Shimmy Like My] Sister Kate; You Took Advantage of Me; Jazz Me Blues
[Recorded in Chicago, Mar. 9, 1941]
Muggsy Spanier's Chicago Loopers 1943
Three-Two-One Blues*; I've Found a New Baby*; Baby, Won't You Please Come Home
[Recorded in Chicago, Nov. 15, 1943]
Muggsy Spanier's Chicago Loopers 1944
Sugar [That Sugar Baby of Mine]*; [I Wish I Could Shimmy Like My] Sister Kate*; Sweet Lorraine*; September in the Rain*; Oh! Lady Be Good*
[Recorded in World Studios, New York City, Pr. 26, 1944]
Muggsy Spanier on The Dave Garroway Show, live, 1948
Relaxin' at the Touro
[Recorded in Chicago, Oct. ??, 1948]
Muggsy Spanier Dixieland Band, May 1952 (2nd alt. takes)
When the Saints Go Marching In*; [I Wish I Could Shimmy Like My] Sister Kate*
[Probably recorded in Universal Studio, Chicago, May 13, 1952]
Disc 2 Playing Time: 69m. 15s.
Muggsy Spanier Dixieland Band, May 1952 (master takes)
Muskrat Ramble; [I Wish I Could Shimmy Like My] Sister Kate*; Relaxin' at the Touro;
Rosetta*; When the Saints Go Marching In*; St. Louis Blues*; Dixie Flyer*; Lazy Piano Man Blues; [It's a Long, Long Way] to Tipperary; I want a Big Butter and Egg Man; Jazz Me Blues*; Eccentric*; A Good Man Is Hard to Find
[Recorded in Universal Studio, Chicago, May 13, 1952]
Muggsy Spanier Dixieland Band, Nov. 1952 (master takes)
Shine*; Riverside Blues; Sunday; I'm Confessin' That I Love You; Dippermouth Blues; Panama; Cherry*; At the Darktown Strutters Ball*; Sweet Georgia Brown*; Stumbling*; My Honey's Lovin' Arms*; I've Found a New Baby
[Recorded in Universal Studio, Chicago, Nov. 5, 1952]
Muggsy Spanier Dixieland Band, May 1952 (alt. takes)
Muskrat Ramble*; [I Wish I Could Shimmy Like My] Sister Kate*; Relaxin' at the Touro*; Rosetta*; When the Saints Go Marching In*; St. Louis Blues*; Lazy Piano Man Blues*; [It's a Long, Long Way] to Tipperary*; I Want a Big Butter and Egg Man*
[Probably recorded in Universal Studio, Chicago, May 13, 1952]
*previously unissued
Personnel:
1941 – Muggsy Spanier, cornet; Bud Freeman, tenor sax; Jess Stacy, piano; Bob Casey, bass;
Baby Dodds, drums
1943 – Muggsy Spanier, cornet; Warren Smith, trombone; Bud Jacobson, clarinet, tenor sax
[Unlisted personnel: Jack Gardner, piano; Pat Pattison, bass; Frank Rullo, drums]
1944 – Muggsy Spanier, cornet; Ernie Caceres, baritone sax; Pee Wee Russell, clarinet; Dick Cary, piano; Eddie Condon, guitar; Bob Casey, bass; Joe Grauso, drums
1948 – Muggsy Spanier, cornet; Rest unknown
1952 – Muggsy Spanier, cornet; Ralph Hutchinson, trombone; Darnell Howard, clarinet; Floyd Bean, piano; Truck Parham, bass; Barrett Deems, drums