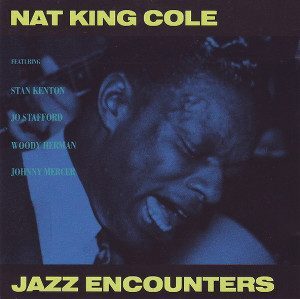 Nat King Cole's centennial was March 17, resulting in many tribute albums being released this year. However, good as some of those homages are, none can really compare to Cole's original recordings.
One of the top jazz pianists of the 1940s, Nat King Cole evolved into one of the most popular crooners of the 1950s. He became such a major name as a singer that many of his later fans of the time were largely unaware of his skills on the keyboard. That oversight seems surprising now that most of his recordings are available and he has been justly celebrated for both of his talents.
If one needs a reminder about Cole the pianist, Jazz Encounters serves as a great reminder for, while not neglecting his vocal skills, these are some of his better recordings as a jazz pianist outside of his prolific work with the King Cole Trio.
The CD features Nat Cole with the 1947 Metronome All Stars (which includes Dizzy Gillespie and the Stan Kenton Orchestra), the Capitol International Jazzmen (playing next to Coleman Hawkins, Benny Carter, and trumpeter Bill Coleman), accompanying singer Jo Stafford, and interacting both vocally and instrumentally with Nellie Lutcher, Woody Herman, and Johnny Mercer (including the delightful "Save The Bones For Henry Jones").
While there are many Nat King Cole albums currently available, Jazz Encounters contains its share of rarities and should not be overlooked.
Nat King Cole Jazz Encounters (Capitol Jazz 96693, 21 selectiVachéons, TT = 60:34)