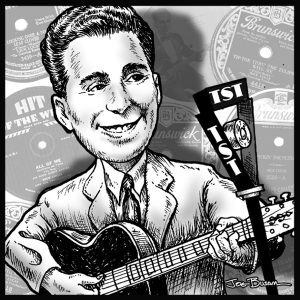 Nick Lucas was born Dominic Nicholas Anthony Lucinese on August 22, 1897, in Newark, New Jersey. When Nick was about nine years old, his older brother Frank taught him music using the solfeggio method. Nick learned the mandolin so he could accompany Frank's accordion playing, and the guitar and banjo shortly thereafter.
From his teens Nick played in local orchestras. His guitar was not loud enough to be heard without amplification, so he switched for a time to the banjo-mandolin and tenor banjo. Within a few years he became an in-demand sideman and recorded from the early 1920s with Don Parker, Sam Lanin, and others.
In 1922, he made what is considered to be the first solo jazz guitar recording: "Pickin' the Guitar" and "Teasin' the Frets." At about the same time, he became the first guitarist to record as part of a dance band's rhythm section.
Nick Lucas was already an accomplished instrumentalist, but in November 1924, when he recorded "My Best Girl" for Brunswick, he created an intimate style of singing (accompanied by his guitar) that brought him a whole new level of fame. Recording companies were poised to convert to the electric system, and soon the soft, melodious crooning of Lucas and Gene Austin (who began recording as a soloist in early 1925) could be fully appreciated via home phonograph.
Lucas was a major recording star from the mid-1920s onward. In 1926, Gibson first offered a Nick Lucas Special Guitar, built to his specifications. In 1929 he appeared in the Warner Brothers musical Gold Diggers of Broadway, and introduced what was to be his biggest hit, "Tip-Toe Thru' the Tulips." On the success of Gold Diggers, the studio cast him in the revue Show of Shows.
Nick worked steadily through the Depression and beyond, making stage appearances and performing on radio, records, films, and television. He received a late-career boost when Tiny Tim revived "Tip-Toe Thru' the Tulips," and was featured as a guest on numerous TV programs, including those of Ed Sullivan, Merv Griffin, and Johnny Carson.
Nick Lucas, The Crooning Troubadour, kept playing the guitar, singing, and entertaining for seven decades. He died in Colorado Springs, Colorado, on July 28, 1982.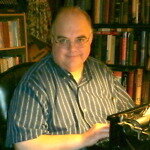 Andy Senior is the Publisher of The Syncopated Times and on occasion he still gets out a Radiola! podcast for our listening pleasure.