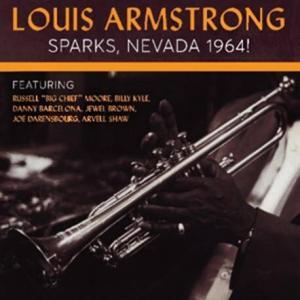 LOUIS ARMSTRONG AND GENE KRUPA
The Dot Time label recently came out with a disc apiece of previously unreleased material by Louis Armstrong and Gene Krupa from the mid-1960s. While it is always great to hear some "new" Satch, Sparks, Nevada 1964 (the third of four Armstrong sets scheduled for this series) fails to reach the level of the previously released The Standard School Broadcasts and The Nightclubs. The CD contains a typical and brief (45-minute) set by the Louis Armstrong All-Stars which at the time included trombonist Big Chief Russell Moore, clarinetist Joe Darensbourg, pianist Billy Kyle, bassist Arvell Shaw, drummer Danny Barcelona, and singer Jewel Brown.
After the theme ("When It's Sleepy Time Down South"), Louis Armstrong does a good job playing his set solo on "Indiana." "A Lot Of Living To Do," and "Blueberry Hill" are pleasing if uneventful. A brief "Tiger Rag" is taken so fast as to be incoherent while "Hello Dolly" is given a standard treatment followed by several repetitious encore versions that get increasingly difficult to sit through. Kyle is in excellent form on his feature "When I Grow Too Old To Dream," Shaw's bass is spotlighted throughout a lengthy "How High The Moon," and Brown sings "Lover Come Back To Me" and "Have You Heard About Jerry?" The performance ends with "The Saints." Overall, nothing out of the ordinary occurs, Moore and Darensbourg are rarely heard from, and everything that Louis Armstrong sings or plays is predictable, making this a CD primarily for completists.
Sparks, Nevada 1964 (Dot Time DT 8011, 11 selections, TT = 44:25) www.dottimerecords.com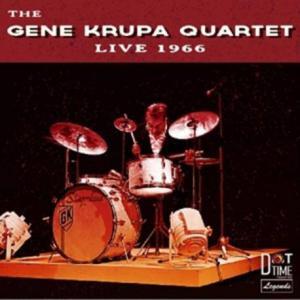 The Gene Krupa set is on a higher level. The influential drummer was still just 57 when he performed the music on Live 1966 but he was nearing the end of his career. After leading trios and quartets for much of the time following the breakup of his big band in 1950, Krupa's gradually declining health and his feeling that he was not playing all that well resulted in him retiring in 1967. He came back in 1969, made some final appearances with Eddie Condon and Benny Goodman, and led a final album in 1973 a few months before he passed away.
Considering all of that, it is surprising to hear Krupa playing in prime form throughout the Dot Time release, taking lengthy and enthusiastic solos on "Big Noise From Winnetka," "Caravan," and "Drum Boogie." Eddie Shu, who had played with Krupa off and on since 1954, adds a great deal to the music whether playing clarinet, tenor, harmonica or trumpet. He puts plenty of passion into each of his solos and, while based in swing, on tenor shows that he was quite capable of playing uptempo bop lines in a style not that far from Sal Nistico and Tubby Hayes. It is strange that the multi-talented Shu (who had a brief stint with Louis Armstrong) never became well known. Pianist Dill Jones displays versatility and is showcased on Fats Waller's "Alligator Crawl" while bassist Benny Moten (featured on "Big Noise From Winnetka") works well with Krupa.
The performances on the Gene Krupa release adds to the drummer's musical legacy and are often quite stirring, showing that after nearly 40 years, Krupa still had more fine music to contribute.
Live 1966 (Dot Time DT 8010, 8 selections, TT = 58:22) www.dottimerecords.com
THE SMOKING TIME JAZZ CLUB
Talk about being a bit late to the party, I had not heard of the Smoking Time Jazz Club until recently. A regular fixture in the New Orleans jazz scene since its formation, the group recently released their ninth CD, Take Your Tune And Fly, making me regret having missed their earlier sets.
The current version of the band is comprised of trumpeter Jack Pritchett, trombonist Russell Ramirez, Byron Asher on clarinet and tenor, Joe Goldberg switching between clarinet, alto and soprano, either Molly Reeves or Brett Gardner on guitar, banjoist Joseph Faison, bassist John Joyce, drummer Mike Voelker, and singer Sarah Peterson.
Ms. Peterson's singing is a welcome part of the band for her vocals tend to be brief but fit very well into the group's vintage sound. The soloists are all excellent and are in the 1920s/30s style, but the ensembles are particularly colorful and give the band its own musical personality. Highlights include such songs as King Oliver's rarely-played "Stingaree Blues," "Kansas City Man Blues," "Tight Like That," "Temptation Rag," and a rousing "Weary Blues."
This CD is great fun that makes me wish I was in New Orleans, catching the Smoking Time Jazz Club at their regular gigs at the Maison and the Spotted Cat.
Take Your Time And Fly (Self-released, 12 selections, TT = 48:10) www.smokingtimejazzclub.com
TWO GEMS FROM THE LAKE LABEL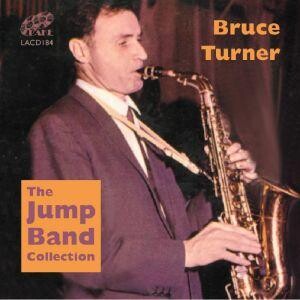 In the 1950s, fans of trad jazz in the United Kingdom took their music seriously. When trumpeter Humphrey Lyttelton, leader of one of the most popular bands, added altoist-clarinetist Bruce Turner to his group in 1953, many of his fans were not amused. What was a swing altoist who was inspired by Tab Smith and Johnny Hodges doing in a group that was primarily playing 1920s jazz? Things got worse in 1956 when clarinetist Wally Fawkes left Lyttelton and Turner became the group's lone reed player. Some of the more partisan fans called Turner "the dirty bopper" even though he was really a swing player. Some blamed him for Lyttelton's decision to de-emphasize 1920s jazz in favor of mainstream swing, a decision actually contemplated by the trumpeter before Turner had joined the band and one that continued after Turner went out on his own in 1957.
The altoist had hoped that forming a swing combo would result in his music duplicating the popularity of trad jazz in Britain, but it never quite happened. The Jump Band Collection features Turner's groups in 1957 and 1962, with all but four of the 18 selections being unissued at the time that this CD came out. The 1957 band, a quintet with trumpeter Terry Brown and pianist Al Mead, not only swings well on such standards as "Broadway," "In A Mellotone," and "Topsy" but Turner does a superior job of romping through "Northwest Passage" on one of the very few small group versions of this Woody Herman-associated number.
The 1962 band, a sextet with trumpeter John Chilton and trombonist Peter Strange, features Turner exploring a variety of material that ranges from Clarence Williams' "Cushion Foot Stomp" and Benny Carter's "Accent On Swing" to "Carioca," "Four Or Five Times," and the early pop tune "A Little Bit Independent." In addition to Turner, Chilton (best known as a very significant jazz author) takes many excellent trumpet solos in the swing style.
While Bruce Turner had a few opportunities to record albums with his Jump Band, this rarity holds its own with his other sessions.
The Jump Band Collection (Lake LACD 184, 18 selections, TT = 61:31) www.fellside.com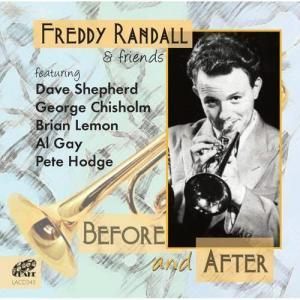 Bruce Turner played a bit with trumpeter Freddy Randall in his early days but trad and Dixieland fans will find nothing to gripe about on Before And After. Randall was an exciting hot soloist who was at his best playing freewheeling jazz. After a busy decade, he was forced to retire from playing in 1958 due to a lung ailment. He made a brief comeback during 1963-65 and then came fully back to the scene in 1972. Before And After features Randall in 1957 and 1972, shortly before he dropped out and after his return.
The 1957 session has Randall's regular band (with trombonist Pete Hodge, clarinetist Al Gay and pianist Syd Boatman) performing heated versions of seven standards including "Dr. Jazz," "Panama," and "Dinah." Randall's playing is quite spectacular (almost like Al Hirt's would be but with a bit more taste) and the ensembles are consistently rousing. The 1972 date features what was billed as "Britain's Greatest Jazz Band," (their answer to the World's Greatest Jazz Band), an all-star unit with trombonist George Chisholm, clarinetist Dave Shepherd and pianist Brian Lemon. Due to several individual features (including Lemon on "Little Rock Getaway," Shepherd during an outstanding "Running Wild," and a couple for Chisholm), Freddie Randall is not heard from as much as one might like. However whenever he gets to solo or lead the ensembles, he shows that he was still very much in his prime, playing the Chicago Dixieland that he loved.
Before And After (Lake LACD 343, 16 selections, TT = 78:51) www.fellside.com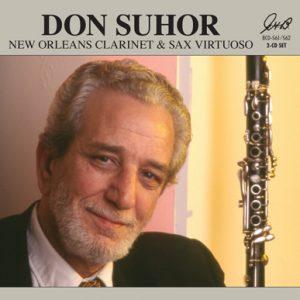 DON SUHOR
Although Don Suhor (1932-2003) worked steadily in New Orleans (mostly as a clarinetist) for decades, one can be forgiven for not recognizing his name. Suhor was simply not interested in recording or leaving behind a musical legacy. He was primarily concerned with playing good music and challenging himself to come up with fresh ideas. He only appeared on six albums (all as a sideman) during his career including with Gary Burghof's Mardi Gras Celebration Jazz Band, the Tuxedo Jazz Band, Wendell Brunious, and Topsy Chapman.
Fortunately Suhor's playing was captured on some private tapes, making it possible for a two-CD set titled New Orleans Clarinet & Sax Virtuoso to be released. While very familiar with New Orleans and swing clarinet styles, Suhor was also open to bop and the cool jazz of Lee Konitz, particularly when playing alto. On both of his instruments, Suhor had a wide range and was able to hit very high notes with ease, making the occasional leaps into the stratosphere a logical part of his open-minded style.
The first disc of this twofer has eight numbers that really showcase Suhor's clarinet playing. He is heard in a trio with banjoist Amy Sharpe and bassist Al Bernard, romping on such numbers as "Crazy Rhythm," "Seven Come Eleven," and "'S Wonderful." Suhor is also featured on an outstanding version of "Basin Street" with Gary Burghof, three fine numbers with Topsy Chapman, "Dippermouth Blues" with Brunious, and two songs in a trio with guitarist John Eubanks and bassist Richard Moten.
The second CD mostly has Suhor on alto. He is featured interpreting nine standards with bassist-singer Don Vappie, pianist Phil Parnell, and drummer Stanley Joseph, really digging into "Lady Be Good," "Caravan," "South Rampart Street Parade," and "Second Line." The release concludes with two more numbers with the John Eubanks Trio, modern interpretations of "Lotus Blossom" and George Russell's "Ezz-Thetic"; the latter can be regarded as a tribute to Lee Konitz.
Despite his lack of interest in documenting his playing, the release of this twofer lets one enjoy the musical legacy of Don Suhor, a talent who deserves to be remembered.
New Orleans Clarinet & Sax Virtuoso (GHB BCD-561/562, 26 selections, TT = 1:53:35) www.jazzology.com
JAZZ CLASSIC OF THE MONTH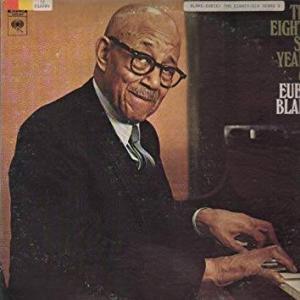 Eubie Blake had such a unique career that he fits into his own musical category. A near-contemporary of Scott Joplin, Blake was a ragtime composer as early as 1899 when he wrote "Charleston Rag." A stage performer, he not only teamed up with singer Noble Sissle as the Dixie Duo in black vaudeville but collaborated with Sissle in writing musicals including the pioneering hit Shuffle Along in 1921 which included his "I'm Just Wild About Harry." Blake began recording as early as 1917 and with Sissle made a few pioneering sound films in 1923. He had success writing "Memories Of You" and recorded with his swing band in 1931 but mostly maintained a low profile for decades.
However during 1968-69, with the release of the double-LP The Eighty-Six Years Of Eubie Blake, he launched a comeback that resulted in his last 14 years being among the busiest of his life. The last living ragtime composer, Blake became a national celebrity who was universally beloved.
The Eighty-Six Years Of Eubie Blake, which amazingly enough has still not been reissued on CD, does a superb job of summing up Blake's life up to that point. He performs a variety of his originals (including "Charleston Rag," "Eubie's Boogie," "Tricky Fingers," "Troublesome Ivories," "Shuffle Along Medley" with Noble Sissle, "I'm Just Wild About Harry," and "Memories Of You") plus a James P. Johnson medley, "Maple Leaf Rag" and a delightful version of "The Stars And Stripes Forever." Other than Sissle's three appearances, Eubie Blake is heard throughout as a solo pianist, clearly having a great time being back in the spotlight again. This is his definitive album and it is well worth a search on Amazon to acquire.
The Eight-Six Years Of Eubie Blake (Columbia C2S 847, 26 selection TT = est. 80:00)
---
In every issue of the Syncopated Times, Nights At The Turntable features reviews of CDs by classic jazz, 1920s and '30s, New Orleans Jazz, Swing and Dixieland artists, covering both vintage greats and some of today's top musicians. Be sure to send a copy of your CDs to Scott Yanow, P.O. Box 1220, Lake Hughes, CA 93532 if you wish to have your recordings reviewed. If you are a musician and need liner notes, bios or press releases, feel free to drop me a line at scottyanowjazz@yahoo.com.
---
This is what our print edition feels like. If you want good news to read with your morning coffee, order a print subscription. You'll get full online access to our archives, web extras, and our next issue will arrive at your door. Online only access to all of our original material is also available! Support Hot Jazz Journalism- Subscribe
Subscription Options
---
Or get the Print Edition with Online Access. To get the print edition of The Syncopated Times use this Paypal link. After you pay you will be issued a coupon for free online access.