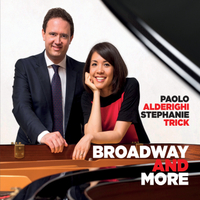 PAOLO ALDERIGHI AND STEPHANIE TRICK
In recent years, the married couple Stephanie Trick and Paolo Alderighi has often performed as a duo on one piano. While that setting shows listeners what four hands can do to a single keyboard, it is naturally a bit limiting, making it difficult for Ms. Trick to stride with her impressive facility and for Alderighi to stretch the music beyond swing. On Broadway And More they again perform as a duo but this time on two pianos. While perhaps less unique, the pianists are also less restrained in this format and can more easily challenge each other.
Alderighi and Trick perform a wide-ranging program that includes Irving Berlin's "Marie," "Make Believe," and "If I Had A Million Dollars" next to the theme from "An Affair To Remember," "Mr. Sandman," and even the Beatles' "Penny Lane." Rather than revive stride pieces by the likes of James P. Johnson or Fats Waller, the duo, after paying respect to the melodies, turn the standards into stride.
Most intriguing are the witty and creative medleys that they create from the scores of the Broadway shows Call Me Madam, West Side Story, and The Music Man. All in all, this is a delightful outing. View and Share this review as its own post.
Broadway and More (ATCD 005, 12 selections, TT = 62:53) www.paoloandstephaniecom
THE SHOTGUN JAZZ BAND
One of the top vintage jazz bands performing regularly these days in New Orleans, the Shotgun Jazz Band consists of singer-trumpeter Marla Dixon, her husband and co-leader banjoist John Dixon, James Evans on C-melody and clarinet, trombonist Charlie Halloran, and bassist Twerk Thomson. On their recent recording Steppin On The Gas, they are joined by the great pianist David Boeddinghaus on each of the 16 selections, with six of the instrumentals also adding trumpeter Ben Polcer and altoist-clarinetist Tom Fischer.
There are times when the band sounds like a top-notch revival group from the 1950s, and other times when it could pass for an ensemble straight from the 1920s. With its first-class singing, colorful solos, and rousing ensembles, there are quite a few highlights on this CD. In fact, every selection has its exciting and memorable moments. The program begins with a version of "Gulf Coast Blues" (originally recorded by Bessie Smith and James P. Johnson) that puts the spotlight on the singer and the pianist. However it becomes apparent, with a hot version of "White Ghost Shivers," James Evans' vocal on "How Am I To Know," a heated "She's Crying For Me," Ms. Dixon's fresh singing on "Moonlight Bay," and a stirring rendition of "Smiles" that there is plenty of variety to be found on this disc. Whether it is a rare version of Jelly Roll Morton's "I Hate A Man Like You" (which Lizzie Miles first recorded), versions of "Down By The Riverside" and "Ole Miss" that emphasize the lesser-known strains, the completely forgotten but worthy "Rose Of Bombay," or the title track (whose forward momentum lives up to its title), Steppin On The Gas is an album that needs to be heard by every trad and classic jazz fan, not once but repeatedly.
View and Share this review as its own post.
Steppin On The Gas (Self-released, 18 selections, TT = 59:52) www.shotgunjazzband.com
TONGUE IN CHEEK
Tongue In Cheek is a fine trad band that is based in Baltimore and Washington D.C. The core of the group is banjoist-leader Zach Serleth, singer Bridget Cimino, violinist Matt Andrews, trombonist-pianist Keith Myers (who also does a bit of singing), Ed Goldstein on tuba, and drummer Nick Stevens. Some selections also include trumpeter Steven Cunningham and pianist Jonathan Jensen.
The band is flexible both in its instrumentation and its repertoire. On its recent CD Jelly Roll, the music ranges from "Baltimore" and "Old Man Of The Mountain" to "Lover Come Back To Me" and "Russian Rag." The unusual frontline (which is sometimes comprised of violin, trombone, and banjo with prominent accompaniment by the tuba) and Ms. Cimino's fine singing give the group its own musical personality. It is particularly rewarding to hear such obscurities as "Ay Ay Ay Ay (My Serenade)," "If You Want The Rainbow," and "There Ain't No Sweet Man Worth The Salt Of My Tears" (famous for the Paul Whiteman version but rarely performed since) being played with enthusiasm.
The one reservation that I have about the group is their name, which may lead some to think of this as a comedy band. While listening to Tongue In Cheek is fun, the spirited music that they create is no joke.
Jelly Roll (Self-Released, 13 selections, TT = 59:39) www.tncjazz.com
REINHARDT SWING
It seems only natural that someone with the name of Eliot Reinhardt Kenin would someday grow up to be a swing guitarist. The leader of Reinhardt Swing, Kenin plays rhythm guitar and takes occasional vocals with the Northern California group which also includes solo guitarist-singer Mike Schwartz, violinist Ole Kolind, and bassist Marty Eggers. Come Dance, which was recorded a few years ago but seems to have not been reviewed anywhere, is an enjoyable and mostly mellow set of very danceable swing.
Reinhardt Swing's sound and style, while naturally falling within the musical world of Django Reinhardt and Stephane Grappelli, is fairly gentle, sometimes touched by vintage country music, and features mostly-familiar songs taken at relaxed tempos. One certainly would have no difficulty dancing to any of these 18 songs which include "All Of Me," "Dinah," "I Can't Give You Anything But Love," "Bei Mir Bist Du Schon," and Hank Williams' "Hey Good Lookin'." Kolind and Schwartz are the lead voices and have many melodic solos while Kenin and Eggers keep the music swinging throughout.
Readers who live near San Francisco would be wise to check out this pleasing group in person.
Come Dance (Self-Released, 18 selections, TT = 67:37) www.reinhardtswing.com
CHRIS LUDOWYK'S SOCIETY SYNCOPATORS
Australian trombonist Chris Ludowyk has loved and played New Orleans style jazz since at least his debut recording (with Lachie Thompson's New Whispering Gold Orchestra) in 1968. He worked in Melbourne with the New Harlem Jazz Band in the 1970s and in 1984 formed Chris Ludowyk's Society Syncopators. The group, which later became known simply as The Syncopators, was quite popular and did well in Australia for decades. The Syncopators toured Europe 18 times and are featured on the same number of CDs.
Les Copains D'abord, which was recorded back in 1992, features the leader, trumpeter Peter Gaudion and Richard Miller (clarinet, alto and tenor) as the frontline; the three were still in the band at the time of their most recent recordings. For this early set, they are joined by Jeff Arthur on guitar and banjo, Pip Avant on tuba and acoustic and electric basses, and drummer Cal Duffy. Two songs add pianist Bruno Zanchetta and have Gilbert Andre on drums while guest Claudine LaFleur sings "I'm Beginning To See The Light."
The music ranges from Dixieland (including a hot "Let Me Call You Sweetheart"), to swing and ballads with the emphasis on melodic material. Gaudion contributes a solid lead on trumpet, some heated solos, and occasional vocals. His scatting on "Song Of The Islands" sounds exactly like Louis Armstrong and "Buona Sera" gives one an idea what it might have sounded like if Satch had sung with Louis Prima's band. Guitarist Arthur is featured on a tasteful version of Django Reinhardt's "Nuages" while "Cajun Calling" is a one-chord romp for clarinetist Miller and Arthur on banjo. The band engages in some group singing on "Glow Worm," is quite effective on an expressive version of "Black And Tan Fantasy," and really gets to stretch out during an extended version of Sidney Bechet's "Dans Les Rues D'Antibes" which closes the fine CD.
Les Copains D'abord (Self-Released, 15 selections, TT = 67:52) www.thesyncopators.com
THE SHOW BEFORE THE SHOW
Since 2002, pianist Mike Jones, a virtuoso with a forward-looking swinging style that would easily appeal to fans of Oscar Peterson, has been the warm-up act for Penn & Teller, the unique magicians. Jones plays for an hour in a duo before the magic act begins. His bassist is Penn Jillette. Penn, the magician who talks on stage as opposed to the silent Teller, was a beginner in 2002. However he has developed since then into a fine musician with a big tone who plays swinging bass lines while staying mostly in a supportive role.
The Show Before The Show has Jones and Penn performing nine familiar standards plus the pianist's original "Box Viewing Blues." Jones (who had previously led at least eight albums) tears into such songs as "Broadway," "But Not For Me," "Tangerine," and "Exactly Like You," creating dazzling variations while keeping the melody close by. His versions of "Corcovado" and "Manha de Carnival" largely ignore their bossa-nova roots in favor of swinging. Penn, who makes his recording debut as a bassist, sounds fine throughout, taking some basic solos and offering excellent accompaniment.
The fast-moving program (there is barely a second of silence between the songs and no ballads are included) stays happily stimulating throughout, making for a joyful listening experience.
The Show Before The Show (Capri 74148, 10 selections, TT = 60:38) www.caprirecords.com
JAZZ CLASSIC OF THE MONTH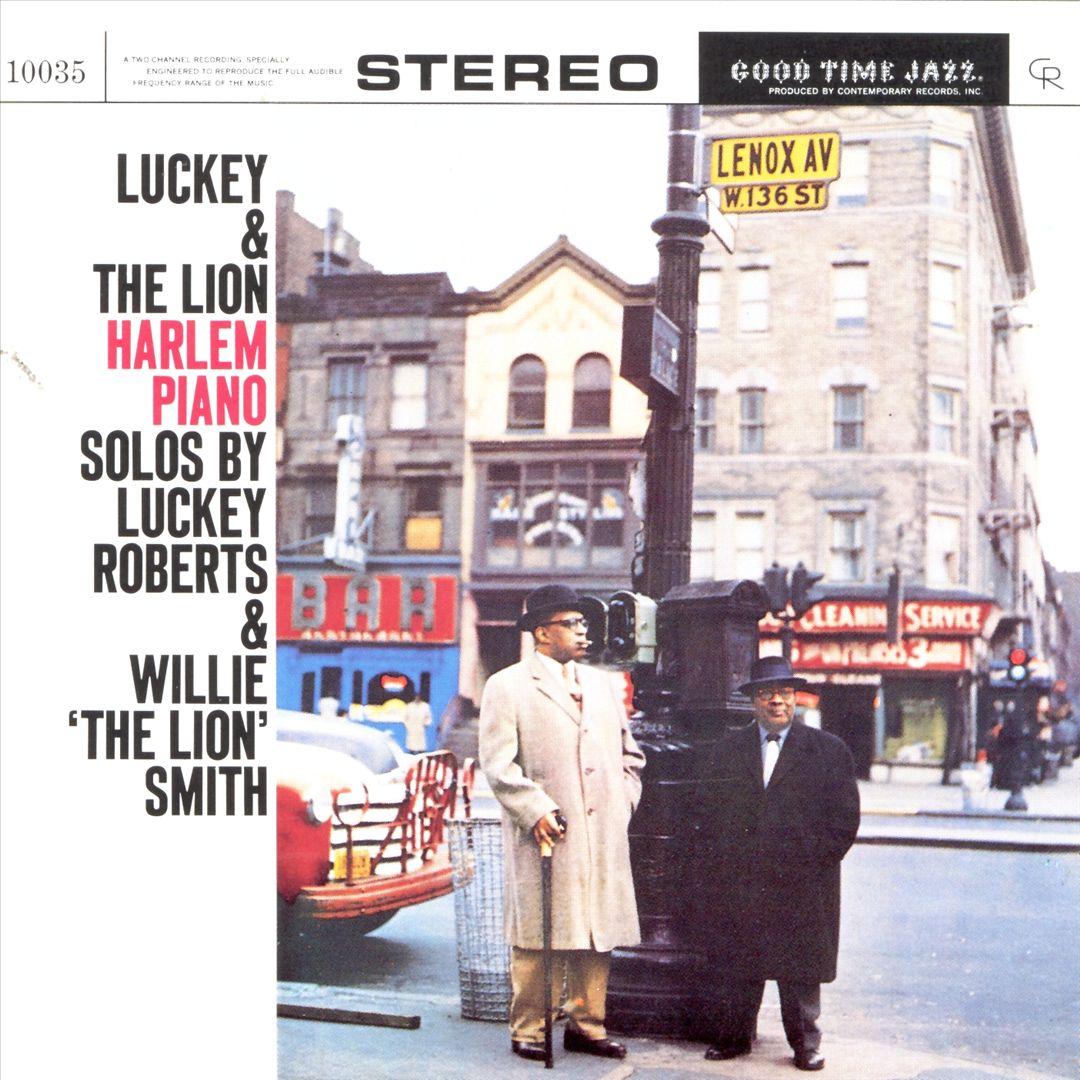 Luckey Roberts (1887-1968) was one of the greatest of all stride pianists but he barely made it onto records. Other than backing singer Eddie Hunter on two numbers in 1925 and being credited with a few obscure sideman appearances (some of which might not actually be him), he did not make his first records until 1946 when he was already 59, cutting six piano solos. Roberts was on a pair of Rudi Blesh's This Is Jazz radio programs in 1947 but otherwise he just recorded two albums in 1958 at the age of 71. One was a quartet date of Dixieland tunes with clarinetist Garvin Bushell while the best album was one that he split with Willie "The Lion" Smith called Luckey and the Lion: Harlem Piano. Roberts is featured performing a set of six originals including "Inner Space," "Outer Space," "Complainin'" and the dazzling "Nothin'" which show just how brilliant a pianist he was even that late in life.
Willie "The Lion" Smith (1897-1973) also took some time before he was well documented. Although he was on three sessions with Mamie Smith (including her hit "Crazy Blues") in 1920, Smith only recorded seven other songs in the 1920s despite being ranked at the top of stride pianists along with his pals James P. Johnson and Fats Waller. An association with Clarence Williams resulted in some record dates in the 1930s although it was not until 1938-39 (when he was in his forties), that his brilliance as a piano soloist and a composer of sophisticated originals began to be documented.
For his half of Harlem Piano, Smith performs five originals (including the impressionistic "Morning Air," "Rippling Water," and "Relaxin'") plus the standard "Between The Devil And The Deep Blue Sea," sounding both thoughtful and rambunctious throughout his miniset.
Harlem Piano serves as an excellent introduction to these two masterful stride pianists.
Luckey and The Lion (Good Time Jazz 10035, 12 selections, TT = 43:30) www.amazon.com
---
In every issue of the Syncopated Times, this monthly column features reviews of CDs by classic jazz, 1920s and '30s, New Orleans Jazz, Swing and Dixieland artists, covering both vintage greats and some of today's top musicians. Be sure to send a copy of your CDs to Scott Yanow, P.O. Box 1220, Lake Hughes, CA 93532 if you wish to have your recordings reviewed. If you are a musician and need liner notes, bios or press releases, feel free to write me at scottyanowjazz@yahoo.com.