Ella Fitzgerald and Louis Armstrong Cheek To Cheek: The Complete Duet Recordings 4CD Box Set
Two of the most beloved jazz artists of all time, Ella Fitzgerald and Louis Armstrong, will probably still be household names two centuries from now. They crossed paths a countless number of times through the decades. But, if it was not for producer Norman Granz, the number of their joint recordings would only have added up to eight songs.
Ella and Louis had already been prolific artists for the Decca label for a decade when they finally met up in the recording studio in 1946. While their versions of "You Won't Be Satisfied (Until You Break My Heart)" and the Nat Cole-associated "The Frim Fram Sauce" are not classics, their charm and obvious mutual affection were already obvious. They also recorded two songs in 1950 (including a delightful "Dream A Little Dream Of Me") and four numbers in 1951, including "Who Walks In When I Walk Out?" The orchestral backing (conducted by either Bob Haggart, Sy Oliver, or Dave Barbour) is fine and there are some brief trumpet solos.
That would have been it if Norman Granz had not thought of the idea of teaming the two greats together for three full-length projects during 1956-57. Ella and Louis and Ella and Louis Again find the stars accompanied by pianist Oscar Peterson, guitarist Herb Ellis, bassist Ray Brown, and either Buddy Rich or Louie Bellson on drums. The 30 songs are all drawn from the Great American Songbook and most of the tunes were not in Armstrong's repertoire with his All-Stars. The performances are full of charm, swing and joy. Louis Armstrong's trumpet chops were having an off period so his solos are generally short but the vocal interplay makes up for it. "Can't We Be Friends?" "A Foggy Day," "Stars Fell On Alabama," "Don't Be That Way," "They All Laughed," "Let's Do It," "Let's Call The Whole Thing Off," and "A Fine Romance" all receive particularly memorable treatments. "Stompin' At The Savoy" is a high point with some almost out-of-control ad-libbing and a heated trumpet solo.
Porgy and Bess was the last Satch-Ella collaboration. Russ Garcia's orchestra plays dramatically behind the singers who take all of the vocal parts during 16 songs. The performances are often touching and include "Summertime," "My Man's Gone Now," "I Got Plenty O' Nuttin'," "Bess, You Is My Woman Now," and "It Ain't Necessarily So."
Cheek To Cheek, a perfectly-conceived four CD set (and one containing two booklets), has everything including a fourth disc of bonus material. Ella and Louis are heard taking turns with Bing Crosby in 1951 on a radio show version of "The Memphis Blues." There are two songs from a Hollywood Bowl concert performed the day before they recorded Ella and Louis. "You Won't Be Satisfied" was brought back; one wonders if either one of them ever performed that obscurity again. They also take their turns on a boisterous "Undecided" (which was often used as a feature for trombonist Trummy Young). More for the completist is the inclusion of all of the existing alternate takes, false starts, and breakdowns from the Decca dates, Ella and Louis Again, and Porgy and Bess with a few too many attempts at "Bess, Oh Where's My Bess."
Do not even hesitate about picking up a copy of Cheek To Cheek for this is timeless music that will never to fail to bring a smile to the face of each listener.
Cheek To Cheek (Verve 26763, 75 selections, TT = 5:11:13) www.vervelabelgroup.com
BIX – WHAT IF?
Andy Schumm and his Sink-O-Pators- Futuristic Rhythm: Imagining the Later Bix Beiderbecke 
Bix Beiderbecke's death in 1931 at the age of 28 left a hole in jazz along with many "what if" questions. If the cornetist had beat his addiction to alcohol in 1929 and continued his career and life to a normal age, what might have he accomplished in future years?
On three projects featuring cornetist Andy Schumm (who can sound very close to Beiderbecke), producer Julio Schwarz Andrade has sought to answer some of the questions. Two earlier albums were made for the Lake label: Bix Off The Record (which has Schumm interpreting superior songs from the late 1920s that Bix never had a chance to record) and When Louis Met Bix, gives strong hints as to what a jam session with Louis Armstrong would have sounded like.
The recent Futuristic Rhythms, which has been released on the Rivermont label, imagines Bix Beiderbecke around 1935 on a swing sextet session. Ewan Bleach on tenor and clarinet recalls Bud Freeman a bit and the rhythm section (pianist Andrew Oliver, acoustic guitarist Martin Wheatley, bassist Tom Wheatley, and drummer Nicholas D. Ball) would be very much at home playing in a small club on 52nd Street. Schumm, as Bix, fits into the type of role that was filled by Bunny Berigan or Louis Prima (as an instrumentalist) except with the Beiderbecke sound. With the exception of "San," none of the songs were recorded by Bix. It is a pleasure to hear such numbers as "You're Lucky To Me," "Memphis In June," "The Things That Were Made For Love," a Dixieland-ish "Weary Blues," and even "Moten Swing" played by "Bix" in the mid-1930s. The occasional choruses in which Schumm is accompanied just by the skilled guitarist Martin Wheatley are particular pleasures but everyone plays well throughout with pianist Oliver sometimes recalling Jess Stacy and Teddy Wilson.
In the future, I hope that Julio Andrade and Andy Schumm will continue this fascinating exploration of what might have been. How would Bix have sounded leading his own Benny Goodman style big band in 1937? And how might have he handled bebop in 1945, when he still would have only been 42?
Futuristic Rhythms – Imagining The Later Bix Beiderbecke (Rivermont BSW-2244, 12 selections, TT = 54:29) www.rivermontrecords.com
JEN HODGE'S ALL STARS
Bassist Jen Hodge is a major part of the swing and trad jazz scene in Vancouver, British Columbia. All's Fair In Love And Jazz features her all-stars, a pianoless quintet that also includes trumpeter Chris Davis, Connor Stewart on clarinet and tenor, acoustic guitarist Josh Roberts, and drummer Marti Elias.
With Ms. Hodge driving the band, the music is quite enjoyable, particularly when it has interplay between the two horns. They liven up such numbers as "Dardanella," "Blame It On The Blues," "Hell's Bells," "Stompin' At The Savoy," and "Rockin' In Rhythm." The leader takes occasional vocals that are pleasing and there is a guest vocal apiece by Arnt Arntzen ("Smoke Rings"), Bonnie Northgraves (on the original "Hey Let's Drink A Beer"), and Jack Ray (the second version of "Southern Lover," an original based on "Them There Eyes"). A male chorus (mostly comprised of the musicians) backs Jen Hodge's singing on "Shout, Sister, Shout."
The musicianship is consistently excellent, the frameworks give the set plenty of variety, and the music always swings hard. This is an easy CD to enjoy.
All's Fair In Love And Jazz (JH 003, 15 selections, TT = 67:31) www.jenhodgebass.com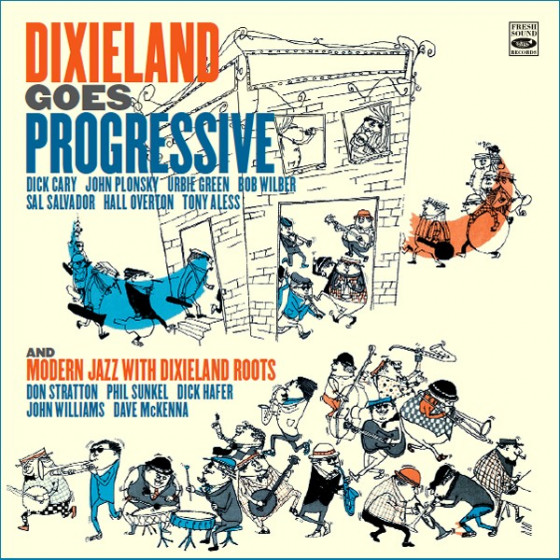 Dick Cary, John Plonsky & Don Stratton: Dixieland Goes Progressive and Modern Jazz With Dixieland Roots
With the popularity of Dixieland throughout the 1950s, there were occasional attempts to "update" the music and place the repertoire in a different setting. A CD from the Fresh Sound label combines together the music from two former 1950s LPs titled Dixieland Goes Progressive and Modern Jazz With Dixieland Roots.
The former set is split between two bands and arrangers. Dick Cary, who was the original pianist with the Louis Armstrong All-Stars, worked with Eddie Condon and had plenty of experience in Dixieland, often tried to move the music forward in his arrangements. Utilizing a nonet that includes clarinetist Bob Wilber, trombonist Urbie Green, and a variety of modernists, he makes such songs as "Mahogany Hall Stomp," "Muskrat Ramble," and an eccentric "That's A Plenty" sound as if they were written for the cool jazz scene of the 1950s. The music shifts back and forth between conventional solos and adventurous written-out ensembles. Trumpeter John Plonsky leads a similar octet on modernized versions of such songs as "Royal Garden Blues," "High Society," and "Way Down Yonder In New Orleans," while taking "The Saints" in a more traditional manner.
The Modern Jazz With Dixieland Roots also has two groups but with more of an emphasis on jammed ensembles although closer to the style of Gerry Mulligan and Chet Baker than to Louis Armstrong. Trumpeter Don Stratton heads a quintet with tenor-saxophonist Dick Hafer through cool (rather than hot) versions of "Black Bottom," "Sunday," and three other songs. Trumpeter Phil Sunkel's date has him with a quintet that also includes Stratton on second trumpet and pianist Dave McKenna. They come up with some interesting variations to "Charleston," "Royal Garden Blues," "Yesterdays," and a couple of swinging originals.
"Progressive Dixieland" never caught on, but 60 years later the music still contains colorful surprises.
Dixieland Goes Progressive and Modern Jazz With Dixieland Roots (Fresh Sound FSR-950, 22 selections, TT = 68:35) www.freshsoundrecords.com
---
JAZZ CLASSIC OF THE MONTH
The Original Memphis Five Collection Vol. 1 – 1922-1923 
It has often been said that Louis Armstrong introduced swinging to New York when he joined Fletcher Henderson's orchestra in mid-1924. Until then, most of the jazz horn players in New York were behind those in Chicago, sometimes playing staccato rather than legato phrases, using double-time passages for effect rather than "telling a story," and sounding instantly dated.
That story sounds fine, but it does not take into account Phil Napoleon and the Original Memphis Five. Starting in 1921, Napoleon (who recorded that year with Lanin's Southern Serenaders and Ladd's Black Aces) became one of the most prolific of the 1920s jazz musicians. He made many sessions with small combos under a variety of names, most often the Original Memphis Five. That group was not from Memphis but instead featured some of the top New York-based jazz musicians of the period.
Unlike many of the New York players of 1920-23, Napoleon always swung. On Vol. 1 of The Original Memphis Five Collection, the trumpeter is heard during 1922-23 not only with the Memphis Five but with similar groups called the Jazzbo's Carolina Serenaders and the Southland Six. Napoleon displays an attractive tone, gives the ensembles a solid lead, and takes melodic solos that are cool but hot. Also featured are such notables as either Miff Mole or Charles Panelli on trombone, clarinetist Jimmy Lytell, pianist Frank Signorelli, and drummer Jack Roth
The Original Memphis Five recorded for many different labels and there has yet to be a reissue of their complete recordings. There were quite a few sessions during 1922-26 and a few later dates up through 1931 and virtually all of them are still enjoyable. The Collectors Classics disc is an excellent place to start in discovering and enjoying their musical legacy. It shows that there was some great jazz (other than the Original Dixieland Jazz Band) being performed in New York, even before Louis Armstrong or even King Oliver was documented.
The Original Memphis Five Collection, Vol. 1 1922-23 (Collectors Classics 16, 23 selections, TT = 70:40) Copyright Restrictions require you to purchase this disc from abroad.
---
In every issue of the Syncopated Times, this monthly column features reviews of CDs by classic jazz, 1920s and '30s, New Orleans Jazz, Swing and Dixieland artists, covering both vintage greats and some of today's top musicians. Be sure to send a copy of your CDs to Scott Yanow, P.O. Box 1220, Lake Hughes, CA 93532 if you wish to have your recordings reviewed. If you are a musician and need liner notes, bios or press releases, feel free to drop me a line at scottyanowjazz@yahoo.com.
---
This is what our print edition feels like. If you want good news to read with your morning coffee, order a subscription ($30 for 12 monthly issues). You'll get full online access to our archives, web extras, and our next issue will arrive at your door. Online only access is available for only $20 a year! Support Hot Jazz Journalism- Subscribe
Subscription Options
---
Or get the Print Edition with Online Access. To get the print edition of The Syncopated Times use this Paypal link. After you pay you will be issued a coupon for free online access.