Nights at the Turntable January 2017
DUKE ELLINGTON'S TREASURY SHOWS
From Apr. 7, 1945 through Nov. 1945 and again from Apr-Oct. 1946, Duke Ellington and his orchestra appeared on a weekly series of 55-minute programs sponsored by the United States Treasury Department. In addition to the performances, most of the programs had Ellington giving three promos for U.S. Savings Bonds. Since World War II. was still quite active in the Pacific until Sept. 1945, the earlier programs are filled with Duke urging the audience to give money so as to win the war. The later promos are about the wisdom of saving for the future and the importance of buying savings bonds.
While the promos are skippable, the music is timeless. These well-recorded broadcasts first appeared complete and in chronological order in the 1980s on over 40 LPs put out by the Merritt Record Society. After a couple of decades of being out-of-print or only available in piecemeal fashion, they are being reissued as a series of two-CD sets by the Storyville label. Each twofer, in addition to two complete broadcasts, includes other live material from 1942-54 (mostly from the 1940s) taken from radio broadcasts, some of which was previously unreleased, along with lengthy and excellent liner notes. When it is completed, the series will be comprised of 26 or 27 twofers.
Recently Vols. 21 and 22 were released, mostly featuring the 1946 edition of the Duke Ellington Orchestra. While that particular big band has never seemed to be as highly rated as Duke's orchestra of 1939-42, it was actually at the same high level. Consider that most swing era big bands had perhaps five strong soloists. The Ellington ensemble heard on the July 27, 1946 broadcast had no less than a dozen, all of whom were distinctive: trumpeters Taft Jordan, Cat Anderson and Shorty Baker, Ray Nance on cornet, violin and occasional vocals, trombonist Lawrence Brown, clarinetist Jimmy Hamilton, Russell Procope on alto and clarinet, altoist Johnny Hodges, tenor-saxophonist Al Sears, baritonist Harry Carney, bassist Oscar Pettiford, and the pianist-leader. Also heard from are singers Al Hibbler, Kay Davis and Marion Cox, drummer Sonny Greer, and such section players as trumpeters Shelton Hemphill and Francis Williams, and trombonists Claude Jones and Wilbur DeParis. It made for quite a mighty band.
Vol. 21 has the July 6 and 27, 1946 broadcasts plus five live numbers from 1942. Highlights include "Caravan," "Metronome All Out," "Just-A-Sittin' And A-Rockin'," "One O'Clock Jump," "Suddenly It Jumped," "Just You, Just Me," and "Unbooted Character." In addition, there is a nine-song hits medley that was dedicated to trombonist Tricky Sam Nanton who had recently passed away.
Vol. 22 includes such memorable performances as "Just Squeeze Me," "Hollywood Hangover," "Rocks In My Bed," "9:20 Special," "Metronome All Out," another version of "One O'Clock Jump," an odd medley of "Diminuendo And Crescendo In Blue" with Davis' feature on "Transbluency," and Ellington's three-part "Tonal Group" which is climaxed by "Jam-A-Ditty." The Aug. 9 and 17, 1946 broadcasts are augmented by seven selections from 1942-43.
Although it is an enormous amount of music, true Ellington fans will want all of the Treasury Shows in Storyville's admirable reissue series. Just imagine, 44 CDs (thus far) from a 16-month period in Duke Ellington's career!
Vol. 21 (Storyville D.E.T.S. 903 9021, 35 selections, TT = 104:35) www.storyville-records.com
Vol. 22 (Storyville D.E.T.S. 903-0022, 39 selections, TT = 105:54) www.storyville-records.com
THE FORGOTTEN MEL B. KAUFMAN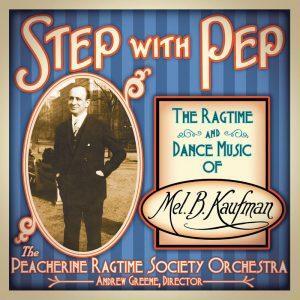 It is possible to be a jazz expert and still have no idea who Mel B. Kaufman was. Kaufman (1879-1932), a traveling salesman who sold ladies' undergarments throughout the U.S., wrote music in his spare time even though he could not read music. His compositions were not really jazz and, while influenced by the structure and syncopations of ragtime (and including one rag, "Muslin Rag"), were not ragtime either. Known for a time as the "King of the One-Step," Kaufman wrote 90 pieces (40 published posthumously) that fit into the dance music of the time, particularly 1915-25. While a few of his numbers were given lyrics, most of his music was comprised of peppy instrumentals that could be played by solo pianists or orchestras. Some were recorded by dance bands and many ended up being used later on in films, shorts and cartoons. Best known were "Me-ow" and "Taxi" although all are forgotten today.
Andrew Greene, the leader of the Peacherine Ragtime Society Orchestra, has made it a mission to bring back Mel Kaufman's music. Step With Pep is the first full-length recording ever of Kaufman's songs, featuring 24 of his pieces (with "Me-ow" appearing both as an instrumental and a vocal). The group, comprised of a string quartet, bass, flute/piccolo, clarinet, two cornets, trombone, percussionist and pianist Richard Dowling (who has three solo numbers) with William Edwards having three vocals, does a fine job of reviving the obscure songs of Mel B. Kaufman. Andrew Greene's lengthy liner notes perfectly sum up his life and career, and there are also lists of all of Kaufman's compositions, vintage recordings of his music on 78, and the songs that appeared in films. Step With Pep is quite definitive and makes the case that Kaufman deserves to be remembered.
Step With Pep (Rivermont BSW-2234, 25 selections, TT = 65:37) www.rivermontrecords.com
JAZZ CLASSIC(S) OF THE MONTH
Feb. 26, 2017 is the centennial of the first jazz record ever made. On Feb. 26, 1917, the Original Dixieland Jazz Band recorded "Livery Stable Blues" and "Dixie Jass Band One-Step" (soon better known as "Original Dixieland One-Step"). While there had been a small handful of borderline jazz recordings cut before that special date, the ODJB's offerings were the first full-fledged jazz on records. The commercial success of "Livery Stable Blues" as a novelty number (with the group's horn players imitating the sound of barnyard animals) led to an early "jazz craze" that found other five-piece bands doing their best to emulate the group.
The Original Dixieland Jazz Band actually had a fairly short time in the spotlight. They were not the first jazz musicians (Buddy Bolden, Freddie Keppard, Jelly Roll Morton, Kid Ory, and other New Orleans greats preceded them) but, due to their recordings, they initially made the biggest impact. In 1916, cornetist Nick LaRocca, trombonist Eddie Edwards, clarinetist Alcide "Yellow" Nunez and pianist Henry Ragas were members of drummer Johnny Stein's Dixie Jass Band in Chicago. But after three months of being a hit at Schiller's Café, Stein's sidemen wanted to break the contract so as to work elsewhere for more money. When Stein refused, they mutinied and left, formed the Original Dixieland Jazz Band, and hired Tony Sbarbaro as their new drummer. The ODJB had success playing at the Del'Arbe although a personality conflict resulted in Nunez leaving and Larry Shields taking his place. The ODJB moved to New York in early 1917 where they became a sensation playing at Reisenweber's and made their initial recordings. Sticking exclusively to ensembles (their only solos were two-bar breaks), the ODJB's music was considered not only boisterous but riotous by audiences of the time. Older listeners were scandalized but the younger generation loved the uptempo pieces, uninhibited ensembles, and the hot dance rhythms.
The ODJB introduced such future Dixieland standards as "Darktown Strutters Ball," "Indiana,"
"Tiger Rag," "At The Jazz Band Ball," "Fidgety Feet," "Sensation," and "Clarinet Marmalade." Tragically Henry Ragas was a victim of the influenza epidemic of 1918-19, being succeeded by J. Russell Robinson. Eddie Edwards was drafted in the fall of 1918 and replaced by Emile Christian. In 1919 the ODJB was the first jazz band to visit Europe, becoming the rage of London and recording some of their finest performances. But when they returned to the U.S., the competition from other jazz groups and the fast pace in jazz's evolution found the band being overshadowed. Record company executives insisted that they add altoist Bennie Krueger to some of their recordings which sweetened the music a bit although they had a minor hit with "Margie." The band struggled through some personnel changes, made only four recordings during 1922-23, and broke up altogether at the beginning of 1925.
While Robinson had success as a songwriter and Sbarbaro continued playing jazz, the three horn players slipped away into obscurity and retirement.
In 1936, Nick LaRocca decided to bring back the band and see what would happen. With Edwards, Shields, Robinson and Sbarbaro, LaRocca made some new recordings, appeared on the radio, and had a brief comeback. But by Feb. 1938 it was over. LaRocca permanently retired and, although Shields and Edwards appeared on a few recreation sessions, they also soon dropped out of music. Only Tony Sbarbaro (as Tony Spargo) continued playing including with Phil Napoleon's Memphis Five in the late 1940s.
While there has not been a single box set that includes all of the Original Dixieland Jazz Band's recordings, two reissues give collectors all but nine of their 1917-23 recordings. The First Jazz Recordings has the band's complete output for Victor, the recordings that essentially launched the Jazz Age. In London 1919-1920 Plus The Okeh Sessions lives up to its name, including all of the ODJB's London recordings (with the highlights including surprisingly relaxed and classic recordings of "I'm Forever Blowing Bubbles," "Mammy O' Mine," "I've Lost My Heart In Dixieland" and "Alice Blue Gown") plus their final four selections from 1922-23 before the group's initial breakup. If one wants the quintet and big band performances from the ODJB's comeback in 1936 too, The Complete Original Dixieland Jazz Band, a two CD set, has all of the music from The First Jazz Recordings plus the later recordings. In any case, get some of these CDs and one will have all of the tools that they need in order to fully celebrate the centennial of jazz on record.
The First Jazz Recordings (Timeless CBC-1-009, 23 selections, TT = 70:58) 
In London 1919-1920 Plus the Okeh Sessions 1922-1923 (Retrieval 790332, 21 selections TT = 72:40) 
The Complete Original Dixieland Jazz Band (RCA 66608, 37 selections, TT = 105:15) 
---
In each issue of the Syncopated Times, this monthly column features reviews of CDs by classic jazz, 1920s and '30s, New Orleans jazz, Swing and Dixieland artists, covering both vintage greats and some of today's top musicians. If you wish to have your CDs considered for review, please send the music to Scott Yanow, P.O. Box 1220, Lake Hughes, CA 93532. If you are a musician and need liner notes, bios or press releases, feel free to drop me a line at [email protected] In addition CHOPS, a series of 50 Jazz Trivia Quizzes totaling 1,000 multiple-choice and true/false questions covering all eras of jazz, is available from me as a PDF for $25 via Pay Pal at the same E-mail address.
---
Online Only
For Online Only Access without delivery of the print paper sign up below.
Subscription Options
---
Print Edition
 If you'd like the PRINT EDITION, (12 monthly issues) use the following PayPal link. After your payment is complete you will be allowed to create an online account. You will receive the next mailed copy, usually shipping around the 22nd of the month. See a PDF Sample Here.