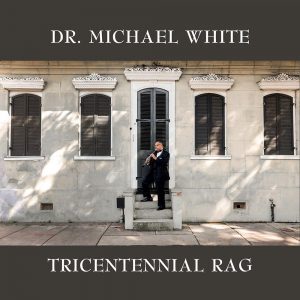 DR. MICHAEL WHITE
Veteran New Orleans clarinetist Dr. Michael White has exclusively performed traditional jazz throughout his career. Early on he was a member of Danny Barker's Fairview Baptist Church Marching Band. He worked with Kid Sheik Colar and became part of the world of Wynton Marsalis, appearing on Marsalis' The Majesty of the Blues and occasionally with the Jazz at Lincoln Center Orchestra. In 1981 he founded the Original Liberty Jazz Band. White, who teaches African-American Music at Xavier University, has led a string of colorful recordings throughout his career. Not all of his records are classics but his recent Tricentennial Rag might very well be his most rewarding.
White, whose tone is influenced by Johnny Dodds, performs ten of his originals plus a version of the Saints on his new CD. Sometimes based on the blues and at other times often utilizing common chord changes, White's originals sound close in style to the music that one could imagine the early versions of the Preservation Hall Jazz Band performing. The differences are that the musicians on White's set are always in tune, and the songs are fresh and new.
The personnel and instrumentation change from song to song with White, pianist Steve Pistorius, and drummer Herman LeBeaux being constants. Among the other key musicians are cornetist Shaye Cohn, trumpeter Gregory Stafford (who takes three vocals), Richard Anderson or David Harris on trombone, banjoist Detroit Brooks, and Mark Brooks or Kerry Lewis on bass.
The ensembles are full of joy and sincere feeling, the solos are concise and colorful, and Dr. Michael White is heard throughout at the top of his game. His version of "The Saints" covers several moods and certainly finishes the set with plenty of swing and happiness.
New Orleans jazz musicians should explore Tricentennial Rag and adopt some of its songs for their own repertoire. The rest of us should simply enjoy the spirited and lively music.
Tricentennial Rag (Basin Street BSR 0507, 11 selections, TT = 53:03) www.basinstreetrecords.com
TWO OTHER CLARINETISTS:
Evan Arntzen comes from a very musical family. His grandfather played soprano and clarinet, his father is a pianist, his mother is a singer, and his brother Arnt plays guitar and banjo. Evan Arntzen has a versatile style on clarinet and tenor that ranges from New Orleans jazz and swing to more modern jazz. Raised in Vancouver, British Columbia, and based in New York, Arntzen is often featured with Bria Skonberg and also works with Vince Giordano, Terry Waldo, Jon-Erik Kellso, Catherine Russell, and others in the New York classic jazz scene.
Evan Arntzen Meets La Section Rythmique has the clarinetist joined by a European rhythm section comprised of guitarist Dave Blenkhorn, bassist Sebastien Girardot, and drummer Guillaume Nouaux. For this set, which was recorded in France, Arntzen and his group perform nine standards and two of the leader's originals (with "Half Eyes" being based on "Them There Eyes"). Some of the music is modernized a little, including a mostly well-disguised version of "Ballin' The Jack," and none of these renditions merely copy earlier famous recordings. Arntzen, in addition to his clarinet and occasional tenor playing, takes personable vocals on "Mister Jelly Lord," "Please," and "I'll Get By," but it is for his solos that this CD is of greatest interest. While his tenor playing is influenced a little by Lester Young, his clarinet work is a bit more original. The rhythm section swings throughout and Blenkhorn makes some fine statements of his own. Among the other highlights of this fine program are "Tickle Toe," "Little White Lies," and an uptempo (and mostly themeless) "12th Street Rag."
Meets La Section Rythmique (Self-released, 11 selections, TT = 53:02) www.evanarntzen.com
Eric Seddon's Hot Club: Bootlegs From The Bop Stop
Purchase CD Direct from Artist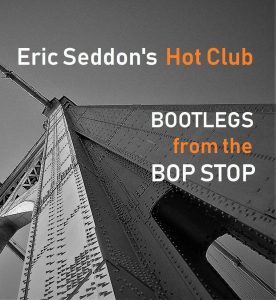 Eric Seddon is a New Orleans-styled clarinetist who plays in the Cleveland area. In 2017 he led a trad invasion of Cleveland's Bop Stop, an important venue that usually features more modern jazz. Seddon performed six concerts with his quintet which also includes cornetist Jim Davis, guitarist Kevin T. Richards, bassist Gene Epstein, and drummer Bill Fuller. The resulting CD, Bootlegs From The Bop Stop, received its name because some of the performances are "bootleg" performances captured by the clarinetist's wife on her iPhone!
The CD features the group playing six Seddon originals plus his versions of four spirituals that are often performed in New Orleans jazz settings ("Go Down Moses," "Down By The Riverside," "Bye And Bye," and "Just A Closer Walk With Thee"). Seddon, who has a large tone and an extroverted style on clarinet, is the main star throughout. Cornetist Davis is fine when he appears and guitarist Richards also gets solo space but the clarinetist dominates the music, playing with infectious spirit and creativity within the classic format. His songs, which include a tribute to the late Acker Bilk ("Goodbye Bowler Hat"), are natural fits for a New Orleans jazz band, -making this CD an enjoyable listen.
Bootlegs From The Bop Stop (Self-released, 10 selections, TT = 46:27)
www.ericseddon.wixsite.com/mysite
The Glenn Crytzer Orchestra: Ain't It Grand?
Download from Bandcamp or CD From cdbaby
While the double-CD Ain't It Grand? from the Glenn Crytzer Orchestra was covered previously in The Syncopated Times, it is worthy of further discussion. Some current-day swing orchestras focus on largely recreating hit recordings of the past and some others sound a bit too modern for the era that they are depicting. In contrast, Glenn Crytzer's orchestra sounds like it is straight from 1940. Thirteen of the 30 songs on this two-fer are originals by the leader (who plays rhythm guitar and takes occasional vocals) yet they all sound very much from the time period. While a few of the standards (particularly Jimmie Lunceford's "Rhythm Is Our Business," Tommy Dorsey's "Well, Git It," and Glenn Miller's "A String Of Pearls") are close to the original recordings, most of the others sound like they are being reinterpreted by a different band than the one that made them famous, giving a fresh perspective to familiar material.
The one reservation I have about this set is that listeners have to go on the internet (at www.albumnotes.glenncrytzer.com) in order to read the liner notes and, most importantly, get information about the soloists and singers. A one-page insert would have been preferred even if it was an added cost for the project.
The 15-piece band (three trumpets, three trombones, four reeds, and four rhythm) features excellent period vocals by Hannah Gill and Dandy Wellington in addition to Crytzer. Every musician has an opportunity to solo with the leader featured on "Solo Flight." The high-note trumpeter, the clarinetist, and the tenor-saxophonists are the most impressive voices but the ensembles are tight and lively. Every musician not only sounds like experts of the music but refugees from the early 1940s. The music ranges from hard-swinging to sweet, all of it quite danceable.
With 30 concise performances (all clocking in around the three-minute mark as if they were recorded for 78s) on this fast-moving package, Ain't It Grand? is a delight for lovers of swing.
Ain't It Grand? (Self-released, 30 selections, TT = 91:41) www.glenncrytzer.com
You can share the Glenn Crytzer review as a single post
Irving Mills Hotsy Totsy Gang 1930 Plus some Whoopee Makers
CD from the Retrieval Label at Challenge Records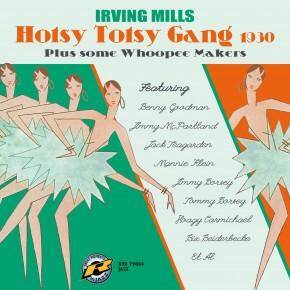 Always very industrious, Irving Mills was not only Duke Ellington's manager (also managing Cab Calloway, Fletcher Henderson and the Mills Blue Rhythm Band), a music publisher, a lyricist and an occasional singer, but during 1928-30 he led a series of hot jazz record dates. Some were issued under his name while others came out as Mills' Merry Makers, Goody's Good Timers, Jimmy Brackeen's Toe Ticklers, the Kentucky Grasshoppers, Irving Mills' Modernists, Mills' Musical Clowns, Jimmy McHugh's Bostonians (which was actually a small group taken from the Ben Pollack Orchestra), the Lumberjacks, the Whoopee Makers and, most often, the Hotsy Totsy Gang.
Hotsy Totsy Gang 1930 has all of the sessions that Mills led from Oct. 1929 until the end of 1930 plus the slightly earlier "At The Prom" and the five numbers by McHugh's Bostonians from 1928-29. The music ranges from heated jazz to stirring dance music. There are notable contributions by Hoagy Carmichael (both as a singer and as a pianist), Tommy Dorsey, Jimmy Dorsey, Gene Krupa, Jack Teagarden, Jimmy McPartland, and even Bix Beiderbecke (the June 6, 1930 session). Mills takes the vocal on "At The Prom" and is the announcer and host on two songs from Oct. 1929 ("Nobody's Sweetheart" and "Harvey") that were recorded for use on the radio.
This well-conceived program is one that 1920s collectors will certainly want, along with the previous volume, Irving Mills Hotsy Totsy Gang's The First 24 Sides.
Hotsy Totsy Gang 1930 (Retrieval RTR 79084, 24 selections, TT = 73:42) www.challengerecords.com
JAZZ CLASSIC OF THE MONTH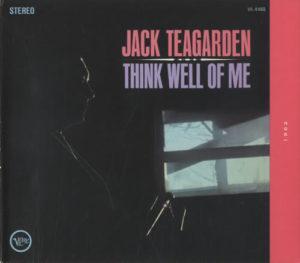 During the dozen years that Jack Teagarden had left after leaving the Louis Armstrong All-Stars in 1952, the great trombonist and singer mostly played a predictable repertoire. He led his own Dixieland-oriented sextet, performing such standbys as "Basin Street Blues," "Beale Street Blues," "100 Years From Today," and his trombone showcase "Lover." However his early 1962 album Think Well Of Me is quite a bit different.
While his trumpeter Don Goldie helps out, Teagarden is otherwise joined by a modern rhythm section and an orchestra arranged by Bob Brookmeyer, Russ Case, and Claus Ogerman, performing the compositions of Willard Robison (1894-1968). A singer-pianist who recorded in the 1920s, Robison is most notable as a composer of melancholy and often-philosophical songs that reflect life in rural areas. "Old Folks, "A Cottage For Sale," and "Tain't So, Honey Tain't So" (all of which are on Teagarden's album) are his best known numbers but he actually left behind an extensive and rich if often-overlooked musical legacy.
Teagarden, who met Robison in the early days, was a perfect choice for this project, capturing the quiet feeling of Robison's songs both in his thoughtful vocals and his lyrical trombone solos. Whether it is "Guess I'll Go Back Home This Summer," "Think Well Of Me," or "Country Boy Blues," he created a tribute album that is a classic of its kind and one of the highpoints of his later years.
Think Well Of Me (Verve 314 557 101, 11 selections, TT = 35:58) www.amazon.com
---
In every issue of the Syncopated Times, Nights At The Turntable features reviews of CDs by classic jazz, 1920s and '30s, New Orleans Jazz, Swing and Dixieland artists, covering both vintage greats and some of today's top musicians. Be sure to send a copy of your CDs to Scott Yanow, P.O. Box 1220, Lake Hughes, CA 93532 if you wish to have your recordings reviewed. If you are a musician and need liner notes, bios or press releases, feel free to drop me a line at scottyanowjazz@yahoo.com.
Subscription Options
---
Or get the Print Edition with Online Access. To get the print edition of The Syncopated Times use this Paypal link. After you pay you will be issued a coupon for free online access.