MIKE DANIELS AND STEVE LANE
T
he British trad movement of the 1950s and '60s found dozens of jazz bands popping up throughout England. The music they focused on fell into three sometimes overlapping areas: "Pure" New Orleans jazz (as typified by Bunk Johnson and George Lewis), Chicago Dixieland bands in the vein of Eddie Condon, or explorations of 1920s/early '30s jazz.
Trumpeter Mike Daniels and cornetist Steve Lane had several things in common. They were both ensemble-oriented players who provided a solid lead and laid-back solos. They both dug up gems from the 1920s and had them outfitted with new arrangements that fit the era. While their playing was consistently excellent, they were both "amateurs" in that they had nonmusical day jobs. And they are both subjects of recent Limited Edition releases from the British Lake label.
While the good folks at the Lake label (led since 1984 by Paul Adams) plan to cut back a bit and eventually retire, there is no reason that the classic jazz world cannot keep them busy in the meantime. Lake has released hundreds of valuable compilations from the British trad era and anyone interested in classic jazz should take a close look at their vast catalog.
Mike Daniels (1928-2016) led the Delta Jazzmen on and off during 1948-74 and, after a period off the scene, again in the 1990s. His group recorded very little prior to the 1990s that was released during his lifetime, only about two albums worth of material. However Daniels did record a fair number of sessions that have since been discovered, the best of which comprise Lake's Remembering Mike Daniels. Dating from 1958-63, these well-recorded performances by the Delta Jazzmen feature lyrical playing from Daniels (including sounding a little like Bix on a medium-tempo romp on "I'm Coming Virginia"), excellent work from trombonist Gordon Blundy, and solid ensemble work from either John Barnes or Terry Thompson on reeds. The group is swung by a pianoless banjo-tuba-drums rhythm section.
Among the highlights are five vintage Ellington songs ("High Life," "Blues With A Feeling," "Misty Morning,' "East St. Louis Toodle-Oo" and the always exciting "Stevedore Stomp"), a hot "You're Driving Me Crazy," and pieces associated with King Oliver (Daniels' "West End Blues" looks towards Oliver rather than Armstrong), Jelly Roll Morton (including "The Chant') and Barnes' original "Busy Saying Nothing." Wrapping up the enjoyable set are two numbers from a 1920s style big band that Mike Daniels led in 1965.
Remembering Mike Daniels (Lake LACD356, 22 selections, TT = 78:33) www.fellside.com
Although also a part-time player, Steve Lane (1921-2015) was involved in many projects throughout his career including releasing rare early recordings on the VJM label. Unlike Daniels, he was on a fair number of recordings with his Famous Southern Stompers and (later in his career) The Red Hot Peppers. Lane had the ability to take a very obscure song from the 1920s (and even a few standards) and create a stirring version that topped the original.
For example, he opens up "Copenhagen," a semi-standard from the 1920s that is the opening selection on Steve Lane Plays Vintage Jazz Music The familiar theme is succeeded by four hot blues choruses, the theme resurfaces, and then the band jams seven more choruses, all but two (brief solos by clarinetist George Dawson and banjoist Nick Singer) being ensembles. Lane's playing throughout is quiet but purposeful. To give another example, "Shreveport Stomp" has traditionally been a clarinet-piano-drums showcase. After paying tribute to its heritage for the first minute, Lane and the rest of his band join in for some rollicking playing at a tempo faster than Jelly Roll Morton would have played it. The same thing happens on "The Chant" which really takes off.
Steve Lane Plays Vintage Jazz Music has some of the highpoints of Lane's career, spanning 1961-79 with two numbers from 1987. While most of the sidemen never became all-that-famous (pianist Ray Smith is best known), their musicianship is excellent and they knew this era well. They certainly make a case for such rarely-played numbers as "New Orleans Shuffle," Ellington's "Swampy River," (the first band version of what was a piano solo) and Jabbo Smith's "Sau-Sha Stomp" becoming standards. And the brief transformation of Morton's "New Orleans Joys" into modern jazz during the piano solo is a witty surprise.
Steve Lane Plays Vintage Jazz Music (Lake LACD357, 19 selections, TT= 77:02) www.fellside.com
INVINCIBLE SYNCOPATIONS
Is Ragtime in its second golden age? After its quick fade-away during 1915-17 (with Scott Joplin's death being the final straw), ragtime was difficult to find for 57 years. While "Maple Leaf Rag" became a jazz standard and there were occasional nostalgia-oriented attempts to revive the music, with a few exceptions, ragtime was very much underground or mischaracterized in the 1950s as honky-tonk. It was not until the use of a few Joplin themes (particularly "The Entertainer" and "Solace") in the 1974 film The Sting that it made an unexpected comeback. Never mind that The Sting was set in the 1930s when ragtime was largely extinct and that using Benny Goodman recordings would have made more sense!
Many new rags have been written during the past 45 years and, even if none has approached the fame of "Maple Leaf Rag," the result has been a steady flow of new beautiful music. One just has to know where to look. One of the places to discover many new songs is on Invincible Syncopations. Pianist Max Keenlyside performs 19 pieces by Vincent Matthew Johnson, most of which use the format of classic ragtime. Johnson's music, while mostly sounding as if it could have been written in 1910 (other than a few more modern touches), is fresh, lively, and never derivative of the early composers, even "Tiffany Lamp Rag" which is dedicated to Joseph Lamb. Johnson's humor can be heard in "Too Much Cheesecake" and "That Bagel Rag"; the latter utilizes what could be considered the klezmer scale.
Invincible Syncopations is a typically classy release from Rivermont. The 24 page booklet includes a definitive study of the 19 pieces written by pianist William McNally plus colorful photos of the sheet music. Keenlyside plays flawlessly and adds a lot of life to the music. Vincent Matthew Johnson's songs are quite enjoyable to hear and well worth discovering, particularly by other ragtime pianists looking for fresh material.
Invincible Syncopations (Rivermont BSW-2241, 19 selections, TT = 79:40) www.rivermontrecords.com
PASS THE BOUNCE
All eras of jazz are being played somewhere. Swing is very much alive in certain pockets of the world. Austin, Texas, is the home for the Brooks Prumo Orchestra, a 12-piece big band led by its rhythm guitarist. The only major name in the personnel of their debut album, Pass The Bounce, is drummer Hal Smith—although the lineup includes such fine soloists as trumpeter Adrian Ruiz, trombonist Mark Gonzales, David Jellema on clarinet and cornet, tenor-saxophonist Jonathan Doyle, and pianist Dan Walton, with Alice Spencer contributing occasional pleasing vocals that are inspired by the top singers of the late 1930s.
The Brooks Prumo Orchestra succeeds at sounding like a top-notch swing band from 1940-41, one that is very aware of their role of playing for dancers. Some of the music is from the repertoire of the Count Basie Orchestra but the arrangements are different than the recorded versions and there are also two originals. Highlights include "Benny's Bugle," a version of "Losers Weepers" that is slower than Tommy Dorsey's version, "Dinah," "Swing, Brother, Swing," "Esquire Bounce," and "The Last Jump."
Pass The Bounce (an obscure song from Gene Krupa's band) is great fun and will be enjoyed by listeners and dancers alike.
Pass The Bounce (Self-released, 16 selections, TT = 54:04) www.brooksprumoorchestra.com
EDMOND HALL, RALPH SUTTON, AND CLYDE HURLEY
Sometimes record labels do not realize what they have. The outside of this two-CD set says "Edmond Hall with the Ralph Sutton Quartet 'Live' At Club Hangover." The extensive liner notes talk a little bit about clarinetist Hall and pianist Sutton but mostly give general information about each of the 18 songs. Nothing is said about the participation of Clyde Hurley on the second disc.
The first CD does feature a quartet with Hall, Sutton, bassist Walter Page, and drummer Charlie Lodice on two radio broadcasts from San Francisco's Hangover (July 31 & 24, 1954). Hall, an immediately recognizable and skilled clarinetist with a cutting tone and a fluent style, is in excellent form on such numbers as "St. Louis Blues," Fats Waller's "Up Jumped You With Love," "Oh Baby," and "Dardanella." Ralph Sutton, one of the top stride pianists to emerge after the mid-1940s (some would say he had no real competition) swings hard and makes the bass and drums largely unnecessary, particularly on the uptempo tunes.
But the reason that this set is so highly recommended is due to Clyde Hurley's playing on the second album. Despite being far from a household name, every person reading this column has heard his playing since Hurley took the famous trumpet chorus on Glenn Miller's "In The Mood." Hurley, who started his career with Ben Pollack's band in the late 1930s, played with Miller for two years until he got bored with the direction of the music. He guested on a variety of record sessions in the 1940s and '50s and played very well with the Rampart Street Paraders. However, his finest hour is on the two broadcasts (August 7 & 14, 1954) from this reissue that comprise the second CD.
Hurley is in consistently explosive form on such pieces as "I Found a New Baby," "Honeysuckle Rose," "The Sheik Of Araby," and "Love Is Just Around The Corner." He battles Hall in many ensembles, takes passionate solos, and clearly inspires Sutton whose heated stride makes the music even more exciting.
Anyone with a love for hot jazz will have to get this set, even if Clyde Hurley's name is absent from the cover.
Live At Club Hangover (Sounds Of Yesteryear DSOD 2076, 18 selections, TT = 84:37) www.cityhallrecords.com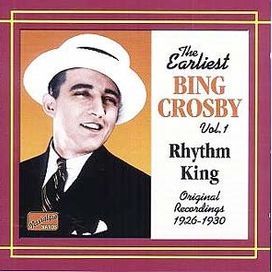 JAZZ CLASSIC OF THE MONTH
Bing Crosby loved New Orleans jazz and Louis Armstrong throughout his long life. He began his career as a jazz-oriented singer and, while modest about his abilities in that area, sang jazz on an occasional basis even after he became world famous.
Crosby gained his initial fame as a member of the Rhythm Boys, the first jazz vocal group and a part of Paul Whiteman's Orchestra during 1927-30. Teamed with pianist Harry Barris (a unique scat-singer who could imitate cymbal crashes) and Al Rinker, Crosby took occasional solo choruses since he had the most romantic voice.
However he clearly had a good time enthusiastically joining in for the humorous ensembles. The Rhythm Boys was a hit for a time but their escapades got to be a bit too much for Whiteman and they departed in 1930. Later that year the Rhythm Boys joined the Gus Arnheim Orchestra but, after recording just one title, it was obvious to Arnheim that Crosby (who had been recording occasional solo sides starting in 1927) was on his way to the top. The Rhythm Boys soon broke up.
A CD titled The Earliest Bing Crosby Vol. 1 (and subtitled Original Recordings 1926-1930) neglects to say on its cover that it includes all of the records made by the Rhythm Boys. It would certainly have sold more copies if it had been titled The Complete Bing Crosby/Rhythm Boys Sessions. There are two early numbers by Crosby and Rinker ("I've Got The Girl" was Bing's very first recording) and then all of the Rhythm Boys numbers. On such songs as "Mississippi Mud/I Left My Sugar Standing In The Rain," "Miss Annabelle Lee," "That's My Weakness Now," "Wa-Da-Da," "Rhythm King," and "Them There Eyes" (the latter recorded with Arnheim), one can fully experience the magic and craziness of the Rhythm Boys. It is the best way to acquire this timeless and fun music.
Earliest Recordings Vol. 1 (Naxos Nostalgia 8.120696, 20 selections, TT = 62:19) www.naxos.com
---
In every issue of the Syncopated Times, this monthly column features reviews of CDs by classic jazz, 1920s and '30s, New Orleans Jazz, Swing and Dixieland artists, covering both vintage greats and some of today's top musicians. Be sure to send a copy of your CDs to Scott Yanow, P.O. Box 1220, Lake Hughes, CA 93532 if you wish to have your recordings reviewed. If you are a musician and need liner notes, bios, or press releases, feel free to drop me a line at scottyanowjazz@yahoo.com.
---
This is what our print edition feels like. If you want good news to read with your morning coffee, order a subscription ($30 for 12 monthly issues). You'll get full online access to our archives, web extras, and our next issue will arrive at your door. Online only access is available for only $20 a year! Support Hot Jazz Journalism- Subscribe
Subscription Options
---
Or get the Print Edition with Online Access. To get the print edition of The Syncopated Times use this Paypal link. After you pay you will be issued a coupon for free online access.