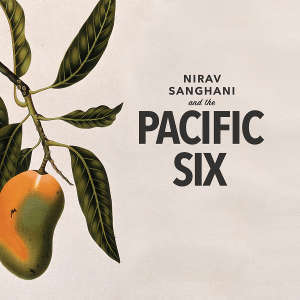 Nirav Sanghani pulled in an all-star crew for his first release with his Pacific Six. Clint Baker is on trombone for the opening track and is listed as a co-producer of the album. His son Riley Baker is on drums. Jen Hodge is in from Vancouver on bass, Jacob Zimmerman, on tenor sax and clarinet, is in from Seattle. Closer to Sanghani's San Francisco base, Justin Au has made his way from Sacramento (though he seems to live everywhere at once), to join the band on trumpet.
That these fine musicians answered the call is a testament to their respect for Sanghani, who leads with guitar, and the fine music he intends to make.
The Pacific Six have been playing the weekly and monthly swing dances around San Francisco for about two years. Recently they have started playing at the larger dance exchanges in the area. Sanghani himself is a long time swing dancer with a natural feel for the music.
When they play out they perform transcriptions of recordings from Benny Goodman, Johnny Hodges, and Coleman Hawkins. For this self-titled album, they focus on small group swing material including five Sanghani originals.
There is a whispery feel to the album. The dancers will be pleased, as they must be at the band's weekly gigs, but so would the chairwarmers at a traditional jazz festival. With some of the most artistically vigorous performers in early jazz on board, you can't go wrong.
Au continues to impress with expressive but unintrusive playing, Zimmerman has a Midas touch, especially interpreting standards like "Someday Sweetheart", Clint Baker's contributions to jazz are manifold and can now be said to include the gift to us of two musically gifted children to carry on the legacy. Ramona Baker has made an impression transcribing 1890s studio pianists, and writing for this magazine. Riley Baker was a standout on drums in an album I reviewed recently and is again here. Having Jen Hodge on bass certainly helps the rhythm along.
The arrangements are tight, precise and swinging. Of the originals, "Marianas" is the most exciting and cinematic. It must be a hit at their dance gigs.
"Lullaby of the Waves" borrows heavily from "Old Fashioned Love" giving it a familiar and comfortable feel worthy of the title.
"Irrational Blue" gives Rob Reich room to strut on the piano. Reich is another young force in the San Francisco music scene, playing multiple instruments across genres but always with an appreciation of rhythm. His group, Swing Left, released their first album in January.
The whole band shines in an excellent arrangement of "Who's Sorry Now?", indeed the album from start to finish is proof that swing is a living art form with much more to say. One that is in good hands.
Musicians:
Nirav Sanghani: guitar
Jacob Zimmerman: clarinet, tenor saxophone
Justin Au: trumpet
Rob Reich: piano
Jen Hodge: bass
Riley Baker: drums
Clint Baker: trombone