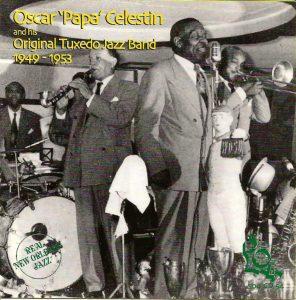 Trumpeter Oscar Celestin (1884-1954) was part of the New Orleans jazz scene as early as 1906, leading several groups with similar names (the Tuxedo Band, the Original Tuxedo Orchestra, and the Tuxedo Jazz Orchestra) from 1910 into the early 1930s, having five record dates during 1925-28. The Depression resulted in him becoming a part-time player and working during the day at a shipyard.
In 1946, Celestin returned to full-time music with a new version of the Original Tuxedo Jazz Band. He became a major tourist attraction in New Orleans, performing New Orleans favorites, singing almost as much as playing trumpet, and for a time featuring clarinetist Alphonse Picou (who around 1905 had created the famous clarinet solo on "High Society"). Celestin enjoyed his renaissance which climaxed in 1953 when he appeared briefly in the film Cinerama Holiday and participated in an all-star concert at the White House for President Dwight Eisenhower.
Celestin recorded a handful of selections in the studios during 1946, 1950-51, and 1954 but his discography from that era has more than doubled due to the release of some radio broadcasts and live performances by Southland, American Music, Arhoolie, and Storyville. The 504 label's Original Tuxedo Jazz Band 1949-1953 is filled with valuable rarities that add to Celestin's legacy.
The first 11 of the 24 selections feature Celestin's sextet of 1949-50 with Picou, trombonist Bill Matthews, and pianist Octave Crosby. The music is spirited, lively, and fun, allowing one to forgive Celestin's vocal on "My Josephine" (the only ballad that he regularly attempted to sing). Highlights include "Lil' Liza Jane," "Clarinet Marmalade," "Saints," and "High Society." Three other numbers from later in 1950 have Celestin leading an entirely different band with trombonist Eddie Pierson and clarinetist Paul Barnes. The CD then jumps to 1953 and has the two selections recorded with an expanded band for Cinerama Holiday ("Tiger Rag" and "Darktown Strutters Ball") although only "Tiger Rag" was eventually used in the film. Finally, from May 1953 are eight songs recorded to commemorate Celestin's appearance at the White House. Leading an octet with Pierson, clarinetist Joseph Thomas, and altoist Adolphe Alexander, Celestin still sounds very much at the top of his game 19 months before his passing.
Those who enjoy Papa Celestin's spirited brand of New Orleans jazz will certainly want the 504 release.
Original Tuxedo Jazz Band 1949-1953
(504 Records CD54, 24 selections, TT = 73:03) www.upbeatmailorder.co.uk/catalog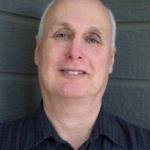 Since 1975 Scott Yanow has been a regular reviewer of albums in many jazz styles. He has written for many jazz and arts magazines, including JazzTimes, Jazziz, Down Beat, Cadence, CODA, and the Los Angeles Jazz Scene, and was the jazz editor for Record Review. He has written an in-depth biography on Dizzy Gillespie for AllMusic.com. He has authored 11 books on jazz, over 900 liner notes for CDs and over 20,000 reviews of jazz recordings.
Yanow was a contributor to and co-editor of the third edition of the All Music Guide to Jazz. He continues to write for Downbeat, Jazziz, the Los Angeles Jazz Scene, the Jazz Rag, the New York City Jazz Record and other publications.