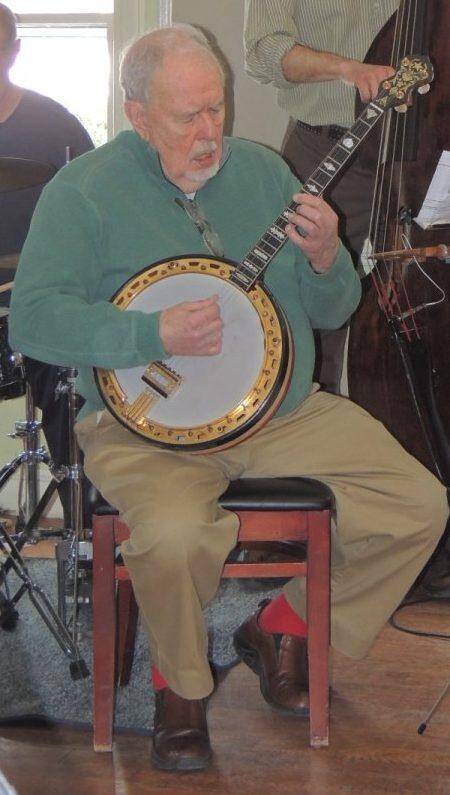 Peter Bullis, 85, on September 4th, one day shy of his 86th birthday. He was banjoist and manager of the New Black Eagle Jazz Band, having been with the group since 1971.
The New Black Eagle Jazz Band is one of the most successful and respected of the revival bands. One of their defining features was the relaxed 4/4 rhythm Bullis set with his banjo.
While attending Dartmouth College in the 1950's Bullis visited New Orleans and was exposed to the music of George Lewis, Paul Barbarin, and Papa Celestin. True New Orleans originals. Inspired, he joined and helped manage a band known as the Dartmouth Indian Chiefs. As manager he took the band to Carnegie Hall, venues in New York and Boston, and even on Steve Allen's Tonight Show.
In the 1960's he played with the Salty Dogs South. He also completed graduate school at Harvard and led a successful career as an architect with a focus on church design.
With the New Black Eagles, he traveled the world playing major stages and festivals. The band recorded numerous well-respected albums through a continuous span of work nearing 50 years. The band's excellence helped them onto lineups where they were the only traditional jazz band, playing on bills with classical performers. Dedicated to their music, the band has continued to play around New England even after suffering setbacks this year including the loss of their leader, Tony Pringle, in May, and the retirement of Bob Pilsbury, who played piano for the band for 43 years, in June.
---
From Bandmate Bill Novick:
RIP Peter Bullis 1932-2018
This has indeed been a really difficult year for the New Black Eagles. If Tony Pringle embodied the soul and vision of the band, then Peter Bullis provided the backbone and was the engine that drove the band. Unlike the shock of Tony's death in May, Peter's passing was somewhat expected. In fact, for the past ten months he'd been quite open about the overall prognosis of his health. Nonetheless, I already miss him enormously.
Peter was both the banjo player and manager of the band. He had a deep love for New Orleans jazz, and for those of you who might (understandably) think that a banjo just strums "chink-chink-chink- what's the big deal?" you'd be shocked at the drive, feel and depth of passion that Peter's "chink-chink-chinks" gave to the music. His style of playing was a totally pure form of rhythm- unadorned, uncompromising, somewhat unrelenting..the power and soul of the music transported into every chord he played.
As manager of the band, Peter also had that same focus and drive. As much as the guys in the band loved playing this music, the band wouldn't have had anything close to its long-lasting success without Peter's guiding hand. He had an incredibly sharp mind, was super-organized, and was a firm but fair "businessman." He used those traits to get the band some amazing gigs..which led to a wider audience…and, eventually, even more amazing gigs!
But, most of all, the Peter that I loved was a warm, thoughtful, kind and caring man. He had a great sense of humor and was always able to laugh at himself, with a particular fondness for all of those stupid banjo jokes that musicians tell. He was incredibly honest and ethical. He was highly accountable for his actions and expected whoever he dealt with to have the same level of accountability. His presence in my life certainly made me a more mature and accountable person, and a better and more professional musician.
Peter was the central figure in the band- every question, scheduling concern and request would pass through him. When everyone in the band was healthy and we were playing 100+ gig a year, I'd talk to him 5-6 times a week. It simply doesn't seem possible or fair that I'll never get to talk to him again.
---
Subscription Options
---
Or get the Print Edition with Online Access. To get the print edition of The Syncopated Times use this Paypal link. After you pay you will be issued a coupon for free online access.