Petra van Nuis & Dennis Luxion: Because We Are Night People
PETRA VAN NUIS & DENNIS LUXION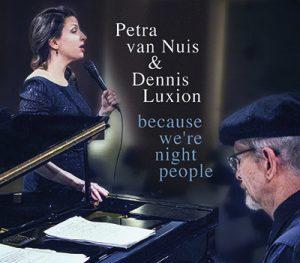 Petra van Nuis, a subtle and inviting jazz singer who is based in Chicago, often teams up with her husband guitarist Andy Brown. However, her most recent recording, Because We Are Night People, is an often-exquisite set of duets (recorded live) performed with the sensitive and inventive pianist Dennis Luxion. As one can guess from its title, most of the selections have something to do with the night, the moon, or nightlife in general.
The majority of the performances, which include such titles as "While My Lover Sleeps," "Small Day Tomorrow," and "The Night We Called It A Day," are ballads although a few (such as "Moonlight Saving Time" and "No Moon At All") are taken at slightly faster tempos. The singer usually sticks to the lyrics and the melody while improvising through her phrasing. Luxion is quietly supportive but also takes excellent solos and comes up with a few surprising ideas that inspire the vocalist.
None of the 13 songs in their repertoire (except possibly "Black Coffee") has been overdone through the years with a few ("Night People," Meredith D'Ambrosio's "The Piano Player," and "Shadows Of Paris") being rarely ever performed elsewhere. All in all, the result is a warm ballad date that even sounds good in the middle of the day.
Because We're Night People (String Damper Records SDR 2136, 13 selections, TT = 59:46) www.petrasings.com
---
Online Only
For Online Only Access without delivery of the print paper sign up below.
Subscription Options
---
Print Edition
 If you'd like the PRINT EDITION, (12 monthly issues) use the following PayPal link. After your payment is complete you will be allowed to create an online account. You will receive the next mailed copy, usually shipping around the 22nd of the month. See a PDF Sample Here.