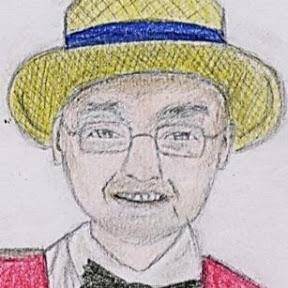 UPDATE: Pops Coffee has recently completed a profile of Tuba Skinny that will appear on the cover of our October 2018 issue.
Related Post: Three Books from Pops Coffee Reviewed
---
If you don't know who Pops Coffee is you've been missing out. Since 2013 he has maintained a wonderful blog chronicling the album releases, shows, and especially YouTube videos of young musicians making trad jazz today. He became especially focused on the New Orleans scene and has become friends with many of the great trad players there. He's done it all as, in his words, "a very old guy who got into traditional jazz late in life." Even more remarkably, as he lives in Nottingham, England, he did it all at some remove from the events he was covering. Making annual trips to New Orleans to track down in person the bands he'd become enamored with online.
Pops Coffee's Traditional Jazz on Blogger is remarkable in scope. Pops brings a musician's understanding to his reviews of hundreds of songs and performances in the best style of "how to listen" books. The addition of YouTube links makes actually listening easy. Musical concepts are explained. For example, he has a post on the four leaf chord progression, and lists the innumerable jazz tunes following that structure. Some posts explore the history of specific songs or figures from the past but the majority, and Coffee's real contribution to history is his chronicle of the present. His blogs trace the who was playing with who and when that always confounds later researchers. He has run individual profiles of dozens of musicians in the trad jazz scene, many are local musicians of true talent and influence unlikely to make the festival circuit. He has written so much about Tuba Skinny he was able to compile a book about them!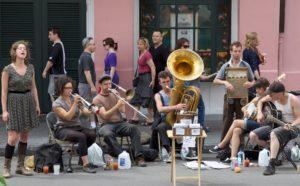 In fact he's compiled three separate books of his writing all of which will be reviewed in our June issue. We'll also be covering Tuba Skinny's latest CDs as part of an all-New Orleans review column which will also feature an album project with an all-star lineup and a great new band from Hal Smith. Pops Coffee's writings will help to inform these pieces, and many yet to come.
On March 29th Pops Coffee, citing the weariness of age, brought his blog to a close by sharing some of his favorite videos. He wrote a farewell message here, but he can still be easily found commenting on Youtube.
Thank you Pops Coffee, enjoy your retirement!
---
This is what our print edition feels like. If you want good news to read with your morning coffee, order a subscription ($30 for 12 monthly issues). You'll get full online access to our archives, web extras, and our next issue will arrive at your door. Online only access is available for only $20 a year! Support Hot Jazz Journalism- Subscribe
Subscription Options
---
Or get the Print Edition with Online Access. To get the print edition of The Syncopated Times use this Paypal link. After you pay you will be issued a coupon for free online access.