In January, as Live365 was about to shut down its music-streaming service forever, Dismuke created a non-profit corporation to keep his indispensable station Radio Dismuke playing 1920s and 1930s music on the internet far into the future. This is his announcement, used with permission:
Dear Radio Dismuke listener,
I write to announce major changes for Radio Dismuke. I have officially turned Radio Dismuke over to a newly formed non-profit organization. Early 1900s Music Preservation is a Texas not-for-profit corporation incorporated on January 19, 2016 and the proud new owner of Radio Dismuke.
I will continue to be actively involved in the station as program manager and I will still provide audio restorations of vintage 78 rpm records for the station's music library. But going forward, Radio Dismuke will be a listener supported project of a non-profit organization rather than some record collector's hobby – and I will be accountable to a board of directors.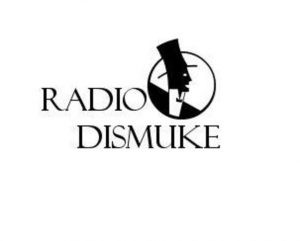 This was not an entirely easy decision for me to make and is something I have been giving a lot of thought to for two years. But there are a number of reasons why this is for the best.
The most compelling reason is that having a broader base of support and being under the umbrella of a non-profit will put the station in a much better position to navigate the tumultuous legal and regulatory environment that webcasters are currently faced with in the United States – an environment which recently forced Live365 and a number of stations to permanently close. I don't want Radio Dismuke to suffer the same fate – the music it plays and its mission of making it available to the modern audience it deserves means too much to me.
Another reason is my recognition of the fact that Radio Dismuke has become something much larger and more important than a mere personal hobby. The station has a vibrant, worldwide audience of listeners of all ages, many of whom are as passionate about the music as I am. I have received touching emails from a number of people who have told me about how the music helped them get through a difficult period in their lives. I have heard from high school kids telling me how they stumbled across the station and became hooked on the music. I frequently get inquiries from people asking where they can download or buy a particular recording they heard on the station. Very often my reply back is that they can't – that other than Radio Dismuke their only current option for hearing the recording is to acquire the vintage 78 rpm record. There are a lot of people who have told me that the station is an important part of their lives and something they depend on.
It has also become increasingly clear to me that the single biggest limitation for Radio Dismuke is none other than Dismuke himself. Until now the station has been a one-man operation funded entirely by myself. The limitations of my personal finances and in the free time I have available placed a definite cap on just how much the station could accomplish. By becoming listener supported and having the backing of a non-profit organization that can bring in additional volunteers the station will have opportunities to enhance its programming and reach new audiences in ways that have previously not been possible.
Finally, having the station be part of an organization will help ensure that it continues in the event that something were to happen to me.
For listeners, all of these changes will be a positive. Over time you will see improvements in programming, more reliable servers and new vintage music related initiatives that are still on the drawing board. I want to stress that Radio Dismuke will continue to be free for all listeners. "Listener supported" does not mean "subscription." The entire point of the station is to make the music available to as wide an audience as possible.
What "listener supported" does mean, however, is that, going forward, we will need to engage in fundraising. Over the years a number of kind and generous listeners have approached me asking how they might be able to make a donation towards the station. Until now, I have always politely declined such offers – being able to finance the station out of my own pocket provided me with a certain level of independence that I enjoyed. But those kind offers have always touched me and have been appreciated – they gave me confidence that if I ever needed to ask for help to keep the station going there would be people who would step up to do so.
Now that the station has entered into a new chapter of its existence, I am asking that, to the degree you value the station and its efforts to help the music find the modern audience it deserves, please consider making a contribution to Early 1900s Music Preservation to whatever degree you are in a position to.
You can find out more about Early 1900s Music Preservation and how to donate by going to http://Early1900s.org Contributions of any size are needed and highly appreciated. As a new organization, there are expensive start-up costs, including the cost of obtaining our 501(c)(3) tax exempt status.
With these changes and with your support I am confident that the future of Radio Dismuke and of the wonderful forgotten music it promotes is brighter than ever.
Best regards,
Dismuke
http://RadioDismuke.com, http://Early1900s.org