I'm standing in my favorite flea-markety antiques store panicking a little as I stare at milk crates filled with used records. My husband and I have decided to start buying old trad jazz records—we like the "old timey" sound that records have (the pops, hisses, and crackles) and, in theory, there are some records/songs (even artists?) that have not been converted to CD or digital (mp3) and can be only found on record. The only problem is: I know nothing about records.
I was born in the mid-1970s. I know what a record is—my dad owned some (that he never played because he'd moved on to 8-tracks and cassettes by the time I was old enough to understand the concept of recorded music) and my grandmother still listened to her favorites on record—but I came of age when cassette tapes had taken over as the main form of recorded music and was a teen when CDs hit the market. So I have no first-hand experience with buying or owning records.
I stare at the bins of records in terror. I know there are multiple "sizes" of records (45s, 78s, and… something else), but I can't for the life of me remember what number size my record player accepts. I'm pretty sure it's the "big ones."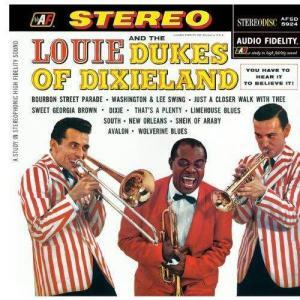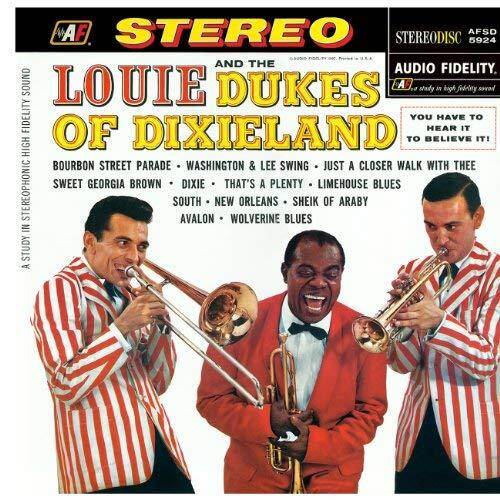 I head for a bin marked "jazz" and start flipping through. There doesn't seem to be much point in getting anything released on CD or digital on record (since we probably already own it on CD or digital) so I immediately flip past anything produced after 1980. I pause at a Dukes of Dixieland album. I know this band; I like this band (my husband is the real jazz aficionado; I'm just a "casual"). I pull out my phone and google, looking to see if this particular album is on CD or digital. I don't find any indication that it is available in those formats; I'm suspicious—this is a well-known band that is still producing music. How could any of their albums not have been re-released on CD or digital? I can't believe that this isn't on digital somewhere, but since I can't find proof that it is, I decide I might as well buy it in case it really isn't available in other formats.
I pull the record out of its cover and paper sleeve. I look at first one side and the other. I have no idea what I'm looking for. Scratches and general overall condition, I guess. There's some light scuffing on one side. Will the record still be able to be played? I have no idea how much scuffing or scratching affects a record. Obviously a deep scratch that cuts across the record is going to be too much scratching. But beyond that…? This record is only $3 so I decide to take a chance. I find a few more albums to take home, all by well-known artists, that I can't find evidence of CD or digital releases for. (Now I'm questioning my Google Fu—how could anything by Benny Goodman or Pete Fountain not be on CD?)
When I get home, I decide the records probably should be cleaned before I play them—and realize I have no idea how to clean a record. I get a piece of fleece fabric from my sewing stash and run it over both sides. Beyond that, I'm not sure if there's some sort of cleaning fluid I should be using. I vaguely recall my father had a record cleaning kit—a bottle of fluid, a brush of some sort, and a soft cloth. I panic a bit again—do I need to get one of these kits? How often am I supposed to clean my records?
(In all of this, record player maintenance and cleaning never occur to me; a comment from editor Andy Senior about not changing the needle on the record player damaging records sends me into another panic—do I need to clean the record player somehow? How often? What do you mean change the needle? Where do I even buy needles? Are there different needle sizes—how do I know what size my player uses? How often do they need to be changed? What other routine maintenance am I supposed to do on the record player?)
I put on each record, and we listen to them and we're quite thrilled with my purchases. They all play well and sound great. This gives me the confidence to venture forth again on another record-buying spree. I head back to the antiques store.
Upon checking our record player, I had found that it plays multiple sizes: 33, 45, and 78. Cockily, I head for a bin of "small" (small-sized) records (which I assume are older and therefore less likely to be on CD or digital)—and realize I have no idea what the difference between a 33 and 45 is (I'm assuming the "small" records are either 33 or 45, but then I wonder if maybe there is yet another size and that these small records might be neither).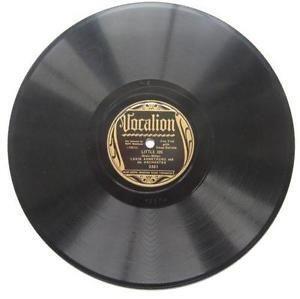 In addition, these "small" records are made of a different material than my "big" records. I think the big records must be "vinyl" (?) (they almost feel flexible, like you could bend them a bit before they would break). These small records are thicker and harder and feel more brittle (I vaguely recall something about records having "shellac" and the shellac can lift off, but I'm unclear if some records are made of a completely different material or if all records of any size/age can have shellac). Does my record player play records made of this material? I have no idea. I realize I'm in over my head with the small records. I back away slowly and head back to the big records—these seem safer.
I come across a copy of Benny Goodman's Carnegie Hall concert. Score! My husband has specifically requested I find a copy of this. It appears to be in good shape. That goes in the pile to come home with me. I find a couple of albums with good songs and artists we like, but the covers are in tatters. I shrug and decide to take them, too. I'm not buying them for the covers, right? Isn't it the condition of the actual record that matters? In some cases, though, without the cover, it appears to be impossible to identify the artist(s) or year of release. Ones like this, I pass by. Maybe there's some gems in there, but I have no way of identifying them.
When I get this batch home, my husband immediately puts on the Benny Goodman album. He's thrilled, but quickly realizes there's a problem—it's not the entire concert. Looking closer at the album cover, I realize it's Volume 3. A little googling reveals that the concert album is a three-volume/record set.
I head to eBay. I find volumes 1 and 2 and a whole new set of problems. There are multiple versions of this set (re-issues?). Do I have to get Volumes 1 and 2 only from the same set as my Volume 3 or will any of them do? (The covers won't match, but we can live with that. What we can't live with is if the different sets are cut in different places between the volumes or if the songs are in a different order, which would necessitate buying all three albums in the same set to get the full set of songs).
I email one of the sellers to ask if they know, but the answer I get back is complicated, and I don't fully understand it (there's references to red eye/red label and I don't know what this means. Is this a reference to records where the label in the center is red?). I was really hoping for a simple yes or no. I give up. Benny Goodman Volume 3 will have to be an only child. Sorry, Volume 3.
One of the records I bought in the second batch skips/doesn't play smoothly. I don't see an obvious scratch, but something is wrong with it. I'm unsure what to do. Is this a fatal error? Is the record junk or can it be fixed? If it's not fixable, should I just throw the record away? I specifically bought it because it's not on CD or digital (as far as I can tell), so I worry that tossing is it throwing away an irretrievable piece of jazz history. It might not be a famous or important piece of history, but it might be the only copy of that particular record left in existence. Or maybe there are people who would want the cover even if the record is no good? But I have no idea in either case, and now I'm stuck with this thing, paralyzed with uncertainty. Another dust collector in my house—just what I need. (Not!)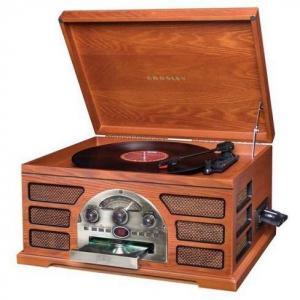 Of course, like anything, starting to collect records becomes a gateway to collecting/expending money on tangential items as well—the first target being the record player itself. We had bought an inexpensive Jensen player online. It's very small and compact so it doesn't take up much space. It has a slide controller for pitch adjustment and a knob for tone (I have no idea what either of these adjustments do or why I'd want to move them from center/balanced position). It has its own built-in speakers. It plays records—I'm not sure what more it's supposed to do, but now we wonder if perhaps we need to upgrade to a better player. But what would "better" be in this case? What qualities should we look for in a record player?
I did splurge and buy a used combination record player, dual cassette player, and CD player that looks "old-timey"/like an old record player cabinet. I can't say that the tone/sound of this record player is better than that of the tiny Jensen, but then, I'm tone deaf and there may be nuances I'm missing that someone with a more refined ear would pick up. Or maybe there isn't any difference. Maybe all record players sound the same/are of equal quality?
And, of course, now that we have an ever-growing number of records, we need a place to house them. Does it matter if they are stored standing up (vertically) or laid flat or stood up and leaned against the wall or a piece of furniture at an angle? Can records get warped if this is done? Some of the records I've bought don't have paper sleeves and just sit inside the cardboard cover—is this a problem? Should I buy paper sleeves for them? (Can I even buy blank paper sleeves for records?) Can records be stored in any kind of container/container material (wood cabinet, plastic bin, in a cardboard box sitting on a concrete floor in a basement or garage, etc.)?
Of course, all of these are just the questions I know to ask. As with anything, it's what we don't know that we don't know that is where the real danger lies. Embarking on any new hobby/endeavor is always thrilling but with it always comes a learning curve, too. What seemed so simple in the beginning—buying records and listening to them—has proven to be no exception. I, at least, went into this with a bit of knowledge/experience (being a bit familiar with the concept of records and record players). I can only imagine how daunting starting to collect records might be for those younger than myself who grew up in an entirely digital world and have no familiarity with records at all. Any and all advice for the rank beginner is greatly welcome! I suspect there are a lot of us out here in the world!