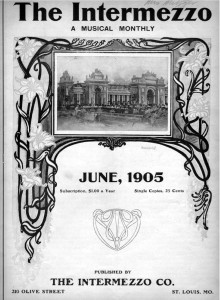 John Stark was one of the America's foremost publishers of "classic" ragtime sheet music and of early American Classical Music. He was born in Kentucky (1841) and after years of trying different careers he went into the music business selling pianos and organs from a wagon before settling in Sedalia, Missouri, in 1886.
With only a few titles in his catalog, Stark made music history on August 10, 1899, when he signed a rare royalty contract with Scott Joplin for his composition "Maple Leaf Rag." Stark was one of the first to recognize Joplin's genius and that his "classic" rags were truly unique. The "Maple Leaf Rag" was an early sensation and helped usher in the ragtime era of American popular music prior to World War I.
Stark published a music magazine "Intermezzo" (1905-1906) and he continued to publish pieces by Joplin and by others writing "classic" ragtime. His catalog also included Joseph Lamb, James Scott, Artie Matthews, Charles Thompson, and Arthur Marshall. Stark who was prone to hyperbole, ran exuberant ads promoting his composers. He moved from Sedalia to St. Louis (1900), to New York (1904), before moving back to St. Louis in 1910. He died in 1927 at the age of 86 having published some of America's greatest music.
See also:
Berlin, Edward A. PhD; King of Ragtime: Scott Joplin and His Era; Oxford; 2016.
Ping-Robins, Nancy E; Scott Joplin: A Guide to Research; Routledge; 1998.
Next: James Scott