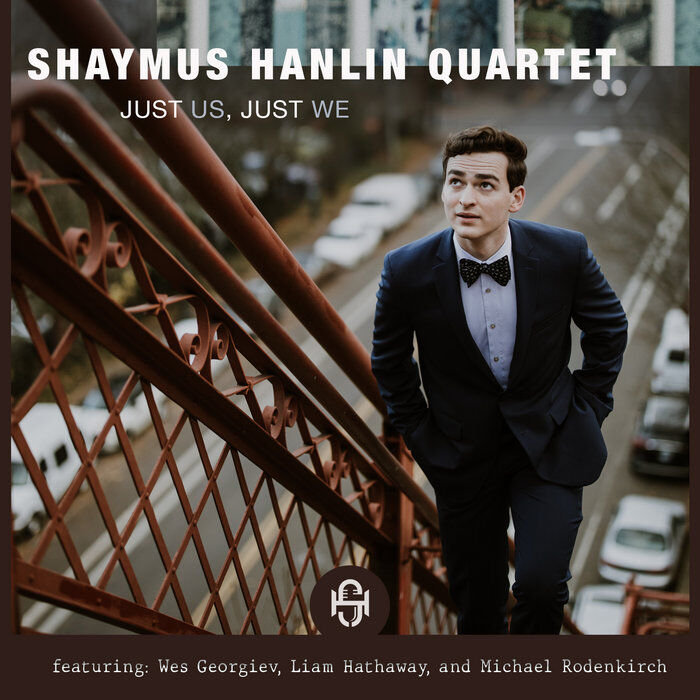 At 19 years old
Shaymus Hanlin
is one of the younger musicians you are likely to see on stage at West Coast jazz festivals this fall. Just before the pandemic rolled in he was  proudly introduced to festival goers, first by Sun Valley and then at other events. A vocalist, he added a special something to several groups with his natural sense of swing and jazz cool. While on the surface you might find him to be a handsome young man in the Sinatra mold he is quickly finding his own voice.
His debut album with his Shaymus Hanlin Quartet was released in February. Titled Just Us, Just We, a play on the opening track "Just You, Just Me", the album features ten luxurious tracks with Shaymus' vocal backed by a lazily swinging piano, bass, and drum combo.
Shaymus is in his element, producing the album he wants to record, he includes his personal vocal favorites including, "It Had to Be You", "'S Wonderful", "How High the Moon",  "The Lady is a Tramp", and "Almost Like Being in Love". You can picture a promoter chomping a cigar and saying "This kids got it all!"
While that finger snapping crooner sound isn't what you typically hear at festivals there is room for it, and Shaymus' smooth and versatile voice has been a welcome addition to the festival groups he has fronted. I enjoy his singing here, and the interplay of this small combo, much more than a few established stars in the same mold. Having been around all those trad jazz players may have given him that extra something. The early crooners all grew up in that scene and retained a real sense of swing.
Shaymus Hanlin has an exciting career ahead of him, I imagine Vegas productions, movie scores, cruises or maybe a good run on a television talent show. The sky is the limit and we are happy to have been following him  from the beginning.