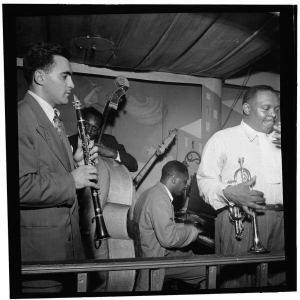 Sol Yaged, who died May 16th at 96, was inspired to pick up the clarinet at age 12 by a Benny Goodman performance he heard on the radio. After training with the New York Philharmonic he turned down a career in a classical orchestra to play jazz. In the 40s and 50s, he played with Phil Napoleon, Coleman Hawkins, Red Allen, and Jack Teagarden among others.
From the late 50s on he worked primarily as the leader of his own ensembles around the New York City area. He was a fixture at all of the New York jazz clubs, notably the Metropole where he recorded a live album in 1960.
In the early 1970s, he led a quartet with pianist Marty Napoleon. In the 1980s, he was at the Red Blazer Too and at Dino Casini's. In the '90s he featured in Felix Endico's swing band which played society concerts in Westchester County, and in Jack Vartan's band at The Stony Hill Inn. On occasion, he could still be found sitting in with Vince Giordano at the Iguana, where he was a regular in the 2000s.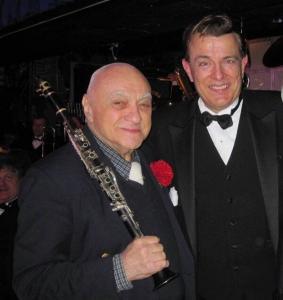 He maintained a frequent performing schedule over a 70 year period, interrupted only by three years of service in WWII. His wife is quoted as saying, "Musicians are on the road 50 weeks a year to play NYC for two…Sol hits the road for two weeks and plays NYC for 50."
He is most remembered as the great interpreter of Benny Goodman and was a consultant to Steve Allen on the 1956 film, The Benny Goodman Story.
He was famous everywhere he went, even among people who didn't know he played jazz. He was known for handing out mints, and they figure in an inordinate number of the personal remembrances his death has sparked.
The 50th anniversary of his first album, "It Might As Well Be Swing" was celebrated with a concert in 2006. The album was reissued on LP and CD last year by Pine Hill Records. Yaged remained active until the end and had a new album planned for this year.