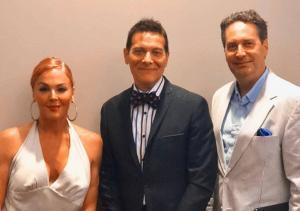 Brian Sheridan interviewed Michael Feinstein for our July cover story.  He has two other great stories lined up for Fall. The man has a knack for tracking down the big names. Here is Brian delivering the print version of the paper to Mr. Feinstein at  Chautauqua on July 13th where he and Storm Large were giving a performance titled Shaken and Stirred–Classic Songs Reimagined. Storm Large's career has shifted towards cabaret in recent years and when she isn't touring with Mr. Feinstein she sings for the well-known Pink Martini as well as her own band.
This is what our print edition looks like. If you'd like a print paper or know someone who would, order a subscription. You'll get full online access to our archives and our next issue will arrive at your door. No waiting around. Online only access is also available. Subscribe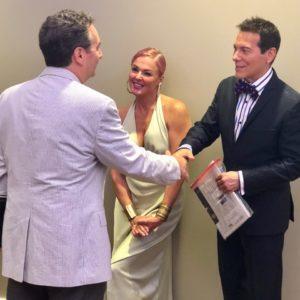 Subscription Options
---
Or get the Print Edition with Online Access. To get the print edition of The Syncopated Times use this Paypal link. After you pay you will be issued a coupon for free online access.