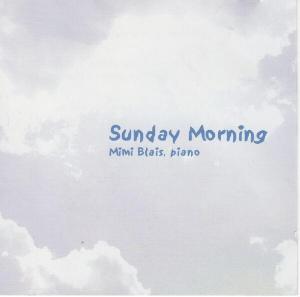 It's funny what love will do.  Absent are the pyrotechnics and the quirky improvisations that have long been her domain, replaced on this disc with lush grandeur and slow introspection.  The few sentences that constitute the liner notes identify this recording as a valentine, a musical love letter from Mimi Blais to her new-found paramour.
            Slow is the key word here, for there is nary a fast piece anywhere.  The brashness of Eubie Blake and the whirlwinds of cascading notes (of which she is a supreme master) have been replaced by the rubato of romance and the lazy legato of love.  Even an upbeat Missouri folk rag such as Bowery Buck is given the salon treatment.
            Several selections still display the Blais flair for arrangements.  May Aufderheide's lightweight opus, A Totally Different Rag, is infused with grandeur, Nan Bostick's That Missing You Rag becomes hauntingly luscious, and Hal Isbitz's Opalescence, while opening with a bit too much rubato, closes in stately triumph.  She has reprised Floyd from one of her earlier albums and infused it with many subtle changes and her rendition of Eubie's Memories of You put my mind right into a cocktail lounge holding hands with my first love.
Blais shows off her compositional skills as well.  Ricardo is unsyncopated and very classical, contrasting with Mimi ma Biche, a rag with many modern sounds plus a brief excursion into ¾ time.  Her two blues numbers display the requisite ache, perhaps to be played on a Sunday morning when she is alone.
Those who remember her fake moustache, her toy piano and other flights of zaniness may be initially put off by this radical departure from her past, but by the end of this album if she hasn't won your hearts I will be surprised.  Only someone who is a complete master of the keyboard and its infinite range of dynamics could pull off a recording like this.  Félicitations, and hats off to you, Mimi Blais!
Order securely on line from www.mimiblais.com.
Sunday Morning
Mimi Blais, piano
Orange Music OMCD 5533
On my way back to Montreal, I got the blues for Memphis Blues / Opalescence / A Totally Different Rag / Gymnoraggy / The Creeks of Missouri / Sunday Morning Blues / Piaf / Bowery Buck / That Missing You Rag / Ricardo / Mimi ma Biche / Floyd (a western rag) / The Cutter (a classy rag) / Memories of You.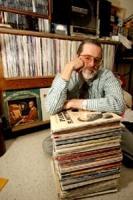 Jack has embraced ragtime as an avocation, starting with folio and record collecting, beginning composition in 1979, hosting a weekly radio program on a Denver area public radio station since 1980, writing articles and reviews for ragtime publications, and performing and lecturing at various festivals in Missouri, California and Colorado. He was a co-founder of the Rocky Mountain Ragtime Festival in Boulder, CO and served as its president from 1992-2005. These album reviews, originally published on Ragtimers.org, are being archived on Syncopatedtimes.com