Times are tough for school music programs, and for print publications. An idea was suggested to us which could help with both. We wholeheartedly encourage you to buy a discounted $25 subscription to The Syncopated Times for your local high school. You can find the address for any school in the country by using the search function in the program below (the map will not update but the address list will). Then just go to our Paypal link and select the "Sponsor a School" option. When you are prompted for a shipping address enter the one for the school you've chosen.
When we see a new subscription for a school we'll call them and determine exactly who to send it to; be that a band teacher, the library, or even a promising student. If you would prefer we can pick out a school for you from a list of schools with good band programs, just buy a subscription addressed to "Back To School".
We are launching this subscription drive on the 4th of July to celebrate the music that is America's gift to the world. Make sure the next generation knows what jazz sounded like at the beginning and that traditional jazz is still vital and accessible today.
Please Help Us Get Into 500 High Schools Before Classes Start This Fall!
---
Those of us who appreciate Hot Jazz, Ragtime, and Swing, have an incredibly informative and entertaining publication available for our enjoyment.  The Syncopated Times is a valuable source of information for professionals, amateurs and aficionados alike. Each monthly edition includes insightful feature stories on performers, a schedule of festivals and events, critiques of books and recordings, and notes on the deaths of important figures.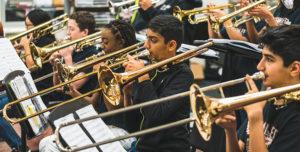 We believe that this paper would be a valuable resource for any young person learning about jazz in high school. They aren't going to hear the great bands we cover on the radio, and they may not envision all the possibilities that are out there to continue to play their instrument, recreationally, or professionally, after graduation. We take for granted how much we have come to learn about the music we love while forgetting how fortunate we were to learn of it in the first place. A chance encounter with TST could make all the difference in a young musician's life.
[thermometer raised=23 target=500]
Most of the people who would most enjoy this paper have never heard of it, including many who teach music in our schools. They can't recommend something they don't know about. Your donation will also alert educators to how active the traditional jazz scene really is. We've heard too many stories of teachers discouraging students from pursuing traditional jazz.
Having a copy of the Syncopated Times available also encourages participation in local jazz societies by easing any misapprehension a young person might have about the people they'll run into. Many of the best young players today came up through that route. Consider buying a copy for your local school on behalf of your jazz club.
Rising production costs, from paper to postage, are placing a strain on the publication's finances. We've also lost some of our most steadfast advertisers to festival closings. A simple remedy, without raising the subscription fee or advertising rates, is to increase the number of subscribers.  If each subscriber will make a concerted effort to add at least one additional subscription the financial stress will not only be abated, but the new readers will be getting a great resource. We could continue as we have for many years into the future, or we could strive to do something more. This is a unique opportunity to syncopate the next generation.  
Find a school to support then sign them up through the Paypal link or by mailing us a check or money order with the information below. Please indicate if you would like your name or organization included on an appreciation page:
You can Print This Flyer to use as a subscription form or share with your offline jazz friends.
---
This is what our print edition looks like. If you'd like a print paper or know someone who would, order a subscription. You'll get full online access to our archives and our next issue will arrive at your door. No waiting around. Online only access is also available. Subscribe
Subscription Options
---
Or get the Print Edition with Online Access. To get the print edition of The Syncopated Times use this Paypal link. After you pay you will be issued a coupon for free online access.