Set forth below is most of the twenty-second "Texas Shout" column. It first appeared in the October 1991 issue of the West Coast Rag, (now Syncopated Times).
---
I recently received a review copy of a compact disc of Christmas-related blues and jazz. Its arrival brought to ten the number of holiday-season jazz albums on the Wyndhams' shelves. Things weren't always so good for Dixielanders at Yuletide. For many years, the only vintage jazz Christmas recording I knew about was Jazzology J-9, "Let's Have An Old-Fashioned Christmas," by George Jackson's Jazz Band.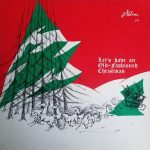 J-9 is a respectable journeyman session of brash Dixieland by a British band that maintains a nice balance between Chicago and British trad styles. First thing each Christmas morning, I'd throw it on the turntable and we'd open our presents. It did a fine job of maintaining a festive spirit around the hearth in keeping with the general Dixieland orientation of our household.
The problem was that we only had the one record, but the holiday season lasts longer than just Christmas morning. Lots of activities, for which we wanted accompanying music, had been going on during the preceding weeks — addressing cards, trimming the tree, etc. — and would continue through New Year's.
Nancy and I like Dixieland, ragtime and related music so much that we've never discovered what, if anything, is second on our list. So, to keep some congenial sounds in the air, we'd wrap presents, make (Nancy) or eat (Tex) Christmas cookies, and follow other seasonal pursuits while listening to general material from our collection, nevertheless recognizing the incongruity of stringing Christmas lights to the tune of, say, "Send Me To The 'Lectric Chair" or "Satanic Blues."
I am pleased to report that, in recent years, the situation has improved. A satisfactory number of Christmas recordings have appeared that are aimed at the vintage jazz buff.
Nowadays we usually get out the stack in early December and go through it, often more than once, during the ensuing weeks. There is enough variety in these records, and we have a sufficient supply, to eliminate monotony. Further, they are of a high enough average quality that, when guests arrive, we feel comfortable playing them in the background, thereby exposing our friends to our favorite music in a suitably seasonal way.
If you subscribe to this publication, you have a higher-than-average commitment to pre-swing jazz and ragtime. Thus, you may find it pleasant to have some Christmas Dixieland on hand for the holidays. For whatever use it may be to you, I'll take the balance of this column to pass along some thoughts on the recordings with which I'm familiar.
One word of caution, though, before we begin. You might think that a Christmas Dixieland album would be an ideal gift for your fellow Dixieland fan, or even for a non-Dixielander you'd like to rope into our circle. Most of the records discussed in today's column are items you can safely give, but if I were doing the giving, they wouldn't be my first choices.
Why not? Because the typical Christmas song is not constructed in a way that makes it a preferred vehicle for jazz performance. The bulk of the Christmas repertoire consists either of fluffy ditties designed to bring a quick smile or tear to the Christmas audience or of carols or religiously-tinged music, some of it composed centuries prior to the development of jazz. Such material calls for a higher level of thought and creativity from the musicians if rides thereon are to emerge on a par with jazz performances of more compatible compo­sitions.
By contrast, quite a few of the Christmas Dixieland albums capture the artists relaxing and playing for their own special pre-sold fans without particularly trying to wring every ounce of jazz out of their programs. For that reason, the Christmas Dixieland albums, while usually worthy enough, do not typically rank with the best in the artists' discographies and, judged strictly on their jazz content, are less desirable as gifts than other, better records by the players involved.
With that caveat, let's move to the discs. So as not to neglect my job, I'll begin with a review of the CD that prompted me to pick up my pen this morning.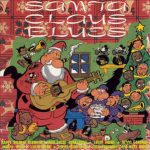 JASS J-CD-3, "Santa Claus Blues" is a 69-minute compilation of 23 cuts taken from Stash/JASS's two previous Christmas LPs, ST 125 and 33. Unlike this firm's previous theme compilations, which have as much or more appeal to blues fans than jazz buffs, this one is almost all jazz. Further, there is a surprising amount of music that qualifies as good jazz for listening at any time of the year, such as a roaring big-band "Jingle Bells" by Benny Goodman, a high-energy "Swingin' Them Jingle Bells" by Fats Waller, a shouting "Santa Claus Is Coming To Town" by Woody Herman, and "I Want You For Christmas" by Dick Robertson and his Orchestra (a Bob Crosbyish combo that features some marvelous Bobby Hackett cornet).
Moreover, only a grinch would complain about the throwaway numbers. Big Tea's warm vocalizing is perfect for his dance version of "The Christmas Song." Ella's crystal-clarity may be wasted on "Santa Claus Got Stuck In My Chimney," but it sounds as great as ever. Louis Prima's typical outgoing jive spreads its usual good cheer on "What Will Santa Claus Say (When He Finds Everybody Swingin'?)." And any recording that includes Louis on six cuts has to have something going for it. Frankly, the closing track, on which Pops, nearly at the end of his life, reads "The Night Before Christmas," infusing it with childlike innocence and love of humanity, gets me misty-eyed even before his poignant closing insertion: "… a very good night. And that goes for Satchmo, too. Heh, heh."
The CD is a gap-filler, uneven in spots, but as a Christmas entry, it gets its job done. Judged as a jazz record, I'd give it three stars out of a possible five.
Now for the rest of the albums. I have not done the concentrated re-listening to these that I would do if I were giving them a formal review, but what the heck, it's Christmas we're talking here, right?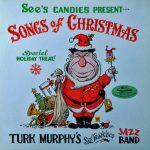 Unquestionably the rarest recording to be discussed today is Merry Makers SC-1001 "Songs of Christmas" by Turk Murphy's San Francisco Jazz Band. Turk is one of my all-time favorite musicians, and hearing his band play Christmas music does wonders for the elevation of my Christmas spirit. Even so, I have to aknowledge that SC-1001 is excessively burdened with lightweight material and is hardly one of the great man's stronger entries. On the other hand it is a particularly choice acquisition for a Murphyphile because it has not, at this writing, ever been issued commercially, having appeared only as part of a special Christmas promotion for See's Candies.

Fans of Turk Murphyesque West Coast revival Dixieland should check out Dan Jazz Enterprises BDJ-CD2, "Jingle Jazz" by the Uptown Lowdown Jazz Band. It's an amiable run-through of mostly pop tunes about Christmas, done with the ULJB's characteristic brassy two-beat. Special aficionados of this fine octet will relish the fact that each sideman gets a track where he (or she) is prominently featured.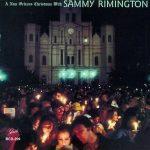 Speaking of "uptown," if your tastes run to uptown-style New Orleans jazz, you'll be interested in G.H.B. BCD-209, "A New Orleans Christmas With Sammy Rimington." This outstanding post-George Lewis clarinetist here does, with a gently-swinging rhythm section, what Lewis himself did for conventional church music in his excellent "George Lewis Plays Hymns" album. That is, Rimington delivers unembroidered melody on the selections, albeit with a jazzman's phrasing, attack and tone, plus some phrase-end fills, with all of the heartfelt conviction and emotion characteristic of this branch of Dixieland.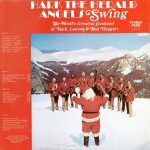 Chicago-Style fans will perk up their ears at World Jazz WJLP-5, "Hark The Herald Angels Swing" by The World's Greatest Jazz Band of Yank Lawson and Bob Haggart. The running time on this platter is a little light, and the band is not overexerting itself, but its star-studded lineup of top Chicagoans is one that was unparalleled for its day. Because death or infirmity has stilled the voices of some of the personnel, the album has an added attraction that it did not have at the time of its release.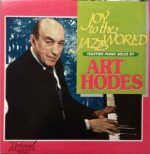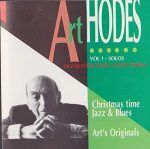 One of the quintessential Chicago players, and one of my all-time personal favorites, offers the only solo session on this list, Parkwood Records PWCD 114, "Vol. 1 – Solos" by Art Hodes, which includes a reissue of his "Joy To The Jazz World" LP. Hodes' supremely righteous piano gently but firmly manages the seemingly impossible task of making blues-drenched performances into communications that uplift and affirm the seasonal message of goodwill.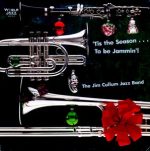 For sheer through-the-lineup virtuoso technical ability, combined with a broad-based grounding in all aspects of pre-swing jazz, The Jim Cullum Jazz Band is probably the leading contender for the title of best organized Dixieland band in the country. World Jazz WJLP S-21, "Tis the Season to be Jammin'", presents the Cullums exercising their usual good taste, imaginative structuring, and superlative musicianship on a program of Yuletide music.
If you're willing to try something off the beaten track, you won't go wrong with The Place For Jazz PPJ-111, "The Unidentical Jazz Twins' (Plus Hank Bredenberg) Christmas Album". This collection of trio performances, by, of all things, trombone, electric guitar, and electric bass, is (obviously) not a Dixieland platter, but it is very accessible and consistently creative in deploying the resources at hand. Nancy would have preferred a little less electronics, but I rate this one very highly in terms of what it accomplishes.
Ideally, a Christmas Dixieland jazz recording would be one that was so satisfying from a jazz viewpoint that it could be enjoyed for that reason alone, at any time of the year, quite apart from the extra lift it gets from being played at Christmas. Some of the albums discussed above meet or come close enough to that target, but I have saved for last the one that is a winner any way you want to look at it.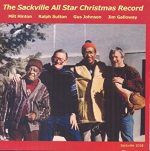 Sackville SKCD2-3038, "The Sackville All Star Christmas Record" by The Sackville All Stars (consisting of Jim Galloway, Ralph Sutton, Milt Hinton and Gus Johnson), is a magnificent job of turning seasonal songs (including such unlikely starters as "Silent Night") into inventive, satisfying jazz while still retaining the reverential aspects of the more religiously-leaning works. These four giants of the idiom never once put a foot wrong throughout the date. If you are only going to get one of the albums discussed in this column, this one is the clear winner.
[Open in Youtube for the full album]