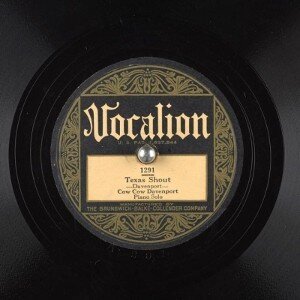 Set forth below is the thirtieth "Texas Shout" column. It first appeared in the July 1992 issue of the West Coast Rag, (now Syncopated Times)
In the previous "Texas Shout," I expressed my view that the heart and soul of Dixieland jazz is playing so that the music swings with heat. I suggested that each bandleader remember to choose a repertoire that gives his lineup, in light of its overall capabilities, the best chance of achieving this objective. (Read it Here.)
Let's suppose that you're a bandleader who is blessed with a band that knows how to swing with heat — no small achievement in a field that currently contains a discouragingly large number of combos which apparently have not yet grasped that, without those two elements, they can't be considered to be playing jazz. Now that you've put your group solidly onto the level occupied only by jazz bands, how do you work your way up out of the crowd?
That one's easy. You use imagination — creativity — in your performances. You put as many elements into your music, and its setting, as possible that will distinguish it from the other contenders without diminishing its jazz content.
There are plenty of bands out there that are not bothering to be imaginative. All of the greats of Dixieland have their imi­tators. Devotees of Turk Murphy are everywhere, replicating Turk's recordings and/or solos. The same can be said of George Lewis, Lu Watters, King Oliver and a host of immortal names.
There is nothing wrong with doing so. On the other hand, as I will amplify below, trying to replicate what someone else has already done adds nothing significant to the already existing body of Dixieland jazz.
If you want to be remembered as a superior practitioner of any art form, you must find your own voice within it. Everybody knows who painted the original Mona Lisa, but can any of you name a single one of the thousands of artists who have made copies of it? Dixieland jazz works exactly the same way.
The elements of a performance are (1) presentation (if you're appearing live), (2) the tunes that are played and (3) the way those tunes are rendered. Each of these elements can be handled creatively.
With respect to the non-musical aspects of a presentation, I have already written (see "Texas Shout" for August 1990) that a band can help its musical show con­siderably by paying attention to the setting in which the music appears, by finding a way to keep the audience entertained. I won't elaborate on this topic again but will note that, given two bands whose musical presentations are identical, I will certainly choose to go to see the one that has the most colorful and engaging presentation of that music.
However, because I am principally attracted to Dixieland jazz as an art form, I will always prefer to see a band that plays better jazz, even if its presen­tation is less enticing. I would hope that Dixieland fans, as they develop experience with the music and a heightened aware­ness of its many rewards, would over the long haul tend to agree with that viewpoint. Thus, let's talk for the rest of this column about increasing creativity within the music.
Of the two remaining elements, reper­toire and performance, performance is beyond question the most important. To illustrate what I mean, let's consider four bands, each with identical abilities to swing with heat.
At the bottom of the ranking will be the band that plays the same old tunes the same old way. Just above the bottom will be the band that plays a highly imaginative, well-chosen repertoire, but plays it the same old way — running changes, using a limited palette of sound textures, giving us the same things we've heard thousands of times but on somewhat different melodies and chord patterns.
Ahead of that band, nearing the top of the heap, will be the combo that plays the same old tunes, but in a highly imagi­native way — giving us fresh ideas from the soloists, novel voicings and different instrumental textures, causing the seemingly familiar numbers to emerge in brand new costumes. To underscore that point, and to state precisely what's meant here, a fresh, varied ride, with fertile solos, empathetic interplay among the sidemen, and distinctive ensemble effects on, say, "When The Saints Go Marching In," is a superior work of art within the idiom than a rendition of "Elephant Wobble" in which the soloists, playing in their usual sequence, trot out once again their favorite licks.
At the top of the pile, of course, is the group that does both. This will be a combo that looks for worthwhile but underplayed material, but which always remembers to approach every selection, whether familiar or not, as a challenge for finding something musically new and valid to say.
This ranking reflects a point I have made from time to time in various editions of "Texas Shout," but it is one that we shouldn't forget if we care about Dixieland as an art form. Namely, from an artistic viewpoint, the musical performance is everything.
Tunes are inanimate collections of notes. They do not know whether they have already been played thousands of times by Dixielanders, or whether they have just been rediscovered.
Despite what many players and fans think, tunes do not become "exhausted" through being played frequently. A piece that was a superior vehicle for Dixieland in the twenties or thirties is just as superior now, provided we remember to bring to it an imaginative, searching spirit.
Said another way, a mediocre ride is mediocre no matter how you slice it. It does not become less mediocre because the vehicle chosen is a newly resurrected, underplayed gem of a composition. Similarly, a hot, swinging, imaginative ride does not become less interesting artistically because the vehicle chosen has been played and recorded many times in the past.
How does a bandleader go about fostering creativity? With respect to soloing, there's not much you can do directly. You're ultimately dependent on the degree to which your individual sidemen are willing to stretch themselves in order to find new things to say and avoid favorite licks.
(Read: Texas Shout #15 How to Improvise Solos)
However, you can do some things that will stimulate the juices within the ranks. Vary the tempos and keys from tune to tune. Call the solos in a different order. Try part-chorus solos occasionally.
With respect to harmonies, Dixieland is fairly basic in that respect and you can't do very much modification without moving into advanced jazz forms. However, you can look for more interesting voicings of your horn passages, perhaps by assigning the melody to some instrument other than the usual cornet lead.
Dynamics is an overlooked area for creativity. The imaginative juxta­position of loud and soft passages can be a sure-fire ear-catcher for the audience.
In routines, though, the field is wide open. Must the strains always be played in the usual order on this title? Does it offer an opportunity for a subunit? Does the tune have several strains that are suitable solo platforms, so that you can have some solos on one and then move to another for the remainder? Can you find new places for breaks, stop-time passages, key changes, special interludes, arranged effects and the like? Does the song have a good but underutilized lyric? Can you develop a special introduction and tag for it?
Let me mention two examples I've noticed where, I think, it's time for a little more creativity to appear on our stages: Duke Ellington's "The Mooche" and Lu Watters' "Doin' The Hambone."
"The Mooche" is one of the all-time-great mood pieces of Dixieland exotica. I'm not at all surprised that so many combos have been attracted to it.