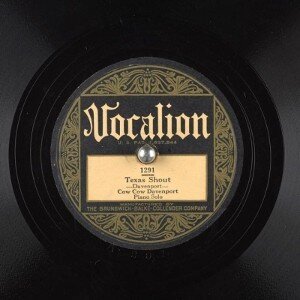 Set forth below is the forty-first "Texas Shout" column. It first appeared in the June 1993 issue of the West Coast Rag, now known as The Syncopated Times. The text has not been updated. The Robert Shaw performances referred to herein have since been reissued in compact disc format on Arhoolie CD 377 "The Ma Grinder." The great jazz/Blues pianist Art Hodes, to my sorrow, has passed to his reward. Johnny Parth no longer controls the RST label. 
The original essay closed with (1) a short discussion of Blues periodicals and other references and (2) a review of a then-new album by Washington D.C.'s Sunshine Skiffle Band. Because the data then given with respect to the references are now out of date, and because I see no point in discussing at length an album issued in 1993, most of this material has been tacitly deleted from this reprint.
Dixieland jazz drew many elements from various types of music that preceded it. Even if you choose to limit your listening to Dixieland alone, you will inevitably find yourself rubbing elbows with several of these non-jazz musics, such as brass band marches or Latin-rhythmed compositions.
The non-jazz music most frequently encountered by Dixielanders is, of course, ragtime. Ragtime is a regular part of the presentation of many Dixieland bands. Also, ragtime piano sets are commonly included on the bill at Dixieland festivals.
Next on the list, for those who continue to dig deeply into Dixieland, is Blues. Because this term has at least three meanings in the musical community, let's begin by defining what's meant by "blues" for purposes of today's column.
The first meaning of "blues" refers to a musical selection or performance that conveys a feeling of melancholy, regret, longing or similar emotion to the listener. Hearing it, you might say that the performer "has the blues" and, indeed, you might be moved some way toward that position yourself if the rendition is sufficiently convincing.
The second meaning of "blues" describes a tune which has a certain type of musical structure. Typically, that structure is a variation on a three-phrase, twelve-bar chorus (if played in double time, twenty-four bars).
However, eight-bar blues are quite common (the refrain to "Trouble In Mind" being a familiar example), as are sixteen-bar blues (often built like the chorus to "How Come You Do Me Like You Do" or to "I Wish I Could Shimmy Like My Sister Kate.") A sixteen-bar blues may have a few extra bars added to its final phrase (called a "turnaround" or "sweet mama" ending), "Sister Kate" again providing a common example thereof.
Among Blues aficionados, longer works, even when bluesy in feeling and per­formed by acknowledged Blues per­formers, are not conventionally thought of as blues. Thirty-two-bar numbers, though often found in the repertoire, tend to be regarded instead as pop songs.
When this second meaning is used, the performance need not create a blue mood. The boisterous set-closer "Weary Blues," for example, or the bouncy "Canal Street Blues," qualify as blues because they are constructed according to the conventions of blues composing.
Today's column focuses on the third meaning of "blues," i.e., as a term that refers to a specific musical genre just as "Dixieland" refers to jazz using a pre-swing jazz musical vocabulary. We're talking about the music you will find if you enter your local record store and browse through the section labelled "Blues." For ease in understanding, when I use the word herein with this third meaning, I will write it "Blues," with its first letter capitalized.
The Blues section will include two rather different-sounding types of music. One is referred to as "acoustic," "pre-war," or "country" Blues, while the other is, naturally, "electric," "post-war," or "urban" Blues.
Country Blues is typically heard on unelectrified instruments, played by a solo guitar/vocalist or at most two or three people (the additional instruments being, perhaps, piano, violin, or harmonica – called a "mouth harp" or "harp" by Blues fans). Urban Blues is often performed on electric instruments by a Blues band, consisting of some combination of vocal, lead guitar, rhythm guitar, keyboard, harp, bass and drums. Urban Blues did not really come into its own until just after World War II, which explains the aforementioned "pre-war" and "post-war" labels.
Blues is primarily a vocal idiom. There are instrumental Blues rides, of course, but the overwhelming bulk of Blues re­cordings are vocal.
Thus, to appreciate Blues fully, one must be willing to pay attention to the lyrics along with the musical setting therefor as well as the vocalist's timbre and skill at conveying his/her message. As with any musical performance, the success thereof is judged by whether those elements do or do not come together to create a unified, valid visualization of the material that strikes a strong emotional response in the listener.
As I said, the dedicated Dixielander, as he/she becomes more of a completist, will inevitably be exposed to Blues. Johnny Dodds' fans will collect his appearances with Blind Blake and the Dixieland Jug Blowers. Ma Rainey buffs will acquire her sides with Tampa Red and Georgia Tom, the Tub Jug Washboard Band, and Papa Charlie Jackson (who also recorded with Freddie Keppard). King Oliver completists will own his accompaniments to Texas Alexander. Louis Armstrong admirers – everyone reading these words – will hear Lonnie Johnson playing with the Hot Five (indeed, Johnson is on 78s with Duke Ellington and Eddie Lang as well). I could go on, but the list is very long, and you take my point.