This Story, which was first published in the April 2008 issue of our predecessor paper The American Rag, provides an in-depth ten year history of Bria Skonberg's youth band, The 51st Eight, and her first launch onto the world stage. 
---
 A Northern Light
If you've ever traveled in the Northern Hemisphere in early Autumn or Spring, there is a good chance you've witnessed one of the Earth's most magnificent phenomena: The Aurora Borealis. This cascade of natural artistry occurs when electrically charged particles from the sun caught in radiation belts are channeled through the Polar Regions by Earth's magnetic field.
The increasing difficulty in getting the 21st century generations exposed and interested in playing traditional jazz is no secret. Much like the auroras of the Northern Lights, finding a group of young students that are dedicated to the art and continuation of traditional jazz is a rarity. Even rarer is finding a group that can withstand the test of time and stay together into their adult years. Still, when the right combination of energetic students are pulled together at just the right time, in just the right place, the lights shine just as brightly.
Beginnings
In the fall of 1998 at Chilliwack Senior Secondary, Gary Raddysh and Rob Hopkins were thinking of ways to implement a student Dixieland jazz band into the 11th year of the Chilliwack Happy Times Jazz Festival, founded and directed by Rob. They recognized the talent of a young clarinetist in the concert band who preferred to play jazz excerpts for his tests, and quickly recruited Colin Farquhar as the building block for the Chilliwack Senior Dixieland Combo. 15-year old Jeremy Roberts was a natural in the style on drums.
The following spring they debuted the band at a school concert, and successfully played the Chilliwack Jazz Festival in May. Ed Hull, who most AR readers are likely familiar with on tuba, had brought an impressive youth band to the festival called "Hull's Angels." They were short a few players, so Colin filled in on clarinet and fellow CSS student Stuart Watchorn played banjo. At this same time at the same festival, a member of the Australian Fireworks band was falling in love-at-first-sight with a beautiful drummer from Vancouver's Mother of Pearl.
Finding Bria
The Fall of 1999 brought a few more personnel changes, and they eventually asked the lead trumpeter of the jazz band to join: 16 year old Bria Skonberg. Colin described it this way, "We were looking for a trumpet player, and had considered Bria, but avoided talking to her because of her busy schedule, and there was 'no way she'd want to play with us!' We did eventually get around to asking Bria, whom it turns out had been wanting to join the band anyways."
That following summer Bria was sponsored by the Vancouver Dixieland Jazz Society to attend the Mammoth Lakes Jazz Camp, on a recommendation from Rob Hopkins. While at camp, Bria was encouraged by counselor and Sacramento Jubilee Youth Band Coordinator Grace Perrine to send an audition tape to the Jubilee. Fellow counselor Jeanette Tedmon arranged for Bria to sit in with Lance Buller and the Monarchs at the Mammoth Jubilee where she met Simon Stribling who was playing trombone. Simon had just relocated to BC since falling in love-at-first-sight with Lauri Lyster, and Bria quickly adopted him as her mentor. Equipped with these contacts and immeasurable inspiration from the world-class Professors at the camp, she returned to her senior year ready to make some music and difference in the world of trad jazz with her friends.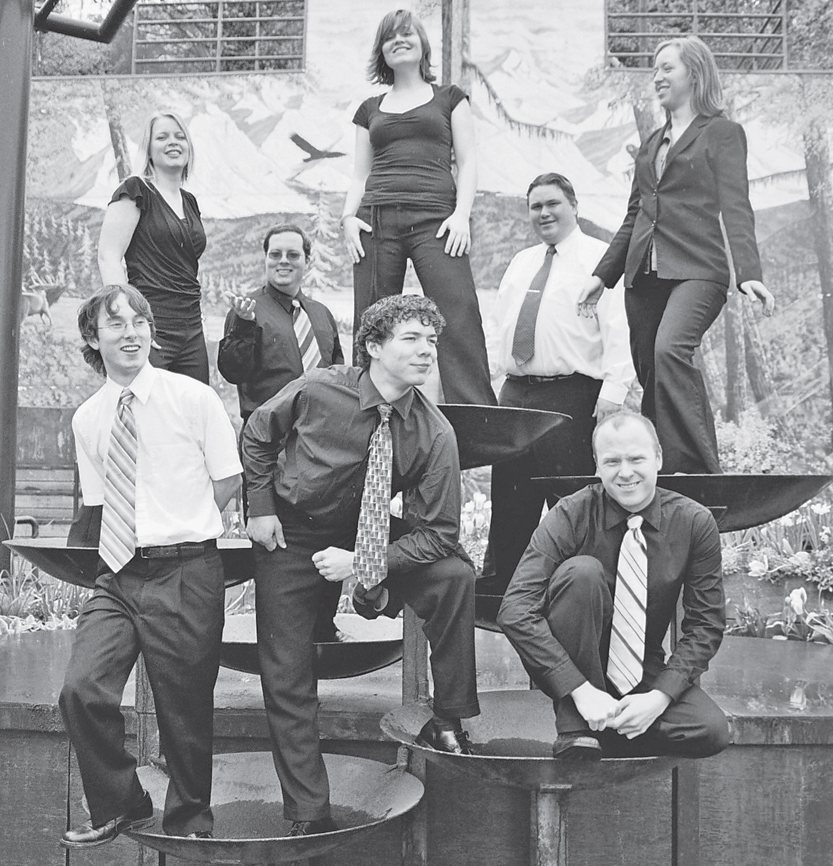 In September of 2000, 12th grade trumpeter and Rosedale farmer Brock Rutley picked up the tuba and instantly changed the sound of the band. They had recruited Colin's younger brother Brian to play bass prior for several events, but he was neither of age or attending the school. Brock was a natural on the tuba and later switched to sousaphone, providing a steady foundation for the 2 beat style. They recorded an audition tape and were soon accepted as the first Canadian youth band that would play the Sacramento Jubilee.
Sacramento Jubilee
The line-up at this time was Colin Farquhar, Jeremy Roberts, Bria Skonberg, Stuart Watchorn, Mike Kayser on trombone, Ryan Townsend on reeds, and Brock Rutley on Sousaphone. They had just about given up finding a piano player the following Spring when 11th grade clarinetist Vashti Gray came to audition and played the stride transcription of Mel Stitzel's "The Chant" flawlessly. Lo and behold, they had a band! In honor of their trip to the Sacramento Jubilee they named the band The 51st Eight. That year Dave Ruffner included them in a "Spotlight on Youth" article in the American Rag, citing them as one to watch.
The enormity of Sacramento was an eye opener and even after graduation a core of the group still wanted to play together. They invited 20-year old CSS graduate Lukas Matheson to play trombone and continued to book gigs through their first year college.
Evan Arntzen
In September of 2001 Bria was invited to the Vancouver Dixiefest as camp alumni and met fellow VDJS scholarship recipient Evan Arntzen on stage. Even then he was an immense talent on the saxophone; He was immediately invited to a 51st Eight rehearsal and into the band. They had a variety of banjo players during the fall but by Christmas Jeremy's 14-year old brother Josh Roberts was the full time player. "The hardest part at this time was finding subs," says Skonberg. "Since there were no young players, if one person couldn't make it we didn't have a band. But we were determined to make it work."
In August of 2002 the band recorded and released their first album, No Fun Intended.
That year they discovered and exploited some of their individual talents – Colin had worked as a sound tech and engineered the recording, while Bria put her PR and organizational skills to use by managing and promoting the band. Lukas became a full time car salesman and arranged large vehicles for travel that Jeremy navigated with ease. Colin put it this way, "There's so much that goes into running a band beyond just playing music —the technical aspects of live/recording music, transportation, electronic commerce, negotiation skills, the list goes on. We've been so very lucky in that the majority of the skills and connections that are and were required to make this group fly are contained within the band itself." At the Vancouver Dixiefest that fall, Clint Baker described them as the "best young band he'd ever heard."
More Albums & Festivals
In spring of 2003 they recorded their second album, Open To Interpretation, at Simon Stribling's Holy Mackerel Studio in Burnaby. They worked on their showmanship skills and repertoire, and soon had a book of original arrangements featuring vocal harmonies by the front line with personality to boot. At the Chilliwack festival that year the band was approached by Sun Valley Jazz Jamboree director Tom Hazzard and invited to their festival that October. They appeared at the Sacramento Jubilee for a 3rd time. That fall they said goodbye to well liked sousaphonist Brock Rutley as he went to travel abroad. They were a hit at the Sun Valley Jamboree and have been performing there every year since!
April 2004 brought the biggest change in personnel they had experienced in a few years: a fiery, hard swinging bass player named Georgia Korba that Skonberg knew from Capilano College. Within a month she had played her first gig with the band, recorded an album Eight to the Bar and performed at her first festival. History was made at the Chilliwack festival when the band befriended a particularly young and energetic dancing couple that shone even on the fastest tempos: Joel Schwartz and Louise Kurth. Joel and Louise were a proactive part of a large network of dancers in Vancouver, and the groundwork for a lasting friendship was made. Josh Roberts exposed his talent as a graphic artist as he designed the website and artwork for the cd while graduating from CSS. The whole band had entered the "real world."
On November 13th 2004, Vancouver swing history was made again as The 51st Eight played for over 200 young dancers as part of an event Joel and Louise had organized. The energy was immeasurable and at one point a young Seattle saxophonist who was sitting in proceeded to jump off the stage and crowd surf, much like you would see at a punk rock show. After a few encores, everyone was satisfied and the partnership between the dancers and live bands was a success. Since then the band has performed for hundreds of young dancers in BC, Washington, Oregon, California and Idaho.
A Little Swing
In the spring of 2005 The 51st Eight recorded and released their fourth album "Worth The Weight" which was more swing oriented and gained a little radio airplay in the Vancouver area. Unable to make the jump to pro band status and working too much to take time off, they declined being a youth band at the Sacramento Jubilee and concentrated on interest from other festivals. Bria comments: "The biggest hurdles for us were achieving adult status, and learning how to handle Canada-US Immigration. It was a time of enormous change and we feel fortunate now for the experience and to have had so many people supporting and encouraging us – family, fans, friends, and our local jazz societies. Paying our dues has made the successes that much greater, and the ultimate goal was always to make it easier for other groups in our situation. The real credit goes to the generation before us for showing us the way." They were well received at the Redwood Coast Music Festival and were added to the 2006 rosters for Seaside, Port Angeles, and Sisters, Oregon. They recorded "Live at the Hot Jazz" to help benefit one of the last hot jazz clubs in Vancouver even though it closed down within a year. Lukas Matheson was the first to wed, marrying his beautiful wife Danica in December of '05.
By 2006 the band had matured exponentially, musically and personally. With five years experience of playing together and seven music majors there was no end to what they could do creatively. Audiences across the board seemed to notice as all venues at all festivals were packed. That spring Bria graduated from with her Degree in Jazz Performance, and long time drummer Jeremy Roberts got married in the Summer to his lovely wife Chantal. That fall they released their sixth and best album yet, Life's a Beach, and Georgia graduated with a Bachelors in Music.
Peak Performance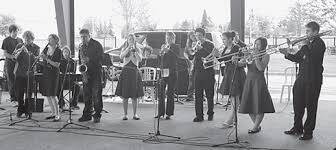 In 2007 they continued to play an average of a festival a month plus other gigs, while pursuing other leads. Vashti became the third happily married member as Mrs. Dave Fairbairn and began directing musicals in the greater Vancouver area. Evan was winning national awards as one of Canada's up and coming jazz artists. Bria had started touring more frequently as a guest artist on the East Coast, Europe, and Asia, as well as with her other co-led group Mighty Aphrodite. Georgia, also of "MAJB" and Josh were picked up in 2006 by Simon Stribling for a hard driving 5 piece band called the New Orleans Ale Stars. Colin graduated with a Bachelors Degree in Music Education from Trinity Western University. The last change came when Kentucky born Benji Bohannon replaced Jeremy as the full time drummer for the band, adding a wonderful energy and Southern swing.
Marking a Decade
Ten years after its start at Chilliwack Senior Secondary, The 51st Eight Jazz Band is going stronger than ever and is no longer considered a rarity in their area. Ever since 1998, Chilliwack has been producing young Dixieland jazz players as frequently as their crops of corn. The 51st Eight have been instrumental in nurturing the younger generations by providing clinics, sponsorship, private lessons, and mentoring at band camp. The third generation of the band, "The Dixie Nine" are now a group of young college musicians making the jump to proband status and mentoring the next crop. The newest group at Chilliwack Senior, The Back Alley Strutters, will be making their first trip to Sac Jubilee this year. Also this year, the Vancouver Dixieland Jazz Society is proud to be sponsoring ten CSS students to attend the Heebie Jeebies band camp in Port Angeles, Washington.
Ten years after two teachers and one student decided to start a band, there is no shortage of jazz in BC's Fraser Valley. They will be celebrating this occasion on May 2nd, the Friday night of the freshly named "May Mardi Gras" in Chilliwack, also marking its 20th year under new direction of Owen and Chris Skonberg. What can you expect? Bria says, "This is a once in a lifetime band, and we don't take any time we're together for granted anymore. Every gig is a celebration and this one will be the biggest of them all. We've always been a little crazy and have made it this far so nothing is impossible to us. There are a lot of tricks and surprises planned, and that's all I'm going to say!"
The band will be releasing two discs at the event — a compilation of past recordings and a collection of new releases. Also appearing at the festival are The Blue Street Jazz Band, The High Sierra Jazz Band, Bob Draga, Claire McKenna, and more.
---