Davenport
The Bix Beiderbecke Museum and Archive opened officially on August 3, the first day of the 46th annual Bix Beiderbecke Memorial Jazz Festival. It is housed in the basement of the River Music Experience, a re-purposed office building on the southeast corner of 2nd and Main in Bix's hometown of Davenport, Iowa. It's the culmination of a years-long effort of local Bix aficionados to honor Davenport's arguably most famous citizen. There was a private opening about two weeks earlier for family members and major contributors.
A Tour
The museum is not large—about 1,500 square feet—and as yet lacks any outside identification. But proper signage is in the works, according to Howard Braren, a retired professional fundraiser who was (and still is) a prime backer of the museum. In fact, before I left he handed me a stamped envelope, the purpose of which is to induce donations to keep the museum going (which I have returned with a check). I spoke at some length with Howard, who has a Beiderbecke family connection. His paternal grandmother was a Beiderbecke and a niece of Bix's grandfather. That makes him Bix's second cousin once removed.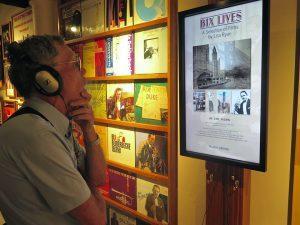 Upon entering, one sees covers of LPs featuring Bix's recordings or other musicians' albums of music he played, posters of previous Bix festivals, and murals of early parts of Bix's life. The exhibits are arranged chronologically in a serpentine loop, a layout many museums use to maximize the space while providing a degree of physical separation between displays. However, some signage, or a printed guide (or, in modern parlance, an app), is needed to tell visitors how the museum is laid out. The exhibit themes are all the expected ones: Bix's childhood and school years (which were noted for less than diligent attendance or attention), his early days as a musician in Chicago, and later New York, and the musicians he knew and played with.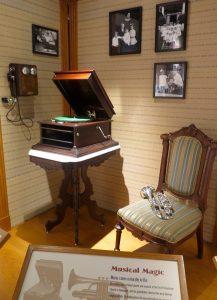 Artifacts
Artifacts on display include a cornet Bix played in his youth that had been owned by his older brother Burnie; the piano he bought for his last apartment in New York City (how it made its way to the museum is a story in itself), which is on loan from Bix scholar Dr. Albert Haim; wall sconces and even the number (1G) from the door of that apartment; mouthpieces, cufflinks, and a gig bag he carried his horn in. There is also Frank Trumbauer's sax, Bob Gillette's banjo (he was in the Wolverines at the same time as Bix), a clarinet that had belonged to Pee Wee Russell, and other period instruments on loan from such contemporary musicians as Randy Sandke, David Sager, and Sue Fischer. All three have official positions with the museum. Randy deserves particular thanks for his many hours of dedication to this project.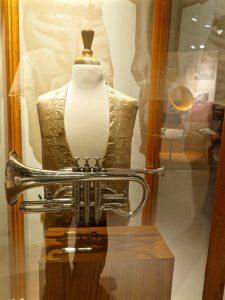 Of course, there are letters from other musicians, photos, and other personal effects culled from musicians (or their heirs) who played with Bix and from Beiderbecke family members. Significant pieces came from Bix's great-niece, Liz Beiderbecke-Hart. I would be remiss not to point out six beautifully done photo collages by Lisa Ryan that are accompanied by orchestral numbers that you can listen to with headphones. Some artifacts have merely found a new home in Davenport; they had been at the Putnam Museum, where it was originally planned to establish this museum. However, those plans fell through.
There is a life-size statue of Bix on a fully stocked bandstand depicting the casino at Hudson Lake, Indiana, where Bix played in the summer of 1926. I must say, however, that I share the view that the statue is a less than accurate representation of Bix. Howard Braren told me that a remake is a $20,000 project, so it will have to await the necessary funds.
Website
The museum has a website— bixmuseum.org—where you can, and should, read more. You should allow at least an hour for your visit. The museum is open Monday through Saturday from 10 am to 5 pm. A nominal admission is charged. Parking is readily available in close proximity, including two hours free on the street.
The museum's organizers have accomplished a great deal with the resources they had to work with. Every Bix devotee should make a pilgrimage to Davenport. If you can't get there sooner, the 2018 Bix Beiderbecke Memorial Jazz Festival would be an extra incentive.
---
Jazz Travels columnist Bill Hoffman is a retired management consultant and is the concert booker for the Tri-State Jazz Society in greater Philadelphia. Bill lives in Lancaster, PA.
---
This is what our print edition feels like. If you want good news to read with your morning coffee, order a print subscription. You'll get full online access to our archives, web extras, and our next issue will arrive at your door. Online only access to all of our original material is also available! Support Hot Jazz Journalism- Subscribe
Subscription Options
---
Or get the Print Edition with Online Access. To get the print edition of The Syncopated Times use this Paypal link. After you pay you will be issued a coupon for free online access.