FRENCH QUARTER FESTIVAL. (New Orleans, La.) – April 7-10.
The French Quarter Festival in New Orleans began as a neighborhood gathering more than 30 years ago, but it has since grown into "The World's Largest Block Party" where visitors can join locals to enjoy the best of Louisiana music, food and culture, all for free. Featuring more than 800 musicians on 20 stages, 65 food-and-beverage vendors, works by New Orleans' top artists and kid-friendly attractions, the 32nd annual French Quarter Festival is set for April 7 through 10. Staged over a half dozen blocks between Bourbon Street and the Mississippi Riverfront, there is no admission charge for the festival and fences do not enclose the site. Festivalgoers are free to come and go as they would at any block party. French Quarter Festival Second-Line Kickoff Parade will step off at 10 a.m. Thursday, April 7, from the 100 block of Bourbon Street and makes its way to Jackson Square. Performers for 2016 include Cowboy Mouth, Buckwheat Zydeco and Sonny Landreth making debuts, as well as Rory Danger & the Danger Dangers, Gina Brown & Anutha Level, Meschiya Lake and the Little Big Horns, trumpeter Wendell Brunious, guitarist Carl LeBlanc, Big Chief Bo Dollis Jr. & the Wild Magnolias, Panorama Jazz Band, John "Papa" Gros, Robin Barnes, Charmaine Neville, Gal Holiday and the Honky Tonk Revue, Guitar Slim, Jr., T-Ray The Violinist and D2R (Dreams2Reality, Jazalsa. Popeye's Brass Band Jam will bring three full days of brass bands to the Louisiana State Museum's Old U.S. Mint. Performers include Leroy Jones' Original Hurricane Brass Band, Treme Brass Band, Hot 8 Brass Band, New Orleans Nightcrawlers, The Original Pinettes Brass Band. Zydeco acts include Sunpie and the Louisiana Sunspots, Lost Bayou Ramblers, Grammy-winner Chubby Carrier and the Bayou Swamp Band, Amanda Shaw, and Dwayne Dopsie and the Zydeco Hellraisers. The Chevron Evening Concert Series also returns with Leroy Thomas & the Zydeco Roadrunners, Feufollet, and Rockin' Dopsie and the Zydeco Twister; (504) 522-5730; fqfi.org/frenchquarterfest/.
JAZZAFFAIR (Three Rivers, Calif.) – April 7-10
Inspired by its longtime performance hosts – The_High Sierra Jazz Band – the Jazzaffair takes place annually in the Central California town of Three Rivers, nestled in the Kaweah River canyon, just above Lake Kaweah, in the Sierra Nevada Mountains. Festival venues include the Lions Club, the_Veterans Memorial Building and the St. Anthony Retreat. Free shuttle busses transport festival goers from place to place, according to festival director Rusty Crain. Performers for the 43rd annual Jazzaffair will be Tom Rigney, Cornet Chop Suey, Reedley River Rats, Grand Dominion, the Au Brothers, Blue Street, Bob Draga with Kylie Castro, High Street, Night Blooming Jazzmen, pianist Carl Sonny Leyland, Titan Hot Seven, the Jerry Krahn Quartet and the Flip Oakes Quartet.
All-event three-day badge costs $90 if purchased on or before March 15 or $95 after March 15; daily ticket prices range between $25 and $45; children pay half price, and kids age 11 and younger are free with their parents. For info, write Jazzaffair, Box 712, 42490 Kaweah River Drive, Three Rivers, CA 93271; call (559) 561-4549; email [email protected]; or visit jazzaffair.info/.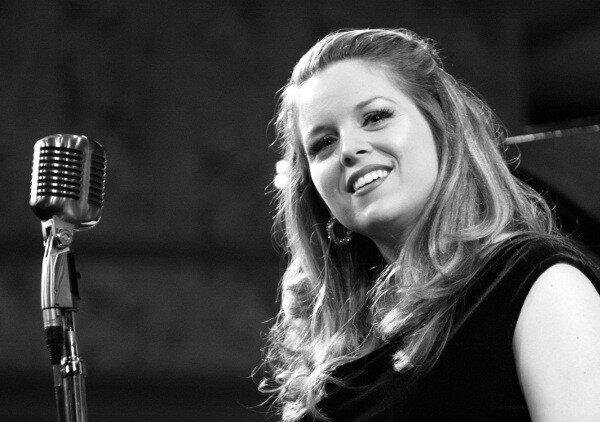 THE ATLANTA JAZZ PARTY. (Roswell, Ga.) – April 22 – 24.
Presented by the Atlanta Jazz Preservation Society, the Atlanta Jazz Party was founded in 1990 by Phil and Lee Carroll. It's staged at the Grand Ballroom of the DoubleTree by Hilton, 1075 Holcomb Bridge Road, in Roswell, Georgia. The ballroom is transformed into a cabaret jazz hall featuring swingin' classic improvisational jazz. All-star combos play eight sets on Friday night, seven sets on Saturday afternoon, eight sets on Saturday night, and seven sets on Sunday. All performers are featured in each session. The 2016 lineup includes AJP first-timer from New York City, Molly Ryan; New Orleans trumpeter Duke Heitger along with Ed Polcer; Dan Barrett and John Allred on trombone; Ed Metz and Danny Coots on drums. Returning to Roswell this year are clarinetists Evan Christopher and Tom Fischer; guitarists Chris Flory and Bucky Pizzarelli; bassists Jim Ferguson and Paul Keller; pianist Rossano Sportiello; vibist John Cocuzzi; and the Joe Gransden's 16-Piece Big Band.
$365/guarantor; $280/patron; Friday night only $67.50; Saturday afternoon only $62; Saturday night only $67.50; Sunday afternoon only $62; (770-645-6844); atlantajazzparty.com; email: [email protected]
NEW ORLEANS JAZZ & HERITAGE FESTIVAL. (New Orleans, La.) – April 22-May 1.
The New Orleans Jazz and Heritage Festival presents music between 11 a.m. and 7 p.m. during the last weekend of April and first weekend of May, at a dozen different stages all over the Fair Grounds Race Course, in the historic Mid-City neighborhood. Each stage is dedicated to different style of music, and jazz fans pay particular attention to venues such as the Congo Square Stage, the Gospel Tent, the Blues Tent and the Economy Hall Tent. Performers for the 46th annual festival include headliners Stevie Wonder, Pearl Jam, Red Hot Chili Peppers, Neil Young, Snoop Dogg, Steely Dan, Beck, Van Morrison, Nick Jonas, Julio Iglesias, Elvis Costello and Flo Rida. Some of New Orleans' best-known performers will include Trombone Shorty and Orleans Avenue, Rebirth Brass Band, Aaron Neville, Irma Thomas, Irvin Mayfield and the New Orleans Jazz Orchestra, Kermikt Ruffins and the Allen Toussaint Band
Three-day passes cost $406; daily ticket prices range between $70 and $164; children ages 2 through 10 $5 each; $58 for advance adult single day tickets, $70 at the gate. (504) 410-4100; nojazzfest.com.
CAPITAL CITY JAZZ FEST. (Fitchburg, Wisc.) – April 29-May 1.
Hosted by the Madison Jazz Society, this 28th annual three-day fest is staged at the Wyndham Garden Fitchburg (formerly the Quality Inn), 2969 Cahill Main, in Fitchburg, in Southern Wisconsin. Headliners include the_Fat_Babies_Jazz Band, Hal Smith's Swing Central, the_Wolverine Jazz Band and the Yerba Buena Stompers with vocalist Ida Blue._All-event badges cost $140 or $40 for children; individual session tickets cost $35 or $10 for children. The Saturday afternoon session on April 30 is already sold out; madisonjazz.com/event/capital-city-jazz-fest/; (608) 850-5400.
SANTA LUCIA JAZZ & ARTS FESTIVAL. (Santa Lucia Island.) – April 29 – May 8.* Santa Lucia is a sovereign country island in the eastern Caribbean Sea, north of Barbados. Concerts will take place at Pigeon Island National Landmark. Headliners are George Benson, Joey Alexander, Donald Harrison, Air Supply, Shaggy, Marc Anthony, Kool & The Gang and others. Ticket prices for individual events range from $46 to $80; StLuciaJazz.org.**

OAKHURST RAGTIME FESTIVAL. (Oakhurst, Calif.) – April 29 – May 1.
Before 1912, Oakhurst was known as Fresno Flats. Before 1912, jazz was known as ragtime. This humble celebration of ragtime piano playing is staged at the Oakhurst Community Center, 39800 Road 425-B, south of China Creek and just north of Oakhurst Mobile Home Estates. Oakhurst is located in Central California, in the foothills of the Sierra Nevadas. Performers are Tom Brier, Larisa Migachyov, Jack and Chris Bradshaw, John Reed Torres and 17-year-old prodigy Diego Bustamante, who plays an ice-cream social concert Saturday afternoon. A donation-only finale will be staged at 1 p.m. Sunday at the Oakhurst Lutheran Church, 39255 Black Road. Weekend passes cost $40; individual concerts tickets range from $6 to $20; RVs can be parked at the Community Center for $15 nightly; oakhurstragtimefestival.com; (559) 683-7860.*

RED CAT JAZZ FESTIVAL. (Galveston, Texas.) – May 5-8.
The sixth annual Red Cat Jazz Festival hosted by the Red Cat Jazz Preservation Society, Inc.is staged at * Oleander Bowl at Moody Gardens, just south of Offatts Bayou in Galveston. Performers include Kermit Ruffins, Chris Mitchell, Mike Phillips, Alex Bugnon, Theresa Grayson, Gerald Albright, Karen Briggs, Joey Sommerville, Marion Meadows, Michael Ward, Mindi Abair, Jessi J., Day pass prices range from $42 to $130; ticket prices for individual event range from $37 to $68; (713) 226-7870; [email protected]; RedCatJazz.com.
BUNNY BERIGAN JAZZ JUBILEE. (Fox Lake, Wisc.) – May 13-15.
Roland "Bunny" Berigan was one of the most charismatic trumpeters of all time. Now his humble hometown of Fox Lake, Wisc., celebrates his short life with a three-day jubilee. In addition to more than 20 hours of jazz, swing and Dixieland favorites, the event includes presentations about Berigan's contributions to jazz and swing. The festival stages concerts throughout the quaint city of Fox Lake, located 55 miles north of Chicago, Ill. Venues include Moose's Root Beer Stand, the Fox Lake Community Center, Mullin's Drive-In and the American Legion Hall._Headliners are the Bob Schulz Mid-West All-Stars, the St. Louis Stompers, the Kaye Berigan 5-Tet, the Monday Morning Dixie Band and the Matt Miller Jazz Trio. There will be a Dixieland Graveside Service at Bunny's gravesite at Annunciation Cemetery.
If purchased in advance, weekend passes cost $105 and daily tickets cost $30. For info, contact jubilee chairperson Julie Fleming at_920-928-6094; via mail N10472 Chief Kuno Trail, Fox Lake, WI 53933; via email at [email protected]; or visit bunnyberiganjazzjubilee.com
COON-SANDERS NIGHTHAWKS FANS' BASH. (Huntington, W.Va.) – May 13-14.
Celebrating the music of the legendary Coon Sanders Nighthawks Orchestra, these free-wheeling jam sessions – which have a proud 48-year history – are staged at the Grand Salon of the Pullman Plaza Hotel, in Huntington, West Virginia, at the confluence of the Guyanotte and Ohio rivers. Admission is free! Assembled in 1919 in Kansas City by Carleton Coon and Joe Sanders, the 10-piece combo reached its peak between 1926 and 1932. Live performances at the Muehlebach Hotel in K.C. were broadcast over WDAF, a radio station which could be received throughout the United States. In later years, the orchestra held forth at the Blackhawk restaurant in Chicago giving performances that were aired on WGN. The orchestra's top Victor recordings included "Nighthawk Blues" and "Flamin' Mamie." The bash's jam-session format allows musicians to move on and off the stage as they desire, reports President Dale Jones. Musicians for 2016 TBA. The Pullman Plaza Hotel is located in Huntington at 1001 Third Ave., (304) 525-1001. The entertainment is free and open to the public and will likely run from 6 until 11 p.m. both nights. "Last year, the hotel treated us very well and we were able to order food from the menu," Jones noted; (304) 633-5241; [email protected]
JACKSONVILLE JAZZ FESTIVAL. (Jacksonville, Fla.) – May 26-29.
Experience the heart of Downtown Jacksonville as it comes alive with the sounds of Snarky Puppy, Jon Batiste & Stay Human, Yellowjackets and more at the 2016 Jacksonville Jazz Festival this Memorial Day weekend. Join the City of Jacksonville May 26 – 29, 2016 and experience three stages of live entertainment, local food, drinks, shopping and more in Downtown Jacksonville. _For over 30 years the Jazz Fest has become one of the largest jazz festivals in the country offering a fun and vibrant street festival atmosphere and this year you can experience it throughout 15 blocks of downtown. jacksonvillejazzfest.com/

WORLD CHAMPIONSHIP OLD-TIME PIANO PLAYING CONTEST. (Oxford, Miss.) – May 26-30.
Since its inception as a fundraiser for the Monticello Railway Museum in 1975, the World Championship Old-time Piano Playing Contest and Festival sought to educate the general public about Ragtime melodies and other popular music written prior to 1930. It recently relocated from Illinois to Mississippi and all competitions, workshops and concerts take place at Nutt Auditorium in the Music Building on the campus of the University of Mississippi in Oxford. Ole Miss is located in the north-central hills of Mississippi. The Silent Movie Box Lunch and Grand Old Flag Brunch are in the Band Hall. The Tune–Ups, Bus Tour Luncheon, Dinner with the Champion and Ring of Ragtime are located around the Lafayette County Courthouse square. Featured pianists include last year's winner, Adam Swanson, plus Paul Asaro, Jeff Barnhart, Mimi Blais, Bill Edwards, Brian Holland, Sue Keller, Marty Sammon and Bryan White, among others. California-born Multi-instrumentalist "Blind Boy" Paxton will conclude the weekend's events with a concert at 7 p.m. concert playing guitar, banjo, piano and violin to cleverly recreate the blues idiom of the 1920s and '30s.
All-events badges cost $70 in advance, or $105 after May 1; admission prices for individual events range from $10 to $35. For contest info, contact [email protected]; Festival Board President Ted Lemen: (815) 922-3827.
SACRAMENTO MUSIC FESTIVAL. (Sacramento, Calif.) – May 27-30.
Every Memorial Day Weekend since 1974, Old Sacramento and more than a dozen other downtown venues have hosted one of the area's biggest parties of the year. Originally known as the Old Sacramento Dixieland Jazz Jubilee, the festival has expanded into other styles of music in addition to classic jazz and swing. This will be the 43rd edition of what many fans consider the granddaddy of jazz festivals hosted by the Sacramento Traditional Jazz Society. The event's three dozen performers include all-stars Bill Allred, Banu Gibson, Paolo Alderighi and Greg Varlotta along with bands such as Beaufunk with Michael Jeffries, Clint Baker's Hot Five, Cornet Chop Suey, Crescent Katz, Dave Bennett and the Memphis Speed Kings, High Sierra JB, Fulton Street JB, High Street Blue, Lisa Haley & the Zydekats, Mick Martin & the Blues Rockers, Midnight Rose Jazz Band, Mumbo Gumbo, stride pianist Stephanie Trick, The Rhythm Vandals, Todd Morgan & the_Emblems, Tom Rigney & Flambeau, Latin Touch and from Poland, Dixie Company Jazz Band. The parade has been moved to 10 a.m. Saturday.
$116.49 all-event pass; $315.99/VIP; daily passes range from $41.94 to $48.24; sacmusicfest.com/; (916) 444-2004.
GRAND INTERNATIONAL RAGTIME FESTIVAL SPRING FLING. (Alexandria Bay, N.Y.) –May 27-29.
Located in the heart of the Thousand Islands, on the lovely St. Lawrence River in Upstate New York, the Grand International Ragtime Jazz Festival Spring Fling blooms toward the end of May every year, at Alexandria Bay's Bonnie Castle Resort. Festival directors are husband-and-wife Wayne and Nancy Pauli, who are affiliated with the Kitchener-Waterloo Dixieland Jazz Club, in Kitchener, Ontario, Canada.
This year's Spring Fling bands include the JazzHappensBand from Cortland, N.Y., the Jon Seiger Trio from Rochester, N.Y. and the Mardi Gras Spirit Brass Band from Alex Bay, N.Y. Piano soloists will be Prof. Don Burns, Jack Hutton, Jon Seiger and British stride pianist Neville Dickie. This year's themes are "Back to the Rags" and "Fats Meets Satch." Trumpeter Jon Seiger, who is internationally known for his perfect imitations of Satchmo's vocals and horn playing, will present "Songs & Stories about Louis Armstrong You May Not Know." Festival admission costs $135; (519) 744-2665; email [email protected]_For room reservations, call the resort at 1-800-955-4511 or 1-315-482-4511. For festival info, visit alexbayjazz.wordpress.com/.
SCOTT JOPLIN RAGTIME FESTIVAL. (Sedalia, Mo.) – June 1 – 4.
More than 6,000 people attend the Scott Joplin Ragtime Festival each June, turning downtown Sedalia into a turn-of-the-20th century party. The weeklong celebration of Scott Joplin's music takes place at the historic Hotel Bothwell, which opened in 1926. The Katy Depot Historic Site, one of the largest train depots between Kansas City and St . Louis, is only a mile away. The festival stages several free concerts, while some are ticketed. You can take lessons to learn the steps to the dances such as_the Grizzly Bear, Turkey Trot, Bunny Hug and Camel Walk. Audience members are also invited to show off their skills tickling the ivories. This year's featured pianists are Tom Brier, Phillip Dyson, Frank LiVolsi and Sue Keller.
Individual concert ticket prices range from $20 to $32; (660) 826-2271; scottjoplin.org.
RIVERSIDE JAZZ PARTY. (Boise, Idaho) – June 3-5.
Jeff and Carol Loehr, directors of the Sun Valley Jazz & Music Festival, host this late-spring jazz bash at The Riverside Hotel in Boise, Idaho. The hotel's Sapphire Room will sparkle with 21 hours of music beginning at 5 p.m. Friday and continuing until 3 p.m. Sunday. Artists will be mixed and matched as they effortlessly float across wide spectrum of American music styles. This year's performers include trumpeter Charlie Bertini, singer SherriLynn Colby, bassists Bobby Durham and Sam Rocha, pianists Yve Evans, Jason Wanner and Tom Hook, trombonists Jim Fryer and Greg Varlotta, drummers Paul Johnson and Ed Metz Jr., reedmen Nate Ketner and Terry Myers and guitarist/banjoman Bob Leary.
Table seating is available at prices ranging from $239 to $339; sunvalleyjazz.com/riverside-jazz-party/; (877) 478-5277.
AMERICA'S CLASSIC JAZZ FESTIVAL. (Lacey, Wash.) – June 23-26._ The 26th annual festival at the Marcus Pavilion at Saint Martin's University, 5300 Pacific Avenue SE, is hosted by the Greater Olympia Dixieland Jazz Society. Lacey is a suburb of O-Town, in the western part of state of Washington, at the southern end of Puget Sound. The music is staged at four Marcus Pavilion venues – three for dancing, one for listening – and dance lessons will demonstrate the Balboa, Foxtrot and Charleston. Special features include nearby lodging, on-site RV parking, shuttle service, parasol parades, a swing set, and After Glow Party. Pacific Northwest favorites such as Uptown Lowdown from Bellevue will be featured along with jazz greats such as Grand Dominion, Yerba Buena Stompers, St. Louis Rivermen, Jeff Barnhart & Charlotte's Boys, Bob Schulz Frisco Jazz Band, The Black Swan Classic JB, Tom Hook and His Terriers, Fat Babies, High Sierra, and the Graystone Monarchs. Tom Rigney and Flambeau will cover the Cajun and zydeco two steps, and jazz singer Joep Peeters from Breda, Holland, will also entertain.
All-event badge prices range from cost $90 to $150; individual event ticket prices range from $15 to $50. Lodging is available at two dozen hotels in the Olympia-Lacey area, and RV parking is available; olyjazz.com; (360) 705 3024; [email protected]
ELKHART JAZZ FESTIVAL. (Elkhart, Ind.) – June 24-26.
Since 1988, jazz legends and fans have gathered each summer at the Elkhart Jazz Festival which combines warm, intimate, small-town hospitality with the excitement of big-city jazz. Known as the Band Instrument Capital of the World, Elkhart companies employ nearly 2,000 skilled craftsmen in the production of musical instruments. Headliners for 2016 have yet to be announced, but the festival will continue its educational component. Students ages 5 to 25 are welcome at "Hoagy's Workshop."_Two days of sessions at Elkhart Central High School will culminate in a performance with the pros at the free EJF All-Stars Jam on the unofficial opening night of the festival on Thursday, June 23. The 2016 All-Stars will include trumpeter Randy Reinhart, reed player Terry Myers, trombonist John Allred, pianist Terry Lower, guitarist Howard Alden, drummer Butch Miles, bassist Frank Tate and singer Edye Evans-Hyde. Ticket prices range from $110 to $400; individual session tickets cost $35; elkhartjazzfestival.com; (800) 597-7627 or (574) 529-1455; box office: (574) 293-4469.
ROCHESTER INTERNATIONAL JAZZ FESTIVAL. (Rochester, N.Y.) – June 24-July 2.
Organizers for the Xerox Rochester International Jazz Festival announced Tuesday that this year's concert headliners will be Grace Potter, Erykah Badu, Chris Botti and Chick Corea. All four concerts will take place at the Kodak Hall at Eastman Theatre over the nine-day event. Potter, a blues-rock singer-songwriter, will play opening night on Friday, June 24 at 8 p.m. Badu, R&B's "First Lady of Neo Soul," will follow on Saturday, June 25 at 8 p.m. Corea will share the stage with 12-year-old jazz piano prodigy Joey Alexander on Tuesday, June 28 at 8 p.m. And Botti, a Grammy-winning trumpeter, will take the stage Thursday, June 30 at 8 p.m. Prices range from $55-95 for Potter, $70-105 for Badu, $40-75 for Corea and Alexander, and $55-105 for Botti. According to the Democrat & Chronicle, passes for multiple days are also available through rochesterjazz.com. A three-day Club Pass costs $154 and a nine-day Club Pass costs $204, plus service fees; rochesterjazz.com; (585) 454-2060.
SARATOGA JAZZ FESTIVAL. (Saratoga Springs, N.Y.) – June 25-26.
For more than 30 years, the Saratoga Jazz Festival has presented some of the best jazz musicians in the world at its gorgeous performance space in the foothill of the Adirondacks. In addition to the music performed on both the main stage and at the gazebo, guests enjoy fine arts vendors, barbecue, children's events and a lawn party over the course of two days. This year's headliners are Smokey Robinson, Chick Corea, and Joey Alexander who will perform there on his 13th birthday. Also featured will be Pieces of a Dream, Christian Scott aTunde Adjuah and the Steps Ahead Reunion. Other 2016 performers include Elaine Elias, Shemekia Copeland, Eric Lindell, Karrin Allyson, Lizz Wright, Pat Martino, John Cleary & The Absolute Monster Gentlemen, the Bria Skonberg Quintet and Vincent Herring & The Kings of Swing.
Amphitheater seating prices range from $75 to $105 per day; lawn tickets $65 per day; Ticket info: [email protected]; (518) 584-9330; spac.org/events/2016/06/26/freihofers-saratoga-jazz-festival
MONTREAL JAZZ FESTIVAL. (Montreal, Quebec, Canada.) – June 29-July 9.
Set in the heart of the Quartier des spectacles in downtown Montreal, the 37th annual Festival International de Jazz de Montréal site occupies the quadrilateral area bordered by St. Laurent Boulevard and De Bleury Street from east to west, and Ste. Catherine Street and President-Kennedy Avenue from north to south. By virtue of their central location amid the festivities, the Complexe Desjardins and Place des Arts are useful landmarks. The first 17 concerts confirmed for 2016 include Gregory Porter, Melody Porter, the Jazz at Lincoln Center Orchestra featuring Wynton Marsalis, Lauryn Hill, Joey Alexander, Chick_Corea trio with Christian_McBride and Brian_Blade, Emilie-Claire Barlow Orchestral, Jay-Jay_Johanson, Susie Arioli, Avishai_Cohen, Fred_Hersch, Rufus Wainwright, Angele Dubeau, Ben Harper and others A battle of the ghost bands of Glenn Miller and Cab Calloway is scheduled for the festival's final day.
Ticket prices for individual concerts range from $31.45 to $158.50; (514)_871-1881, toll-free at 85JAZZFEST; montrealjazzfest.com.
CLINE WINE & DIXIELAND JAZZ FESTIVAL. (Sonoma, Calif.) – July 9.
This single-day event is staged from11 a.m. to 6:30 p.m., at the beautifully landscaped Cline Cellars, an award-winning winery specializing in California Rhône-style wines and Zinfandels, at 24737 Arnold Drive, in Sonoma, on California's North Coast. Performers include Beyond Salvation, Black Diamond Blue Five,_Devil Mountain Jazz Band, Fog City Stompers, Golden Gate Rhythm Machine, Jambalaya Big Swing Band, Natural Gas Jazz Band, Ray Skjelbred and his Cubs and the Royal Society Jazz Orchestra. Pianists include Tom Barnebey, Tom Brier, Frederick Hodges, Gary Neuman, Ray Skjelbred and Virginia Tichenor. Tickets cost $40.
(800) 546-2070; http://clinecellars.com/.*

RAGTIME TO RICHES FESTIVAL. (Omaha, Neb.) – July 10.
The First Central Congregational United Church of Christ, in Omaha, Neb., is_the site for the 12th annual Ragtime to Riches Festival, Proceeds from this year's festival will benefit the Great Plains Ragtime Society. Performers TBA. All-event tickets cost $10; http://r2rfestival.webs.com/; (402) 556-3340.
NORTHEAST JAZZ & WINE FESTIVAL. (Syracuse, N.Y.) – July 29-30.
Known from 2003 to '07 as Jazz in the Square, the ninth annual Northeast Jazz & Wine Festival presented by the CNY Jazz Arts Foundation will take place this year in downtown Syracuse's Clinton Square on July 29 and 30. The free festival is part of Syracuse ArtsWeek, a partnership between the music fest and the Syracuse Arts & Crafts Festival in nearby Columbus Circle. This year's main-stage headliners are TBA. Two ancillary stages – the Mardi Gras Tent and the World Beat Pavilion – showcase dance bands and sounds from the around the globe; (315) 479-JAZZ; cnyjazz.org/.
EVERGREEN JAZZ FESTIVAL. (Evergreen, Colo.) – July 29-31.
The Rocky Mountains never sounded so good! Eleven world-class bands will perform and The Fat Babies, Joe Smith and the Spicy Pickles and the Kris Tokarski Trio all appear for the first time ever in Evergreen. Other performers include Nicki Parrott & B.A.D. Rhythm, the Carl Sonny Leyland Trio, After Midnight, Poudre River Irregulars, Queen City Jazz Band with Wende Harston, and Denver's own Gypsy Swing Revue. The festival's four venues are Evergreen Elks Lodge, the lovely Evergreen Lake House, Evergreen Christian Church and the Stagecoach Sports Grill. Three-day pass $100 before May 31, then $130; three-day badge for students, $50; daily ticket prices range from $55 to $105; evergreenjazz.org; (303) 674-5390.
NEWPORT JAZZ FESTIVAL. (Newport, R.I.) July 29-31.
Established in 1954 by socialite Elain Guthrie Lorillard, the Newport Festival is one of the longest-running such events in the world. Performances will take place this year at Fort Adams State Park and the International Tennis Hall of Fame at the Newport Casino. The park offers panoramic views of Newport Harbor and Narragansett Bay, and the Newport Casino, located at 186-202 Bellevue Ave., is a designated National Historic Landmark dating back to 1880. Headliners this year include Chick Corea, vocalist Gregory Porter and saxophonist Kamasi Washington, New Orleans' Galactic, vocalist Tierney Sutton, the brass quartet the Westerlies, the Hot Sardines; Potter, Holland, Loueke & Harland; and pianists Rossano Sportiello, Kris Davis, and Terry Waldo. More than 50 acts are booked including Angélique Kidjo; John Scofield/Joe Lovano Quartet; Darcy James Argue's Secret Society; Charles Lloyd New Quartet; Robert Glasper Experiment; Django Festival All-Stars; Kenny Barron Trio; Yosvanny Terry Quintet; Toshiko Akiyoshi; Steve Coleman and Five Elements; Christian Scott aTunde Adjuah Presents Stretch Music; José James; Kneebody. New ensembles or artists presenting new projects are Eric Revis Parallax; the Bad Plus performing Ornette Coleman's 1972 album_Science Fiction; Monty Alexander Harlem-Kingston Express; Edmar Castañeda World Ensemble; Butler, Bernstein & the Hot 9; Stefon Harris Sonic Creed; Dave Liebman Expansions Group and Anat Cohen's Clarinet Re-Imagined.
Ticket prices range from $45 to $100 at the International Tennis Hall of Fame and between $15 to $170 at Fort Adams. newportjazzfest.org; email [email protected]; or call (401) 848-5055.
BIX BEIDERBECKE MEMORIAL JAZZ FESTIVAL. (Bettendorf, Iowa.) – Aug 4-7.
The Bix Beiderbecke Memorial Society has changed the location for its 2016 festival. Because the Davenport Rivercenter was unavailable this year, the society has partnered with the Isle of Capri and the City of Bettendorf to host the 45th annual Bix Fest at the Waterfront Center and Isle of Capri Hotel and Convention Center. Performers include the Hot Jazz Alliance, the Thrift Set Orchestra, the Lakeshore Syncopators, Dave Bennett Quartet, Bill Allred, the Fat Babies, the St. Louis Stompers, the Graystone Monarchs and Miss Jubilee and her Humdingers.
All-event passes cost $110 in advance and $130 at the gate; all-day tickets cost $55 for Friday and $65 Saturday; individual weekend sessions cost $30 and $35; (888) BIX-LIVS; (563) 324-7170; [email protected]
SATCHMO SUMMERFEST. (New Orleans, La.) – Aug. 4-7.
The 16th annual Satchmo Summerfest will draw thousands of trad-jazz fans to New Orleans on Aug. 4 through 7. The free event is presented by French Quarter Festivals, Inc. Music will ring out all weekend on festival stages spotlighting traditional jazz, brass bands and children's programming. Among many SatchmoFest highlights is the "Satchmo Club Strut" down Frenchmen Street. The three-day festival features more than 40 jazz performances by local legends and nationally touring virtuosos as well as screenings of jazz films and documentaries, in-depth seminars on jazz history, hands-on workshops, swing dance lessons, trumpet tributes to Pops and interactive exhibits. This year's musical lineup is TBA, but past festivals have featured The Dirty Dozen Brass Band, James Andrews, Glen David Andrews, Don Vappie & The Creole Jazz Serenaders, Leroy Jones, Wycliffe Gordon, Kermit Ruffins, and Mark Braud
Admission is free all weekend; (504) 522-5730; fqfi.org/satchmo;
TELLURIDE JAZZ FESTIVAL. (Telluride, Colo.) – Aug. 5-7.
Since 1977, Telluride's majestic perch high in the San Juan Mountains of southwestern Colorado has been the site of an annual cultural event produced by the Telluride Society for Jazz. Combining pristine natural aesthetics and boundless artistic creativity, the Telluride Jazz Fest is a three-day-and-night live music event centered around jazz that is staged annually on the first weekend of August. Performers for the 40th annual festival include Kermit Ruffins & The BBQ Swingers, Jon Scofield/Jon Cleary Duo, the Rebirth Brass Band, Caleb Chapman's Crescent Superband, Glactic, Jon Cleary & The Absolute Monster Gentlemen
Weekend all-access passes cost $175 in advance, $200 after May 31; three-day park passes cost $125 in advance and $145 at the gate; children ages 12 and younger will be admitted free; camping costs $69 per person or $79 per vehicle; (970) 728-7009; [email protected]
SUTTER CREEK RAGTIME FESTIVAL. (Sutter Creek, Calif.) – Aug. 12-14.
Hosted by the Mother Lode Ragtime Society, the 18th annual Sutter Creek Ragtime Festival will be staged Aug. 12 through 14, at venues such as the Sutter Creek Ice Cream Emporium, the Hotel Sutter and the Sutter Creek Theatre. Known far and wide as the jewel of the gold country, Sutter Creek is located 46 miles southeast of Sacramento. Performers for 2016 include Elliott Adams, Patrick Aranda, Jack and Chris Bradshaw, Tom Brier, Michael Chisholm, Danny Coots, the Drivons, the Crown Syncopators, Brian Holland, Carl Sonny Leyland, Ray Skjelbred, Squeek Steele, Virginia Tichenor, and others.
All-event badges cost $70 before July 15, or $80 after that date; day badge prices range from $15 to $35; children ages 16 and younger will be admitted free if accompanied by a paying adult; (209) 405-1563; suttercreekragtime.com.
PRESCOTT JAZZ SUMMIT. (Prescott, Ariz.) – Aug. 26-28.
Prescott, Arizona is located in Arizona's high country, just 90 miles north of Phoenix. Combining the dulcet sounds of some of the nation's most outstanding jazz musicians with the moderate summer temperatures and towering shade trees of Prescott means "cool" is a word often uttered by attendees at the annual Prescott Jazz Summit. Performers and prices for 2016 TBA; (928) 830-2462 or (484) 558-0066; prescottjazz.com/.