20th EVERGREEN JAZZ FESTIVAL (Evergreen, CO) – July 28-30
The 20th Evergreen Jazz Festival is set for July 28, 29, and 30. Known for its beautiful Rocky Mountain setting and up-close-and-personal atmosphere, the event will feature five intimate venues, each offering a unique listening experience. Invited bands include After Midnight, Carl Sonny Leyland Trio, Dalton Ridenhour Trio, Capt. John Royen's New Orleans Rhythm, Espresso Gypsy Jazz, Holland-Coots Jazz Quintet, Queen City Jazz Band with Wende Harston, Poudre River Irregulars, with a special guest appearance by James Dapogny's Chicago Jazz Band directed by Kim Cusack. Dancers are welcome at all venues! For details and tickets, visit www.EvergreenJazz.org or call 303-697-5467.
THE BIX BEIDERBECKE JAZZ FEST (Davenport, IA ) – Aug. 3-5
The 52nd Annual Bix Jazz Fest will be held at Rhythm City Casino & Hotel in Davenport, IA. The Jazz Fest begins Thursday evening, with afternoon and evening sessions on Friday and Saturday. Scheduled bands include TJ Muller and the Arcadia Dance Orchestra, Dan Levinson and his Roof Garden Jazz Band, Banu Gibson and her Band, Andy Schumm and the Chicago Cellar Boys, Hal Smith and the New Orleans Night Owls, and Josh Duffee and the Graystone Monarchs.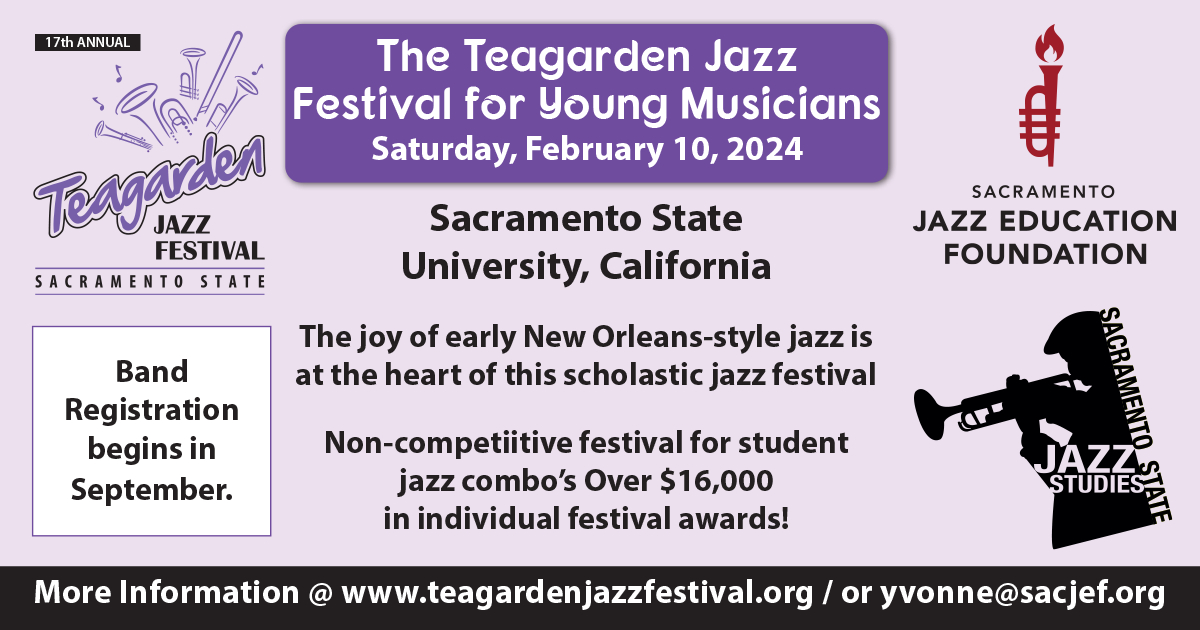 For more information on this event visit: bixsociety.org, email questions: [email protected] or contact our office at (563) 324-7170.Join us for our initial Riverboat Luncheon Cruise on the Mississippi River with live Trad Jazz Music played by TJ Muller and musicians from St. Louis. Bringing Bix back to the river where he first heard live Jazz! Call the Celebration Belle for details at (800) 797-0034 x 204.
HISTORIC SUTTER CREEK RAGTIME FESTIVAL (Sutter Creek, CA) – Aug 11-13
Once again, the tantalizing strains of Ragtime, Early Jazz and Boogie Woogie Music will fill the streets and venues at the 25th annual Historic Sutter Creek Ragtime Festival, in the beautifully well-tailored gold rush town of Sutter Creek in California's Sierra Foothills.
This Historic Sutter Creek Ragtime Festival runs for 3 days, Friday thru Sunday, August 11- 13.  Festivities start at 4 pm on Friday afternoon and ends Sunday afternoon after the finale concert.  Music is performed at five venues along main street, which includes 2 special concerts highlighting the performers.   And of course, we hope to have Silent Movies with piano accompaniment at the Auditorium this year.   There is almost always after hours jamming at the hotel and other venues as well.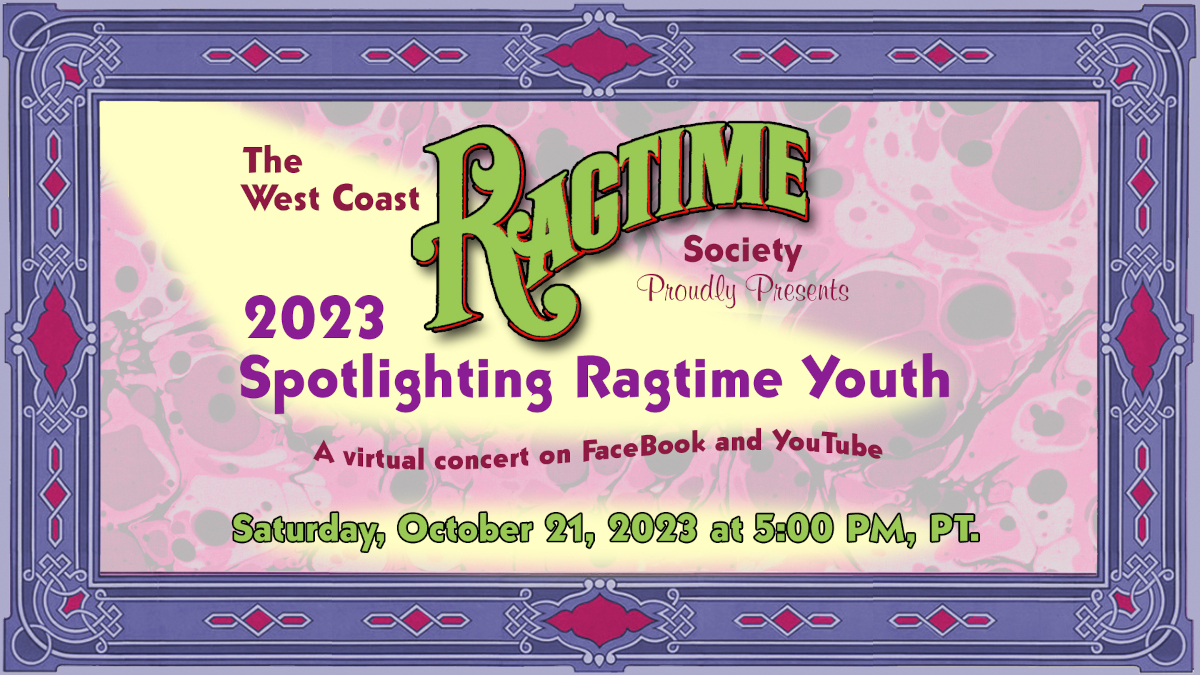 Your 2023 performers; Keith Taylor, Paul Orsi, Carl Sonny Leyland, Michael Chisholm, ​Frederick Hodges, Matt Tolentino, Brian Holland, Danny Coots, Pacific Coast Ragtime Orchestra, Stevens Price, Anthony Sarginson, Vincent Johnson, Squeek Steele, Kevin Gunia, Free Badge Serenaders, Bub & Petra Sullivan, The Amador Clarinet Quartet, Virginia Tichenor, Elliott Adams, and youth performers: Max Libertor, Isabelle Erickson, Isak Erickson, Carter Enos, Anthony Sarginson, & Isaiah Burton as the Emcee
Badges can be purchased on the website, by mail or when you arrive in town for the festival. Please refer to the festival website for this year's prices, including admission for individual events. www.historicsuttercreekragtimefestival.com or call 209 304-0835.
MEDFORD TRAD JAZZ FESTIVAL (Medford, MA) – Aug. 26-27 
A brand new free festival will be held in the Condon Shell along the Mystic River in Medford Massachusets. Scheduled bands include the best of trad jazz and swing in New England, including; The Late Risers, Soggy Po' Boys, Wolverine Jazz band, Annie and the Furtrappers, The Mood Swings Orchestra, The Smack Dabs, The Rubin Brothers, and JP Honk. The event is free but tips are appreciated. medfordtradjazzfestival.com, Time: 1PM- 5PM each day. Location: 2501 Mystic Valley Pkwy, Medford, MA 02155
HOT JAZZ JUBILEE (Sacramento, CA) – Sept. 1-4 
Join Us Labor Day Weekend 2023 for Sacramento's Premier End of Summer Celebration! Hot Jazz Jubilee will return to the DoubleTree Hotel September 1-4, 2023 for the long-awaited 8th annual event. Plans are underway to make this a fantastic event well worth the wait!
Featuring: Tom Rigney, Adrian Cunningham, Yve Evans & Company, Stephanie & Paolo, High Street Band, Marilyn Keller, Crescent Katz, Todd Morgan, Dave Bennett Quartet, Brian Casserly. Plus . . . Carl "Sonny" Leyland Trio, Cocuzzi Courtet, Bob Draga with Friends, Sierra Stompers, Holland & Coots, Katie Cavera & Her Lost Boys, Jason Wanner, Geoffrey Miller Band, Holland & Coots/Groovus, Parker & the Weis Guys, Bill & Shelley. And Youth Bands: Syncopating Sea-Monkeys, Tower Bridge Triad, and TNT …plus more to be announced.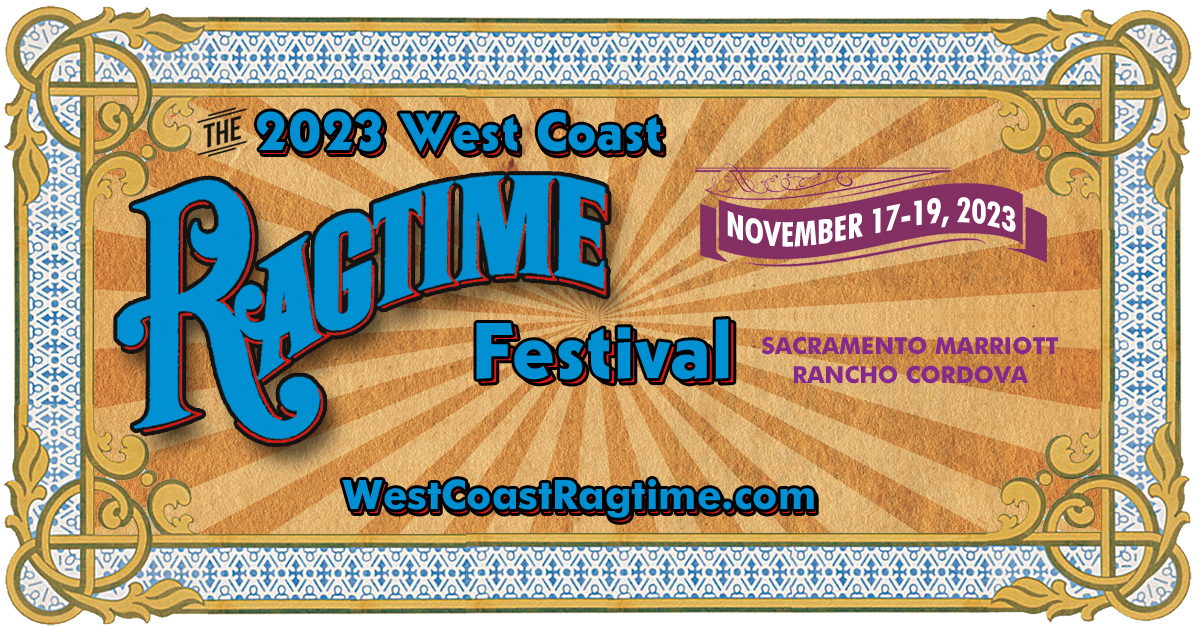 Tickets are on sale now, and hotel rooms will be available February 15th – check back here for further updates. hotjazzjubilee.com; P.O. Box 2931, Carmichael, CA, 95609, USA. [email protected]
25th Annual
PENTASTIC 
HOT JAZZ & MUSIC FESTIVAL 
(Penticton, BC) – Sept. 8-10
Situated between two lakes in the beautiful Okanagan Valley of British Columbia, Pentastic Hot Jazz is celebrating its 25th year.  As "the best Jazz Party in the Northwest", the three day Pentastic HOT Jazz Festival brings world class jazz bands and performers to Penticton from Friday, September 8 through Sunday, September 10, 2023.
The line up this year includes Tom Hook and the Hounds, Dave Bennett Quartet, Professor Cunningham and His Old School Band, Tom Rigney and Flambeau, Groovus (Holland, Coots and Pikal), Dave Bennett and The Memphis Speed Kings, Carolyn Martin's Swing Band, Le Dixieband, and The South Okanagan Big Band. There are four venues that are close together although a free shuttle is available for all those that wish to use that service. All venues are non smoking and dancing is encouraged.
Tickets are NOW on sale! Tickets for the event are $80.00 (Friday), $95.00 (Saturday), $75.00 (Sunday) and three day festival tickets are $150.00.  For further information, visit Pentastic online at www.pentasticjazz.ca, or call toll-free 1-866-599-3494. Purchase tickets online at www.valleyfirsttix.com.
CENTRAL PENNSYLVANIA RAGTIME AND AMERICAN MUSIC FESTIVAL (Orbisonia/Rockhill Furnace, PA) Sept. 21-24
Join us September 21-24 2023 for the 14th Annual Central Pennsylvania Ragtime & American Music Festival. Four fun-filled days of music, silent movies, lectures, open houses, and more. Hear Ragtime favorites, Jazz, Boogie-Woogie, Stride, Blues, and hits from the Great American Songbook, all performed by Grammy Award winning musicians. Plus, enjoy rides on the town's two signature attractions, the historic East Broad Top Railroad, and the neighboring Rockhill Trolley Museum!
Our festival is by far the most intimate of the ragtime gatherings – where else in America can you enjoy our nation's musical heritage in such a historic setting? Scheduled performers include Adam Swanson, Frederick Hodges, T.J. Muller, Virginia Tichenor, Marty Eggers, The Crown Syncopators, Bryan Wright, and Andrew Greene. Come join us for some great music! The festival is currently managed by Andrew Greene, founder and director of the Peacherine Ragtime Orchestra (www.peacherineragtime.com).
For tickets and more festival information, visit: www.rockhillragtime.com.
DJANGO BY THE SEA (Kittery, ME)  Sept. 29 – Oct. 1
The premiere annual Gypsy Jazz festival in New England takes place at The Dance Hall in Kittery, ME September 29th – October 1st featuring Giorgio Albanese Trio, Max O'Rourke Band, Sam Farthing Trio, The Lovestruck Balladeers, and a special tribute to Oscar Peterson and Stephane Grappelli by Jason Anick and Matt DeChamplain. Saturday also features a workshop on Gypsy Jazz Violin and 2 workshops on Gypsy Jazz Guitar. Single-day tickets for Friday and Saturday are $30 in advance/$35 at the door and for Sunday are $20 in advance / $25 at the door, weekend passes are $70 in advance and VIP passes are $150. Tickets can be purchased at: http://www.djangobythesea.com.
GREAT NORTHEAST JUG BAND FESTIVAL (Arlington,MA) – Sept. 30
New England's ONLY Jug Band Festival will highlight traditions from the 1920's and 30's, and the modern evolution of this good-time music.  Jug band music is early jazz, blues, and popular tunes played on a variety of conventional and home-made instruments (such as spoons, washtub bass, and washboard), and, of course, features jug-blowing as a rhythmic backbone. The festival kicks off with a jug band jam at 2 pm, lead by the SqueakEasy Jug Band.  Performances start at 3 pm featuring Amy Kucharik and Tiger Moan, The Busted Jug Band,  and Washboard Slim and the Blue Lights.
Brought to you by the Arlington Center for the Arts, the festival is free! Location: Arlington Craft Beer Garden at the Jason Russell House (7 Jason St Arlington, MA 02476).   Rain location: Arlington Community Center, (27 Maple St). For more information:
https://www.acarts.org/jug-band-festival
REDWOOD COAST MUSIC FESTIVAL (Eureka, CA) – Oct. 5-8
This year's festival, which takes place in Eureka, California, boasts seven venues: Hagadone Stage at Eureka Municipal Auditorium, Chevron & George Petersen Insurance Stage at The Adorni Center, Pierson Building Center Stage at The Sequoia Center, The Eagle House Stage at The Inn & 2nd and C, Sun Valley Group Stage at Morris Graves Museum, and two performance stages at The Red Lion Hotel (which is the home base of the festival). All venues have food, bars, and dance floors—with complimentary shuttles between venues.
Featuring: Jon Cleary, Hot Club of Cowtown, Duke Robillard, Michael Doucét, Diunna Greenleaf & Blue Mercy with Jim Pugh, Mark Hummel's Chicago Blues Party, Elana James, Oscar Wilson, Jim Pugh, Tom Rigney & Flambeau, Carl Sonny Leyland, Kid Ramos, Joe Beard, Whit Smith, Dave Stuckey & The Hot House Gang, Katie Cavera and The Lost Boys, Cornet Chop Suey, Billy Flynn, Jonathan Stout's Campus Five Featuring Hilary Alexander Swing, Charlie Halloran & The Tropicales, Clint Baker's Jazz Band, Miss Jubilee & The Yas Yas Boys, Dave Bennett & The Memphis Speed Kings, The New Orleans Night Owls, Dawn Lambeth, Holland Coots Jazz Quintet, Jonathan Doyle Swingtet, Dave Bennett, Brian Casserly, Two Tone Steiny & The Cadillacs with Danny Sandoval, Hal Smith's Mortonia Seven, Dave Stuckey's Hoot Owls, Dan Barrett, SoHum Girls, James Mason , Kris Tokarski, Jenni & David & The Sweet Soul Band, Josh Collazo, Marc Caparone's Back O'Town Allstars, Gino & The Lone Gunmen, Tommy Harkenrider's, Memphis Kings, The St Louis Steady Grinders, The Uptown Kings, Young & Lovely, TJ Muller, Tropicali Flames, Groovus, Andy Schumm , Nate Ketner, Chris Dawson, The Redwood Dixie-Gators, Freshwater Jazz Band, and Nice & Easy
Please write [email protected] with questions. Find payment options and other information online at www.rcmfest.org. Please check the hotel page to see if there are ticket packages available from official festival hotels. Special combination packages may be available.
SUN VALLEY JAZZ & MUSIC FESTIVAL (Sun Valley, ID) – Oct. 18-22
Idaho's Sun Valley Jazz and Music Festival covers five days and offers excellent bands in five venues at the Sun Valley Resort, plus free community concerts in Ketchum Town Square. Currently scheduled performers include The Baker Boys w/ Katie Cavera, Blue Renditions, Blue Street Jazz Band, Boise Straight Ahead, Brian Casserly- Guest Artist, John & Kristy Cocuzzi, Shaymus Hanlin- Guest Artist, High Street Party Band, Tom Hook & the Hounds w/ special guest Danny Caron, Hot Jazz Collective (Randy Morris, Jay Mueller, Dick Maley, Jerry Krahn, Terry Myers, Russ Phillips, Don Clarke & Jaimie Roberts), Kings of Swing, Jerry Krahn Quartet, Carl Sonny Leyland & Friends, Carolyn Martin Swing Band, Midiri Brothers Septet, Professor Cunningham & His Old School, Tom Rigney & Flambeau, and the Side Street Strutters w/ Meloney Collins.
Tickets are available by telephone (877) 478-5277 or on our website; sunvalleyjazz.com.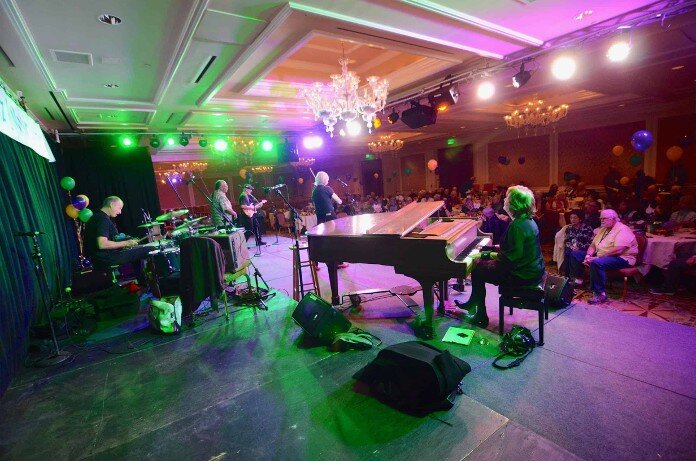 JAZZ FEST AT SEA (New York to Nova Scotia) – October 15-25
JazzFest at Sea will be departing from New York for an amazing jazz cruise to Canada and New England on the MSC Meraviglia for 10-nights. Passengers will have their choice of world-class evening and afternoon performances on the JazzFest at Sea cruise, all presented in an intimate jazz club atmosphere limited to 200 guests.
JazzFest at Sea will once again be offering nearly forty hours of opportunity for guests who are amateur musicians to jam in their own JazzFest Jammer sessions many of which will be led by John Skillman and Mike Evans.
Invited musicians include Allan Vaché, Clarinet; Houston Person, Tenor Sax; Warren Vaché, Cornet; Harry Allen, Tenor Sax; John Allred, Trombone; Dan Block, Clarinet; Danny Tobias, Trumpet; Randy Reinhart, Trumpet; Banu Gibson, Vocals; Ted Rosenthal, Piano; Mark Shane, Piano; Yve Evans, Vocals; Charlie Silva, Bass; Brian Nalepka, Bass; Tardo Hammer, Piano; Kevin Dorn, Drums; and Danny Coots, Drums.
Prices start at $1299 per person including taxes and fees. Telephone 1-800-654-809 or visit www.jazzfestatsea.com.
ROSWELL JAZZ FESTIVAL (Roswell, NM) – Oct. 25-29
Founded in 2006, the Roswell Jazz Festival is set to celebrate its 16th year as New Mexico's premier jazz event. Performers include: Harry Alllen, Dan Barrett, Lia Booth, Danny Coots, Scott Edmunds, Chris Dracup, Yve Evans, Ken Peplowski, Ricky Malachi, Charles Gordon, Michael Francis, Vinny Raniolo, Russ Phillips, Ted Rosenthal, Brian Piper, Houston Person, Hillary Smith, Richard Simon, Chuck Redd, Mark Shane, Allen Vache, Peter Washington, and Rossano Sportiello.
Tickets will go on sale in August; for more information visit roswelljazz.org, email [email protected], or telephone 505-359-4876.
​​​​​​​​​​​​​​34th annual ARIZONA CLASSIC JAZZ FESTIVAL (Chandler, AZ) – Nov. 2-5
Scheduled Guests: Howard Alden, guitar, Banjo Pieter Meijers, reeds, Brass Nickels Jazz Band, Cheryl's Vintage Jazz with special guests, Dan Levinson, Katie Cavera, Queen City Jazz Band, Tom Rigney & Flambeau, Holland-Coots Jazz Quintet, St. Louis Stompers Classic Jazz Band, Sentimental Breeze, Something Doin', Stephanie Trick & Paolo Alderighi, Sun City Stomperz, WE 3 + 1 (Patrick, Lansford, Pesce, Early), Wildcat Jazz Band, Wolverine Jazz B, and the ACJS JAMMERS. ​AFTERGLOW in San Tan Ballroom 6 – 8 pm. MUST MAKE RESERVATIONS With ACJF​​
For details, including hotel blocks, go to azclassicjazz.org or call 480-620-3941. Send checks or credit card orders to ACJF, 10918 E. Michigan Ave., Sun Lakes, AZ 85248.
MIKE DURHAM'S INTERNATIONAL CLASSIC JAZZ PARTY (Newcastle-upon-Tyne, UK) – Nov. 3-5
The globe's foremost gathering of specialist Classic Jazz musicians and fans; a three-day concert series featuring live music of a rarely heard quality and authenticity, performed by a truly international roster of world-class performers.
Trumpet: Enrico Tomasso (UK), Andy Schumm (USA), Mike Davis (USA), Torstein Kubban (Norway), Malo Mazurie (France), Jan Kaiser (Germany – new for 2023!). Reeds: Claus Jacobi (Germany), Michael McQuaid (Australia), David Horniblow (UK), Richard Exall (UK), Lorenzo Baldasso (Italy – new for 2023!), Matthias Seuffert (Germany), Mauro Porro (Italy). Trombone: Graham Hughes (UK), Alistair Allan (UK), Dan Barrett (USA – new for 2023!). Piano: Andrew Oliver (USA), David Boeddinghaus (USA), Martin Litton (UK), Morten Gunnar Larsen (Norway). Guitar & Banjo: Thomas "Spats" Langham (UK), Martin Wheatley (UK), Felix Hunot (France), Jacob Ullberger (Sweden). Brass bass & String bass: Malcolm Sked (UK), Phil Rutherford (UK), Richard Pite (UK), Henry LeMaire (France). Drums & Percussion: Nicholas D. Ball (UK), Richard Pite (UK), Nick Ward (UK), Josh Duffee (USA). Violin: Emma Fisk (UK). Vocals: Thomas "Spats" Langham (UK), Nicolle Rochelle (France)
Johnny Dodds on Chicago's South Side; The New Orleans Rhythm Kings and their Circle; That's Like It Ought To Be – Jelly Roll Morton Trios; Shout, Sister! Eva Taylor and Clarence Williams; The Saxophone of Loren McMurray; Stardust and Beyond – the Music of Hoagy Carmichael; A Selection of Rare Jazz Films; Listen to the Doc! Doc Cook's Dreamland Orchestra; Runnin' Wild – the Benny Goodman Trio; Glenn Miller's Small Band – the Uptown Hall Gang; Jack Hylton – The Early Years; Caribbean Clarinets; Ring Dem Bells – Duke Ellington from 1929 to 1931; Heckler's Hop – Young Roy Eldridge; Souvenirs of A.B. – Arthur Briggs' Savoy Syncops with Al Bowlly; I Hear Music – Billie in the late 1930s; A Centenary of King Oliver; Wail of the Five Birmingham Babies; Memories of Louis Armstrong in California; Young Woman's Blues; Not The Charleston! – Songs Inspired by Dance Crazes; Stomp Off, Let's Go – Bob Crosby's Orchestra; The Charleston Chasers present New York Studio Gems; Nicolle Rochelle sings Maxine Sullivan; Schumm plays Fats; Echoes of Paradise – Charlie Johnson; Onyx Club Spree – the Music of Stuff Smith; Dickie Wells meets Django; Let's Get Together – Jabbo Smith's Rhythm Aces; Listen to the 'Banned' (Rated 18+!); Sensation Stomp – Paul Whiteman and His Orchestra
There is also a jam session every evening after the concert programme finishes. For tickets and other information, please visit whitleybayjazzfest.com; [email protected].
SUNCOAST JAZZ FESTIVAL (Clearwater Beach, FL) – Nov. 17-19
Featured this year are Kermit Ruffins & the Barbecue Swingers, Ranky Tanky x2 Grammy Winner, Professor Cunningham and His Old School, Jason Marsalis, Dave Bennett Quartet, Tom Hook and the Hounds, Tom Rigney and Flambeau, Galvanized Jazz Band with Janie Campedelli, Cynthia Sayer and Her Joyride Band, Rossano Sportiello, Grammy nominated Diego Figueiredo, and many many more – over 80 musicians! All info is on the website.
For tickets and information, visit us online at suncoastjazzfestival.com; or 
write:
PO Box 395, Largo, FL 33779; (727) 248-9441.
37th Annual WEST COAST RAGTIME FESTIVAL (Rancho Cordova, — CA) Nov. 17-19
We are busy putting together another stellar performer lineup, special shows, seminars, and dancing. Scheduled artists include; Eliot Admans, Heidi Evelyn Arnott, Justin and Brandon Au, Clint Baker, Ramona Baker, Chris and Jack Bradshaw, Isaiah Burton, Michael Chisholm, Crown Syncopators, Jared Dibartolomeo, Neville Dickie, Richard Dowling, Steve & Robin Drivon, Marty Eggers, Greg Sabin & Patrick Skiffington, Kevin Gunia, Frederick Hodges,  Stan Isaacs, Vincent Johnson, Charlie Judkins & Miss Maybell,  Carl Sonny Leyland, Max Libertor, TJ Müller, Don Neely & Carla Normand, Pacific Coast Ragtime Orchestra, Will Perkins, John Reed Torres, Martin Spitznagel, Bub and Petra Sullivan, Adam Swanson, Virginia Tichenor, Matt Tolentino, Bruce Vermazen, Galen Wilkes,
We are delighted to again be hosting the festival at the Marriott Rancho Cordova, with all venues on the ground floor. You may make early reservations at the Marriott now. Location: Sacramento Marriott Rancho Cordova 12211 Point East Drive, Rancho Cordova, CA 95742. For more information, please visit: www.westcoastragtime.com
TUCSON JAZZ FESTIVAL (Tucson, AZ) Jan. 12-20, 2024
A week long city wide event with individually-ticketed concerts at the historic Fox and Rialto theaters, as well as TCC Music Hall and Club Congress, with some free outdoor events around town. Acts of interest to TST readers include: Emmet Cohen Trio, Cécile McLorin Salvant,  Trombone Shorty, Diego Figueiredo with Ken Peplowski, The Black Market Trust, Howard Alden, and several others scheduled for a Jazz Jam set.
Ticket pricing, festival schedule, and lodging information may be found at the festival website tucsonjazzfestival.org; (520) 989-0720.
NORTH CAROLINA JAZZ FESTIVAL (Wilmington, NC) – Feb. 1-3, 2024
Wilmington gives a warm welcome to all of the jazz lovers attending our 43rd North Carolina Jazz Festival! This historic city located on the bank of the Cape Fear River has many interesting shops, art galleries, museums and restaurants, as well as a movie studio, nearby beaches, plus Revolutionary and Civil War sites to explore during your days here. We will fill your evenings with exciting performances by some of the greatest traditional jazz musicians from around the globe! All evening concerts begin at 7:30 pm and will be held at the Hotel Ballast ballroom
Thursday night, our "Special Event" night, is when we feature different styles of jazz. This year we will open with The Port City Trio, a Wilmington based group that is well known in the area for the Jewell Family's tradition of playing jazz, blues and pop styles of music. Our "main event" for the evening will be The Emmet Cohen Trio. The evening's music will come to a close with some of our weekend All-Stars in a Traditional Jazz Jam!
Friday and Saturday Nights we will continue our celebration with 15 All-Star musicians playing in the traditional seven sets of six or seven players, each set with a different leader. You will see/hear many of our favorite NCJF musicians plus new additions to our lineup. Invited musicians include: Adrian Cunningham, Alvin Atkinson, Bruce Harris, Chuck Redd, Dion Tucker, Herman Burney, Jonathan Russell, Ken Peplowski, Lucy Yeghiazaryan, Nate Najar, and Rossano Sportiello.
Patron Brunch: On Saturday from 10:30 until 2pm we treat our patrons to a musical brunch, when all of our All-star musicians play for their pleasure while everyone enjoys a delicious brunch. During the last hour we have a "jam" when the patrons who are musicians have the opportunity to play with the All-stars. Fun for all!
For more information visit www.ncjazzfestival.org, e-mail [email protected], or call 910-399-6536.
SOUNDS OF MARDI GRAS (Fresno, CA) – Feb. 8-11, 2024
The 40th edition of this festive festival in Fresno kicks off at the Doubletree by Hilton with a Thursday evening pre-party. The schedule picks up Friday with a themed parade, followed by the annual coronation of the Festival King and Queen, a Friday night swing dance and a Saturday Night Mardi Gras Dance Party. Festivities include a Parasol Parade and Masquerade and Costume Parade in the grand tradition of Mardi Gras. This year one parade has an "Cruising to Carnaval Ports" theme.
Invited bands for 2024 include: Alpha Rhythm Kings, Groovus, Black Market Trust, Gino and the Lone Gunmen, Dave Stuckey and the Hot House Gang, Tom Rigney and Flambeau, Gator Nation Collaboration, We 3 + 1, Bob Schultz Frisco Jazz Band, Yosemite Jazz Band, CJ's Open jams, Reedley River Rats, and Jan Sutherland.
Special festival room rates at the Fresno Double Tree by Hilton are available. For more information you can call Linda (209)534-1924 or visit www.fresnodixie.com.
Save the Date:
SAN DIEGO JAZZ PARTY (Del Mar, CA) Feb. 23-25, 2024
JAZZ BASH BY THE BAY (Monterey, CA) March 1-3, 2024
JAZZAFFAIR (Three Rivers, CA) – April 12-14, 2024