THE BIX BIEDERBECKE JAZZ FEST (Davenport, IA ) Aug 4-6
The 51st Annual Bix Jazz Fest will be held at Rhythm City Casino & Hotel in Davenport, IA.  Come to experience great Trad Jazz Era music and see the sights of the Quad Cities Area.  Multiple Cities on both sides of the river comprise the QCA, where the river runs East to West.  visitquadcities.com
Invited bands performing at this year's Jazz Fest are:  Jeff Barnhart, "Ragtime to Swing"; Hal Smith's New Orleans Night Owls; Dave Bennett Quartet, T.J. Muller Trio, Chicago Cellar Boys, The Graystone Monarchs, Joe Smith & The Spicy Pickles, NOLA Jazz Band, and the Bix Beiderbecke Youth Jazz Band.   The Jazz Fest begins Thursday evening, with afternoon and evening sessions on Friday and Saturday.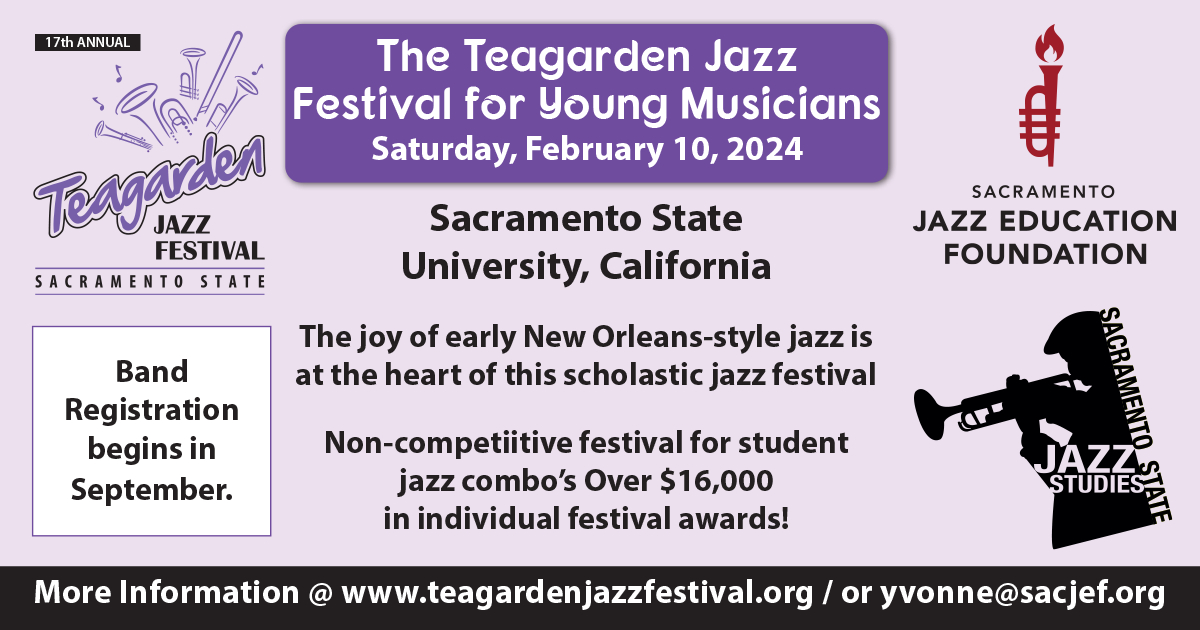 For more information on this event visit:  bixsociety.org, email questions: [email protected] or contact our office at (563) 324-7170.  Join us for outstanding music and while you are here visit the ballpark, museums, art galleries, distilleries, take a River Taxi Tour or sit along the river's edge while enjoying dinner.
HISTORIC SUTTER CREEK RAGTIME FESTIVAL (Sutter Creek, CA) Aug 12 – 14th
Once again, the tantalizing strains of Ragtime, Early Jazz and Boogie Woogie Music will fill the streets and venues at the 24th annual Historic Sutter Creek Ragtime Festival, in the beautifully well-tailored gold rush town of Sutter Creek in California's Sierra Foothills. This unique relaxing festival is a hit with festival goers and Musicians alike, who look forward to the atmosphere of genuine friendship and good-hearted fun in the long August days of summer.
This year's Returning Musicians include such notable performers as Frederick Hodges, (Who will tell you that Sutter Creek is his most favorite festival!), Carl Sonny Leyland, Paul Orsi, Brian Holland, Danny Coots, Matt Tolentino, The Easy Winners, Michael Chisholm, Stevens Price, Virginia Tichenor, Anthony Sarginson, Elliot Adams, Kevin Gunia and many more.
The Festival has four venues along Main Street Sutter Creek all in a short walk of each other. Festival Headquarters is at the Auditorium/City Hall where there is an information/sales booth where you can purchase your badges, T-shirts, musician's CD's and more. The Auditorium has two grand pianos rearing to go and has an abundance of seating which is perfect for our Saturday evening concert and Sunday afternoon finale concert. Our other venues are the Hotel Sutter, Choco-O-Latte and Sina's Backroads Café. There will be nonstop music, duet collaborations, themed sets, mini concerts, silent movies and much more.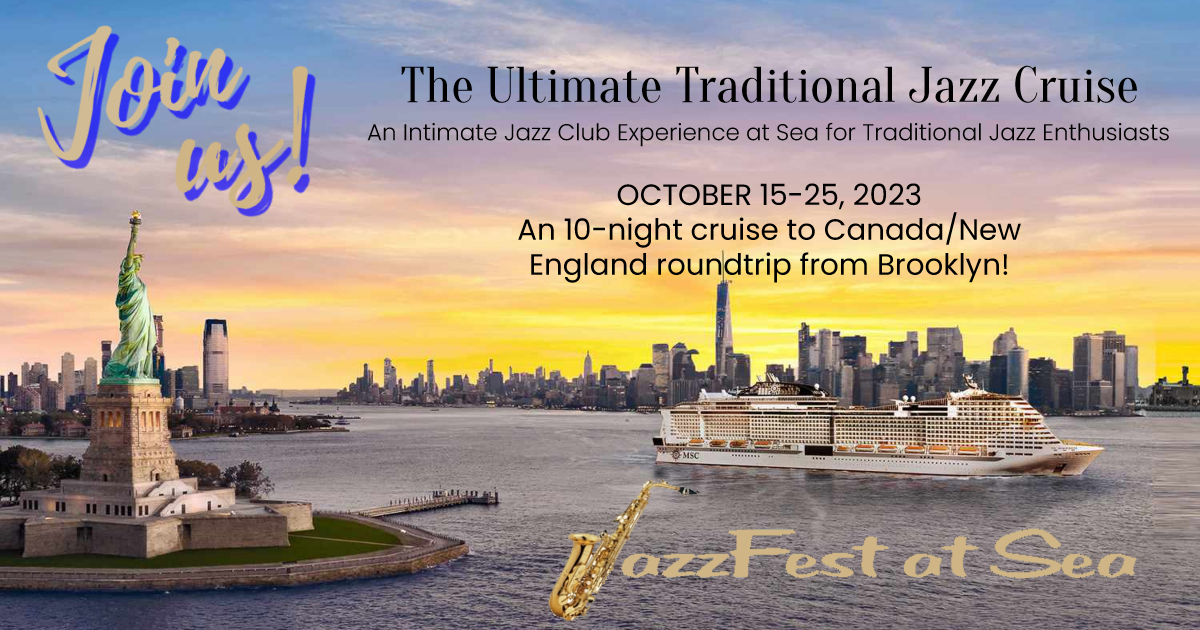 Badge Prices remain the same as last year and can be purchased on the website, by mail or when you arrive in town for the festival. There is an All Events badge at $85 for all three days, single day badges and concert badges. Additional pricing is on the website. www.historicsuttercreekragtimefestival.com
HOT JAZZ JUBILEE (Sacramento, CA) – Sept. 2-5 CANCELLED
The Board and Co-Directors of the 2022 Hot Jazz Jubilee are devastated to report that we have been forced to cancel the upcoming festival over Labor Day weekend.
After repeated assurances over the past 2 years that planned renovations at the DoubleTree Hotel would be completed by September 2022, it recently became clear that this will NOT be the case. In fact, the hotel does not have a definitive completion date for 3 of the 6 venues we need to stage our event. Additionally, with just weeks to go before the festival, large parts of the hotel remain in a state of complete demolition, including the restaurant. This is a huge blow to our volunteer festival staff, who have been working diligently to bring the HJJ back to life after the pandemic.
Needless to say, we are extremely disappointed that the renovations will not be completed in time for the festival. Since learning of this situation, we have been scrambling to find alternative sites, but with only two months to go, all available hotel spaces are either already booked, cannot handle the size of our event, or are cost-prohibitive. The only remaining alternative is to reschedule in 2023.
We fully realize how disappointing this is to all of you who purchased tickets, donated money and sponsored bands. After the long hiatus caused by the pandemic, we were all of us looking forward to immersing ourselves in live jazz again. No one is more disappointed by this gut-wrenching news than we are. Our mission is to present the best possible jazz festival experience to attendees in a safe and comfortable environment. The DoubleTree renovations' lack of progress has made that impossible.
If you wish us to refund your tickets, please send an email to [email protected] and include your name, date of purchase, and amount. Please allow time to process the refund. Alternatively, we would welcome your decision to roll over the tickets to next year, in which case you need do nothing. The information will remain in our system until then.
IMPORTANT! If you booked a room at the DoubleTree or other hotel, please contact them directly to cancel your reservation, as it will NOT be canceled automatically.
hotjazzjubilee.com; [email protected], 916-764-7224. P.O. Box 2931, Carmichael, CA, 95609, USA
24th Annual
PENTASTIC
HOT JAZZ & MUSIC FESTIVAL
(Penticton, BC) – Sept. 9-11
Situated between two lakes in the beautiful Okanagan Valley of British Columbia, Pentastic Hot Jazz is celebrating its 24th year. This year, Pentastic presents its hottest three day lineup ever, with 10 bands including Dave Bennett and the Memphis Speed Kings, Dave Bennett Quartet, Tom Rigney and Flambeau, Professor Cunningham and His Old School, Black Swan Classic Jazz Band, Groovus (Holland, Coots & Pikel), Holy Crow Jazz Band, Sonny Leyland's Boogie Four, Gator Nation, South Okanagan Big Band
A three day All Event Badge is $120 Canadian, day passes are available. For further information, visit Pentastic online at www.pentasticjazz.com, or call toll-free 1-866-599-3494. Purchase tickets online at www.valleyfirsttix.com.
CENTRAL PENNSYLVANIA RAGTIME AND AMERICAN MUSIC FESTIVAL (Orbisonia/Rockhill Furnace, PA) Sept. 22-25
Join us September 22-25 2022 for the Central Pennsylvania Ragtime & American Music Festival. Four fun-filled days of music, silent movies, lectures, open houses, and more. Hear Ragtime favorites, Jazz, Boogie-Woogie, Stride, Blues, and hits from the Great American Songbook, all performed by Grammy Award winning musicians. Plus, enjoy rides on the town's two signature attractions, the historic East Broad Top Railroad, and the neighboring Rockhill Trolley Museum! 2022 Performers Include: Frederick Hodges, Adam Swanson, Bryan Wright, Brian Holland, Danny Coots, Martin Spitznagel, Richard Dowling, and Andrew Greene's Peacherine Ragtime Society Orchestra, hailed as "the premier American Ragtime ensemble". For tickets and more festival information, visit: www.rockhillragtime.com.
REDWOOD COAST MUSIC FESTIVAL (Eureka, CA) – Sept. 29- Oct. 2
This year's festival, which takes place in Eureka, California, boasts seven venues: Hagadone Stage at Eureka Municipal Auditorium, Chevron & George Petersen Insurance Stage at The Adorni Center, Pierson Building Center Stage at The Sequoia Center, The Eagle House Stage at The Inn & 2nd and C, Sun Valley Group Stage at Morris Graves Museum, and two performance stages at The Red Lion Hotel (which is the home base of the festival). All venues have food, bars, and dance floors—with complimentary shuttles between venues.
Over 30 bands and artists are scheduled to the four-day event, including Curtis Salgado, Dale Watson & The Lone Stars, Duke Robillard, Jontavious Willis, Michael Doucét, Sugar Ray & The Bluetones, Joel Paterson Trio, Carl Sonny Leyland, Tom Rigney & Flambeau, Bishop Mayfield & Friends Featuring Dave Storie, Dave Stuckey & The Hot House Gang,
Clint Baker's Jazz Band, Katie Cavera, Dave Bennett & The Memphis Speed Kings. Cornet Chop Suey, Gator Nation, Holland Coots Jazz Quintet, Marc Caparone's Back O'Town Allstars, Dave Stuckey's Hoot Owls, Paul Anastasio, James Mason, Hal Smith's Mortonia 7, Paula Jones, Charlie Halloran's Tropicales, Dawn Lambeth Quintet, The Jazzologists, Jonathan Doyle Swingtet, Kris Tokarski, Geoffrey Miller, Brian Casserly, Two Tone Steiny & The Cadillacs with Danny Sandoval, Jenni & David & The Sweet Soul Band, Gino & the Lone Gunmen, Dan Walton, Josh Collazo, Groovus, TJ Muller, SoHum Girls, Nate Ketner, The Yokels, The Uptown Kings, The Delta Nationals, Jacob Zimmerman, Nice & Easy, and The Reunion Jazz Band
Advance price for a four-day Adult Pass (over 21 years)is $135 before August 1st; day passes and youth ticket prices are available
Please write [email protected] with questions. Find payment options and other information online at www.rcmfest.org. Please check the hotel page to see if there are ticket packages available from official festival hotels. Special combination packages may be available.
ROSWELL JAZZ FESTIVAL (Roswell, NM) – Oct. 12-16
Founded in 2006, the Roswell Jazz Festival is set to celebrate its 15th year as New Mexico's premier jazz event. Roswell's 2022 Guest of Honor is bassist Johnny Varro. Other invited musicians include John Allred, Harry Allen, Dan Barrett, Scott Edmunds, Michael Francis, Larry Fuller, Charles Gordon, Jon-Erik Kellso, Rebecca Kilgore, Ricky Malichi, Eddie Metz Jr., Richard Moten, Ken Peplowski, Houston Person, Chuck Redd, Randy, Richard Simon, Hillary Smith, Rossano Sportiello,  Allan Vache, and Curt Warren.
Ticket prices will be announced soon; for more information visit roswelljazz.org, email [email protected], or telephone 505-359-4876.
SUN VALLEY JAZZ & MUSIC FESTIVAL (Sun Valley, ID) – Oct. 12-16
Idaho's Sun Valley Jazz and Music Festival covers five days and offers excellent bands in several venues around the Sun Valley Inn at the Sun Valley Resort. Currently scheduled performers include Baker Boys w/ Katie Cavera & Carl Sonny Leyland, Blue Renditions, Blue Street Jazz Band, Boise Straight Ahead, Brian Casserly- Guest Artist, John & Kristy Cocuzzi, Yve Evans Trio, Gator Nation, Shaymus Hanlin- Guest Artist, High Street Party Band, Holland & Coots/GroovUS, Hot Jazz Collective, Kings of Swing, Jerry Krahn Quartet, Carl Sonny Leyland & Friends, Carolyn Martin Swing Band, Midiri Brothers Septet,  Professor Cunningham & His Old School, Tom Rigney & Flambeau, and the Side Street Strutters w/ Meloney Collins.
A 5-Day General Admission Pass is $265 . Afterglow Dinner and Dance is $75, including dinner. Tickets available by telephone or at website; (877) 478-5277; sunvalleyjazz.com. Write for brochure (with full ticket pricing information) at Sun Valley Jazz, PO Box 2745, Sun Valley, ID.
AHOY VINTAGE CRUISES: DANDY WELLINGTON CROSSING (Southampton, England, UK – New York, NY) Oct. 18-25
Designed by fellow vintage lovers just like you, our Transatlantic crossings on the luxurious Queen Mary 2 are the immersive experience you've been waiting for. We're planning these events with love and care and can't wait to set sail with you!
Departing from Southampton, England, UK Tuesday October 18, 2022  and arriving in New York on Tuesday October 25th. Journey across the Atlantic on the Queen Mary 2 in true vintage style with the most fashionable band leader of them all, Mr. Dandy Wellington! The seven night cruise includes: 5+ Private parties featuring Dandy Wellington and His Band, 3 formal nights, smart/dapper/polished vintage or vintage inspired for the other evenings, Vintage Beginner Dance Lessons, Private Cocktail Party, All meals in the ship's main dining rooms and buffets, 24-hour room service, All taxes and port fees, All QM2's entertainments, activities, and facilities.
Future crossings include Glenn Miller Orchestra (April 23-30th, 2023), Gilded Age crossing with a 1900-1918 theme and music from Matt Tolentino and his Singapore Slingers (May 18-26, 2023), Alex Mendham and his Orchestra (Sept. 22-29, 2023).  Find more information at ahoyvintagecruises.com or call, 214-761-1968 from US or (001) 214-761-1968 from the UK.
JAZZ FEST AT SEA (Departs Miami, FL) – Oct. 28 -Nov. 4
Sailing from Miami, Florida on October 28th with stops in Belize City, Belize,  Isla de Roatan, Honduras, Costa Maya, Mexico and  Ocean Cay Marine Reserve, Bahamas before returning to Miami on November 4th.  Musicians include: Allan Vaché – Clarinet, Terry Myers – Tenor Sax, Davy Jones – Cornet, Bill Allred – Trombone, Ken Peplowski – Clarinet, Duke Heitger – Trumpet, Banu Gibson – Vocals, Johnny Varro – Piano, Bob Leary – Guitar & Banjo, Yve Evans – Vocals, Charlie Silva – Bass, Paul Keller – Bass, Jeff Barnhart – Piano, Hal Smith – Drums, Ricky Malichi – Drums.
Pricing and booking information can be found on www.jazzfestatsea.com
33rd annual ARIZONA CLASSIC JAZZ FESTIVAL (Chandler, AZ) – Nov. 3-6
The only major festival to go off as planned during the pandemic the ACJF will be back this fall. Bands and musicians include: Howard Alden, "Big" B.AD. Rhythm, Dick Maley's WYSIWYG (What You See Is What You Get), Groovus, Queen City Jazz Band, WE 3 + 1 (Patrick, Lansford, Pesce, Early), Sun City Stomperz, Stephanie Trick & Paolo Alderighi, Wildcat Jazz Band, Wolverine Jazz Band, Tom Rigney & Flambeau, St. Louis Stompers Classic Jazz Band, Sentimental Breeze, Something Doin', and Cheryl's Vintage Jazz.
For details, go to azclassicjazz.org or call 480-620-3941. Send checks or credit card orders to ACJF, 10918 E. Michigan Ave., Sun Lakes, AZ 85248.
MIKE DURHAM'S INTERNATIONAL CLASSIC JAZZ PARTY (Newcastle-upon-Tyne, UK) – Nov. 4-6
The globe's foremost gathering of specialist Classic Jazz musicians and fans; a three-day concert series featuring live music of a rarely heard quality and authenticity, performed by a truly international roster of world-class performers.
Performers include: Trumpet- Enrico Tomasso (UK), Andy Schumm (USA), Mike Davis (USA), Torstein Kubban (Norway), Malo Mazurie (France), Jon-Erik Kellso (USA). Reeds- Claus Jacobi (Germany), Michael McQuaid (Australia), Lars Frank (Norway), David Horniblow (UK), Jean-Francois Bonnel (France), Mauro Porro (Italy), Richard Exall (UK). Trombone- Graham Hughes (UK), Alistair Allan (UK), Christoph Hermann (Germany). Piano-  Andrew Oliver (USA), David Boeddinghaus (USA), Martin Litton (UK), Colin Good (UK). Guitar & Banjo-  Thomas "Spats" Langham (UK), Martin Wheatley (UK), Félix Hunot (France), Jacob Ullberger (Sweden). Brass bass & String bass- Malcolm Sked (UK), Henri Lemaire (France), Phil Rutherford (UK), Harry Evans (UK). Drums & Percussion-  Josh Duffee (USA), Nicholas D. Ball (UK), Richard Pite (UK). Violin- Emma Fisk (UK). Vocals- Roya Naldi (USA), Thomas "Spats" Langham (UK).
Themes sets will include: "Aint'cha Got Music?" Henry 'Red' Allen, 1929-35 / Muggsy in the '30s / "A Good Man To Have Around" – Rarest Jimmie Noone / Harry Reser's Six Jumping Jacks / Trombonology: Tommy Dorsey plays Sweet / "Charlie's Ideas" -Paul Howard's Quality Serenaders / "The Professors" – Mauro Porro & Andrew Oliver / Collegiate Love – The Music of Ted Weems / "I'm More Than Satisfied" – Bix & Tram's Chicago Loopers / Clarinet Trios / The Lil and Louis Songbook / "London Blues" – The Savoy Havana Band / "Too Late? Never!" King Oliver's Victor Recordings / Fred Van Eps – the Ragtime Banjoist / Unrecorded songs from the Library of Congress / Rhythm King – the young Bing Crosby / More than Five Pennies – Red Nichols' big bands / Roya Naldi's Hot Combination / Tubas in the Moonlight / The Fabulous Fives" / "A Rendezvous With Rhythm" – The Ellingtonians / Oscar Alemán / Sweet And Hot – Andy Kirk's Twelve Clouds Of Joy / "Shake That Thing!" – Abe Lyman's Orchestra / "That's All" – Annette Hanshaw / Fess Williams' Royal Flush Orchestra / "After The Storm" – Jazz in Paris, 1919-23 / Teddy Wilson's Small Groups / Is Everybody Happy?" – Ted Lewis / And Our grand finale – A Battle Of Jazz – Fletcher Henderson v. The Missourians.
For tickets and other information, please visit whitleybayjazzfest.com; [email protected].
WEST COAST RAGTIME FESTIVAL (Rancho Cordova, CA) Nov. 18-20
This year's festival will resume at the Marriott in Rancho Cordova with an on-line version to follow
after this year's in-person event! Dates: November 18 – 20, 2022 Location: Sacramento Marriott Rancho Cordova
12211 Point East Drive, Rancho Cordova, CA 95742
Festival line-up to be announced in Summer, 2022! For more information, please visit: www.westcoastragtime.com
SUNCOAST JAZZ FESTIVAL (Clearwater Beach, FL) – Nov. 18-20
Featured this year are Daniela Soledade, Johnny Varro, James Suggs,  Nate Najar, The Professor and His Old School,  Dave Bennett Quartet,  Cornet Chop Suey,  Galvanized Jazz Band,  Sierra Seven,  Talk of the Town,  Al Downing Allstars,  Tom Rigney and Flambeau,  La Lucha,  Jeff Rupert Quartet,  Pepper and Fine Thyme,  Jason Marsalis,  Diego Figueirido,  Ed Metz,  Judy Carmichael, Nate Najar,  James Suggs , Johnny Varro, Daniela Soledade,  Synia Carroll,  Theo Valentine,  Betty Comora,  Mike Evans,  Bakey and Betty,  John Lamb,  and  Jam Sessions with Dr. Jim Gover.
For tickets and information, visit us online at suncoastjazzfestival.com; or write: PO Box 395, Largo, FL 33779; (727) 248-9441.
40th ANNUAL SAN DIEGO JAZZ FEST (San Diego, CA) – Nov. 23-27
The San Diego Jazz Fest is one of the longest running annual music festivals dedicated to celebrating jazz music of the early 20th Century. Since 1980, this event has been held during Thanksgiving weekend in San Diego, California, and features a variety of musical artists performing traditional jazz, swing, blues, ragtime, boogie woogie, gospel, and rhythm and blues.
Scheduled acts include: High Society Jazz Band, New Orleans Night Owls, Cornet Chop Suey, Katie and the Lost Boys, Sierra Seven, Gino and the Lone Gunman, Titanic Jazz Band, Madhat Hucksters, Uptown Rhythm Makers, Jazz Jammers, Cheryl's Vintage Jazz, Grand Dominion Jazz Band, Carl Sonny Leyland, Dave Bennett Quartet, Sue Palmer and her Motel Orchestra, Mission Bay High School Preservationists, and Michael Gamble's Rhythm Serenaders.
Contact: AFCDJS, P.O. Box 880387, San Diego, CA 92168-0387; 619-297-5277.
Email: [email protected]; Website: http://www.sdjazzfest.org/
JUBILEE BY THE SEA (Pismo Beach/Arroyo Grande) – Jan. 12-15, 2023
The Jubilee is moving to MLK Day weekend. Scheduled artists and other information will be published soon. For the latest  please visit pismojazz.com. Information: [email protected].
NORTH CAROLINA JAZZ FESTIVAL (Wilmington, NC) – Feb. 2-4, 2023
Wilmington gives a warm welcome to all of the jazz lovers attending our 43rd North Carolina Jazz Festival! This historic city located on the bank of the Cape Fear River has many interesting shops, art galleries, museums and restaurants, as well as a movie studio, nearby beaches, plus Revolutionary and Civil War sites to explore during your days here. We will fill your evenings with exciting performances by some of the greatest traditional jazz musicians from around the globe! All evening concerts begin at 7:30 pm and held at the Hotel Ballast ballroom.
Musicians include: Adrian Cunningham, Bruce Harris, Chuck Redd, Dion Tucker, Ehud Asherie, Emily Asher, Herman Burney, Houston Person,  Jonathan Russell, Kevin Dorn, Lenore Rapheal, Lucy Yeghiazaryan, Nate Najar, Neal Miner, Rossano Sportiello, Shaye Cohn, Steve Hobbs,  and Steve Washington.
Our Thursday night showcase is titled "Styles of Jazz" this year.  Friday and Saturday Evenings will feature our 13 All-Star musicians in the traditional seven sets of six or seven players, each set with a different leader. These will be 4 ½ hour concerts. Patron Brunch: On Saturday from 10:30 until 2pm we treat our patrons to a musical brunch, when all of our All-star musicians play for their pleasure while everyone enjoys a delicious brunch. During the last hour we have a "jam" when the patrons who are musicians have the opportunity to play with the All-stars. Fun for all!
Ticket are $45 for Thursday, and $65 for Friday & Saturday. Each night $25 military, $15 students. Patron tickets are $230, and include Fri. & Sat. evening concerts plus the special patron brunch at 10:30 Sat. morning, where the all-star musicians will play and socialize with patrons, then patron/musicians will be invited to "sit in" with the all-stars. Patrons receive preferred, reserved seating plus their names in the program. The $257 patron tickets include all of the above plus tickets to Thursday evening's Special Event. Tickets may be purchased from the festival website, E-Tix, or at the AudioLab at 5732 Oleander Dr., Wilmington.
For more information visit www.ncjazzfestival.org, e-mail [email protected], or call 910-793-1111.