NORTH CAROLINA JAZZ FESTIVAL (Wilmington, NC) – Feb. 2-4
Wilmington gives a warm welcome to all of the jazz lovers attending their 43rd North Carolina Jazz Festival! This historic city located on the bank of the Cape Fear River has many interesting shops, art galleries, museums and restaurants, as well as a movie studio, nearby beaches, plus Revolutionary and Civil War sites to explore during your days here. All evening concerts begin at 7:30 pm and held at the Hotel Ballast ballroom.
Musicians include: Adrian Cunningham, Bruce Harris, Chuck Redd, Dion Tucker, Ehud Asherie, Emily Asher, Herman Burney, Houston Person, Jonathan Russell, Kevin Dorn, Lenore Rapheal, Lucy Yeghiazaryan, Nate Najar, Neal Miner, Rossano Sportiello, Shaye Cohn, Steve Hobbs, and Steve Washington.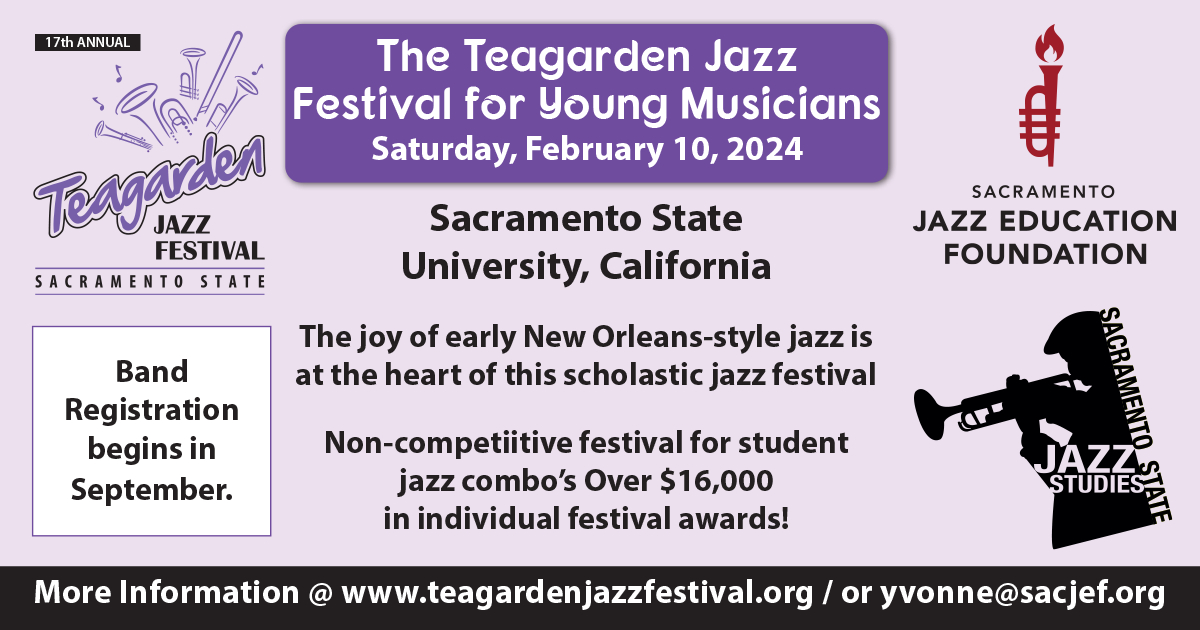 Our Thursday night showcase is titled "Styles of Jazz" this year. Friday and Saturday Evenings will feature our 13 All-Star musicians in the traditional seven sets of six or seven players, each set with a different leader.
Ticket are $45 for Thursday, and $65 for Friday & Saturday. Each night $25 military, $15 students. Patron tickets are $230, and include Fri. & Sat. evening concerts plus the special patron brunch at 10:30 Sat. morning, where the all-star musicians will play and socialize with patrons, then patron/musicians will be invited to "sit in" with the all-stars. Patrons receive preferred, reserved seating plus their names in the program. The $257 patron tickets include all of the above plus tickets to Thursday evening's Special Event. Tickets may be purchased from the festival website, E-Tix, or at the AudioLab at 5732 Oleander Dr., Wilmington, NC.
For more information visit www.ncjazzfestival.org, e-mail [email protected], or call 910-793-1111.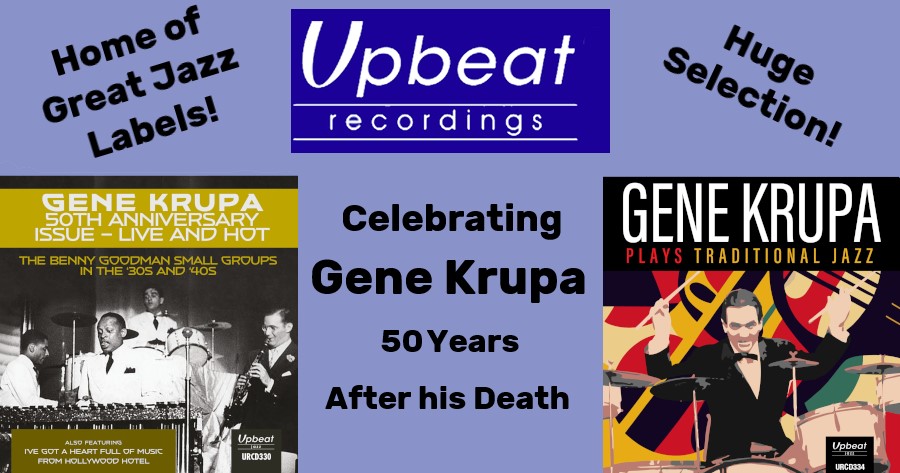 TEAGARDEN JAZZ FESTIVAL (Sacramento, CA) Feb. 10-11
The joy of New Orleans-style jazz is at the heart of this scholastic combo festival, which is dedicated to fostering a better appreciation of this classic American art form. Each year, scores of young musicians gather at the annual Teagarden Jazz Festival (formerly named Traditional Jazz Youth Band Festival) for experiences that take their musical skills to the next level. Adult participants this year include Dan Barrett, Clint Baker, Bob Draga, Bill Dendle, Marilyn Keller, Jason Wanner, Katie Cavera, and Ron Jones.
For band registration and tickets, call Patricia Jones at the SacJEF office: (916) 571-5533 or email: [email protected]; write PO Box 661763, Sacramento 95866; or visit the festival website: TeagardenJazzfestival.org.
SOUNDS OF MARDI GRAS (Fresno, CA) – Feb. 9-12
The 2023 edition of this festive festival in Fresno kicks off at the Doubletree by Hilton with a Thursday evening pre-party. The schedule picks up Friday with a themed parade, followed by the annual coronation of the Festival King and Queen, and a Saturday Night Dance Party. Festivities include a Parasol Parade and Masquerade and Costume Parade in the grand tradition of Mardi Gras. This year one parade has an "Under the Big Top" theme. New this year in costumed fun is a TuTu parade.
Invited bands for 2023 include: Black Market Trust, Holland & Coots Jazz Quintet, Carl Sonny Leyland, Gino and the Lone Gunmen, Dave Stuckey and the Hot House Gang, Tom Rigney and Flambeau, Gator Nation, Bob Schulz Frisco Jazz Band, Yosemite Jazz Band, CJ and the Jazz Jammers, Ed Tonkinson, and the Denver Jazz Club Youth All-Stars.
Special festival room rates at the Fresno Double Tree by Hilton are available. For more information you can call Linda (209)534-1924 or visit www.fresnodixie.com.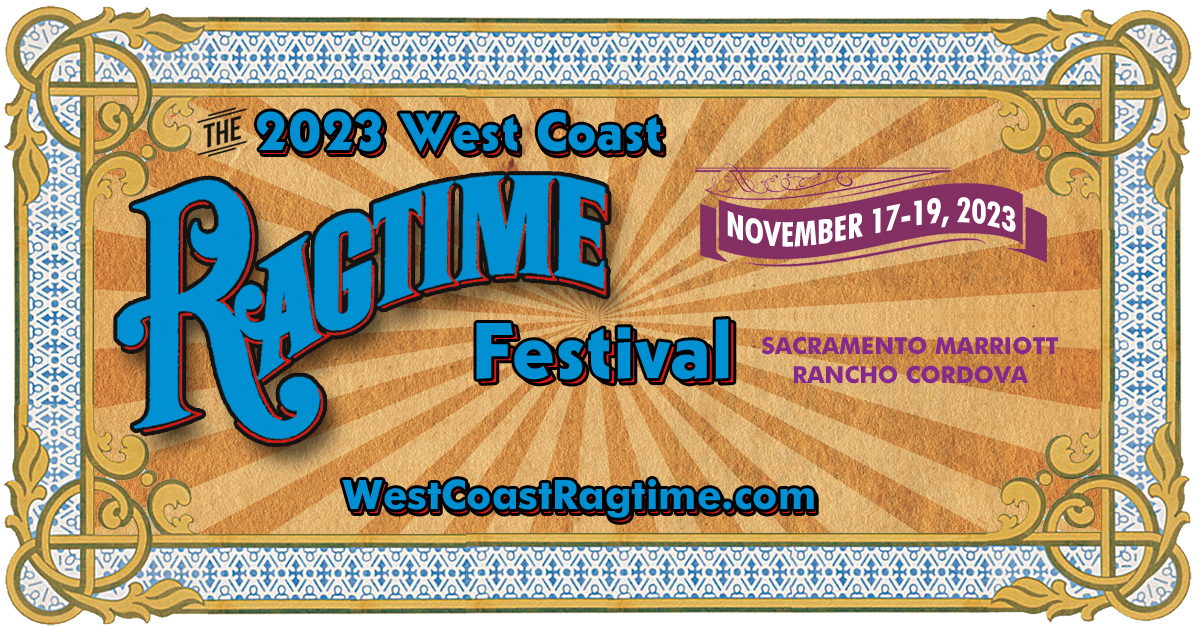 SAN DIEGO JAZZ PARTY (Del Mar, CA) – Feb. 24-26
The 31st annual San Diego Jazz Party is set to take place in Del Mar, California, 20 miles north of San Diego.
Performers at the 2023 Jazz Party will be Dan Barrett, Danny Coots, Duke Heitger, Evan Arntzen, Ken Peplowski, John Allred, Jon-Erik Kellso, Ed Metz, Jr., Houston Person, Lisa Booth, Paul Keller, Vinny Raniolo, Harry Allen, Chuck Redd, Richard Simon, Peter Washington, Rossano Sportiello, and Jason Wanner.
Purchase passes on www.sandiegojazzparty.com or order by telephone (619) 787-8792; or write San Diego Jazz Party, 1632 Hillstone Avenue, Escondido, CA 92029-4332.
JAZZ BASH BY THE BAY (Monterey, CA) – March 3-5
The 41st annual Jazz Bash By the Bay Monterey takes place March 3-5, 2023, in the beautiful Conference Center and Portola Hotel & Spa with seven venues and six dance floors. Scheduled bands and pricing will be available on the website soon.
Badges can be ordered by phone at 831-754-8786 or 888-349-6879. Download mailable order form at jazzbashmonterey.com; Jazz Bash by the Bay, 177 Webster St., #206, Monterey, CA 93940.
CHARLES H. TEMPLETON RAGTIME & JAZZ FESTIVAL (Starkville, MS) – March 23-25
The 17th Annual Charles H. Templeton Ragtime and Jazz Festival & the Gatsby Gala will be held at the Mississippi State University campus at Starkville from Thursday, March 23th through Saturday, March 25th. The Templeton Festival is the only one of its kind in the southeast that brings world-renowned artists and entertainers to campus to perform throughout the weekend, sharing their insights and love of ragtime, jazz, and blues music. Scheduled musicians include Dave Bennett, Hal Smith, Jeff Barnhart, Scott Kirby, and Taslimah Bey. For more information visit festival.library.msstate.edu.
40th JAZZ PENSACOLA JAZZFEST 2023 (Pensacola, FL) – April 1-2
The 40th Annual Pensacola JazzFest will be April 1-2, 2023, at Seville Square in historic downtown Pensacola. The schedule and headliners will be announced soon.
As always, JazzFest is a free and celebrates America's unique musical art form, jazz. The event is produced with assistance from a variety of corporate sponsors and community organizations. Jazz Pensacola volunteers also work yearlong to present Pensacola JazzFest as their annual gift to the community. We sincerely thank our individual and corporate donors for their essential support.
With its beautiful live oaks and historic surroundings, Seville Square and the gazebo stage offer a perfect springtime setting for Pensacola JazzFest.
In addition to a great music lineup, food by Vendors, wine/beer, soft drinks, arts and crafts and jazz merchandise are available—including JazzFest posters and a variety of jazzy shirts and memorabilia. All jazz merchandise sales help support the festival and keep it free for loyal fans. www.jazzpensacola.com.
FRENCH QUARTER FESTIVAL (New Orleans, LA) – April 13-16
More than 20 stages throughout the French Quarter celebrate local music and represent every genre from traditional and contemporary jazz to R&B, New Orleans funk, brass bands, folk, gospel, Latin, Zydeco, classical, cabaret, and international. Traditional jazz fans will find nearly every artist of interest to them currently active in the city.
New Orleans restaurants serve food and beverages in Jackson Square, the Jazz Museum at the Mint, JAX Brewery, and Woldenberg Riverfront Park during French Quarter Festival weekend. The French Quarter Festival has been consistently voted "favorite festival," "favorite food festival," and "favorite event open to the public" by locals. Schedule and map available at frenchquarterfest.org.
JAZZAFFAIR (Three Rivers, CA) – April 14-16
The 48th annual Jazzaffair, hosted by the Sierra Traditional Jazz Club, takes place at three venues in Three Rivers: the Lions Club Arena, the Memorial Building, and St. Anthony's Retreat.
Bands will include the Sierra Stompers, the Blue Street Jazz Band, Dave Stuckey and the Hoot Owls, Gino and the Lone Gunmen, Dave Bennett Quartet, Carl Sonny Leyland, Tom Rigney and Flambeau, St. John's Riverboat Jazz Band, Bob Schulz Barbary Coast Jazz Band, and Holland & Coots.
Early birds' three-day all-event badges are $110 if postmarked before March 15, $120 thereafter; children attend for free; the Lions Recognition Dinner with Music on Thursday, April 7th, is $15.
Visit the Sierra Traditional Jazz Club online and download order form: www.threeriversjazzaffair.com; S.T.J.C., PO Box 712, Three Rivers, CA 93271.
ZEHNDER'S RAGTIME FESTIVAL (Frankenmuth, MI) – April 19-21
Zehnder's Annual Ragtime Festival featuring the pride of Michigan, pianist Bob Milne, will be staged at Zehnder's of Frankenmuth, 730 S. Main St., in the colorful city nicknamed Little Bavaria. Also called "Muth" for short, the city is located in Saginaw County, in Michigan's Lower Peninsula, about 22 miles south of Lake Huron. Events include dinner concert on Wednesday, lunch concerts on Thursday, Friday, and Saturday, Vaudeville Night Thursday, a Friday-night picnic, and a grand finale dinner concert on Saturday. By the way, Zehnder's serves a world-famous chicken dinner along with tantalizing breads and pastries. Performers for 2022 included Bob Milne along with Andrew Ratajczak, Jeff Barnhart, Kerry Price, Martin Spitznagel, Bryan Wright, Anne Barnhart, and Terry Parrish. A similar lineup can be expected.
Ticket prices for individual events range from $16 to $60. Reservations are required for lunch, brunch, and all dinner concerts. For more info or reservations call (844) 288-1484; or visit zehnders.com.
AHOY VINTAGE CRUISES: Matt Tolentino and his Singapore Slingers (Southampton, England, UK – New York, NY) May 18-26
Designed by fellow vintage lovers just like you, our Transatlantic crossings on the luxurious Queen Mary 2 are the immersive experience you've been waiting for. They're planning these events with love and care and can't wait to set sail with you!
A Transatlantic Ragtime Romp with Matt Tolentino and his Singapore Slingers step into the early decades of the 20th century for an incredible seven nights at sea on RMS Queen Mary 2. Departs NYC on May 26, 2023, arrives in Southampton, England, UK, on June 2, 2023. Includes 5+ Private parties featuring Matt Tolentino and his Singapore Slingers, Private Cocktail Party, All meals in the ship's main dining rooms and buffets, 24 hour room service, All taxes and port fees, all QM2's entertainments, activities, and facilities.
Other crossings include Glenn Miller Orchestra (April 30th to May 7th, 2023. Departs from NYC), Alex Mendham and his Orchestra (June 14-21st, 2023. Departs from Southampton, England, UK). Find more information at ahoyvintagecruises.com or call, 214-761-1968 from US or (001) 214-761-1968 from the UK.
WORLD CHAMPIONSHIP OLD-TIME PIANO PLAYING CONTEST & FESTIVAL (Oxford, MS) – May 25-28
Every year over Memorial Day weekend in Oxford, Mississippi, the World Championship Old-Time Piano Playing Contest is held to provide an opportunity for pianists to compete and learn in a stimulating atmosphere, and to educate people about old-time piano music written prior to 1940.
Through the years, the contest has provided more than $60,000 in prize money to more than 500 piano players from across the United States and from five foreign countries. Players in 2020 will compete in three divisions—Regular, Junior & Senior—as they vie for over $6,000 plus trophies—as well as the New Rag Contest, where aspiring composers present their original tunes.
A variety of other activities include workshops, guest artist performances, silent movies, an old-time sing-along, a double-decker bus tour of historic Oxford, and after-hours events every night on the Oxford Square.
For more information, write: Old Time Piano Contest, 350 University Ave., Oxford, MS 38655; [email protected]; telephone 662-915-1282; oldtimepianocontest.com.
SCOTT JOPLIN RAGTIME FESTIVAL (Sedalia, MO) – May 31-June 3
More than 6,000 people attend the Scott Joplin Ragtime Festival each June, turning downtown Sedalia into a turn-of-the-20th century party.
This year's scheduled presenters and musicians include Christina Austin, Jeff Barnhart, Brandon Byrne, Danny Coots, Richard Dowling, Bill Edwards, Eve Elliot, Takashi Hamada, Frederick Hodges, Brian Holland, Valerie Kirchhoff, Ethan Leinwand, Royce Martin, William McNally, Jerron Paxton, Peacherine Sextet, Will Perkins, David Reffkin, Dalton Ridenhour, Martin Spitznagel, Adam Swanson, and Bryan Wright.
Write: Scott Joplin International Ragtime Foundation, P O Box 1244, Sedalia, MO 65302; (660) 826-2271; [email protected]; scottjoplin.org.