SCOTT JOPLIN RAGTIME FESTIVAL (Sedalia, MO) – June 1-4th
More than 6,000 people attend the Scott Joplin Ragtime Festival each June, turning downtown Sedalia into a turn-of-the-20th century party.
This year's scheduled presenters and musicians include Clint Baker, Ramona Baker, Anne Barnhart, Jeff Barnhart, Peter Bergin, Taslimah Bey, Danny Coots, Bill Edwards, Marty Eggers, Virginia Eskin, Frederick Hodges, Brian Holland, Dave Majchrzak, Marilyn Nonken, David Reffkin, Joyce Richardson, Martin Spitznagel, Squeek Steele, Adam Swanson, Virginia Tichenor, Stephanie Trick, and Bryan Wright..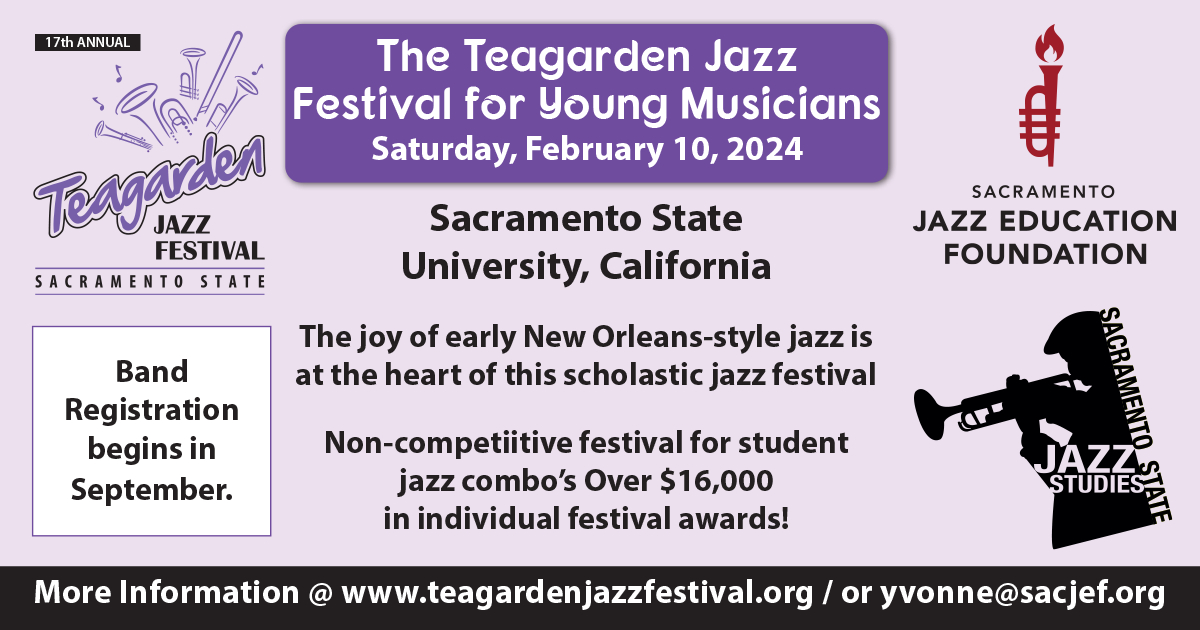 Write: Scott Joplin International Ragtime Foundation, P O Box 1244, Sedalia, MO 65302; (660) 826-2271; [email protected]; scottjoplin.org.
56th ANNUAL WEST TEXAS JAZZ PARTY (Odessa, TX) –  June 2-4, 2022

The 2022 West Texas Jazz Party—the 56th annual—will be held at the Odessa Marriott Hotel and Conference Center. Musicians to appear at the Jazz Party include: Jon-Erik Kellso, Randy Sandke, Dan Barrett, Russ Phillips, John Allred, William Anderson, Peter Anderson, Harry Allen, Johnny Varro, Rossano Sportiello, Brian Piper, Nate Najar, Daniela Soledade, Rebecca Kilgore, Richard Simon, Frank Tate, Ricky Malichi, AND MORE! West Texas Jazz Party
Ticket prices are: Patron Pass $200 (all performances); Table for 8, $1600 (all performances). To purchase tickets, please visit wtjs.org or call (432) 217-0765 for details and membership information. The address for the Marriott is 305 East 5th St., Odessa, Texas 79761. Contact the Marriott at (432) 580-5805 to book your rooms at the special Jazz Party rate.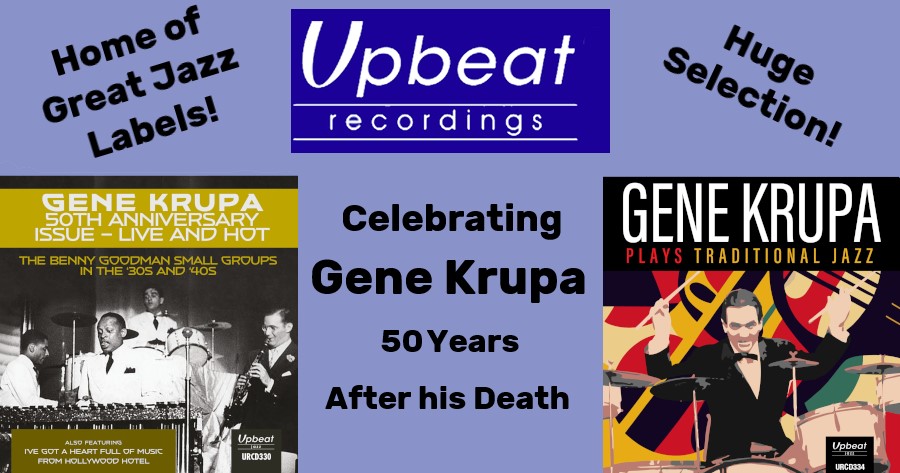 ELKHART JAZZ FESTIVAL (Elkhart, IN) – June 17-19
Since 1988, jazz legends and fans have gathered each summer at the Elkhart Jazz Festival which combines warm, intimate, small-town hospitality with the excitement of big-city jazz. Known as the Band Instrument Capital of the World, Elkhart companies employ nearly 2,000 skilled craftsmen in the production of musical instruments.
Headliners at the 2022 festival are Bruce Hornsby & The Noisemakers, Gunhild Carling Experience, The Queen's Cartoonists, and the Shades of Blue Jazz Ensemble. The festival will also include appearances from  After Ours, Andy Brown Trio, Christopher Lucas Wilson Trio, Couch, Craig Gildner & The Ivy City 6, Darryl Buchanan's Soul Motown Allstars, Dave Bennett Quartet, David Hilliker Trio, Emily Cavanagh, French Quarter, Generations Trio, Jazmin Ghent, Jazz Assemblage, Jonathan Scales Fourchestra, Kanola Band, Kris Brownlee, Lena Seikaly Trio, Nia Quintet, Notre Dame Faculty Jazz Trio, Paul Decker & The Real Deal, Q Sonics, Rica Obsesion, River Oaks Community Church, Scott Allen, Shades of Blue USAF, Shelly Cowling Quartet, The Dean's List, Truth in Jazz, VibeNation, Whistle Pigs, and the Yellow Creek Jazz Project.
For ticket pricing visit elkhartjazzfestival.com; tickets: (574) 293-4469; festival info: (574) 218-6477.
ROCHESTER JAZZ FEST (Rochester, NY) June 17-25
The CGI Rochester International Jazz Festival is one of the world's leading jazz festivals. Held annually in Rochester, NY, more than 200,000 music fans attend the nine-day Festival, which presents 320+ shows 20+ venues with more than 1750 artists from around the world. Booking is well underway for the 2022 Club Pass Series, giving the right of first refusal as promised to artists originally booked for the 19th Edition. The 2022 Club Pass Series will feature 219 sets of music at 12 venues in downtown Rochester including the Bethel Church (new this year), Hatch Hall, Hyatt Regency Ballroom (new this year), Kilbourn Hall, Little Theatre, Lutheran Church of the Reformation, Max of Eastman Place, Montage Music Hall, Temple Theater, Theater at Innovation Square (formerly Xerox Auditorium and newly renovated), Rochester Regional Health Big Tent, and the Wilder Room. More information forthcoming at www.rochesterjazz.com
16th RAGTIME TO RICHES FESTIVAL (Omaha, NE & Crescent, IA) July 9-10
COME ON IN…THE MUSIC'S FINE! First Central Congregational United Church of Christ, in Omaha, NE, and the Pink Poodle Steakhouse, in Crescent, IA, are the sites for the sixteenth annual Ragtime to Riches Festival, scheduled to take place July 9-10, 2022. Proceeds from this year's festival will go to…the Great Plains Ragtime Society.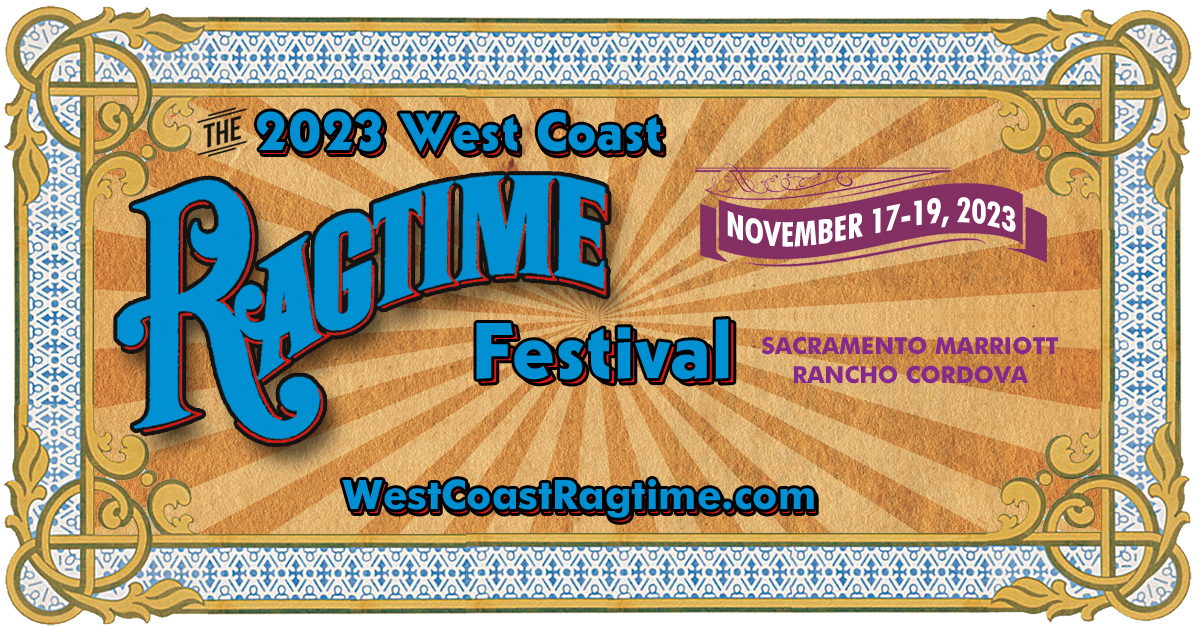 Scheduled to appear at this year's festival: MARTY MINCER (Hamburg, IA), 1990 and 1993 Regular Division winner at Illinois' turned Mississippi's World Championship Old-Time Piano Playing Contest and Festival; FAYE BALLARD (Champaign, IL), seven-time Regular Division finalist- and now contest coordinator- at the same event; JIM BOSTON (Omaha, NE), seven-time finalist at Iowa's turned Nebraska's National Old-Time Country, Bluegrass, and Folk Music Festival and Contest. More Information: The phone number for the Great Plains Ragtime Society is 402 556-3340. Check it out! r2rfestival.webs.com
19th EVERGRENN JAZZ FESTIVAL (Evergreen, CO) July 29-31
Following two Covid postponements, the 19th Evergreen Jazz Festival is set for July 29,30 and 31. Known for its beautify Rocky Mountain setting and up-close-and-personal atmosphere, the event will feature four intimate venues, each offering a unique listening experience. Invited bands include After Midnight, Carl Sonny Leyland Trio, Felonius Smith Trio, Holland-Coots Swingin' West, Hot Tomatoes Dance Orchestra, Joe Smith and The Spicy Pickles, LaPompe, Louis Ford & His New Orleans Flairs, Queen City Jazz Band with Wende Harston and The Dalton Ridenhour Trio. In addition, several dueling piano sets are planned featuring Brian Holland, Sonny Leyland and Dalton Ridenhour. Dancers welcome at all venues. For details and tickets, visit www.EvergreenJazz.org or call 303-697-5467.
THE BIX BIEDERBECKE JAZZ FEST (Davenport, IA ) Aug 4-6
The 51st Annual Bix Jazz Fest will be held at Rhythm City Casino & Hotel in Davenport, IA.  Come to experience great Trad Jazz Era music and see the sights of the Quad Cities Area.  Multiple Cities on both sides of the river comprise the QCA, where the river runs East to West.  visitquadcities.com
Invited bands performing at this year's Jazz Fest are:  Jeff Barnhart, "Ragtime to Swing"; Hal Smith's New Orleans Night Owls; Dave Bennett Quartet, T.J. Muller Trio, Chicago Cellar Boys, The Graystone Monarchs, Joe Smith & The Spicy Pickles, NOLA Jazz Band, and the Bix Beiderbecke Youth Jazz Band.   The Jazz Fest begins Thursday evening, with afternoon and evening sessions on Friday and Saturday.
For more information on this event visit:  bixsociety.org, email questions: [email protected] or contact our office at (563) 324-7170.  Join us for outstanding music and while you are here visit the ballpark, museums, art galleries, distilleries, take a River Taxi Tour or sit along the river's edge while enjoying dinner.
HISTORIC SUTTER CREEK RAGTIME FESTIVAL (Sutter Creek, CA) Aug 12 – 14th
Once again, the tantalizing strains of Ragtime, Early Jazz and Boogie Woogie Music will fill the streets and venues at the 24th annual Historic Sutter Creek Ragtime Festival, in the beautifully well-tailored gold rush town of Sutter Creek in California's Sierra Foothills. This unique relaxing festival is a hit with festival goers and Musicians alike, who look forward to the atmosphere of genuine friendship and good-hearted fun in the long August days of summer.
This year's Returning Musicians include such notable performers as Frederick Hodges, (Who will tell you that Sutter Creek is his most favorite festival!), Carl Sonny Leyland, Paul Orsi, Brian Holland, Danny Coots, Matt Tolentino, The Easy Winners, Michael Chisholm, Stevens Price, Virginia Tichenor, Anthony Sarginson, Elliot Adams, Kevin Gunia and many more.
The Festival has four venues along Main Street Sutter Creek all in a short walk of each other. Festival Headquarters is at the Auditorium/City Hall where there is an information/sales booth where you can purchase your badges, T-shirts, musician's CD's and more. The Auditorium has two grand pianos rearing to go and has an abundance of seating which is perfect for our Saturday evening concert and Sunday afternoon finale concert. Our other venues are the Hotel Sutter, Choco-O-Latte and Sina's Backroads Café. There will be nonstop music, duet collaborations, themed sets, mini concerts, silent movies and much more.
Badge Prices remain the same as last year and can be purchased on the website, by mail or when you arrive in town for the festival. There is an All Events badge at $85 for all three days, single day badges and concert badges. Additional pricing is on the website. www.historicsuttercreekragtimefestival.com
HOT JAZZ JUBILEE (Sacramento, CA) – Sept. 2-5
Staged at the DoubleTree by Hilton in Sacramento, the Hot Jazz Jubilee takes place over the Labor Day weekend. Invited to perform this year are Cornet Chop Suey, Todd Morgan, Sierra Seven, Crescent Katz, Auchestra, Bob Schulz' Frisco Jazz Band, Dave Bennett Quartet, Gator Nation, Black Market Trust, Tom Rigney, Yve Evans & Company, Gino and the Lone Gunmen, Carl "Sonny" Leyland, Cocuzzi Courtet, Moonlight Swing, Bob Draga Quartet, Holland & Coots, Katie Cavera & Her Lost Boys, Shaymus Hanlin Quartet, Jason Wanner, Parker & the Weis Guys, Darrell and the Darrell-Licks, and Several Youth Bands
Thanks in part to the sponsorship of the Sacramento Jazz Education Foundation (SacJEF), the Hot Jazz Jubilee will for the first time feature a Pro-Am Jam venue, where young musicians can jam side-by-side with the adult pros. The venue will also be home to two educational jazz clinics, presented by Bill Dendle, musician and Director of the SacJEF annual Teagarden Jazz Camp. In keeping with the festival's mission to promote youth jazz education, everyone 12 and under is admitted free, and ages 13-20 are free with student ID.
Badge prices range from daily pricing to $140 for a four-day all events badge ($130 if purchased before July 1); hotjazzjubilee.com; [email protected], 916-764-7224. P.O. Box 2931, Carmichael, CA, 95609, USA
24th Annual
PENTASTIC
HOT JAZZ & MUSIC FESTIVAL
(Penticton, BC) – Sept. 9-11
Situated between two lakes in the beautiful Okanagan Valley of British Columbia, Pentastic Hot Jazz is celebrating its 24th year. This year, Pentastic presents its hottest three day lineup ever, with 10 bands including Dave Bennett and the Memphis Speed Kings, Dave Bennett Quartet, Tom Rigney and Flambeau, Professor Cunningham and His Old School, Black Swan Classic Jazz Band, Groovus (Holland, Coots & Pikel), Holy Crow Jazz Band, Sonny Leyland's Boogie Four, Gator Nation, South Okanagan Big Band
A three day All Event Badge is $120 Canadian, day passes are available. For further information, visit Pentastic online at www.pentasticjazz.com, or call toll-free 1-866-599-3494. Purchase tickets online at www.valleyfirsttix.com.
CENTRAL PENNSYLVANIA RAGTIME AND AMERICAN MUSIC FESTIVAL (Orbisonia/Rockhill Furnace, PA) Sept. 20-22
Join us September 22-25 2022 for the 13th Annual Central Pennsylvania Ragtime & American Music Festival. Four fun-filled days of music, silent movies, lectures, open houses, and more. Plus, enjoy rides on the town's two signature attractions, the historic East Broad Top Railroad, and the neighboring Rockhill Trolley Museum!
​Started by festival director emeritus David Brightbill and Lawrence Biemiller, our festival is by far the most intimate of the ragtime gatherings – where else in America can you enjoy our nation's musical heritage in such a historic setting? Scheduled performers so far include Adam Swanson, Frederick Hodges, Martin Spitznagel, Brian Holland, , Joey Antico, Andrew Greene, with more to be added.  The festival is currently managed by Andrew Greene, founder and director of the Peacherine Ragtime Orchestra (www.peacherineragtime.com). For more information, visit www.rockhillragtime.org.
REDWOOD COAST MUSIC FESTIVAL (Eureka, CA) – Sept. 29- Oct. 2
This year's festival, which takes place in Eureka, California, boasts seven venues: Hagadone Stage at Eureka Municipal Auditorium, Chevron & George Petersen Insurance Stage at The Adorni Center, Pierson Building Center Stage at The Sequoia Center, The Eagle House Stage at The Inn & 2nd and C, Sun Valley Group Stage at Morris Graves Museum, and two performance stages at The Red Lion Hotel (which is the home base of the festival). All venues have food, bars, and dance floors—with complimentary shuttles between venues.
Over 30 bands and artists are scheduled to the four-day event, including Curtis Salgado, Dale Watson & The Lone Stars, Duke Robillard, Jontavious Willis, Michael Doucét, Sugar Ray & The Bluetones, Joel Paterson Trio, Carl Sonny Leyland, Tom Rigney & Flambeau, Bishop Mayfield & Friends Featuring Dave Storie, Dave Stuckey & The Hot House Gang,
Clint Baker's Jazz Band, Katie Cavera, Dave Bennett & The Memphis Speed Kings. Cornet Chop Suey, Gator Nation, Holland Coots Jazz Quintet, Marc Caparone's Back O'Town Allstars, Dave Stuckey's Hoot Owls, Paul Anastasio, James Mason, Hal Smith's Mortonia 7, Paula Jones, Charlie Halloran's Tropicales, Dawn Lambeth Quintet, The Jazzologists, Jonathan Doyle Swingtet, Kris Tokarski, Geoffrey Miller, Brian Casserly, Two Tone Steiny & The Cadillacs with Danny Sandoval, Jenni & David & The Sweet Soul Band, Gino & the Lone Gunmen, Dan Walton, Josh Collazo, Groovus, TJ Muller, SoHum Girls, Nate Ketner, The Yokels, The Uptown Kings, The Delta Nationals, Jacob Zimmerman, Nice & Easy, and The Reunion Jazz Band
Advance price for a four-day Adult Pass (over 21 years)is $135 before August 1st; day passes and youth ticket prices are available
Please write [email protected] with questions. Find payment options and other information online at www.rcmfest.org. Please check the hotel page to see if there are ticket packages available from official festival hotels. Special combination packages may be available.
ROSWELL JAZZ FESTIVAL (Roswell, NM) – Oct. 12-16
Founded in 2006, the Roswell Jazz Festival is set to celebrate its 15th year as New Mexico's premier jazz event. Roswell's 2022 Guest of Honor is bassist Johnny Varro. Other invited musicians include John Allred, Harry Allen, Dan Barrett, Scott Edmunds, Michael Francis, Larry Fuller, Charles Gordon, Jon-Erik Kellso, Rebecca Kilgore, Ricky Malichi, Eddie Metz Jr., Richard Moten, Ken Peplowski, Houston Person, Chuck Redd, Randy, Richard Simon, Hillary Smith, Rossano Sportiello,  Allan Vache, and Curt Warren.
Ticket prices will be announced soon; for more information visit roswelljazz.org, email [email protected], or telephone 505-359-4876.
SUN VALLEY JAZZ & MUSIC FESTIVAL (Sun Valley, ID) – Oct. 12-16
Idaho's Sun Valley Jazz and Music Festival covers five days and offers excellent bands in several venues around the Sun Valley Inn at the Sun Valley Resort. Currently scheduled performers include Baker Boys w/ Katie Cavera & Carl Sonny Leyland, Blue Renditions, Blue Street Jazz Band, Boise Straight Ahead, Brian Casserly- Guest Artist, John & Kristy Cocuzzi, Yve Evans Trio, Gator Nation, Shaymus Hanlin- Guest Artist, High Street Party Band, Holland & Coots/GroovUS, Hot Jazz Collective, Kings of Swing, Jerry Krahn Quartet, Carl Sonny Leyland & Friends, Carolyn Martin Swing Band, Midiri Brothers Septet,  Professor Cunningham & His Old School, Tom Rigney & Flambeau, and the Side Street Strutters w/ Meloney Collins.
A 5-Day General Admission Pass is $265 . Afterglow Dinner and Dance is $75, including dinner. Tickets available by telephone or at website; (877) 478-5277; sunvalleyjazz.com. Write for brochure (with full ticket pricing information) at Sun Valley Jazz, PO Box 2745, Sun Valley, ID.
2022 Announced Dates
Nov. 3-6 Arizona Classic Jazz Festival (Chandler, AZ)
Nov. 18-20  Suncoast Jazz Festival (Clearwater Beach, FL)
Nov. 23-27 Sand Diego Jazz Festival (San Diego, CA)