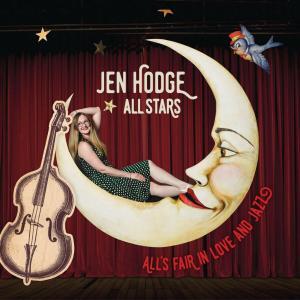 Bassist Jen Hodge is a major part of the swing and trad jazz scene in Vancouver, British Columbia. All's Fair In Love And Jazz features her all-stars, a pianoless quintet that also includes trumpeter Chris Davis, Connor Stewart on clarinet and tenor, acoustic guitarist Josh Roberts, and drummer Marti Elias.
With Ms. Hodge driving the band, the music is quite enjoyable, particularly when it has interplay between the two horns. They liven up such numbers as "Dardanella," "Blame It On The Blues," "Hell's Bells," "Stompin' At The Savoy," and "Rockin' In Rhythm."
The leader takes occasional vocals that are pleasing and there is a guest vocal apiece by Arnt Arntzen ("Smoke Rings"), Bonnie Northgraves (on the original "Hey Let's Drink A Beer"), and Jack Ray (the second version of "Southern Lover," an original based on "Them There Eyes"). A male chorus (mostly comprised of the musicians) backs Jen Hodge's singing on "Shout, Sister, Shout."
The musicianship is consistently excellent, the frameworks give the set plenty of variety, and the music always swings hard. This is an easy CD to enjoy.
All's Fair In Love And Jazz (JH 003, 15 selections, TT = 67:31) www.jenhodgebass.com