This is an introduction to French jazz musician Andre Ekyan (1907-1972) who played alto saxophone and clarinet and made robust contributions to the development of Jazz in France. It's also the story of his role mentoring and promoting gypsy guitarist Django Reinhardt, guiding him into the world of professional music performance.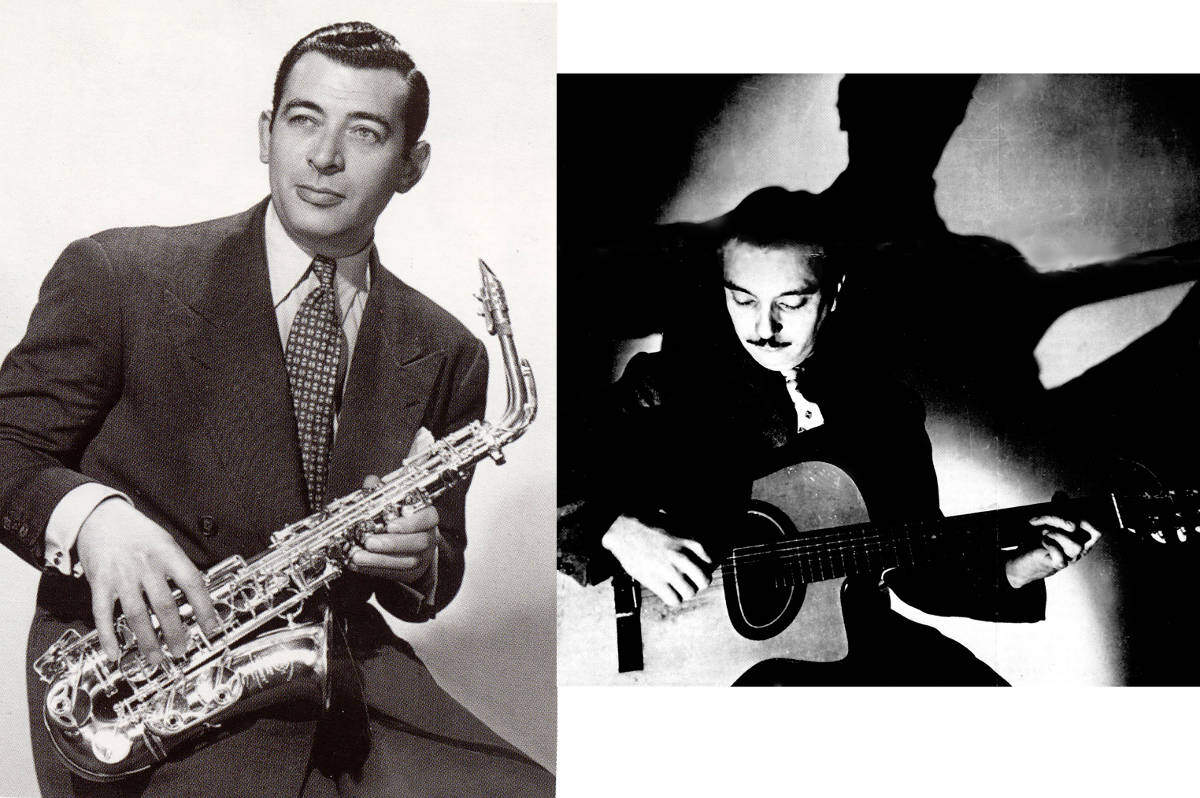 A self-taught musician, arranger and bandleader, he promoted cabaret venues, jazz clubs, recordings, concerts and jam sessions. An early proponent of Reinhardt, he often acted as an informal impresario, agent and valet. They were frequently associated during the years 1932-1950.
Django: A Musical Force of Nature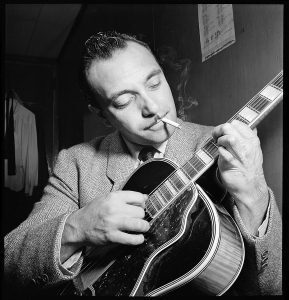 Gypsy jazz guitarist Django Reinhardt (1910-1953) was a creative one-of-a-kind talent. A musical force majeure, he was the first to invent an original style of jazz outside America. The unschooled Manouche gypsy launched an innovative musical form based on guitars, violin and his own creativity in the late 1930s.
Reinhardt was as fundamental to the emergence of guitar as a Jazz instrument as Louis Armstrong had been for the trumpet. The gypsy was unequalled for dazzling on-the-fly chord changes, intuitive grasp of harmony and brilliant composing. Though unable to read or write musical notation, Django was one of the most profound musical minds of modern times. His music became the nucleus around which French Jazz coalesced. The Hot Club Jazz movement is stronger today than ever under the global banner of Gypsy Jazz.
The Hot Clubs of France were a federation of enthusiasts dedicated to popularizing Jazz. The Paris chapter sponsored the earliest performances and recordings of Django Reinhardt and the Quintet of the Hot Club of France.
Ekyan: A Creative Prodigy
Andre's father was from Armenia and his mother from Hungary. Raised in France, he was something of a child prodigy, taking up the clarinet at a young age and becoming widely popular. Ekyan was active in London, New York and Paris, recording with the cream of French, British and American jazz musicians. He worked or toured in the orchestras of Jack Hylton (London, 1930-31), Gregor (Paris, 1932-33), Tommy Dorsey (New York, 1936) and the French Swing outfit of Ray Ventura (1938, 1941).
Ekyan probably did more than anyone else to lift French music into the Swing era. He was one of the most original and accomplished Jazz musicians of Europe, and a pioneer in organizing, promoting and advocating for Jazz in France and Europe. Early in his career, Ekyan developed his own saxophone style independent from the preeminent saxophone stylist of his time, Coleman Hawkins.
Beginning in 1937 the bandleader, clarinet and alto saxophone player made discs on the Swing label with French and American Jazz musicians. He recorded vigorously for Swing with Django Reinhardt, Coleman Hawkins, Benny Carter (trumpet), Alix Combelle (tenor sax), Frank "Big Boy" Goudie (trumpet and tenor sax), Joe Turner (piano), Jacques Butler (trumpet), Tommy Benford (drums) and others.
He later told French jazz writer Charles Delaunay about a jam session with Django at the Swing Time club. "Benny Carter, Coleman Hawkins and Bill Coleman were also there. We began to play 'I Won't Dance,' a tune that modulates a lot as it is. We tried having fun playing it in odd keys. Bill Coleman gave up first, then Coleman Hawkins. Finally, it was just Benny Carter and Django. Two masters."
Duets by Andre Ekyan (alto sax), Django Reinhardt (guitar), 1940-41:
A Pretty Girl is Like a Melody
Education of a Genius
It was Ekyan who drew Reinhardt into his first professional job with the ensemble of singer Jean Sablon, 1932-34. Andre was charged with serving as a chaperone and personal minder for Django, helping groom him as a performer.
Andre attempted to guide and instruct the novice musician about showing up for gigs in professional attire with combed hair, clean fingernails, shoes shined . . . and wearing shoes. Just the 'showing up' part was a persistent shortcoming for the princely gypsy who was oblivious to clocks, calendars or curtain times. Throughout their association, it was Andre's responsibility to fetch Django (and a guitar) and get him to the job.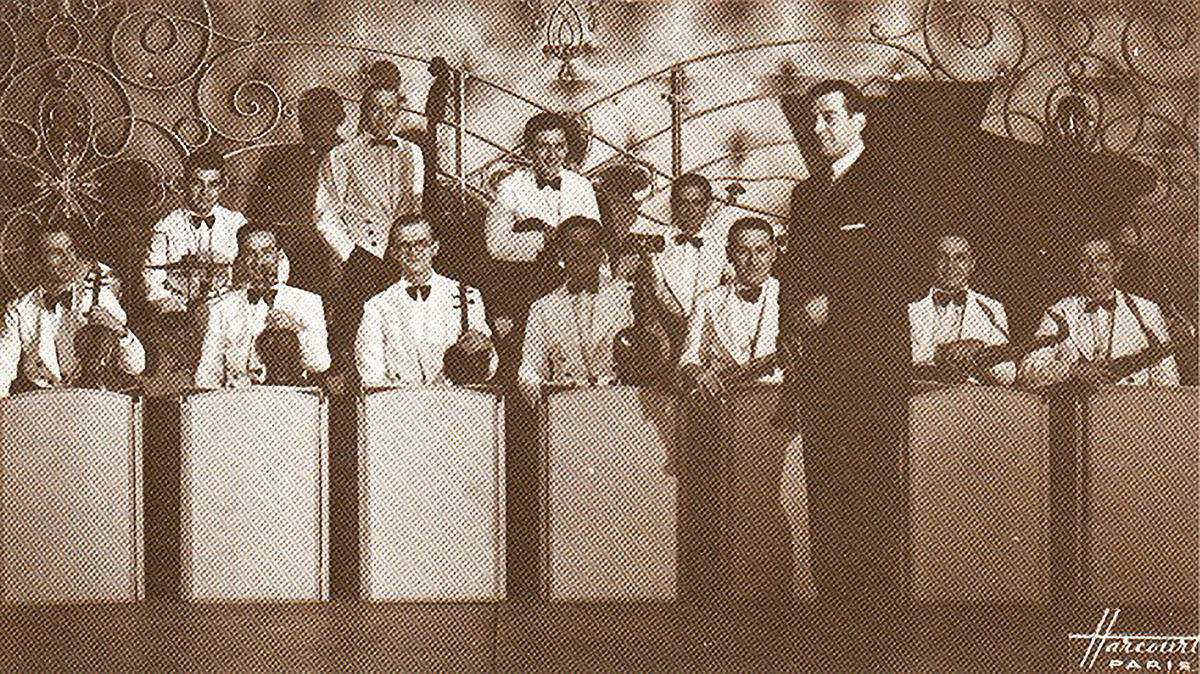 Reinhardt was rustic and astonishingly unfamiliar with "gadjo" (non-gypsy) manners, ways and education. For instance, while awaiting the start of a gig held at a school auditorium he perused a children's book about dinosaurs. Finding it a comical fable, he rejected the idea that such creatures could ever have existed, saying the other musicians were teasing him.
Django often took newfound enthusiasms — such as fancy clothes, taxis and automobiles — to extremes. There is a tale of him driving to a venue in the mountains in a powerful but spartan sports car dressed only in a tuxedo. He arrived at the gig three days late after being lost in a snowstorm.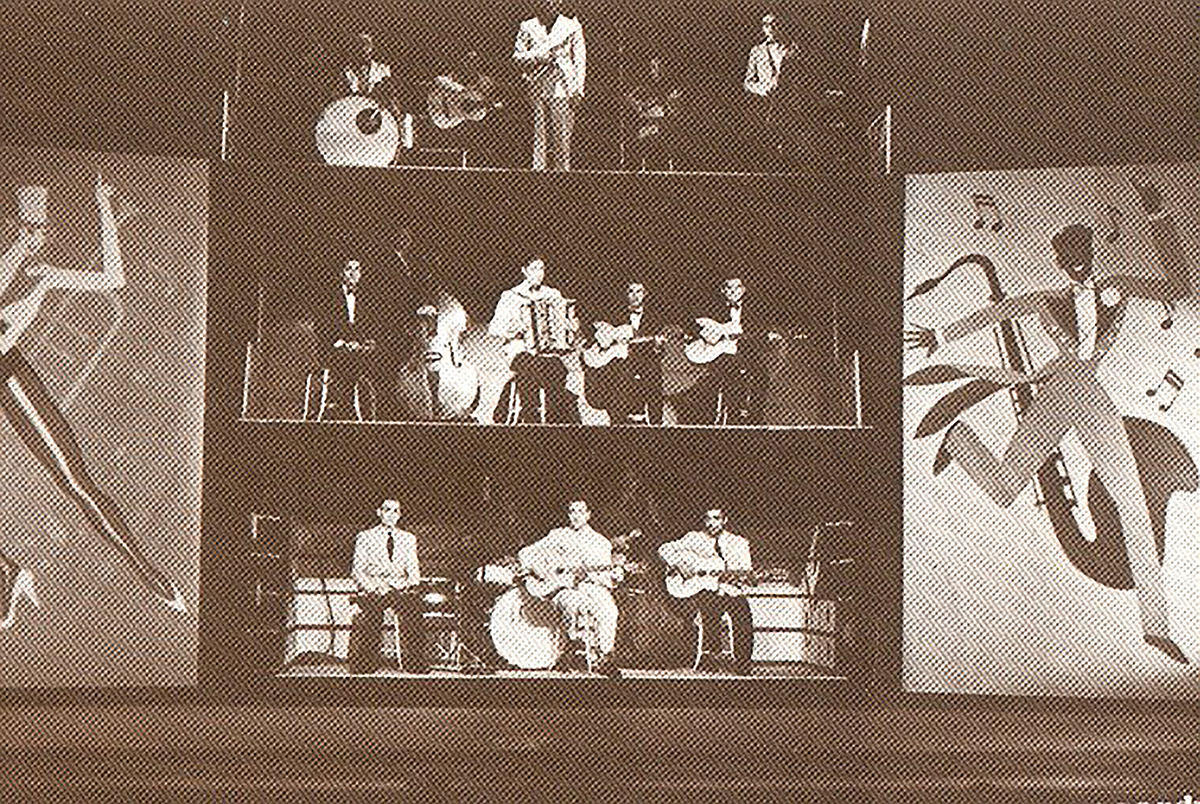 The Impresario and the Guitarist
Woven throughout the guitar player's professional career was the supportive, low-key presence of Ekyan — the devoted impresario. His clarinet or alto sax are heard on Django's discs of 1937-41 and 1949-50. Ekyan encouraged or organized numerous recordings, concerts, jam sessions and gigs for the guitar player. Here are some highlights of their association:

1932 – Ekyan first encounters Django Reinhardt and brings him into the orchestra of French crooner, Jean Sablon.
1934 – Sablon's quartet, with Django and Ekyan, appears in London and broadcast from Piccadilly on the BBC.
1937 – Django jams at Ekyan's jazz club, Swing Time.
1939 – Ekyan organizes Reinhardt's gig at Jimmy's Bar.
1940 – Andre participates in Reinhardt's jam-session-on-disc series known as Django's Music. 

1941 – The bands of Django, Ekyan and Gus Viseur perform on a three-tiered concert stage at Moulin Rouge.
1942 – Joint concert at Salle Pleyel.
1949 – Ekyan persuades Django to resume performing. Residency of the Reinhardt-Ekyan quintet at several nightclubs in or near Paris.

1949-50 – The quintet tours South of France, Switzerland and Italy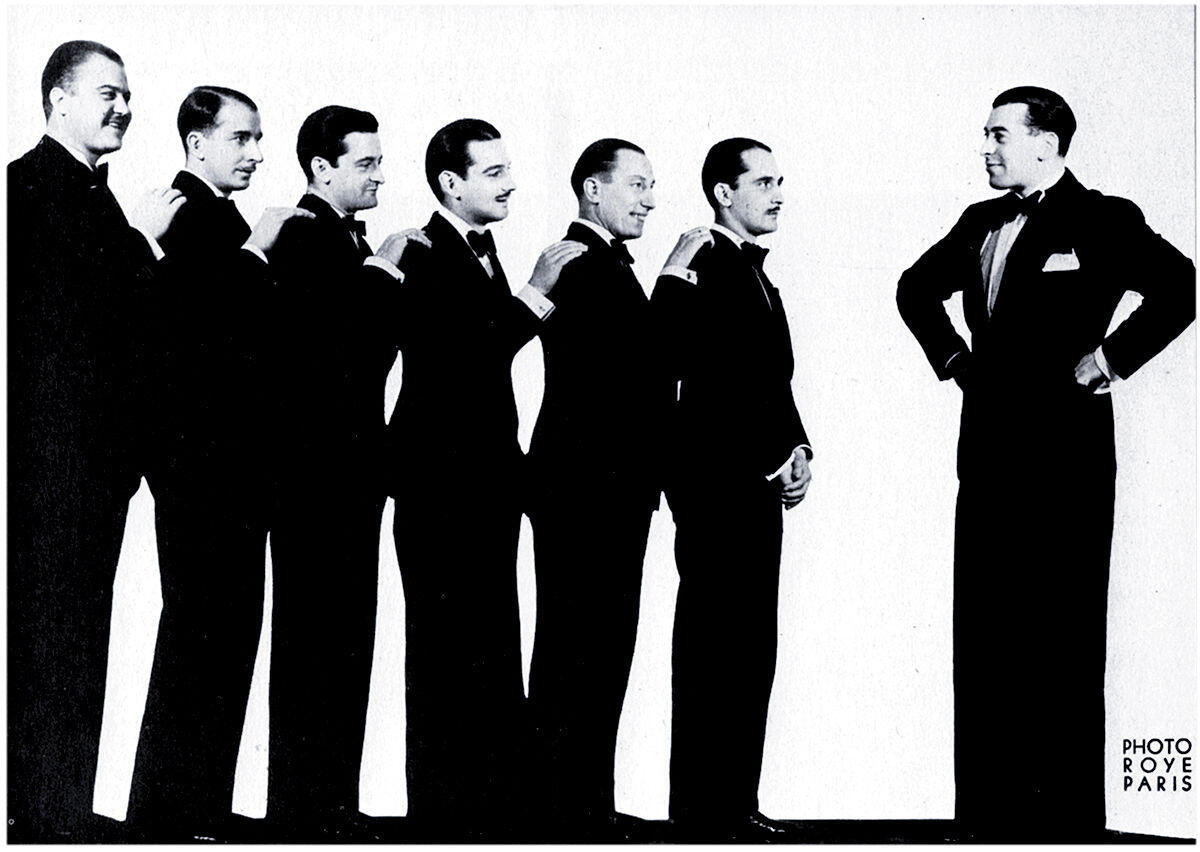 The Maestro, The Gypsy and Big Boy
A skilled multi-instrumentalist, Frank "Big Boy" Goudie (1899-1964) was a friend and associate of both Ekyan and Django. Between the two world wars, from 1924 to 1939, the six-foot five-inch Louisiana-born expatriate lived in Paris, performing, jamming or gigging with most of the significant jazz musicians on the continent – French, European or American.
Django and "Big Boy" shared many late-night jam sessions. When Goudie made the first record under his own name – a 1935 tour-de-force doubling on three instruments — he was accompanied by Django on guitar and Stephane Grappelli playing piano.
By the early 1930s Goudie was a well-established performer in Paris and associated with the nascent Federation of Hot Clubs. "Big Boy" headlined a half dozen concerts introducing Django to French jazz enthusiasts and Parisian fans of Swing. The towering multi-instrumentalist appeared with Reinhardt and Ekyan on the Swing label.
The distinctive keyboard in these tracks is by stride pianist Joe Turner — not to be confused with the Kansas City Blues singer, Big Joe Turner. In "Blues of Yesterdays" Goudie doubles on tenor sax and trumpet.
Andre Ekyan (clarinet and alto sax) and his Orchestra
Frank "Big Boy" Goudie (trumpet, tenor sax), Django Reinhardt (guitar), Joe Turner (piano), Lucien Simoens (bass), Tommy Benford (drums) 1939: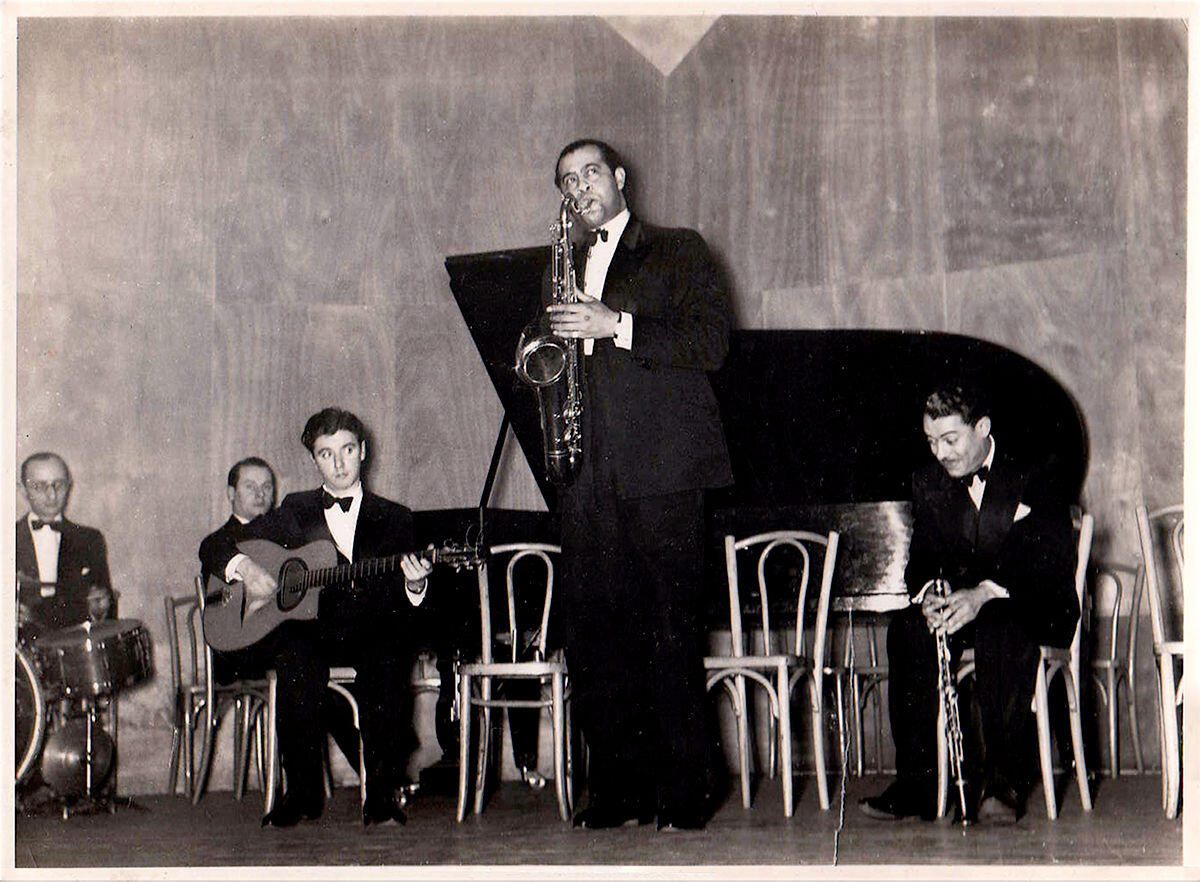 In March 1934 a reviewer for the publication Jazz-Tango-Dancing waxed ecstatic over a concert presenting Django with African American vocalist Alberta Hunter, pianist Garland Wilson, Goudie and Ekyan. "It was the living end when Andre Ekyan, Jungo Reinhardt [sic], his brother and Al Romans joined Big Boy's band . . . it was delirium incarnate, delirium that lasted long into the night."
Decades later in California, Frank told journalist and musician Richard Hadlock in an interview for the San Francisco Examiner (July 1963): "Django had everything. Feeling, soul, technique. He could be sentimental or brutal. He was a natural genius, one of the few who could succeed without training. Sidney Bechet was like that, too. I never saw Django without his guitar. He lived for playing. And he was a wonderful person, not temperamental at all. He made good money, but he always stayed with the gypsies."
The Impresario and Guitarist on Tour, 1949-50
Django was taking one of his periodic retreats from professional music in 1949 when Ekyan sought him out and convinced him to resume performing. Andre, who had trained as a dentist, discovered that Reinhardt was suffering from bad teeth and arranged for much-needed dental surgery. Andre was by his side for reassurance, but the procedure almost turned tragic when Reinhardt nearly choked to death on his own blood.
With new teeth, Django returned to performing. Ekyan organized another quintet with the guitarist and began booking gigs, performing in or near Paris at Pavillion de l'Elysee, Paris, Paris, the Casanova and Le Touquet. With Andre again serving as Reinhardt's personal chauffeur and valet they set off on tour playing the South of France, Cote d'Azur, Switzerland and Rome.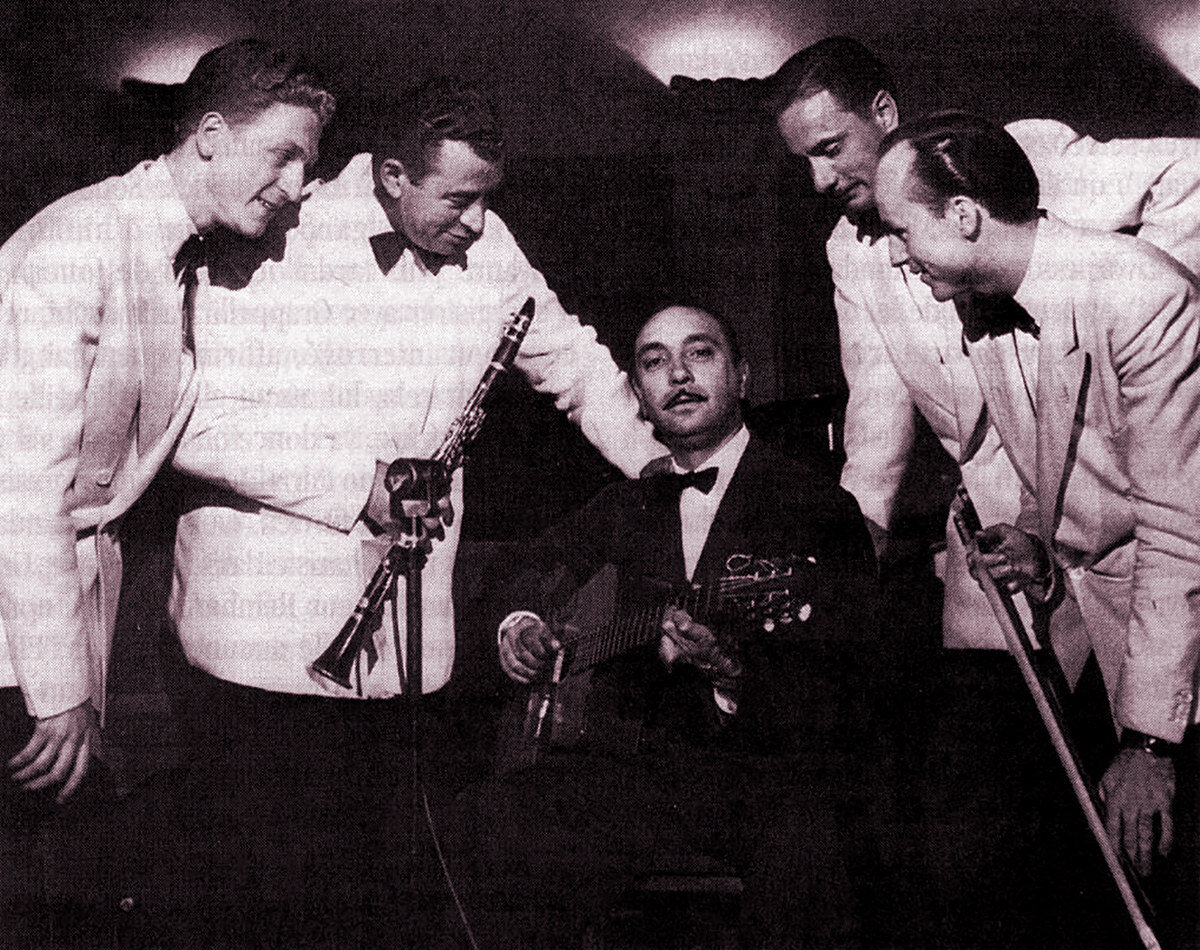 Reception was tepid for the quintet in Italy. But they had a jam session with the Roma Jazz club and Benny Goodman dropped by to hear Django. They made recordings at the RAI broadcast studio, demonstrating that the two artists had moved beyond the Age of Swing to modern combo jazz.
Reinhardt probably adopted the amplified guitar late in his career for the same reasons as many guitarists – for dynamic power, parity with the horns and highlighting fine details. But his electric guitar tracks lack the delicate overtones that were the signature of his acoustic sound.
Django's introverted compositions — like his biggest hit, the rhapsodic "Nuages" (Clouds) — remind us that a substantial element of his appeal was evocative mood music. These are all original tunes by the intuitive genius.
Quintet, Rome 1950:
Django (electric guitar), André Ekyan (clarinet, alto sax):
Last Jam in Rome
Before departing Italy, there was a fabulous all-night jam session at a villa outside Rome. Participants included trumpeter Roy Eldridge, saxophonist Zoot Sims, harmonica player Toots Thielemans and drummer Ed Shaughnessy.
Writer Michael Dregni described the occasion in Django Reinhardt and the Illustrated History of Gypsy Jazz: "Django was taken by composer Anton Karv's zither soundtrack to the recent movie The Third Man, and Django played the theme song, using its eerie mood as jumping off point to explorations. As [bass player Alf] Masselier said, 'In my life as a musician — and I accompanied everyone, from Coleman Hawkins to Don Byas — I never heard an improviser like Django'."

The end of that tour in June 1950 seems to be the last overt association of the two before Django's death in May 1953. Andre's professional music career lasted into the 1960s. He made cameo appearances in French cinema and was in one of the earliest Jazz documentaries on film — with Reinhardt as the subject.
The reverberations of Django's music are stronger than ever. Today, there is a thriving global Gypsy Jazz and Hot Club Swing movement with a broad international appeal thanks in no small part to the partnership of an energetic Maestro and a gifted Gypsy guitarist.
Thanks to Hal Smith for assistance and Richard Hadlock for his 1963 San Francisco Examiner article.
Sources and further reading:
Towering Reedist Goudie: Clarinetist 'Home' After Years Abroad with Top Bands, Richard Hadlock, San Francisco Examiner, July 28, 1963
BIG BOY: The Life and Music of Frank Goudie, Dan Vernhettes, Christine Goudie, Tony Baldwin (JazzEdit, 2014)
Django Reinhardt and the Illustrated History of Gypsy Jazz, Michael Dregni (Speck Press, 2006)
Jazz Away from Home, Chris Godard (Paddington Press, 1979)
La Tristesse de Saint Louis: Jazz Under the Nazis (Beech Tree Books/William Morrow, 1985)
Making Jazz French: Music and Modern Life in Interwar Paris, Jeffery H. Jackson (Duke University Press 2003)
Ekyan – Keep Swinging Blogspot
Frank Goudie in Paris, 1924-39