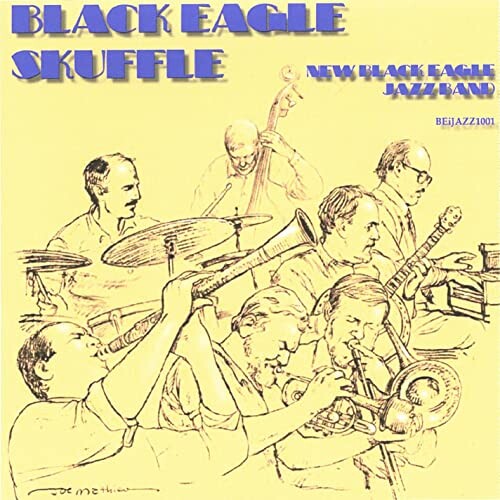 A couple of years ago when reviewing the Missing Pieces CD, I wrote this:
Two years from now the New Black Eagle Jazz Band will celebrate its fiftieth anniversary. Over the course of this half century there have been, almost inevitably, several changes in personnel, but despite that the band's "sound" has remained constant due in large part to the distinctive cornet styling of the leader, Tony Pringle, aided by the steady pulse supplied by Peter Bullis on banjo, the two musicians who were, as the back inlay says, "the soul and backbone of the band for forty-seven years." The back line has always provided a rhythmic, but light, 4-beat base on which the front line could dance, regardless of whether the bass instrument was brass or string. The rhythm was—and is—never ponderous, one on which the inimitable Pringle led the ensemble on cornet. So it was a significant blow to the band when both of these stalwarts passed away ….
These two years have now passed, and the band is celebrating its 50th anniversary, the occasion being marked with the release in 2020 of this digital CD: Black Eagle Skuffle. And the sentiments I expressed re Missing Pieces are equally applicable to this CD. As anyone familiar with the band will see from the personnel listed below, the musicians are those that have long populated the band. Although Eli Newberger has not been a member for a good many years now, he is present on several tracks on this album. His playing on tuba is about as close as anyone could get to that of a string bass—light, four-beat most of the time (thanks to circular breathing), propelling the rhythm section along with the banjo. Barry Bockus on string bass plays the same part, so all through the CD we hear that driving rhythm section, the band absolutely steaming as it arrives at the codas of most numbers. The excitement is palpable, and I have seen audiences brought to their feet as they were swept up by it.
The group has dipped into its archives to select the pieces which appear in this compendium, all of them having previously appeared on other releases. Collectively they provide a good overview of the types of tunes the players find attractive. Thus we find ragtime ("Sensation, a Rag"), blues ("Aunt Hagar's Children's Blues"), spirituals ("Sweet Fields"), hymns ("What a Friend We Have in Jesus"), pop songs ("All the Girls Go Crazy"), a march ("Trombonium," although I personally believe that one of their other marches, such as "El Albanico," "Moose March," "Salutation March" might have been a better choice), a cakewalk ("Swipesy Cakewalk"), and an origjnal composition ("Black Eagle Skuffle"). All of that adds up to a good cross section of the band's repertoire. And all the tunes are played with the gusto that is a hallmark of the Black Eagles.
While dyed-in-the-wool Black Eagles fans will no doubt have many or most of these titles already if they have an extensive number of the band's more than 40 CDs, those jazz lovers who do not fall into that category will find this CD a rare treat and will probably come away from it aficionados. The band's emphasis is placed on ensemble work, rather than solos, although the latter are accommodated.
The Black Eagles trademarks are represented, such as the variety of textures attained by such devices as the ensemble dropping out to leave the tuba and banjo carrying a chorus or two or some other duo doing the same thing. Or it might be the ensemble shutting down abruptly, leaving Bob Pilsbury to carry on as a soloist for several choruses as he gives a lesson in dynamics by softly touching the keys and then bursting into two-fisted block chords, sometimes even rising from the piano bench to stand at the keyboard as the rest of the band joins him again.
The entire ensemble is also adept at using dynamics to frame the several out choruses, going from a soft expression to a thundering climax. As the late Tony Pringle rightly averred, the band is one of a kind: "We are known for our very recognizable style which, although heavily influenced by the jazz styles of New Orleans, is very much our own." That it is.
One can obtain information on this and their other CDs by visiting the band's "Online Store" at http://blackeagles.com/cgi-bin/storefront.asp and then clicking one of the buttons below: Mail Orders or Digital Orders.
The new Black Eagle jazz band • Black Eagle Skuffle • Own Label (BEiJazz 1001) Playing time: 69m. 10s.
Sweet Fields; Trombonium‡°; Purple Rose of Cairo; Black Eagle Skuffle; Sensation, a Rag; The Royal Telephone*†; Weary Blues; What a Friend We Have in Jesus; Swipesey [sic] Cakewalk‡§; Lead Me Savior; Aunt Hagar's Children's Blues‡; Over in the Gloryland; All the Girls Go Crazy*
All tracks recorded between June 22, 1985 and Feb. 27, 2004. Details given in jewel case inlay.
Tony Pringle, cornet, vocals*; Billy Novick, clarinet, alto sax; Stan Vincent, trombone, vocal†; Bob Pilsbury, piano; Peter Bullis, banjo; C. H. "Pam" Pameijer, drums; Barry Bockus, string bass; Eli Newberger, tuba (replaces Bockus)‡; Butch Thompson, clarinet (added)°; Hugh Blackwell, clarinet (replaces Novick)§.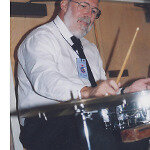 Born in Dundee, Scotland, Bert Thompson came to the U.S. in 1956. After a two-year stint playing drums with the 101 st Airborne Division Band and making a number of parachute drops, he returned to civilian life in San Francisco, matriculating at San Francisco State University where he earned a B.A. and an M.A. He went on to matriculate at University of Oregon, where he earned a D.A. and a Ph.D., all of his degrees in English. Now retired, he is a professor emeritus of English at City College of San Francisco. He is also a retired traditional jazz drummer, having played with a number of San Francisco Bay Area bands, including And That's Jazz, Professor Plum's Jazz, the Jelly Roll Jazz Band, Mission Gold Jazz Band, and the Zenith New Orleans Parade band; he also played with some further afield, including Gremoli (Long Beach, CA) and the Phoenix Jazzers (Vancouver, B.C.) Today he reviews traditional jazz CDs and writes occasional articles for several publications.