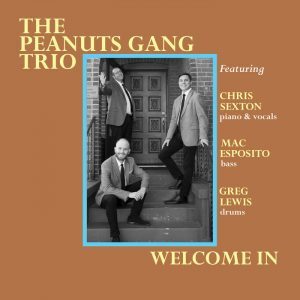 The Peanuts Gang Trio is perfectly situated to play comforting yet titillating festive music. They've been together in the Reno Nevada area since 2015, initially forming to cover Vince Guaraldi pieces they now perform originals composed in his style with influences from other classy men of jazz, notably the cool sound of the Bay Area in the 60s.
Their name is a nod to Guaraldi's association with the animated specials made for the Peanuts cartoon strip, including what is arguably the most beloved Christmas record of all time, the soundtrack to A Charlie Brown Christmas.
Built on a Guaraldi sound that has become synonymous with the holidays the band finds it easy to gig this time of year, but, like Guaraldi they aren't restricted to Christmas material and neither is their new release of six original compositions, Welcome In. Only one title, "Snowflake", directly evokes the season and yet the season permeates the disc anyway. For a holiday party too early or too cosmopolitan for "Away in the Manger" it is a nearly perfect choice. Upbeat enough to drive conversation, with a swinging groove and a dancing on the piano keys sound that instantly evokes Guaraldi.
Though during the winter months it would be hard not to identify this sound with the holidays, turning my winter ears off it is after all just classic trio jazz befitting a contemplative mood any time of year. As the band says of the album, "Welcome In is about revisiting the fun times throughout our lives. It brings the listener joy and makes them crave the holiday season."
The Peanuts Gang Trio are Chris Sexton (piano and vocals), Mac Esposito (bass), and Greg Lewis (drums). Welcome In is available in physical form at their concerts around Nevada or as a download from Bandcamp. Find them on Facebook.