Live music venues are still not open in the French Quarter. Since May, the Jazz Museum on Esplanade is enjoying Tuesday afternoon "balcony concerts" outside with a group of musicians on the 2nd floor playing to listeners in the ground level patios below. With the city entering Phase 3 restrictions this month, it was hoped that the re-opening of some bars and restaurants would allow indoor live music or even street level performers to begin filling the air with their sweet sounds.
Many musicians have taken to streaming their performances (Facebook, YouTube, etc.) and the Jazz Museum indoor stage has been one of the available sites being used for this purpose.
With cigar and chardonnay in hand, Jazz Curator Emeritus, Don Marquis, attended his final "balcony concert" at the Museum in early August. Having lived only a few blocks away for 40 years, Don was going "back home to Indiana" the following day to begin his new life in an assisted living facility nearer to family.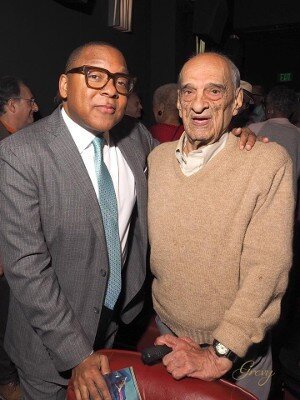 At 87, Don is frail but full of vigor. He established the New Orleans Jazz Museum at the Old U.S. Mint and has been consistently involved in its operation, directly and indirectly. When the New Orleans Jazz Club donated over 20,000 items to the Louisiana State Museum, he curated the collection in the early 1980s overseeing its storage and inventory. The photographs, sheet music, instruments and related memorabilia now occupy the entire 2nd floor of the Museum.
Published in 1978 and revised in 2005, he authored the definitive biography of Buddy Bolden—In Search of Buddy Bolden: First Man of Jazz—and was a consultant on the 2019 Pritzker film Bolden.
He heard recordings of Armstrong in the late '40s, and had a life changing experience meeting Louis Armstrong at the Blue Note in Chicago in 1951. Don developed a life-long dedication to early jazz. After additional schooling in Indiana and the beginnings of a new career, he took the plunge and moved to New Orleans in 1962. It was only fitting that his last concert in New Orleans was held on Armstrong's birthday.
We saw him regularly in the Quarter, always in an observant mode while enjoying the people and musicians in his presence. He will be missed and fondly remembered.
Many live music locations have offered their stages to musicians for streaming purposes. Those along Frenchman and in the Quarter itself have opened their doors so musicians can take advantage of the existing sound equipment, microphones, speakers, lighting, etc. Their efforts are to be applauded and much appreciated by local, national and international fans hungry for some contact with their favorite bands.
M.S. Rau Antiques has been a French Quarter landmark for over 100 years. With a recently opened 25,000 square foot gallery adjacent to the original site, M.S. Rau has been a destination spot for many visitors. They are organizing and promoting a Revel On Royal St. event being held the evening of October 16th. Over 40 galleries, shops, restaurants and other venues will be open in the 200-900 block of Royal between 5 pm and 8 pm. It should be a lovely affair with people getting back to perusing, strolling and enjoying the paintings, antiques, jewelry, sculptures and numerous talents of so many artists that display their works on famous Royal Street. Some live music may be presented and tickets will be required. Additional current social restrictions will be in place.
Lots of performances, lectures, movies, classes, book reviews, etc. are available throughout the week on various websites. Contacts include:
The Historic New Orleans Collection
FEENDO, a musician-owned streaming cooperative dedicated to Louisiana musicians

As another blow to the musicians' efforts to reach their fans, Facebook announced that as of October 1st, their technology is to be used to connect family and friends to one another, not to connect musicians to their fans. Their monitoring of these websites will begin shortly.
With numerous outdoor balcony and porch concerts or in-my-living-room and on-a-named-stage concerts, the musicians are trying to keep up our spirits with live presentations. Off-site tipping through PayPal, Venmo, and other options will keep up theirs. Without a doubt the struggles are on both sides of this dilemma and we are all sharing the burden in our own ways. There is live music in Metairie and other surrounding locales, why is there such silence in the heart of it all?