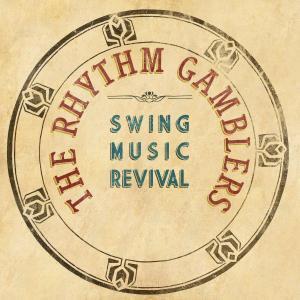 The Rhythm Gamblers lean on the mature and experienced side of the swing continuum. Not because they average older—gray heads are common in the hippest bands and most of the Gamblers are years away from gray.
Their maturity instead shows in their dedication to authenticity and their experience shows in their ability to demonstrate it. While most bands playing for swing dancers in Europe cast the net wide and somewhat anachronistically towards traditional jazz styles. The Rhythm Gamblers are laser focused on an early '40s small group sound.
Their point of departure is the collaboration of Charlie Christian and Benny Goodman, and you can feel it even when the guitar isn't prominent. Their take on "A Smooth One," a Christian/Goodman release from 1941, really nails it. They dig up some real gems to cover. Ben Webster's "Woke Up Clipped" looses its growl in a smooth swinging treatment. Basie's "Dickie's Dream" is done with clarity and purpose. The presentation of "On the Sunny Side of the Street" is a satisfying, almost four-minute instrumental jam on a song typically given underwhelming treatment. "Savoy Blip" features light pleasing exchanges between piano, guitar, and trumpet.
Simon Laurent brings a passion to his guitar and several of these light and bright tracks are surprisingly moving. Cyril Kuntzelmann's tickling of the ivories is smile-inducing before softly retreating into the background. Pierre Leydier delivers some excellent era-appropriate solos on his saxophone. The clarinet player, David Tavani, began his career in Hungary playing guitar in the Django Reinhart vein before slowly gravitating to clarinet because he wanted his solos louder. Eventually, he took on Benny Goodman as his model. The leader Gilles Berthenet and his trumpet are much in demand around Europe in jazz combos of all types. He celebrated his 50th birthday in New Orleans with Kermit Ruffins.
In the rhythm section, Yves Buffetrille cut his teeth playing bass for bluegrass bands before turning to jazz in 1985. He has played with a series of top-notch bands and toured the US several times. His experience helps keep this album, where solos are prominent, tightly swinging throughout. The young drummer, Auguste Caron, also impresses, his versatility has led him to play in a variety of genres.
It's an easy album to let fade into the background and feel like you have something on from the time period, but better recorded. Released in 2015, The Rhythm Gamblers are overdue for a followup.
This review was part of a larger column in our August 2018 issue.