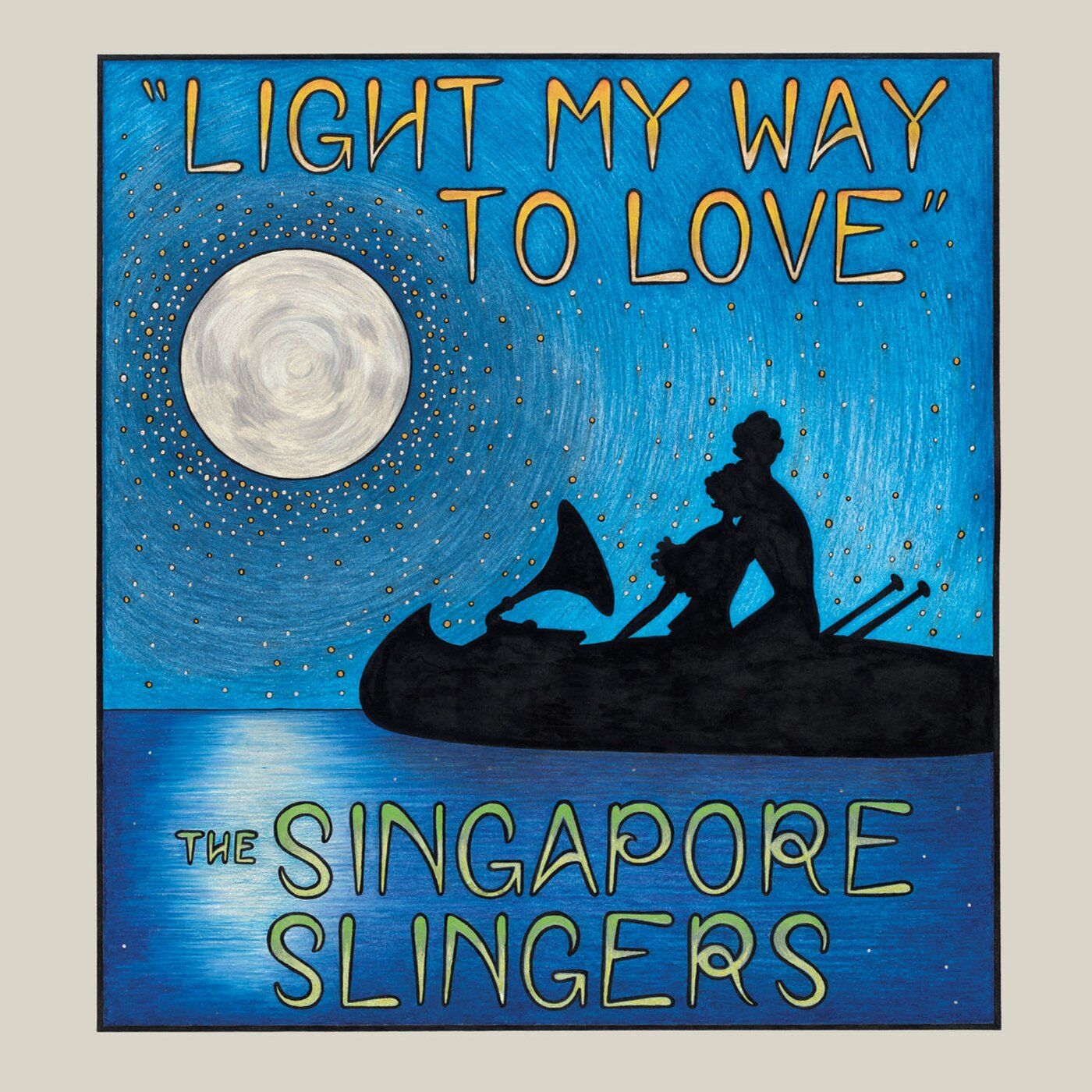 Scott Yanow reviewed the latest from the Singapore Slingers back in February but I've been enjoying this album so much I thought I'd give it another pass. Matt Tolentino formed the Slingers in Dallas in 2007, when he was 22, and even though Tolentino now lives in Cincinnati the Slingers still call Dallas home.
For Tolentino the group is his chance to go large and make full use of the charts he loves so much while directing an 18 piece orchestra that even includes a string section. There are only a handful of bands playing in the hot dance band style and directing one is the dream of many creative young leaders. That is no surprise really, this sound dominated record sales of the late 20s and if your entry into early jazz appreciation was through 78s you were more likely to own Smith Ballew records than the coveted sessions by the like's of Morton's Hot Peppers.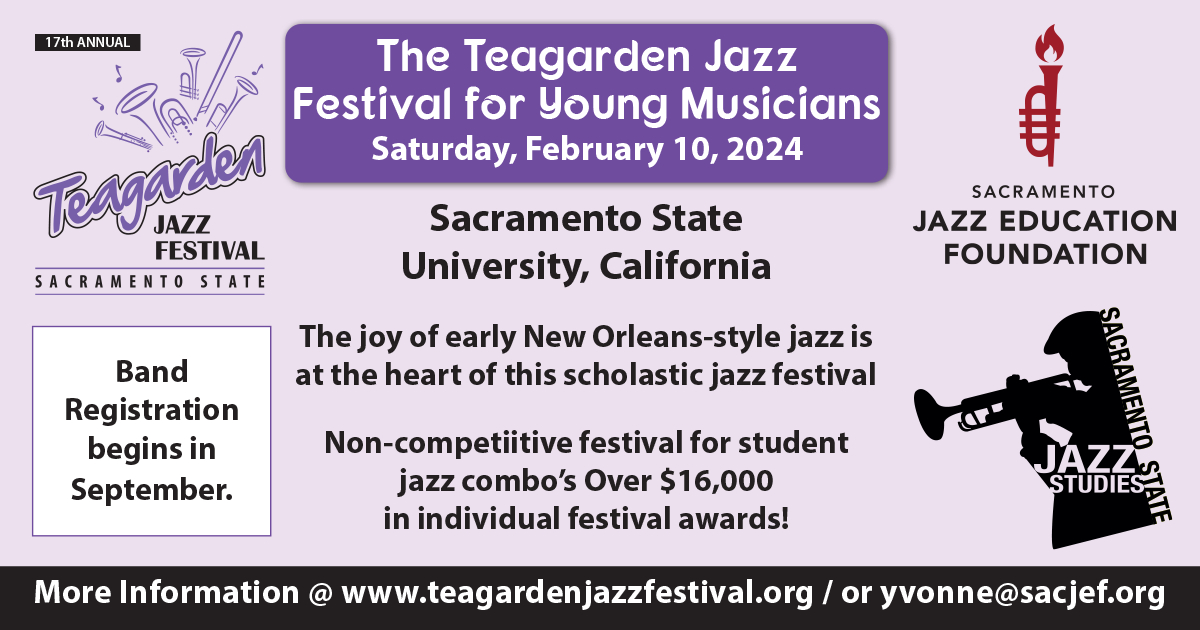 The Slingers have produced two albums previously, the most recent, The Frank Skinner Project in 2014, was very impressive. On it the band explores the arrangements of Frank Skinner, a favorite of Tolentino, and we hear a few more Skinner charts on their new one, Light my Way to Love. In addition to original charts and transcriptions the band utilizes original instruments, some with pedigrees they can tie to specific bands like Jimmie's Joys.
After self producing their first two records, for this outing they had the full support of Bryan Wright and Rivermont. That means not only the top of the line recording quality a band this size deserves, but also extensive liner notes explaining each title. In a world where many albums are being recorded in home studios and quickly uploaded for sale online a professionally recorded and attractively packaged album makes a statement of its own. This is a quality release, full on intent, and worthy of the shelf space of collectors.
The album kicks off to great fan fare (cough cough) with "Out of the Dawn," the opener the band always uses in live performance.  Only one of the tracks, "My Baby Just Cares For Me" is heard frequently though many of the 21 titles will be familiar to record collectors. Like Tolentino this is the jazz that I grew up on, found quite accidently in my thrift store LP hunts as a teenager. I had no one to tell me the sweet stuff was "inferior" and I still have a love for it.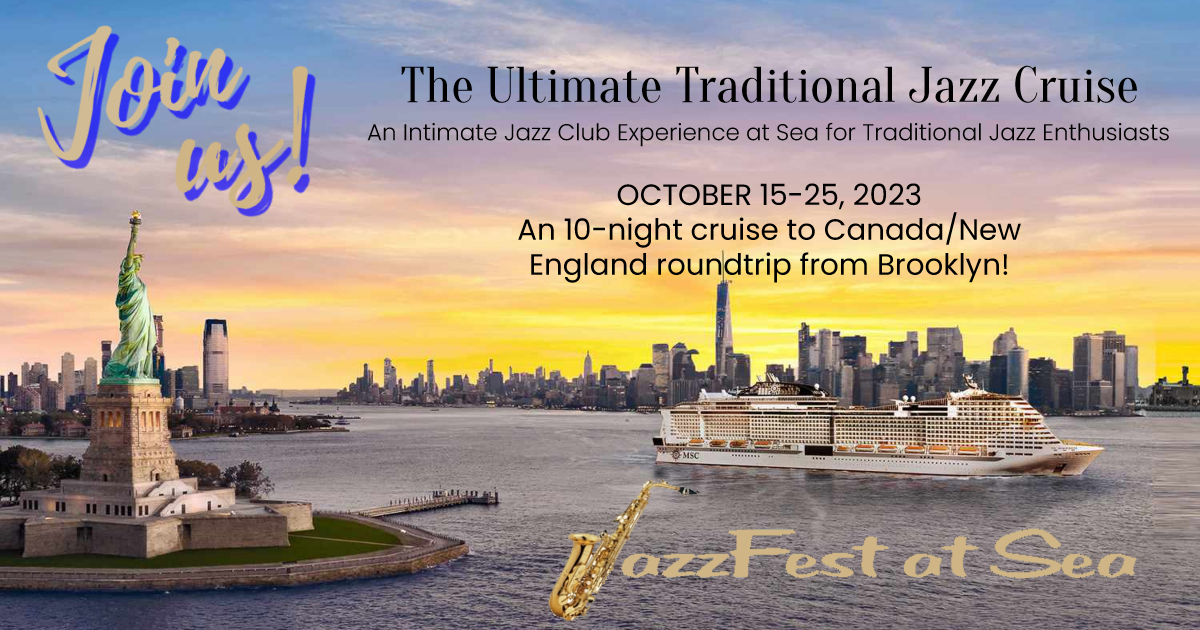 There is a lot of the sweet stuff here, songs from Gus Kahn and Walter Donaldson, sung with sincerity in Tolentino's own smooth croon. It's a carefully curated collection of ballads, waltzes, a rhumba, and other novelties of the era. It's not all sweet, "I Played Fiddle for the Czar" is a clever and endearing Yiddish song and "Waffles" is one of those goofy food songs of the variety still popular with collegiate swing dancers today. "Oh Miss Hanna" follows the Whiteman chart with Matt Seppler taking the Bix solo and Tolentino playing Tram. "Oh Donna Clara" is a sweet ballad sung in German rather than its original Polish because Tolentino favors that version of the lyrics (and his German is better). Tolentino, who plays accordion on one track, has another group devoted to a particularly Texan variety of Polka.
The varied program stays true to the live performance of large bands from the period. Other titles include "Sidewalks of Cuba", a period rhumba, "Spooky Spooks", a raggy tune that's a Halloween favorite, "My Song of the Nile", "Sweet and Lovely", and "Calliope Rag". While not breaking from the play of the late 20s and 30s Tolentino had an itch to demonstrate that his band could perform in the style of any era from the 1890s to 1930s if called to do so and hints to it with the inclusion of several rags and older numbers.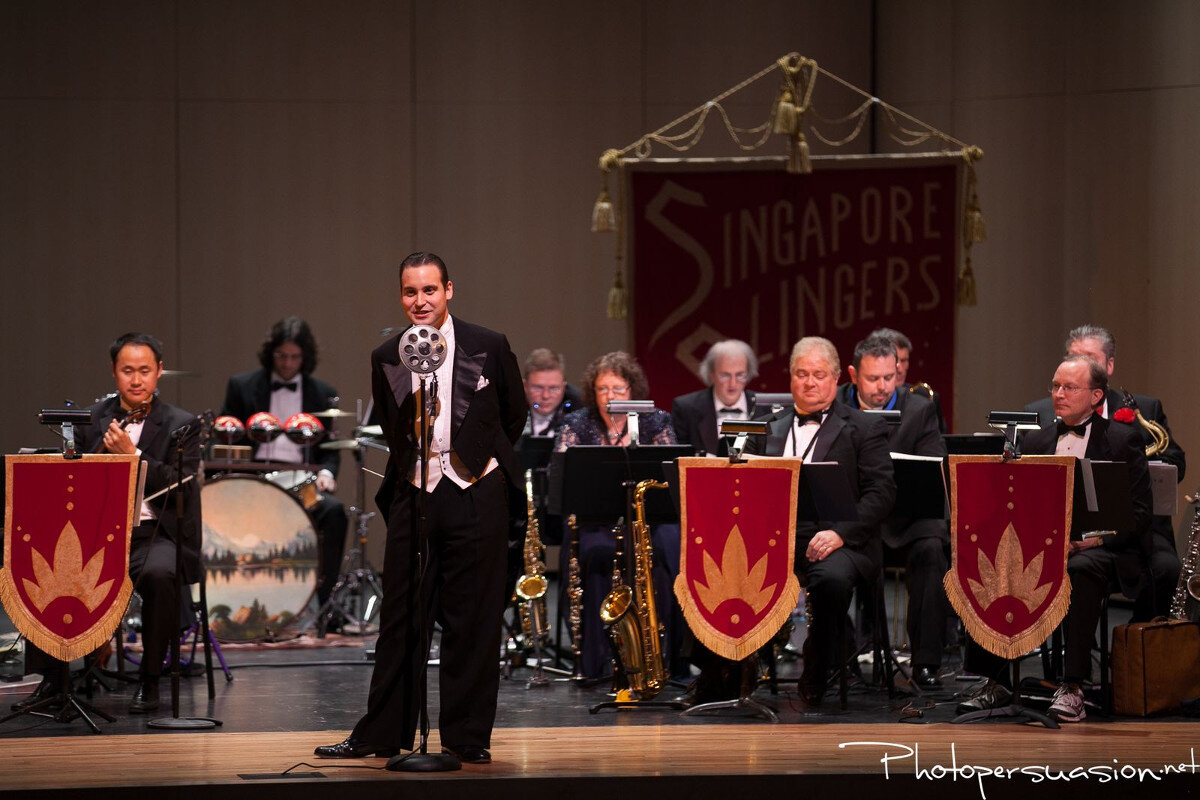 If I were to differentiate this release from those of similar large bands it is that Tolentino goes all in on authenticity in his choice of material, where as similar groups, geared towards large civic performance, and mostly in Europe, play the hits for a seated post-nostalgic crowd. The Singapore Slingers have a sell out New Year's Eve show every year, and host a Lawn Party show in the summer. They've created a real connection with the lovers of vintage style  in the Dallas area by providing the 1932 ballroom experience so authentically. It's like a visit to Casa Loma Castle.
This album is truly unique, and while lacking somewhat in heat and improvisation it may not be everyone's cup of tea, it will be a breath of fresh air to collectors of period recordings who feel left out by most new offerings.
The Singapore Slingers • Light My Way To Love
Rivermont catalogue number: BSW-2257 (Audio CD)