Thomas Alan Dutart's official obituary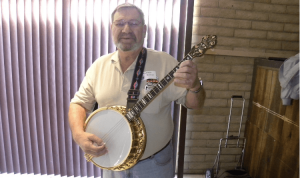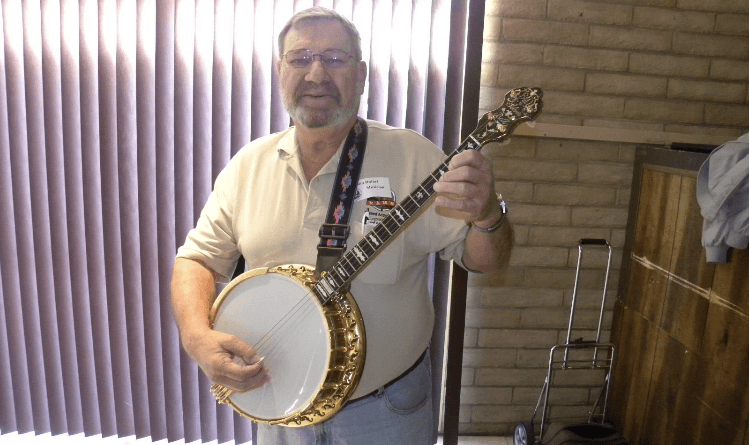 Heaven's Dixieland Jazz Band has a new jammer!  Thomas Alan Dutart passed away on June 19th, 2018 in Santa Maria, California.
Tom was the son of Charles and Ruth Dutart of Stockton, CA, where he grew up with his brother Bill. He graduated from Stockton High, from the College of the Pacific, and later acquired a Master's Degree in counseling. He met the love of his life, Linda Cardiff, at a college homecoming parade, and this coming August, they would have celebrated 59 years of marriage.  
Tom taught elementary school in Manteca, CA, starting at Lindberg, with the majority of his years at Sequoia School in the fourth and sixth grades.  Tom had a unique way of making every child feel special and is remembered by many students as their "favorite teacher of all time."
Tom was a dedicated civic leader. In Manteca he was president of the Manteca Jaycees.  In Santa Maria, Tom was actively involved in the senior community, including the OASIS Community Center of Old Orcutt where he served as musical director of the Luis OASIS Ukulele Band. He served as board president of the Santa Maria Valley Senior Club at the Elwin Mussell Center as well as playing the banjo and piano for the Retired Active Men's Group.(RAMS). Tom was also an active member of the Elks, the Moose, and the Elks' Traveleers.  
After living 45 years in Manteca, CA, Tom and Linda went on a nine month tour of the United States in their motor home, and then followed a long time dream to live on the Central Coast. They have been residents of Santa Maria for the last 13 years.  
Besides his family and teaching, Tom's greatest passion was music.  Those of you who knew him can all attest to his extra-ordinary musical talent.  He started by playing trombone and baritone in high school, along with taking piano lessons, and from there he became proficient on the tuba, the banjo, the bass fiddle, and the ukulele.  He started his musical career playing banjo and piano at Shakey's Pizza in Modesto. Tom also played in the Sacramento Banjo Band, and in 1980, he was hired as the banjo player for the Tuleburg Jazz Band of Stockton, CA. Soon after joining Tuleburg, he switched to the tuba, thus earning him one of his many nicknames, "Tommy Tuba." He played with this popular band for 24 years all over the state at many jazz festivals and other events. Once they moved to Santa Maria, Tom and Linda became active in the Pismo Beach Basin Street Regulars, the local jazz club where Tom played right up until his passing.   
Tom will be remembered as a "larger-than-life" person with a trademark hearty laugh, a clever wit, and a man blessed with a loving spirit, always willing to lend a hand to a friend or neighbor.  His family affectionately called him,"Daddykins", "Grumpa", and "Silly Grampa." They loved his famous pancakes, and ever so many silly songs. Tom excelled at crossword puzzles and jumbles, loved to build models, and tinker on old cars. He became famous for his home made brew, bottled as "OLDTOADPIS".
In addition to his wife Linda, Tom is survived by his two children, daughter Shelley, husband Wil, children, Emily and Jack, his son Charles, wife Faye, children, Kristina and Danielle, and his "adopted" son Art, his wife Liz, daughter Sydney, and grandchild Conner.  Tom was preceded in death by his brother Bill.
If we could listen to that Heavenly Dixieland Jazz Band, most certainly we would hear Tom saying, "Let the Good Times Roll!"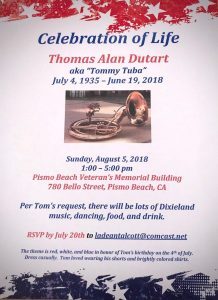 There will be a Celebration of Life for Tom with Dixieland Jazz, dancing, food and drink, per his request, on August 5, 2018 at the Pismo Beach Veteran's Memorial Building, 780 Bello Street, Pismo Beach, CA from 1:00 to 5:00 PM.  Please RSVP to [email protected] if you wish to attend.
Donations in memory of Tom may be made to a charity of your choice, the Jazz Camp Scholarships for Young Musicians (Make a check to Basin Street Regulars and put "Tom Dutart Scholarship Fund" in the memo, mail to P.O. Box 356,  Pismo Beach, CA 93448), or the Victim Witness Emergency Fund, (Tax ID#95-6002833
Account Name: DA Victim Emergency Fund; Mail donations to 1112 Santa Barbara Street, Santa Barbara, CA 93101)