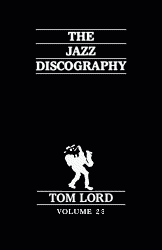 TOM LORD'S JAZZ DISCOGRAPHY
Imagine being able to find within seconds all of the information that exists about the music on a particular 78, LP, or CD that you own. A good discography has all of the relevant information about a session including a list of songs, the recording date, the personnel and instruments played, the location, and the records on which the music has been released.
It must be a frustrating task to be a discographer, particularly of all of jazz, for new information and releases come out every day. In book form, even the best discographies become dated after a short period. Among the worthy efforts of the past were Charles Delauney's Hot Discography in 1936, Brian Rust's two volume Jazz Records 1897-1942, Jorgen Jepsen's Jazz Records 1942-1980, and Walter Bruyninckx's 90 Years Of Recorded and Blues which traced jazz history up until the late 1980s.
Tom Lord's TJD Online tops them all. Lord has been at this business for quite some time. His discography was originally a 34-volume book series, then became a CD-Rom that was succeeded by a new and updated disc every few years. I have used my CD-Rom nearly every day during the past five years. But now, with TJD Online, Lord has solved the updating problem by making compiling and making available a gigantic online database that is updated on a daily basis.
TJD Online (more information can be found at www.lordisco.com) is available for $9.99 a month. It fully documents jazz from 1917 to the present time, and also includes ragtime and related sessions that date back to the 1890s. It is easy to use and one can quickly get a chronological listing not only of all of the sessions that a particular musician led but every date that he or she appeared on.
If you ever wanted all 1,231 sessions that bassist Milt Hinton was on (dating from 1930-99), you can pull it up within moments. It is also easy to get a chronological listing of every version of a particular song including 2,385 versions of "Body And Soul" and "just" 2,126 of "St. Louis Blues." There are 1.3 million musician entries, 1.5 million tune entries, with information on 48,621 leaders and 238,329 recording sessions.
And while TJD Online covers all eras and periods of jazz, those readers who are primarily interested in classic and trad jazz will not go away disappointed. Whether it is Sidney Bechet's 176 sessions as a leader or Kenny Ball's 161, all of the details are available. If you are a serious jazz record collector, TJD Online is essential.
Subscription Options
---
Or get the Print Edition with Online Access. To get the print edition of The Syncopated Times use this Paypal link. After you pay you will be issued a coupon for free online access.