Scott Joplin and Opera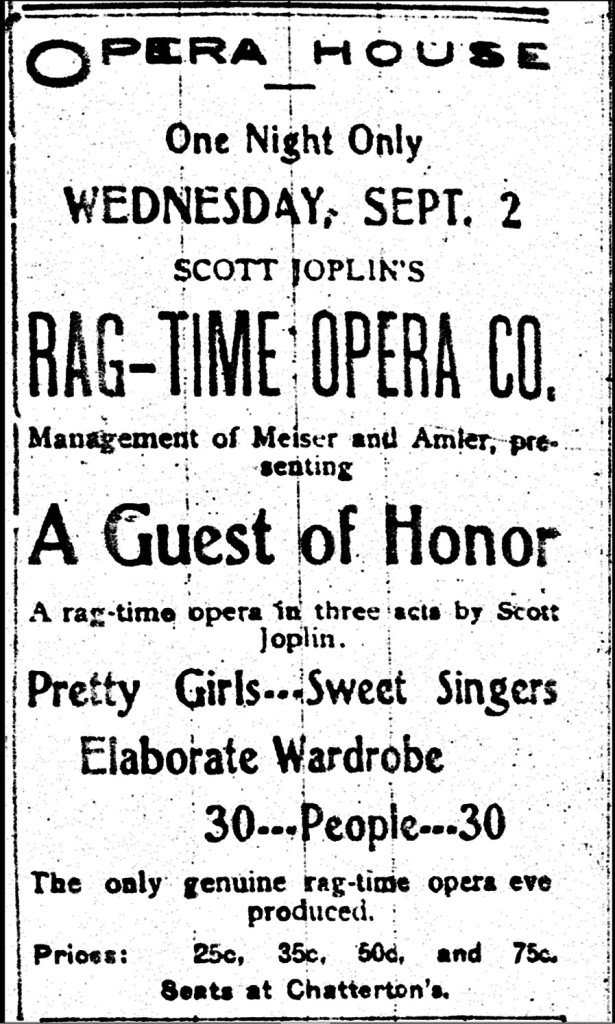 Known for his piano rags, Scott Joplin's ambition to become an opera composer surprised many of his contemporaries. It still surprises music-lovers today. However, examining his life can bring some understanding to the issue. He wanted to be recognized as a serious musical artist, not simply as a writer of ragtime, a form widely disparaged, often with open racist underpinnings. A show he developed in 1899—soon after the publication of his Maple Leaf Rag—demonstrates his interest in musical theater. It was performed in Sedalia at Wood's Opera House in November 1899, and he continued to develop and perform it in Sedalia and neighboring towns the following year. The title he applied to his show before a Sedalia performance in June 1900 was The Ragtime Song and Dance Quadrille. (For further discussion of this work, see Edward A. Berlin, King of Ragtime, 2nd ed., pp. 87–90.)
Opera, in combining many artistic endeavors into a single theatrical presentation—music, drama, dance, costumes, stage design—was often considered by those in the classical music world as the highest form of musical expression. Richard Wagner's operas were especially celebrated in the late 19th and early 20th centuries, and Joplin was aware of Wagner, as well as other opera composers. As reported in two newspapers, the St. Louis Republic (Feb. 24, 1901, part 2, p. 5) and the St. Louis Post-Democrat (March 3, 1901, p. 6), Joplin had recently met with Alfred Ernst, conductor of the St. Louis Choral Symphony Society. Ernst—putting aside the usual biases of race and musical style—declared Joplin to be "an extraordinary genius as a composer of ragtime." They spoke also of other music, and Ernst specifically referred to their conversations of Wagner's opera Tannhäuser. (Both newspaper articles are quoted in Berlin, King of Ragtime, 2nd ed., pp. 116-117.) We don't have record of Joplin's reaction to his meeting with Ernst or to the newspaper reports, but they must all have been incredibly satisfying and encouraging. I speculate that Wagner's practice of writing his own librettos inspired Joplin to follow this model, although Joplin made no effort to adopt Wagner's musical style.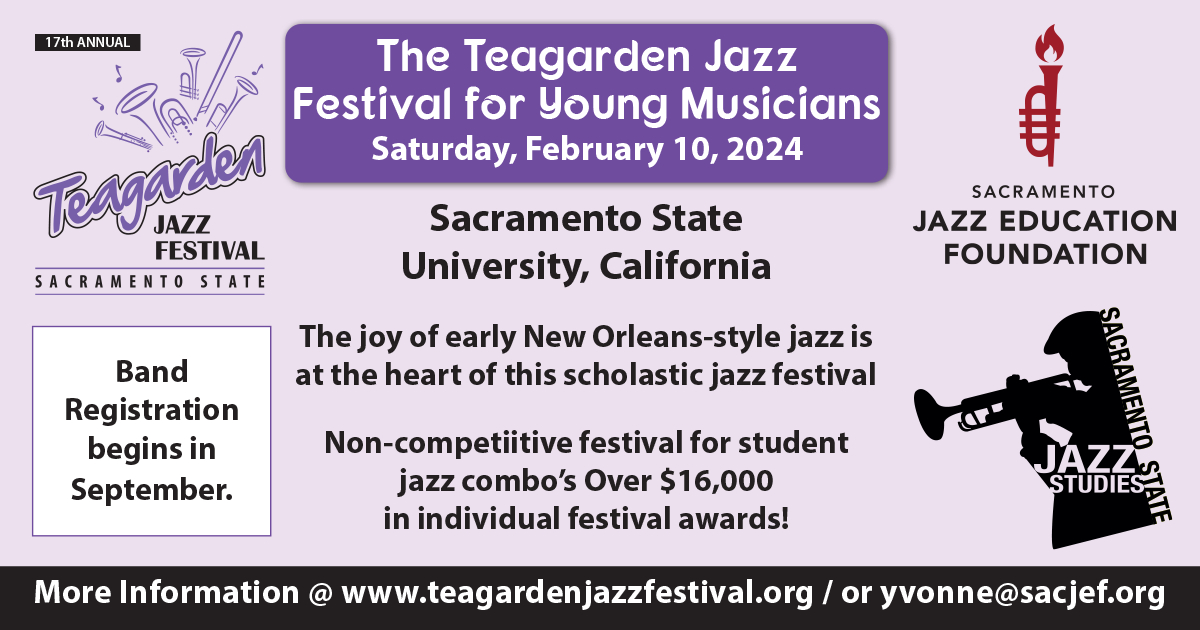 Joplin's first opera, A Guest of Honor (1903), is lost. It was scheduled to be performed in at least sixteen theaters in Illinois, Missouri, Kansas, Nebraska, and Iowa, with an opening set for September 2, 1903, in Springfield, Illinois. The performers arrived a few days prior to the premiere to rehearse in the theater. On the day of the performance, the manager—Frank W. Meiser—absconded with the funds needed to pay the boarding house bill. The score and costumes were then confiscated by the boarding house owner, who rejected Joplin's appeals and promise to pay the bill with box office receipts after the performance. With an audience already seated in the theater, the opera was canceled. As far as I could determine, Joplin never again referred to A Guest of Honor.
In 1905, some months after Joplin's twenty-year-old wife Freddie died, he began a new opera, which was to become Treemonisha. The opera is not about Freddie, but Joplin connects it to her with indirect references, suggesting that he considered it a memorial. Joplin wrote a Preface for the opera, which was to be read by the audience prior to performance. It was designed to give a background for the story, but in that respect it is mostly unnecessary as most of the information is repeated in the course of the opera. For today's readers, the preface has another value; some of the details give hints to his thinking and attitudes, and even reveal his motivation for writing the opera and its links to Freddie.
He sets the opera on a single day in September 1884. Since the story could occur at any time in the years closely following the Civil War, various writers have puzzled over why he was so specific in choosing that month and year. It was only with the discovery of Freddie that the reason became clear: it coincided with her birth. She was 19 when they married on June 14, 1904, and was 20 on her death the following September 10. Therefore, it's clear that she was born in 1884. The limited data we have reveals that she could have turned 20 any time between June 15 and September 10, but Joplin, in effect, tells us it was in September. He also tells us in the preface that Treemonisha—the opera's heroine—has light brown skin, although her complexion plays no part in the opera. But photographs of Freddie's family show that her siblings tended toward light coloring (see the pictures in Berlin, King of Ragtime, 2nd edition, pp. 185-186). An item in the New York Age newspaper on June 22, 1911, further links Freddie to the opera: it reports that a party of 28 guests was held to celebrate the publication of Treemonisha. The opera was published on May 19, 1911, but the party celebrating this event was delayed for almost a month, to June 14, so that it could be held on the anniversary of his marriage to Freddie.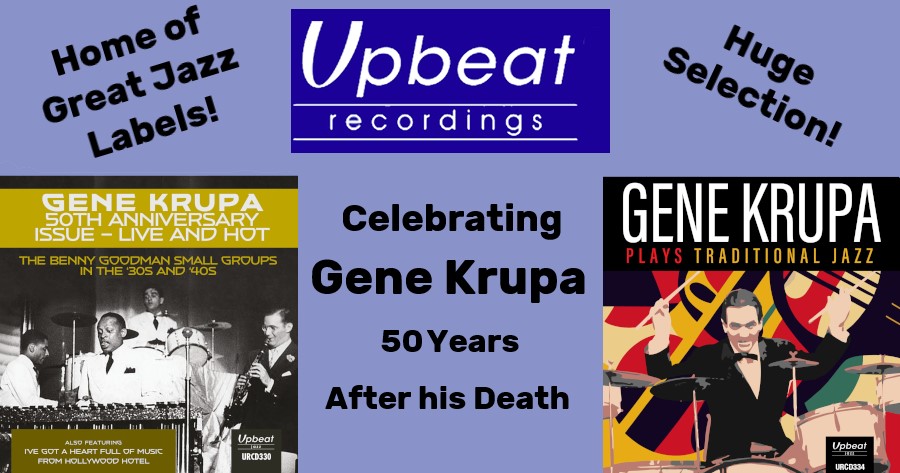 Joplin's Treemonisha
Joplin personalizes the opera's story in several places, beginning with its setting in a forest near his boyhood home of Texarkana, Arkansas. Within the forest, on a plantation abandoned by its owners, the former slaves live in ignorance and are victims of wicked conjurors, who sell them bags of luck and other "magical" items. The opera begins with a presentation of the story's main conflicts: the clash between superstition and educated reason, between the old ways and the new—Zodzetrick, a very old man and the leader of conjurors, versus the eighteen-year-old Treemonisha. We see Zodzetrick trying to sell a bag of luck to Monisha, who asks if it will prevent Ned, her husband, from drinking booze. He assures her it will, when Ned intercedes and declares there's nothing wrong with his drinking gin providing that he continues to work his crops.
In 1911, a time of the growing movement for the prohibition of alcoholic beverages—which resulted in the Eighteenth Amendment in 1919—Ned's response might have been Joplin voicing his position on the issue; according to his friend Sam Patterson, Joplin enjoyed beer, but would not allow drinking to interfere with his music. Monisha and Ned leave, and their daughter Treemonisha appears and admonishes Zodzetrick for damaging the community with superstition. As Zodzetrick leaves, he threatens Treemonisha with bad luck.
Treemonisha notices that the other girls are all wearing wreaths on their heads, whereas she is wearing a bonnet. Her friend Lucy suggests that Treemonisha, too, should wear a wreath of leaves, and so Treemonisha goes to a tree in front of her house to pick leaves. Her mother, though, pleads with her not to take leaves from that tree. Treemonisha and the others ask Monisha why that particular tree is so special, and she explains that, eighteen years ago, she heard a baby crying. Investigating, she found the baby lying by that tree, with its leaves protecting the infant from the sun and rain. It was Treemonisha whom the tree protected, which is why she considers the tree to be sacred. Monisha and Ned then raised the child as their own, which surprised Treemonisha; she had not previously known that Monisha was not her birth mother.
Monisha further related that they named the child Monisha, but as the girl loved to play under that very tree, they renamed her Treemonisha. When Treemonisha reached the age of seven, there being no school in the area, they arranged for her to be educated by a nearby white woman in exchange for their labors (perhaps recalling Joplin's musical beginnings as he played a piano in a white-owned home where his mother worked). Due to this education, Treemonisha was the only literate person in the community, until she taught her friend Remus to read. The education of these two is shown by their speaking standard English; all others speak in a stereotyped "Negro dialect":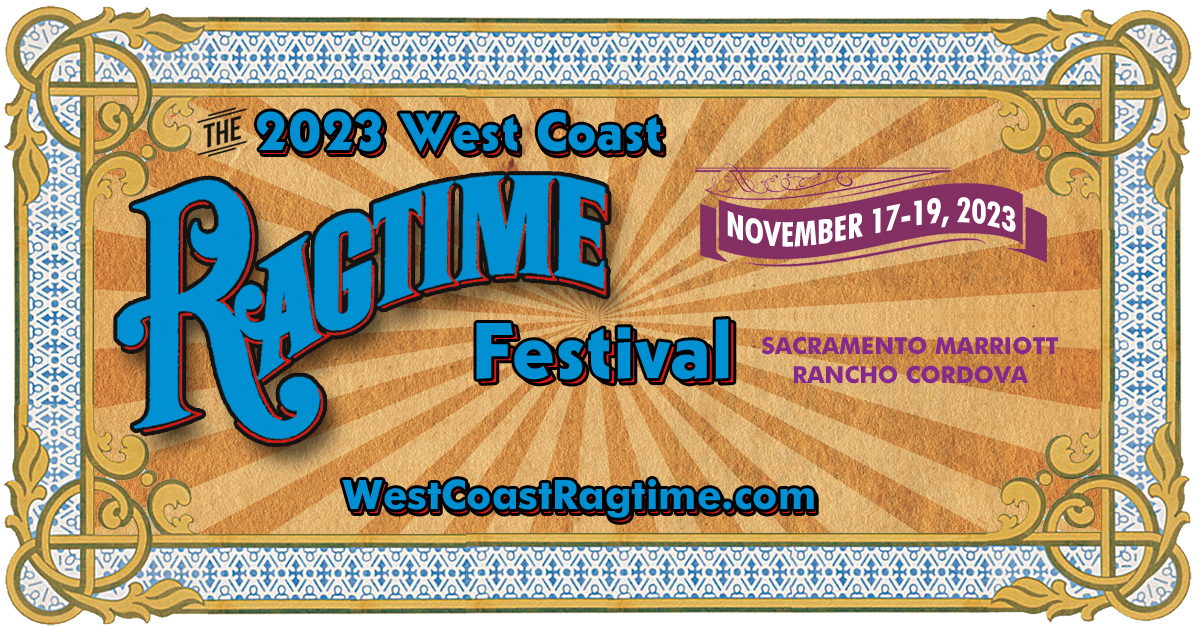 Ned: No, dat bag you'se not gwine to buy . . .
Monisha: Dis here bag will heaps o' luck bring . . .
Zodzetrick: You 'cuse me wrong, for injury I'se not done . . .
Treemonisha: Wait, sir, for a few moments stay . . .
Remus: To read and write she has taught me. . . .
This distinction reflects Joplin's values and how he sought to present himself: several interviewers commented on the unexpected refinement of his speech.
Treemonisha and Lucy go into the woods to collect leaves from other trees. While there, they are abducted by Zodzetrick and other conjurors. Lucy escapes, reports what happened, and the community's young men try unsuccessfully to rescue her as Zodzetrick rides off with her on a mule. In the meantime, Remus runs off to the cornfield and gets a scarecrow outfit. The conjurors are about to punish Treemonisha by throwing her into a wasp nest (recalling the Joel Chandler Harris "Uncle Remus" story in which Brer Fox intends to punish Brer Rabbit by throwing him into a briar patch), when Remus frightens off the superstitious conjurors, who think he is a devil.
Treemonisha saved, the townspeople then gather to punish the conjurors, but Treemonisha urges forgiveness in exchange for their promises to relinquish their evil ways. The community members are reluctant to go along with her wishes, but eventually accept Treemonisha's decision and choose her to be their leader. The opera's final number, "A Real Slow Drag," has her teaching them the dance steps, symbolically leading them to a brighter future without superstition.
The idea that the freed slaves and their descendants required education and the rejection of superstitious beliefs in order to achieve a reputable place in American society was not original with Scott Joplin. In the decades immediately following emancipation, extended into the early twentieth century, that belief was a central conviction of many who worked for the improvement of African American society. Hampton Normal and Agricultural Institute, founded in 1868 to train Black teachers (and which later became Hampton University), had set as one of its goals the elimination of conjure.
The conjure tradition was embedded most securely in the South, but it was brought north with Black migration, where the gullible found many willing to sell magic spells. During Joplin's adult years, conjury was still referenced often in stories, songs, and stage productions. The African American activist and lawyer Charles W. Chestnut highlighted folklore and superstitions in 1899 with his book Conjure Woman, a collection of short stories that achieved wide readership. The popular songwriting team of Bob Cole and James Weldon Johnson published the song Conjure Man in 1899, and in 1908 a musical comedy by that name was shown at the Alhambra Theatre in Harlem.
Unable to find a publisher willing to issue Treemonisha, Joplin eventually published the piano-vocal score himself, at great expense. From 1911 to 1913, he announced several planned productions, but none came to fruition. In the years following his death, in 1917, his widow—Lottie Joplin—frequently discussed the opera and tried, unsuccessfully, to arrange performances. Some excerpts were performed by the opera workshop at Utah State University in 1965, but a full performance of the opera did not occur until 1972, with its premiere in Atlanta by the Morehouse College Afro-American Music Workshop. Since then, Treemonisha has had many performances in the US and in other countries.
A New Treemonisha
The Volcano/Luminato production of Treemonisha, staged in Toronto in June 2023, uses a new libretto, transforming the opera's story in a direction that would not have been envisioned in Joplin's time. Conjure is no longer the concern it was in the half-century following the Civil War; consequently, the revised opera explores a more recent consideration: Black America's relation to cultures of ancestral Africa. Joplin's scenario and main characters are retained, but altered to fit the new story. Joplin's music is also kept, though a few numbers are transformed and there is one original piece, "Stay in the Woods," which is based on an obscure song from slavery days—"Thunderbolts Rattling"—as recalled by an elderly Texas woman in 1941.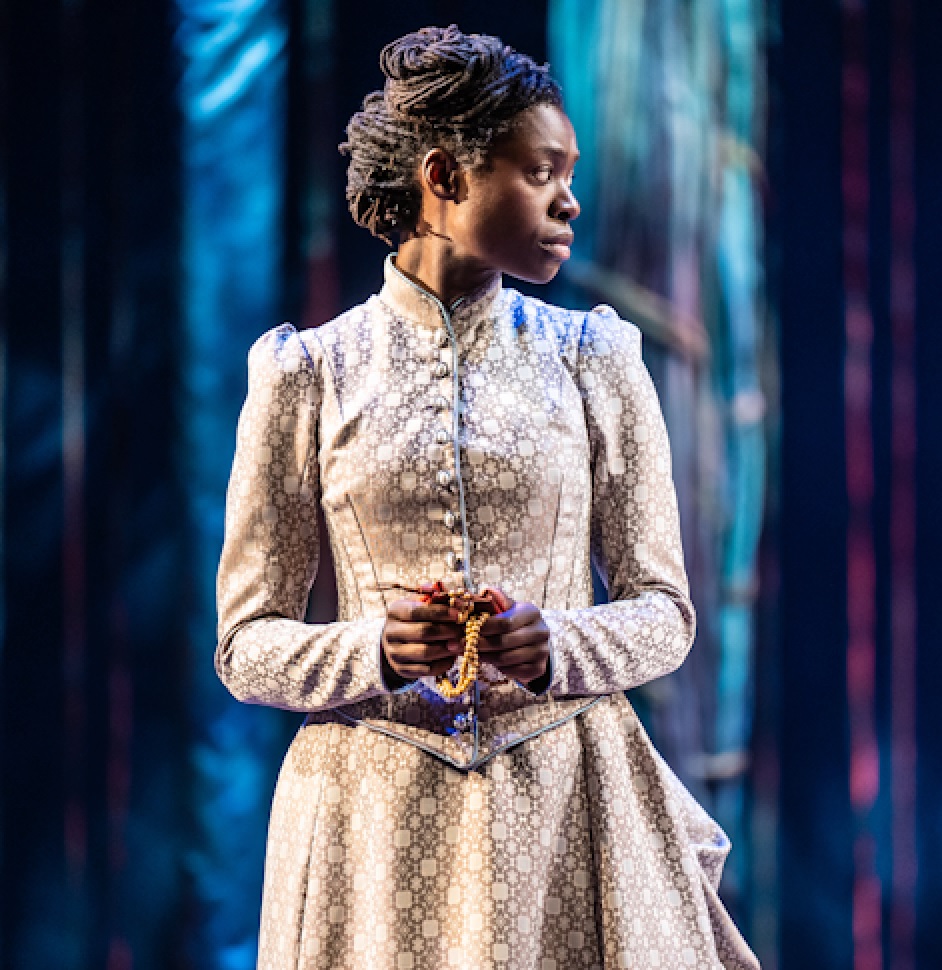 I have not seen this new version, but I spoke to its creator, Leah-Simone Bowen, who also co-wrote the libretto with Cheryl L. Davis. In addition to speaking with me at length about the show, Bowen kindly sent me a synopsis and a few sound clips (asking that I not share the clips). Modifying Joplin's opposing groups of former slaves and conjurors, the new conception has the Freedmen and the Maroons. The Freedmen are the former slaves who inhabit the abandoned plantation in Joplin's original story. The Maroons are based on actual historical groups of that name; they were escaped slaves who created their own communities in forests of the Southern states, remained separate from American society and retained African customs. In this revised version of the opera, the Maroon conjurors are not the malevolent tricksters of Joplin's story; they are, instead, the spiritual ancestors of the medicine men who had been integral to African societies.
The opera opens in the year 1864, before the end of slavery. Priscilla, an escaping slave, is seen fleeing with her infant child. Just before she is caught and killed, she hides her child in the hollow of a tree, along with a bag of luck. The scene is accompanied by instrumental music, arranged from sections of Joplin's original overture.
The scene changes to 1884 (the year Joplin had chosen), with Treemonisha sitting beneath her favorite tree on the day she is to marry Remus, a union her parents encourage, though she remains uneasy about it. She is approached by the Maroon Zodzerick (the "t" is deleted from his name because in this version he is not a trickster), not the old man envisioned by Joplin, but a young man. Learning of her imminent marriage, he offers her a bag of luck. Monisha, Ned, and Remus chase him away, but as he departs, he wishes her good luck.
Prior to the marriage ceremony, Treemonisha and her sister Lucy (a friend in Joplin's original), intending to make wedding wreaths, begin to gather leaves from the tree by their house. Monisha stops them, saying that the tree is sacred, having been the place where Treemonisha had been left by her birth mother, with a bag of luck, which Monisha then hands to Treemonisha. As in Joplin's story, Treemonisha had not previously known about her true birth.
Later, during the wedding ceremony, Treemonisha becomes more uneasy. Already unsure about marrying Remus, she now understands she was born a Maroon. She suddenly abandons the ceremony and runs off into the forest, intent upon learning more of her birth mother. She encounters Zodzerick and shows him her bag of luck; he leads her to Nana Buluku, the Maroon leader, who uses the bag of luck in a ceremony in which she calls for the spirit of Priscilla to appear. The spirit then assures Treemonisha of her presence and guidance.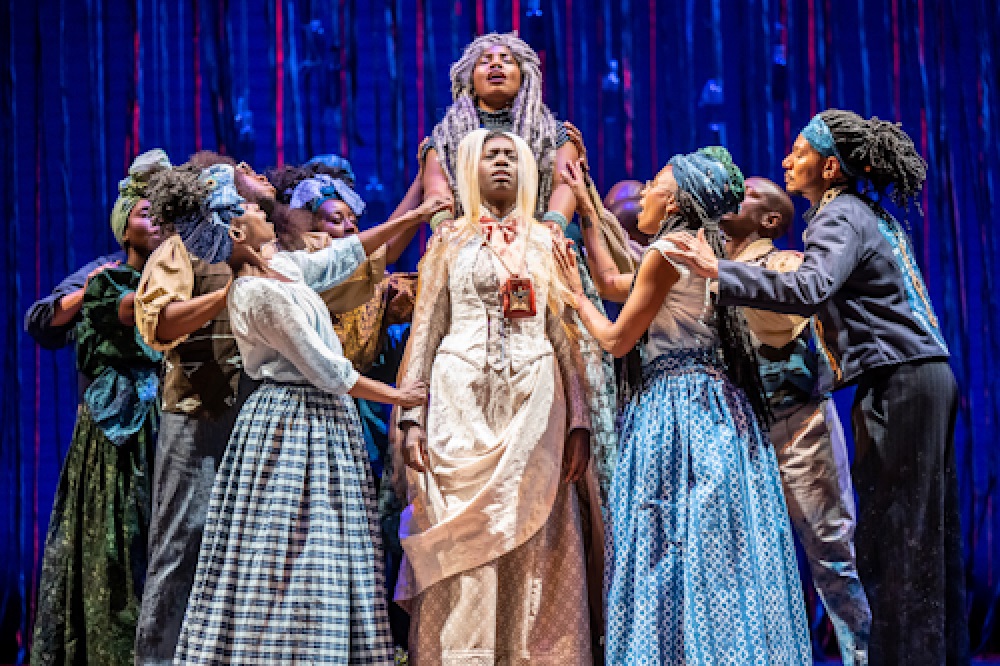 The music for this scene is based on Joplin's "Superstition," in which a soloist and chorus of conjurors sing of their beliefs. In the revised production, Joplin's music is extensively reworked by arrangers Jessie Montgomery and Jannina Norpoth and transformed into something unlike anything Joplin ever composed; only in the last third of the six-minute piece is Joplin's original theme clearly heard. Retitled "Spell of the Dead" and affecting a sound suggestive of Africa, it features Nana and a chorus of Maroons. The Maroons then celebrate in dance, and Treemonisha and Zodzerick declare their mutual love. Zodzerick tries to get Treemonisha to choose between the Maroons and the Freedmen, but with roots to both societies, she's unable to reject one.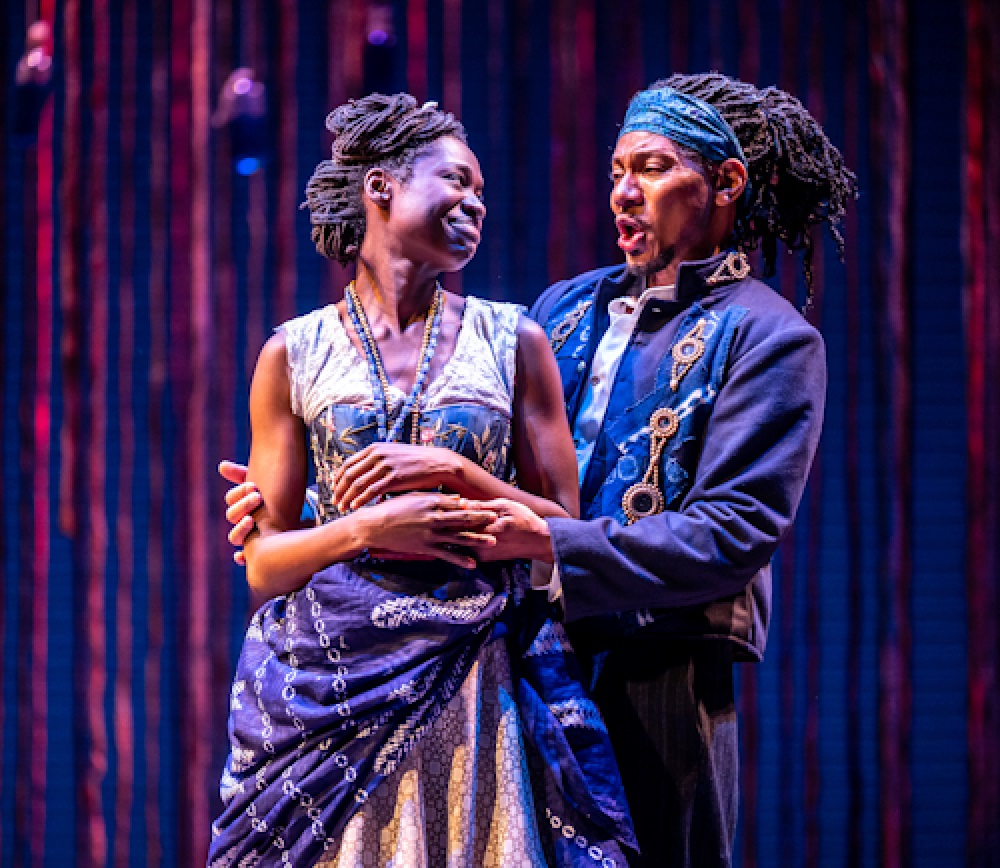 Later, as Zodzerick and Treemonisha walk through the woods, speaking of the life they will have together, Remus appears. He had been searching for Treemonisha since she ran off from the wedding ceremony. Treemonisha tells Remus of her love for Zodzerick, but he believes her love is not authentic, that it is the result of a spell cast by Zodzerick. An altercation between Remus and Zodzerick develops into a vicious fight, which Treemonisha tries unsuccessfully to stop. Lucy arrives as Remus fatally shoots Zodzerick. The dying Zodzerick, lying in Treemonisha's arms, says he will always be with her. The Maroons arrive and take Zodzerick's body for a funeral service, which Treemonisha is not allowed to attend. Feeling guilty for Zodzerick's death, Treemonisha is reluctant to return to the Freedmen, but Lucy convinces her she has no alternative.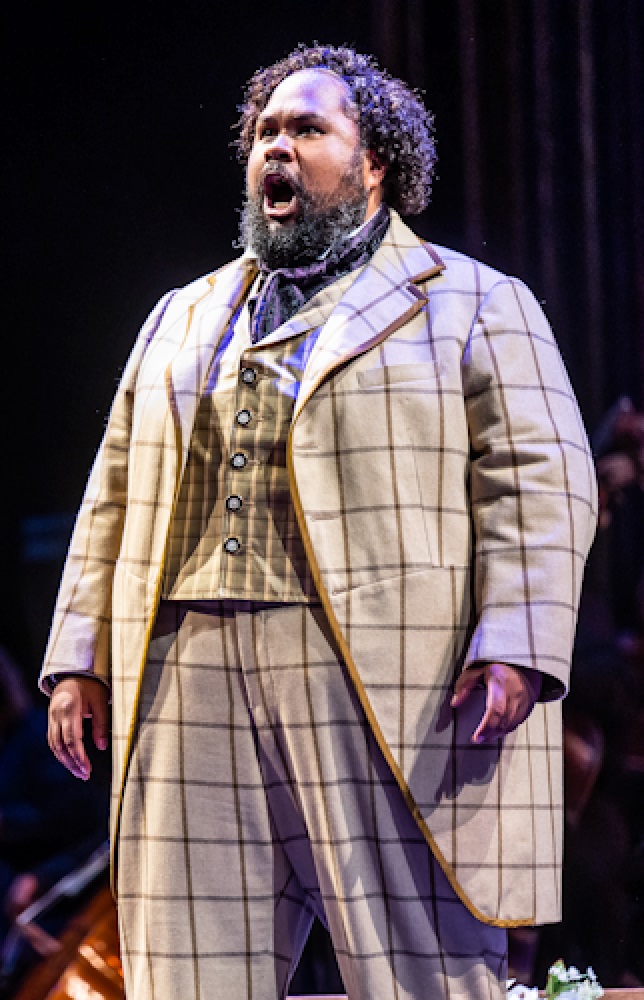 The Maroons appear at the edge of the plantation to confront the Freedmen, holding the captured Remus. There is a threat of violence between the two groups. Ned explains that the Freedmen strive for acceptance as citizens in society, whereas Nana counters that this society will never accept them and that the forests allow them the freedom to pursue their own way. Treemonisha confronts Remus for his actions, making him recognize his guilt. Consequently, he is willing to surrender himself to conjuror justice, but Treemonisha protects him. She argues that the two groups must stop bloodshed and unite for common good. As she has roots in both groups, they recognize her as a bridge between the two communities and choose her as their leader. They celebrate with "A Real Slow Drag" and its "marching onward" theme.
In Joplin's original, the marching onward goal is clear, even if not precisely stated in the lyric. They march toward a brighter future, one based on education and reason rather than on ignorance and superstition. In the new version, the goal has been achieved with the joining of the two communities, in unifying the old and the new and in gaining an understanding and appreciation of one's heritage.
Not having seen the production, or even having access to the score, I obviously cannot appraise the opera. From the limited information I do have, presented here, I can say that it has an intriguing story with a strong, dramatic flair. It's possible that this new slant can draw an audience for which the elimination of conjury is not a concern, perhaps even an audience not usually drawn to opera. A tour of US cities is planned for 2024; as much as I treasure Joplin's original, I look forward to seeing this re-invented Treemonisha.
Additional information about this work can be found at www.volcano.ca/treemonisha and other Googled sites.
This article Copyright © 2023 by Edward A. Berlin.