When the 15th annual Rochester International Jazz Festival concludes on Saturday, July 2, that night's headliner will be a solid-sending son of old New Orleans. Trombone Shorty and Orleans Avenue will climax the Syracuse Jazz Festival, also in Upstate New York, on the next night, Sunday, July 3.
On Aug. 27, Trombone Shorty blows at the Moontower Music Festival, in Lexington, Ky., before heading to Texas for the Bedford Blues and BBQ Festival on Sept. 3. And this fall, the band is booked at the Blue Note Xperia Lounge Jazz Festival, at Salle Pleyel in Paris, France, on Nov. 20.
When Troy Andrews made his New Orleans jazz parade debut at age 6, they called him "Trombone Shorty." The nickname stuck even though he's now a tall and handsome 30-year-old man and one of the hottest tickets in all of jazz.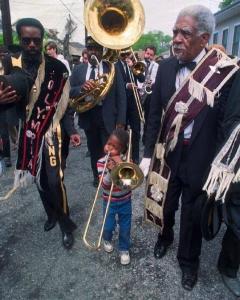 Taking his music seriously even as a kid, Shorty studied at the New Orleans Center for the Creative Arts, the jazz incubator founded in 1973 on Perrier Street, Uptown. Shorty soon became a member of the Stooges Brass Band.
In 2002, he released the first album under his own name, Trombone Shorty's Swingin' Gate, for Louisiana Red Hot Records, and in 2004, he and his older brother, trumpeter James Andrews, waxed a disc called 12 & Shorty for Keep Swingin' Records.
The following year – at age 17 – he formed the group Orleans Avenue and recorded Orleans & Claiborne for Treme Records and also paid tribute to one of his city's oldest professional trumpeters on Trombone Shorty Meets Lionel Ferbos, trading licks with the 90-year-old trumpeter on tunes such as "Mahogany Hall Stomp" and "Tishomingo Blues."
As you can see, Shorty's professional career blossomed while he was a teenager in Louisiana, but at age 20 in 2005 he decided to see the world. He joined the horn section supporting rocker Lenny Kravitz on a multi-national tour headlined by Aerosmith.
After Hurricane Katrina devastated his hometown in 2005, Shorty was featured on a benefit recording by the New Orleans Social Club. The song, "Hey Troy, Your Mama's Calling You," a remake of "Hey Leroy, Your Mama's Calling You," a 1966 Latin-jazz-soul hit for the Jimmy Castor Bunch.
Before long, Trombone Shorty – who doubles on trumpet – refocused on his own music and recorded an album, Backatown, which was nominated for a Grammy in 2010. His sophomore effort, For True, spent 12 weeks atop Billboard's Contemporary Jazz Chart.
Over the years, Shorty has also worked with the Rebirth Brass Band and the Soul Rebels Brass Band as well as with rock icons Jeff Beck, Warren Haynes, country stars LeAnn Rimes and Dierks Bentley and Crescent City homeboys Harry Connick Jr. and the Preservation Hall Jazz Band.
In 2013, Trombone Shorty and Orleans Avenue were chosen to close out the New Orleans Jazz & Heritage Festival Shorty's now sitting pretty on the cusp of superstardom. He has been featured in a half dozen episodes of the popular HBO mini-series, Treme, and has also appeared on The Tonight Show, Jimmy Kimmel Live, and Austin City Limits. National magazines such as DownBeat and Jazziz have put his picture on their covers.
In 2013, Trombone Shorty and his band, Orleans Avenue, were chosen to close out the New Orleans Jazz & Heritage Festival. Orleans Avenue features Mike Ballard on bass, Dan Oestreicher on baritone sax, B.K. Jackson on tenor sax, Pete Murano on guitar and Joey Peebles on drums.
The band's newest disc—Say That to Say This on Verve Forecast Records—celebrates Uptown New Orleans' rhythmic fusion of jazz and funk. While his recordings trend toward slick R&B, Shorty has trad-jazz in his blood, as tunes like "Ooh Poo Pah Doo," "St. James Infirmary," and "Caribbean Second Line" helped shape him into the star he is today.
---
Where we can link directly to an artist, publisher, or record label when mentioning an item we do so. For items where this is not possible, we link to Amazon. "As an Amazon Associate I earn from qualifying purchases."