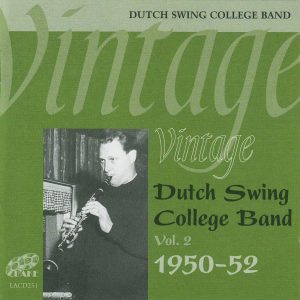 The Dutch Swing College Band, which was founded by Peter Schilperoort in 1945, is still in existence, having recorded as recently as 2015. The versatile Schilperoort, who played whatever instrument was needed (including clarinet, tenor, baritone, cornet, and guitar), kept the band busy up until his death in 1990 with a repertoire of Dixieland and 1920s standards, some obscurities, and occasional standards. Vol. 2 1950-52 documents the group's studio sessions from that period.
The octet of 1950-52 featured trumpeter Kees van Dorsser, trombonist Wim Kolstee, and clarinetist Dim Kesber in the frontline along with Schilperoort who helped out on clarinet, baritone, cornet, and even drums on one song. A special treat is hearing the great soprano-saxophonist Sidney Bechet as a guest with the group on "Dutch Swing College Blues" (which Bechet wrote) and "King Porter Stomp." Otherwise such songs as "Fidgety Feet," "High Society," "Original Dixieland One-Step," and "Them There Eyes" are among the many hot selections that are uplifted by this enjoyable band on this fine release.
Vintage Dutch Swing College Band Vol. 2 (Lake LACD 251, 26 selections, TT = 79:09) www.fellside.com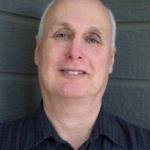 Since 1975 Scott Yanow has been a regular reviewer of albums in many jazz styles. He has written for many jazz and arts magazines, including JazzTimes, Jazziz, Down Beat, Cadence, CODA, and the Los Angeles Jazz Scene, and was the jazz editor for Record Review. He has written an in-depth biography on Dizzy Gillespie for AllMusic.com. He has authored 11 books on jazz, over 900 liner notes for CDs and over 20,000 reviews of jazz recordings.
Yanow was a contributor to and co-editor of the third edition of the All Music Guide to Jazz. He continues to write for Downbeat, Jazziz, the Los Angeles Jazz Scene, the Jazz Rag, the New York City Jazz Record and other publications.