Railroad Bill was the name assigned to Morris Slater in the late 1800s. He was the Jessie James-type black desperado who would rob the trains and sell his plunder to those nearby. Legend has it that, if they didn't buy voluntarily, he would force purchases at gunpoint. He had killed a number of persons who worked for the railroad and, in a subsequent shoot-out, had killed Sheriff McMillan of Escambia County, Alabama. After Slater was killed, enterprising merchants exhibited his body to onlookers for a fee.
Fast forward to the 1970s when entrepreneur Arden Anderson built New World Landing—an auditorium and boutique hotel. He decorated the auditorium with historic photographs of early Pensacola including views of the busy Pensacola harbor with its fishing smacks. There was a photo of the body of Morris Slater, lashed to a plank with a white man standing over him holding a rifle—no doubt a paying tourist having his photo taken.
Most people were unfamiliar with the background of the photo.
In 1990, WUWF Radio was major sponsor of Pensacola JazzFest. Vibraphonist Bobby Hutcherson of Los Angeles was a guest artist at the sponsors' party at New World Landing on a Friday night before the Saturday-Sunday JazzFest. Hutcherson saw the photo and quietly informed the WUWF staff that he declined to play. There was no disruption otherwise as the artists were performing in a relaxed format. The Saturday JazzFest went on as scheduled including an excellent performance by Hutcherson.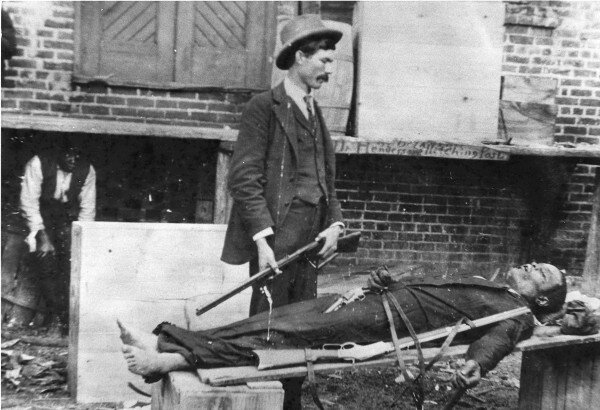 However, on the front page of the Pensacola News Journal, there was a story about Hutcherson's having declined to play at the sponsors' party because of the Morris Slater photo. It was obvious that the PNJ writer wasn't aware of the historical nature of the photo. And, apparently, neither was Arden Anderson because, later, he removed all the historical photos from the New World Landing auditorium.
Interestingly, the grandson of Sheriff McMillan was the coach of the Pensacola semi-professional basketball team that year.
Subsequently the PNJ did write a story with background information on Railroad Bill but the historic photos had already been removed and the public interest had waned.
When Mr. Hutcherson was checking out of his Pensacola hotel, the clerk wished him well and hoped he would return. He was reported to have said, "Yes, I enjoyed my stay, but I doubt they'll invite me back."
Mr. Hutcherson died on August 16, 2016. Railroad Bill, Morris Slater, was buried in St. John's Cemetery and in 2012 a grave marker was installed as his grave was previously unmarked.